Retro look suits 2005 bowl season
While the system is still flawed, the BCS delivered an ultra-cool retro bowl lineup packed with intriguing matchups, writes Pat Forde.
Updated:
December 5, 2005, 3:21 PM ET
By
Pat Forde
| ESPN.com
And so, at the end of a three-month immersion in new conference alignments, new replay equipment and a new BCS voting component, we arrive at a bowl season that has suddenly gone retro.
There's Joe Paterno and Bobby Bowden, staging their own Gray Panther rally at the Orange Bowl.
There's Notre Dame at the Fiesta Bowl, adding a fresh layer of luster to what had been five years of tarnish on the golden dome.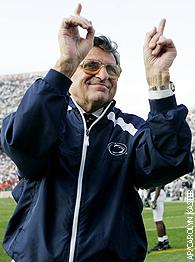 AP Photo/Carolyn Kaster) The return of JoePa helps give this year's bowl lineup a nostalgic feel.
There's Texas on the road to Pasadena, making a bid for its first national title since Darrell Royal was walking the sidelines.
And there's USC on the throne, same as it ever was.
All this nostalgia in the air -- makes you want to slip on a polyester leisure suit and watch some game film from the wishbone days, doesn't it?
But while we're enjoying the flashback feel of this December, let's offer grudging acknowledgement to the Bowl Championship Series: It got it right.
It got lucky, too. We're a Michigan touchdown at the gun away from having Paterno and Penn State howling like Tommy Tuberville and Auburn in 2004. We're a Reggie Bush push of Matt Leinart away from a rhetorical firestorm over who joins the Longhorns in the Rose Bowl.
It's still a flawed system.
But it got the championship game right, and then some. It produced an entire grand slam of BCS games.
Southern California-Texas could be everything Southern California-Oklahoma was supposed to be last year. Two teams that sat atop the rankings together all season, eyeing each other from halfway across the country. Two teams that bring dazzling individual star power to the title game. Two teams that seemingly have raised the bar on each other as the season has progressed, never moreso than Saturday: Texas blows up for 70 on Colorado, USC answers with a 66-point detonation on UCLA.
Bring on a potentially epic title game. Let's just hope the Big 12 champion doesn't choke this time.
The BCS undercard is loaded as well:
• Notre Dame-Ohio State in the Fiesta Bowl offers an embarrassment of tradition and an enticing matchup of irresistible force against immovable object. We feel Oregon's pain -- and, by extension, the Pacific-10's, which was muscled out of a second BCS bid for a second straight year -- but any chance to put these two Cadillac programs together is good for college football.
• Penn State-Florida State in the Orange Bowl merely pits the two winningest coaches in history, the Sunshine Boys of college football. Media Day in Miami should be great fun -- provided they remember to schedule in nap time for the septuagenarian stars of the show.
You can call them old, just don't call them over. Nobody saw JoePa being here in August, and nobody saw St. Bobby being here in November.
• Georgia-West Virginia in the Sugar Bowl marries the new king of the Southeastern Conference, Mark Richt, with the Coach of the Year in the Big East, Rich Rodriguez. And at 10-1 and packing a sensational smashmouth running game, the Mountaineers have a live shot to justify the BCS berth that is so often begrudged to the Big East.
There are enticing matchups elsewhere as well: Miami-LSU, a pair of onetime top-five teams, in the Peach; Wisconsin's Barry Alvarez bows out in the Capital One Bowl against an Auburn team that can argue it is the best in the SEC; Michigan-Nebraska in another big-tradition matchup in the Alamo; Florida-Iowa in a redemption battle in the Outback; UCLA-Northwestern in a first-one-to-50 Sun Bowl; Texas Tech and all that offense against Alabama and all that defense in the Cotton; and Boise State-Boston College in the MPC Computers Bowl, maybe the best matchup yet on the blue turf.
All that, and Mike Price goes back to Alabama, too. He's taking UTEP to play Toledo in the GMAC Bowl in Mobile, and he's giving himself an early curfew.
Should be a fun final month. But if you really want to get in the spirit of college football's retro movement, watch the games on a 19-inch Zenith. And flip the channels by hand.
Pat Forde is a senior writer for ESPN.com. He can be reached at ESPN4D@aol.com.