Six unsung talents key Texas offensive attack
USC has stars galore on offense. Texas has Vince Young. But who helps Young post the huge numbers? Pat Forde introduces a talented but unsung sextet of Horns.
Updated:
January 2, 2006, 12:53 AM ET
By
Pat Forde
| ESPN.com
By now we all know why Reggie Bush writes "619" on his eye black.
And we all know that Matt Leinart's non-football duties this autumn consisted of ballroom dancing and magazine photo shoots.
And LenDale White faked his own suicide in a Halloween practice prank.
And Dwayne Jarrett could go pro right now and get drafted, if he wasn't a sophomore.
These guys are the Colts of college football: stars at every skill position. They have instant name recognition with fans, anchormen, rappers, actors, groupies and NFL scouts. We know them better than half the people on our Christmas shopping lists.
What we know about Texas' skill players can be described in two words: Vince Young.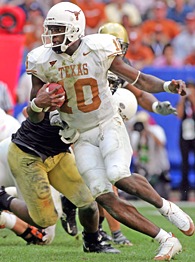 Ronald Martinez/Getty ImagesVince Young isn't the only Longhorn who can break into the open.
The rest of those fellas in burnt orange? Anonymous as meter readers. To most of the nation, the Longhorns' offense is the Young and the Faceless.
USC became the first team in history to rack up a 3,000-yard passer, two 1,000-yard rushers and a 1,000-yard receiver. Texas has none of the above. But somehow the Longhorns have averaged more points than the Trojans (50.9 per game, compared to 50) and are comparable in yardage (580 yards per game for USC, 508 for Texas).
Five Horns have run for 440 yards or more, and six have at least 200 receiving yards. Just don't ask anyone but their quarterback to name them.
Instead of relying on a couple of mega-talents, Young distributes the ball to a sextet of unsung backs and receivers (not to mention jumbo back Henry Melton, the short-yardage specialist, and forgotten junior RB Selvin Young). They're mostly young, mostly inexperienced, and they're all athletic in-state recruits who came from multi-sport backgrounds.
"As a group of guys," said Texas tight end David Thomas, "I think we're as good as anybody."
Just not as celebrated.
Bush, Leinart, White and Jarrett all are AP All-Americans -- Bush on the first team, Leinart second, White and Jarrett third. Other than Young, you won't find a single Longhorn who touches the football on the AP team. Bevo's handlers have gotten more nationwide love than the Texas backs and receivers.
Which, with the Rose Bowl bearing down, begs the question:
Who are these guys?
Here's your answer:
The Phenom
Name
:
Jamaal Charles
Number
: 25
Position
: Running back
Hometown
: Port Arthur, Texas
Class
: True freshman
Other sport(s)
: State 5A hurdles champion (110 and 300 meters) in 2005.
Charles said that when he entered the huddle at Ohio Stadium Sept. 10 for the first road game of his college career, he was scared to death.
"My body was shaking like it was cold outside," Charles admitted. "I was hoping they weren't looking at me in the huddle because I'm shaking like it's one degree. I didn't want them to think I was panicking.
"I just said to myself, 'Let me get my first touch and I won't be scared no more.'"
Charles has never looked scared since. He wound up with 95 all-purpose yards against the Buckeyes, playing a vital role in Texas' biggest victory of the season. His 135 rushing yards against Louisiana-Lafayette was a school record for a debut game. And his 189 yards against Rice was a school record for a player making his first start.
The only setback all season has been a sprained ankle that hobbled him for three games near midseason, but it didn't keep Charles from being voted Big 12 Offensive Freshman of the Year by the league's coaches. The kid's 844 yards are just six behind Young for the team lead, and his 7.4 yards per carry ranks fifth among the nation's top 100 rushers. His 11 rushing touchdowns are second in Texas history among freshmen.
Thomas joined a long list of Longhorns who named Charles the skill-position revelation of the season.
"He's a very gifted runner and a very good receiver," Thomas said. "But he also has and ability to pick up the blitz and get a grasp on the offense. From the first day he got here he's showed that he could play at this level."
The Baseball Player
Name
:
Quan Cosby
Number
: 6
Position
: wide receiver
Hometown
: Mart, Texas
Class
: "True" freshman
Other sport(s)
: Played four seasons in the Angels' minor-league system; was the 2001 2A state dash champion (100 and 200 meters).
The 23-year-old played quarterback and defensive back in high school, then outfielder for a living. Now, for the first time in his life, he's a full-time wide receiver. So catching on has been a gradual process -- but now Cosby is coming on with a rush.
"Four and a half years is a long time not to touch a football," he said.
In Texas' first eight games, Cosby had three catches for 25 yards. In the last four he had 10 for 229 yards and two touchdowns, including a 55-yard reception against Baylor and a 64-yarder against Kansas. He's started two games and is listed as the first-team flanker for the Rose Bowl.
Cosby said that an undefeated season is exactly what he had in mind when he put down his batting helmet and picked up a football helmet.
"I was saying that to some of my baseball buddies, and they called back and said, 'You said if you went back you guys were going to the national championship game,' " Cosby said. "I was like, 'Oh yeah, I did say that.' Just watching the guys last year with the Rose Bowl and stuff, I knew it was a possibility."
The Healed Home Run Threat
Name
:
Billy Pittman
Number
: 5
Position
: wide receiver
Hometown
: Cameron, Texas
Class
: sophomore
Other sport(s)
: played basketball and ran sprints for the track team.
Pittman's career had been one long trip to the training room until that game at Ohio State. That's when the third-year sophomore finally caught his first collegiate pass, a 33-yarder to help key a fast Texas start.
"Glad I finally broke the ice," Pittman said.
Eight plays later Pittman caught his first collegiate touchdown, and he hasn't stopped making plays since. The former high school quarterback racked up 30 receptions for a team-high 697 yards and five touchdowns, and his 23.2 yards per catch leads the nation among the top 100 receivers. He has four catches of over 60 yards.
Not a bad comeback season for a guy who said he was "real close to quitting" the previous year, after a string of injuries.
"That poor guy had everything happen to him," coach Mack Brown said.
A shoulder separation ruined one season and a pulled quadriceps scuttled another. Then, last spring, a bout of Bell's Palsey set in out of the blue, paralyzing one side of Pittman's face for about a month.
The affliction can subside as suddenly as it develops. One morning, while examining himself in the mirror, Pittman moved his nostril.
"That kind of made my day," he said.
The healing process was underway, just in time for him to have a breakout summer in seven-on-seven passing drills organized by Young.
"We'd ask Vince who was looking good in the summer," said receivers coach Bobby Kennedy. "He'd say, 'Boy, you should see Billy Pittman.'"
USC undoubtedly has seen plenty of Pittman on film preparing for the Rose Bowl.
Roy Williams Redux
Name
:
Limas Sweed
Number
: 4
Position
: wide receiver
Hometown
: Washington, Texas
Class
: sophomore
Other sport(s)
: was an all-state hurdler in high school.
Sweed has invited comparisons to one of Texas' greatest wideouts by wearing the same number. He has similar XL receiver size (6-foot-5, 219 pounds) and matching XL athletic ability. And that's why Kennedy has been on him like Deion Sanders in press coverage for two years.
"I was really hard on him when I first came," the receivers coach said. "It wasn't probably the most rosy of relationships, because I saw such great potential in him. I kept telling him, 'I'm on you because I see how good you can be.'
"Sometimes he'd make the great play and then let the ordinary play slip through his hands. Getting that consistency is the important thing. When he gets that, I can see him developing into a really, really good wide receiver."
The great play Sweed made in September was arguably the biggest of all Texas plays in 2005. His pirouetting sideline touchdown catch with 2:37 left won the Ohio State game and helped catapult him to a breakout season.
"It was a huge stepping-stone for me," Sweed said.
For the season he has 28 catches for 480 yards and five touchdowns in 10 games. In his last five games he's had 20 of those grabs for 358 yards and four TDs -- just another wideout capable of having a 100-yard game at any time.
"I think Vince has maximum confidence in us," Sweed said, "because we've come through for him time and time again."
The Multipurpose Threat
Name
:
Ramonce Taylor
Number
: 11
Position
: running back/wide receiver
Hometown
: Temple, Texas
Class
: Sophomore
Other sport(s)
: Former state long jump champion
Wherever Mack Brown has needed a playmaker, he's plugged in Taylor.
In August, Brown announced that Taylor had found his position, and that position was running back. Then Jamaal Charles happened and Taylor went back to receiver, starting at that position against Ohio State. When injuries multiplied at running back later in the season, Taylor started the final four games there, racking up 340 rushing yards in those games.
He also has more than 400 yards in kickoff returns and leads the team in all-purpose yards per game (98.4) and touchdowns (14).
"He's an X-factor in the game because he can do so many things," offensive lineman Justin Blalock said. "He's really coming into his own, and is our second-best option now. He's a good addition to Vince, and to the rest of the guys."
Taylor can wind up about anywhere on the football field. His decision to wind up in Austin's party district, Sixth Street, after the team awards banquet has had negative repercussions.
Police investigated the role of Taylor and starting cornerback Cedric Griffin in an altercation with another group of men, according to the Austin American-Statesman. The paper subsequently quoted the players' lawyer as saying they would not be charged, but police said the investigation was ongoing. Regardless, it's not believed that the issue will affect Taylor's playing status against USC.
The Security Blanket
Name
: David Thomas
Number
: 16
Position
: tight end
Hometown
: Wolfforth, Texas
Class
: senior
Other sport(s)
: baseball and track
If the pocket is collapsing or a play is breaking down and Young cannot save the day with his feet, the one guy he most wants to see is Thomas. When the quarterback absolutely, positively needs someone to make the sure catch in the clutch, this is his guy.
"He gets me out of a lot of trouble," Young said of his friend and fellow fourth-year Longhorn.
Thomas, an academic All-Big 12 selection, leads the team with 40 catches. He's accounted for 525 yards and five touchdowns, and seems to have that sixth-sense thing working with his quarterback.
They arrived together in Austin from different backgrounds and different parts of the vast state -- Young as the Parade Magazine national player of the year, Thomas as an all-stater but nobody's All-American. But it was Thomas who played as a true freshman and became a three-year starter, then watched Young, in the tight end's words, "morph into a superstar."
"We just kind of clicked," Thomas said. "We've been good for each other. I love Vince and I'd do anything for him, and I think he'd do anything for me."
The two have one more opportunity to do something unforgettable for each other in the Rose Bowl.
Pat Forde is a senior writer for ESPN.com. He can be reached at ESPN4D@aol.com.