Pitino at ease in old Kentucky home
Rick Pitino's Louisville Cardinals did a brilliant impersonation of Pitino's Kentucky Wildcats, complete with bringing the Rupp Arena crowd to its feet, writes Pat Forde.
Originally Published:
March 15, 2007
By
Pat Forde
| ESPN.com
LEXINGTON, Ky. -- Rick Pitino and Rupp Arena have been an ugly mix this century, a place where bitterness over the coach's divorce from Kentucky and remarriage with its rival still percolates.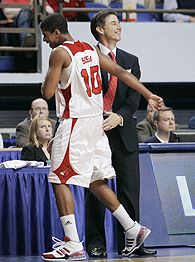 AP Photo/Ed ReinkeRick Pitino is relying heavily on talented freshmen like Edgar Sosa.
That all changed Thursday.
In a surreal flashback to the 1990s, PitinoBall brought a raucous Rupp crowd to its feet. Only this time the crowd was wearing red and black, not blue and white, which only intensified this state's ongoing hoops identity crisis.
Pitino's Louisville Cardinals did a brilliant impersonation of Pitino's Kentucky Wildcats, playing with a verve that has been notably absent in Rupp of late. They pressed Big Dance impostor Stanford into a gelatinous state in a 78-58 romp that was nowhere near that close.
Louisville never trailed, was up by double digits for the final 31 minutes and eventually pushed the lead to 33 early in the second half. After that it was simply damage control for the outclassed Cardinal.
By the way, that crashing sound you heard Thursday afternoon was Jim Boeheim and Bruiser Flint both throwing their remotes through the TV sets. Impossible to believe their snubbed Syracuse and Drexel teams could have performed any worse than Stanford, which failed remedial dribbling.
But the story in Rupp was more the Cardinals' superiority than the Cardinal's inferiority -- and the deafening backing they got in what is normally the most hostile of environs.
| | | |
| --- | --- | --- |
| | " | I dread coming in here when we play Kentucky, because it meant so much to me. The memories of the players and everything about it makes it tough coming in here. " |
| | | — Rick Pitino |
"It's much different coming this time around," Pitino said, "and not feeling like Darth Vader."
Since taking over at Louisville in 2001, Pitino has brought the Cardinals to Rupp to play the Wildcats three times. He's lost twice and been booed ferociously every visit.
On the first trip, signs compared Pitino to American Taliban traitor John Walker Lindh and even took shots at his wife, Joanne. Subsequent visits have been less confrontational -- but hardly civil.
"It literally took my breath away, the booing on the way to the locker room," said Vinny Tatum, Pitino's executive assistant and a former team manager at Kentucky from 1990-93.
To say the coach was wounded by his greeting at a school he took to three Final Fours and the 1996 national championship would be a gross understatement.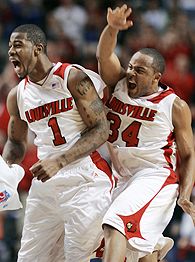 AP Photo/Ed ReinkeLouisville's Terrence Williams, left, and Jerry Smith dominated Stanford on Thursday.
"I dread coming in here when we play Kentucky, because it meant so much to me," Pitino said. "The memories of the players and everything about it makes it tough coming in here. Believe it or not, it's one of the reasons I almost didn't take the [Louisville] job. Fortunately, I was smart enough to listen to my wife, who convinced me that it was only one game every two years."
Now it will be two games here in three days for the Cardinals, who looked as impressive as any NCAA Tournament team that played Thursday afternoon. Who else won by 20 while its leading scorer (Terrence Williams) was going scoreless and committing five turnovers? After missing the Big Dance last year, Pitino had his team locked in from the opening tip.
"I was miserable not being part of it," Pitino said of the NCAAs.
His sixth-seeded team now is part of the round of 32 -- at least. Now it's Texas A&M's turn to prepare for a true road game Saturday, after roughly 15,000 Louisville fans flooded this place for the first round.
"I'm used to coming in here and being booed off the court," center Terrance Farley said. "It was really weird seeing a sea of red for once."
It had to be a disorienting experience for the men in the bright blue blazers who serve as ushers for all games in Rupp. They're the Committee of 101, a Kentucky fan organization. Hard to imagine a stranger duty for those guys than helping thousands of enemy fans to their seats, then listening to them raise the roof.
"Loudest I've heard it in here in a long time," said one committee member.
"Freedom Hall East," said another interested Rupp observer, Oscar Combs.
Combs comes from bedrock Cat country, the mountains of Eastern Kentucky. He is not just a Kentucky superfan; he's godfather of the fan magazine, having founded the first one in the 1970s: The Cats' Pause. Decades before there were fan Web sites, there was Oscar's weekly mag covering all things Wildcat.
Thus Thursday was an out-of-body experience for Combs and his big blue brethren. Seated with Pitino's family, in among the Louisville hard core, was former Kentucky great Ron Mercer. He led Pitino's last UK team to the national championship game 10 years ago.
And on the court Louisville was lighting up Rupp, while the Wildcats struggle into the tournament having lost six of their last nine games. The former Kentucky coach has his team rolling, while the current Kentucky coach, Tubby Smith, is facing a fan mutiny.
Combs described the mood of Cats fans thusly: "One of desperation, disappointment and a helpless feeling in the air."
Of course, it could get worse if Kentucky loses Friday night to Villanova, limps back to Lexington on Saturday and finds Pitino putting his feet up on the coffee table in their house.
This was a classic March muscle flex by a Pitino team. One of the big reasons why his NCAA record is a stellar 32-10 is that his teams routinely kick it up a notch this time of year.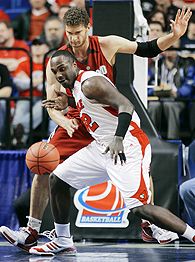 AP Photo/Ed ReinkeDerrick Caracter battled Stanford's Brook Lopez in the low post.
When other teams are puckering, Pitino's are letting it flow.
"You've got to take more chances in the NCAA Tournament," Pitino told his team before the game. "Some teams will come out tight, and we can't do that. Don't play tight. Play very loose. … Don't be afraid to fail.
"Everything has to change. I change my whole disposition, my whole attitude, come tournament time. … It's a positive attitude that you have to deliver. It's not a time to overcoach and overcriticize. It's time to share the ball, time to play great defense, a time to have fun because this is a very special time."
So Louisville flew around the court Thursday afternoon, swiping passes and swishing 3s, dunking in transition and forcing Stanford to play faster than it was prepared to play. The Cardinals' 46 first-half points was their third-highest total of the season.
"We've been practicing like that," said guard Jerry Smith. "Very up-tempo, getting after it."
The reason why this Louisville team has clicked into high gear at season's end, winning eight of its last nine, is largely because its ballyhooed freshman class has asserted itself at the right time. Thursday, freshmen Edgar Sosa, Earl Clark, Derrick Caracter and Smith combined to score 50 points.
Caracter's reformation from hopeless laziness continued in this game, as he battered fellow freshman and McDonald's All-American Brook Lopez in the low post for 12 points in 11 minutes of playing time. But Clark was the star of the first-half explosion, with 10 points and three boards before intermission.
"I knew they would play well today," Pitino said of his rookie class. "They have no fear of anything."
And for one weekend, at least, there is no reason for Rick Pitino to fear the reaction walking into his old Kentucky home.
Pat Forde is a senior writer for ESPN.com. He can be reached at ESPN4D@aol.com.