Super moments make Super Bowl XL memorable
PITTSBURGH WEST (aka Detroit) -- Bill Cowher walked into the smoke-filled Pittsburgh Steelers locker room late Sunday evening, and there he was: linebacker Joey Porter, still in full uni, puffing hard on a stogie.
"You win a Super Bowl," the Steelers linebacker said to his beaming coach, "this is how you act."
It took Bill Cowher 10 years to get back to the Super Bowl, and this time he won.
So much for Ford Field being a smoke-free facility. Then again, nobody was going to call the fire marshal and ruin a perfectly good 21-10 Super Bowl victory, or the Steelers' heartfelt going-away party for a running back so lovably flabby that it was only fitting
Jerome Bettis
called it quits in SB XL, as in extra large.
For sheer football quality, this one didn't cause goose bumps. But it did cause lumps in your throat and, on occasion, force you to scoot toward the edge of your seat. A classic, no. A game worth keeping on the TiVo, absolutely.
Even if you were on the wrong end of the scoreboard, as the Seattle Seahawks were Sunday night, you had to at least appreciate the moments. The Seahawks certainly had theirs, just not enough of them.
I'll always remember Bettis' best run of the day, when he had nothing but open field in front of him. It came minutes before kickoff, when the 13-year veteran came sprinting from the stadium tunnel as if his thigh pads were on fire. Out he ran to the 30-yard line or so before he realized he had been duped like some rookie during training camp.
Back at field's edge were his Steelers teammates, all with grins as wide as the Steel City's three rivers.
"I wanted him to get his full shine," said Porter, who, with Cowher's blessing, organized the pregame tribute. "It was Jerome Bettis' day today."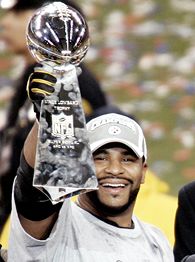 AP Photo/Winslow TownsonJerome Bettis came home to Detroit with designs on going out a champion.
Bettis only rushed for 43 yards, but who cares, right? He threw the block that allowed quarterback
Ben Roethlisberger
to score (sort of, maybe) on a 1-yard dive that gave the Steelers a 7-3 halftime lead, a lead they would never relinquish. He tutored tailback
Willie Parker
between series, telling Fast Willie to quit trying to outrun Seattle's cornerbacks to the outside and instead turn the ball up the field. Second play of the second half: Parker breaks a 75-touchdown run -- the longest in Super Bowl history -- up the middle. And it was Bettis who carried the ball seven out of nine times during the Steelers' final, time-draining possession.
Afterward, he announced his retirement. Five years from now, he'll be in Canton. And if he isn't, they need to padlock the Pro Football Hall of Fame.
"It's official," Bettis said of his farewell, "like the referee's whistle."
How could you not like a game where history was made (or tied), beginning with the Steelers' fifth world championship? How could you not give Parker his props for that sprint into the record books?
"I broke his ankle," Parker said of the move he put on Seahawks safety Michael Boulware. "I kind of trotted after that."
And how could you not absolutely love the audacity of "X Reverse Pass," the fourth-quarter play in which wide receiver Antwaan Randle El threw a 43-yard TD pass to Super Bowl MVP Hines Ward? The trickeration turned a four-point Pittsburgh lead into an 11-point advantage.
"I think that sealed the game for us," Ward said.
I think it sealed years of bar bets: Who's the first wide receiver to throw a Super Bowl touchdown? Randle El, the unrestricted free-agent-to-be who made himself a lot of money Sunday evening.
Cowher got his first Super Bowl win after failing 10 years earlier. Thus ends the ridiculous label that Cowher can't win the Big One.
Remember how Cowher consoled his weepy family after the Steelers lost to the Dallas Cowboys in Super Bowl XXX? Someone's got to win, someone's got to lose; that's what Cowher told his family back then.
This time he won. And outside the Pittsburgh locker room were Cowher's wife and their three daughters.
Someone's got to kiss, someone's got to hug.
Cowher got his championship and a chance to watch Steelers owner Dan Rooney, the guy who hired him -- and didn't fire him during some rough years -- cradle that Vince Lombardi Trophy. But it was Ward who got the MVP award, and the black Cadillac Escalade that comes with it.
Afterward, Ward held a silver key chain and those car keys in his still-taped fingers. A year ago, when the Steelers were beaten by the New England Patriots in the AFC Championship Game, Ward wept like a newborn. This time, his smile muscles had to be treated for exhaustion.
"I can't believe it," said Ward, who caught five passes for 123 yards and that one touchdown. "I truly can't believe this.
"It is a wild ride."
Actually, his ride was still sitting on the 15-yard line hours after the game. Someone had parked the Cadillac there and hadn't moved it since. Maybe they were waiting for Ward to drive it back to Pittsburgh.
"If they let me, I am," he said.
I know it wasn't a great game (or great officiating), but it was great theater. Pittsburgh fans -- and there must have been 50,000 of them -- nearly sprained their wrists waving those $10 Terrible Towels. And yes, Pittsburgh won the game, but the Seahawks might be the team best poised to make a return trip. But that's next year.
For now, it's time to appreciate the Steelers' Super Bowl win for what it was: short on artistry but long on emotion.
And cigar smoke.
Gene Wojciechowski is the senior national columnist for ESPN.com. You can contact him at gene.wojciechowski@espn3.com.
Senior Writer
ESPN.com senior national columnist
Joined ESPN in 1998
Author of "The Last Great Game"