Commentary
Let's book Eagles for Tampa
Yes, Arizona has played well lately, but does it have a shot against the Eagles? Ahh, no, Gene Wojciechowski writes.
EAST RUTHERFORD, N.J. -- Anything is possible. You've got your Miracle On Ice, your Lyle Lovett marrying Julia Roberts, and your Three 6 Mafia winning an Oscar.
But the Arizona Cardinals over the Philadelphia Eagles in next Sunday's NFC Championship Game? Put it this way: Tim Tebow and the Philippians have a better chance of strip clubbing with Pacman Jones.
It's not that the Cardinals aren't playoff worthy. Or that it's a fluke Arizona has reached the conference championship. It isn't. You don't beat Atlanta at home and then crush Carolina on the road by accident.
But the Falcons and the Panthers aren't the Eagles. Nobody is.
Insider: NFL rumors

Will Amani Toomer call it quits? Will Brandon Jacobs stay true blue? Where are Steve Spagnuolo and Kevin Gilbride headed? NFL Rumor Central

• More: MLB | NBA | NHL
With their victory Sunday, the Eagles become more than a favorite and a little less than a sure thing when they face Arizona in the Jiffy Pop (aka University of Phoenix Stadium). I'm allowing for the miracle factor, partly to be polite and partly because the Cardinals aren't the same team they were five weeks ago.
The thing is, neither are the Eagles. They just got done grinding the defending world champion Giants -- at Giants Stadium -- into a pulpy mess for the second time in 36 days. And now they play a Cardinals team they beat by 28 in late November.
Yes, the Eagles needed several acts of God to get into the playoffs. But now that they're here, show me a team playing better. I can wait.
"It's the NFL, anything can happen,'' said Eagles defensive end Trent Cole. "The sorriest team in the NFL can beat the best team in the NFL."
What'd you expect him to say? This is the Eagles' fifth conference championship game in the past eight years, so they know how to keep their mouths shut. Same thing goes for the 48-20 win against Arizona a month and a half ago. "Means nothing," Philly cornerback
Sheldon Brown
said. "The Arizona game means nothing."
"This team has continued to jell,'' said quarterback Donovan McNabb.
McNabb was talking about the Cardinals, who basically clinched the pitiful NFC West division title during two-a-days. And he's right: Arizona has found something resembling a running game, its defense is no longer allergic to tackling, and Larry Fitzgerald can catch a fruit fly with his fingertips. Plus, the Cardinals might get Anquan Boldin back next week (he was inactive for Saturday night's win against Carolina because of an injured hamstring).
[+] Enlarge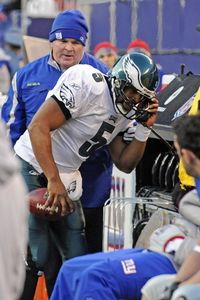 AP Photo/Bill KostrounDonovan McNabb dialed in the Giants' press box after a visit to the N.Y. sideline. "It's something as a veteran I shouldn't have done," he said.
But no team has reinvented itself better than the Eagles. They've gone from being a team in disarray to a team nobody wants to see on the other side of the field. They're sort of like the
Baltimore Ravens
, but with an offense.
So much weirdness this season: McNabb got benched … running back Brian Westbrook got hurt … they tied (surprise, Donovan) the dreadful Cincinnati Bengals … Andy Reid's coaching future was questioned … their playoff chances had more moving parts than a Cirque du Soleil show.
Yet, here they are. They're so loose that McNabb, after running out of bounds on the Giants' sideline, picked up a coaches press box phone behind the New York bench and held it to his ear.
"I didn't say anything,'' said McNabb. "I'm out there having a great time in this run. It's something as a veteran I shouldn't have done. I kind of got caught up in the moment a little bit."
Can you blame him? In mid-November, after the tie at Cincy and the following week's blowout loss at Baltimore, the Eagles were a green mess. Now they're a win away from Super Bowl XLIII.
"They never wavered one bit,'' Reid said. "That's tough to find in this league. These guys haven't wavered, they haven't questioned each other."
The Eagles are about as elegant as dirt. They leave deep-tissue bruises. If it were up to free safety Brian Dawkins, he'd hit you when you stepped off the bus.
Johnson's defense reduced Eli Manning to a human mistake. He threw two interceptions, completed just 15 passes for 169 yards, and couldn't squirt forward enough on a crucial fourth-and-inches early in the fourth quarter.
"I was very surprised," Cole said. "I was waiting for [Brandon Jacobs]."
He got him a series later, when the Giants went for it on fourth-and-2 with 6:40 left. The 264-pound Jacobs gained a yard, nothing more.
Ballgame.
"You learn about your team when you have imperfections during the season,'' Eagles owner Jeffrey Lurie said. "They just have a lot of courage and they're able to play under stressful situations, must-win situations, no-margin-of-error situations."
Stress? What stress? The hard part is finished: no more NFC East and Giants.
"One more!" yelled Eagles cornerback Lito Sheppard as he walked into the visitors locker room after the game.
"Two more, Lito," a reporter said.
"Oh, yeah," said Sheppard.
See, I'm not the only one looking ahead.
Gene Wojciechowski is the senior national columnist for ESPN.com. You can contact him at gene.wojciechowski@espn3.com.
Senior Writer
ESPN.com senior national columnist
Joined ESPN in 1998
Author of "The Last Great Game"
2008 NFL Playoffs

The road to Tampa for Super Bowl XLIII on Feb. 1, 2009, began Jan. 3 with the wild-card playoff round. Will the Steelers or Cardinals replace the Giants as champs?

Championship Game results: NFC | AFC


COLUMNS/FEATURES
•
Wojciechowski: May the bitter team win
•
Chadiha: McNabb lets good times roll
•
Football Outsiders: Numbers Crunching
•
Sunday Countdown: Predictions and more
•
Clayton: First and Goal
•
Garber: This Philly Story seeks proper ending
•
Clayton: Peaking Steelers should advance
•
Chadiha: Eagles will soar in desert
•
Wojciechowski: Book Eagles for Tampa
•
Football Outsiders: Any Given Sunday
•
Football Outsiders: Quick Reads
CHAMPIONSHIP GAMES (Jan. 18)
Steelers 23, Ravens 14
•
Polamalu's INT return secures win
•
Playoff page
|
AFC North blog
Cardinals 32, Eagles 25
•
Fitzgerald leads Cardinals to first Super Bowl
•
Playoff page
|
NFC West blog
...
East
DIVISIONAL ROUND (Jan. 10-11)
Steelers 35, Chargers 24
•
Walker: The Bus sparks Parker
•
Williamson: Bolts need season-long urgency
•
Recap: Steelers knock out Chargers
•
More
|
AFC West blog
...
AFC North
Ravens 13, Titans 10
•
Graham: Battered Ravens pass physical
•
Kuharsky: Titans failed to answer critics
•
Recap: Turnovers doom Titans
•
Zoom Gallery
•
Fleming: Can anyone stop the Ravens?
•
More
|
AFC North blog
...
AFC South
Cardinals 33, Panthers 13
•
Sando: Desert bloom for Arizona's faithful
•
Sando: No denying Cards' makeover
•
Yasinskas: Carolina's big plans fall apart
•
Recap: Delhomme's 5 INTs doom Panthers
•
Zoom Gallery
•
More
|
NFC West blog
...
NFC South
Eagles 23, Giants 11
•
Wojciechowski: Book Eagles for Tampa
•
Mosley: Giants lost to better team
•
Recap: Defense smothers Giants
•
Zoom gallery
•
Chadiha: Eagles' defense hitting stride
•
More
|
NFC East blog
WILD-CARD ROUND (Jan. 3-4)
Ravens 27, Dolphins 9
•&nbsp
Wojciechowski: Scary Ravens' D
•
Recap: Ravens' defense overpowers Dolphins
•
More
|
AFC North blog
...
AFC East
Eagles 26, Vikings 14
•
Mosley: Eagles' run continues
•
Recap: Westbrook, big plays carry Eagles
•
More
|
NFC East blog
...
NFC North
Cardinals 30, Falcons 24
•
Sando: Cards' winning identity
•
Recap: Strong second half powers Cards
•
More
|
NFC South blog
...
NFC West
Chargers 23, Colts 17
•
Williamson: 5-6 Sproles comes up big
•
Recap: Chargers shock Manning, Colts in OT
•
More
|
AFC South blog
...
AFC West