Commentary
Same ol' song, sadly, from Tiger Woods
Monday's soft questions and non-answers didn't move the needle toward redemption
Originally Published:
April 6, 2010
By
Jemele Hill
| ESPN.com
Try as I might, I'm still not done with Tiger Woods.
Woods' news conference on Monday to open Masters week didn't exactly put a neat, decorative bow on the end of his bizarre story for me. He was polished. He exhibited the same control we've always seen. He gave us a few smiles, and he dropped some personal tidbits -- missing his son's first birthday and the hugs he received from other golfers on his first day back.
And I guess that's the unsatisfactory part. The new and improved Tiger Woods -- at least the one who appeared before the media -- is not that much different from the old Tiger Woods.
I can't say I blame him. He is attempting an unprecedented comeback; and in this case, a certain degree of concoction was probably necessary. We've seen professional athletes return from injuries, serious illnesses, family issues and criminal behavior, but not from a strange middle-of-the-night accident, a sex scandal and rehabilitation for undisclosed personal problems. He says it wasn't drugs. It wasn't alcohol. He won't confirm that his rehab was for sex addiction, as has been reported. Tiger just had to go somewhere to de-Tiger himself, I guess.
[+] Enlarge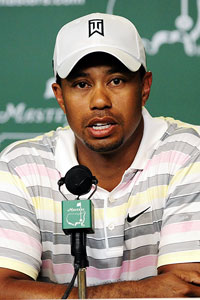 Rusty Jarrett/AFP/Getty ImagesHe spoke, yes. But did he say anything to help get past his problems with the public?
Tiger has proved in recent weeks that he's a step or two ahead of the media, whether we get to ask unlimited questions or not. In fact, the non-tabloid press seems more eager than Tiger himself to put this ordeal to bed. Apparently, while our job as journalists is to report and seek the truth, there is something uncomfortable and ridiculous about trying to pin down an athlete who has been derailed by sexual exploits.
After watching his nearly 40-minute, pre-Masters news conference (and with all due respect to my media colleagues), it was clear to me that Tiger should never have feared facing the media. This was a perfect format and venue for him to evade important questions and give a bunch of non-answers.
There is a big difference between "taking" questions and answering them. And while I hate to burst a perfectly crafted public relations bubble, there are some nagging things about his story that still don't quite add up.
Let's start with his car crash, the one that ignited this strange chain of events. When he was questioned about it on Monday, Woods said, "The police investigated the accident and they cited me 166 bucks and it's a closed case."
Closed, yes. Does it make sense yet? No.
We still don't know why Tiger got into his vehicle during the early morning hours the day after Thanksgiving. When he made his first public statement in February, he denied rumors that he'd had a verbal or physical confrontation with his wife, Elin, leading up to the accident. But why was he in the car at that hour? Where was he going? And if Tiger is going to push the explanation it was just your run-of-the-mill 2 a.m. fender bender, why does he feel the need to remind us that he fulfilled his legal obligations?
"I did everything to the letter of the law," Woods said. "My lawyer gave me advice and I followed that advice."
And what about Tiger's association with Dr. Tony Galea, the Canadian doctor who treated Woods but is currently under investigation for smuggling performance-enhancing drugs? Woods, who has had serious issues with his knee, explained he called on Galea for platelet-rich plasma therapy, a legal medical procedure that is supposed to help speed up the recovery process.
That, in itself, isn't problematic. Woods denied ever using any performance-enhancing drugs, but his denials don't explain why Galea performed the plasma therapy procedure at Woods' home instead of in a medical facility. Nor do they explain why Woods would have Galea perform any medical procedure on him whatsoever when records indicate Galea doesn't even have a license to practice medicine in the United States.
Until proved otherwise, Woods will be given the benefit of the doubt. But it's also worth noting that we have witnessed a number of other professional athletes standing before the public and telling bald-faced lies about performance-enhancing drug use.
[+] Enlarge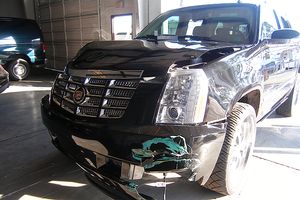 Florida Highway Patrol/Getty ImagesThe details behind the Nov. 27 accident that wrecked his car are still unknown.
And finally: Tiger's mistresses. That subject was never broached, but should have been. This news conference gave Woods an opportunity to set the record straight. A Vanity Fair story alleges that Tiger's agent, Mark Steinberg, knew about his affairs and that other people within Woods' inner circle facilitated them. If Woods is going to stick to the spin that he's taken a long hard look at himself and changed, shouldn't he have given a stronger answer about disassociating himself from the people on his team who enabled him?
"Well, I certainly have everyone around me," Tiger said. "I've lied and deceived a lot of people and a lot of people didn't know what I was doing, either. So I've had, again, a tremendous amount of support, as well, from others on the outside, and it's been a difficult time, but also I'm actually surprised how much support I've gotten, as well."
This is why I never wanted Woods to explain anything in the first place. Tiger's truth and the real story can't coexist.
I'd like to be able to move on and write a strictly golf column, but Tiger's inconsistencies continue to make that impossible. Tiger claims that when he made that public statement in mid-February, he had no immediate plans to play golf; yet here he is, showing up right about the time he would have if his sex scandal had never existed.
Should Tiger win the Masters -- which would say a lot about the level of his competition -- there would be a rush to label this a great comeback story. Certainly, it would be ratings gold, and Tiger would further cement himself as being bigger than golf. I would be among those who would be amazed, given the stress he has probably been under the last few months.
But should he win, I can't help but wonder if it would set the stage for more entitlement, the kind that Tiger himself admitted was a catalyst to his downfall. Winning would allow him to escape any lingering questions, however relevant.
So let's not kid ourselves. Tiger hasn't stopped manipulating the message. He is going to stick to the same game plan: Reveal the things that corroborate what he wants us to know.
I'm just wondering how we can call this a comeback when the exact same person has returned.
Jemele Hill can be reached at jemeleespn@gmail.com.
Jemele Hill
ESPN
2010 MASTERS

Most of the bounces seemed to go Phil Mickelson's way Sunday at Augusta. None was better than seeing wife Amy greenside as he captured his third Masters title. Rick Reilly
The Masters
Date:
Apr. 8-11, 2010
2010 champion:
Phil Mickleson
Course:
Augusta National Golf Club
Where:
Augusta, Ga.
Yardage, par:
7,435 yards, par-72
TUESDAY
MONDAY
SUNDAY
SATURDAY
MASTERS.com