Commentary
Bye bye Jimmer, hello Kemba Walker
Updated:
March 25, 2011, 10:34 AM ET
By
Dick Vitale
| ESPN.com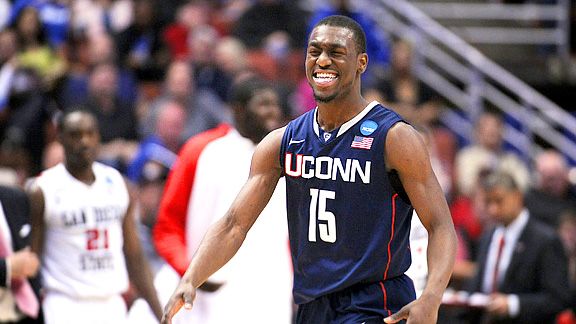 Harry How/Getty ImagesKemba Walker is all smiles after scoring 36 points in 40 minutes to beat San Diego State in Anaheim.
The Kemba Walker show rolls on as Connecticut has won eight straight games in tournament play (five in the Big East, three in the Big Dance).
The Jimmer Fredette show came to an abrupt end in overtime against Florida.
What Kemba Walker has done in the Big East and NCAA tournaments is simply amazing. He had 36 points against San Diego State on Thursday night, including 4-of-8 on trifectas. He also played all 40 minutes against an Aztecs team that finished the season 34-3.
Walker's run through the Big East tourney was the best I have seen. Five wins in five days, four coming against ranked teams. The ride continued in a tough environment in Anaheim, just 90 minutes away from the San Diego State campus.
It came against a San Diego State team which allowed 57 points per game in its first two NCAA contests.
Meanwhile, Fredette's career came to an end against a Florida team he scored 37 against in last year's tourney. Jimmer scored 32 on Thursday, but it was a matter of too much Alex Tyus, who had a huge double-double by dominating on the glass while scoring often on the baseline.
Fredette finished his career with 2,579 points, including 1,068 this season. He got my vote for national player of the year.
Unfortunately, he struggled from behind the arc Thursday, missing 12 of his 15 trifecta attempts.
BYU looked like it was in good shape when it was very much in the game despite a slow start by Fredette. He did not score his first basket until six-plus minutes were left in the first half and he still scored 32. My friends, he can play at the next level with his range. He is also a better passer than he is given credit for.
Wow, it would have been great if Walker and Fredette met in the Final Four. That will not happen now.
Both have been super, scintillating and sensational this season. The difference is Walker's season will continue.
College Basketball analyst
Dick Vitale, college basketball's top analyst and ambassador, joined ESPN during the 1979-80 season. His thorough knowledge of the game is brought forth in an enthusiastic, passionate style. Vitale also contributes columns to ESPN.com.