Commentary
Bill Hamilton, a pioneer in sports information
Updated:
February 24, 2011, 5:36 PM ET
By
Donald Hunt
| ESPN.com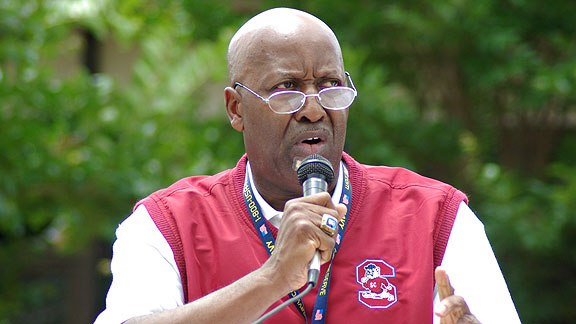 SC State athletics From an aspiring professional to an inspiring professional, Bill Hamilton has made his mark on the sports landscape and South Carolina State.
South Carolina State is a very special place for Bill Hamilton, who is an alumnus and the school's only full-time sports information director. Hamilton, 61, is in his 38th year as the Bulldogs' sports publicist at the historically black college in Orangeburg, S.C.
"This is actually the only professional job I've ever had," Hamilton said. "You know once I got my undergraduate degree in May of 1973, it was only two months later that South Carolina State came calling about the position. I was the third person interviewed, and I was lucky enough to get it. That was July of 1973. It was just a few months after Coach [Willie] Jeffries was named the head football coach. He was one of the first people I met when I was hired here."
Hamilton played a major role in publicizing all sports at South Carolina State. He rolled up his sleeves and worked diligently in his office to promote and market the Bulldogs athletic programs. In fact, he put this old-school HBCU on the national sports map. He credits the black newspapers around the country for providing the school with great coverage. During the years, the mainstream newspapers, radio and television stations were reluctant to cover black college sports. But eventually they had to cover South Carolina State.

ESPN celebrates Black History Month by showcasing the stories and contributions of sports' biggest athletes from the past, present and future. More
"Some of the greatest athletes would have never been known if it wasn't for the black newspapers," Hamilton said. "I'm talking about newspapers like the Afro-American, Journal and Guide in Norfolk, Virginia, The Philadelphia Tribune and the Pittsburgh Courier. The Courier used to select a black college All-American football team every year. The black newspapers allowed the HBCUs to tell our story. Then, the mainstream papers came later to cover our games."
Hamilton got it done by sending press releases, game stories and features on his coaches and athletes all over the country. When he started in the business, he used a typewriter, telecopier and mimeograph. Now, information is being disseminated by e-mail on a daily basis. Schools post press releases and announcements on websites. They're also using Facebook and Twitter. Hamilton is adjusting to the new media with help from his staff.
"It's amazing how things have changed over the years in terms of information," Hamilton said. "Everybody wants things instantly. I'm fortunate to have two great assistants in Romanda Noble and Kendrick Lewis who do a good job with the social media. It's another way for us to get our message out there."
Hamilton, a Baltimore native, grew up in Chesterfield, S.C., where he graduated from Gary High School. He was a good high school basketball player. But when he came to South Carolina State, he quickly found out how much talent the school had in not just basketball but football as well.
"I played basketball in high school," Hamilton said. "I played some pickup games in the gym with Tyrone Hill and Phil Stephens who were on the basketball team. They asked me to try out for the team, but I didn't make it. Ed Martin was the basketball coach. He ended up being my physical education teacher. Ed had a good pipeline of basketball players from Philadelphia like Bobby Lewis, Sonny Jackson, Bill Morgan, Frank Card and Tee Shields. Bobby was a classmate of mine for a year.
"

Bill Hamilton got it done by sending press releases, game stories and features on his coaches and athletes all over the country. When he started in the business, he used a typewriter, telecopier and mimeograph.

"
"I was in school with three NFL greats -- Donnie Shell, Harry Carson and Barney Chavous. Donnie graduated the year after I did. He had a great career with the Pittsburgh Steelers. Harry graduated two years later, and Barney graduated the same year as I did. I can't say enough about those guys."
Shell, Carson and Chavous played for Willie Jeffries, and all three were inducted into the College Football Hall of Fame. Shell, an undrafted free agent, was a five-time Pro Bowler with the Steelers at strong safety. Moreover, he won four Super Bowls (1974, 1975, 1978, 1979). Carson, a brilliant linebacker with the New York Giants, was a nine-time Pro Bowler and is a member of the Pro Football Hall of Fame. He won a Super Bowl with the Giants in 1986. Chavous played defensive end for the Broncos and won two Super Bowls (1997 and 1998) as an assistant coach for Denver.
Hamilton made household names for so many athletes over the years like basketball stars Roderick Blakney and Roberta Williams, but football has always been the big sport. The school has produced a number of NFL players such as Charlie Brown, Robert Porcher, Chartric Darby, Orlando Brown and Barney Bussey.
These players all thrived under the tutelage of Jeffries, the school's legendary head coach, who served for 19 years at South Carolina State in two different segments of his career (1973-1978 and 1989-2001), posting a 128-77-4 record. Jeffries was also the first African-American to be hired at a Division I school. In 1979, Wichita State appointed him as head coach. He spent four years (1979-83) with the Shockers before moving on to Howard (1984-88) and eventually returning to South Carolina State. When the school decided to make Jeffries the head coach emeritus, Hamilton used his contacts to make sure the sports world was aware of this announcement.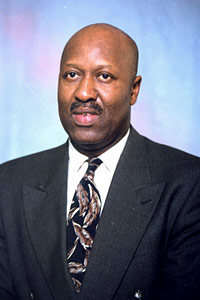 SC State AthleticsBill Hamilton is a Baltimore native, grew up in Chesterfield, S.C., and a lifetime member of Kappa Alpha Psi Fraternity, Inc.
He also took great pride in seeing South Carolina State defensive back Phillip Adams become the only Division I HBCU player taken in the NFL draft last year. Adams, who played under coach Buddy Pough, was drafted in the seventh round by the San Francisco 49ers and has recently completed his rookie season.
Hamilton has been enshrined in the Mid-Eastern Athletic Conference, College Sports Information Directors of America and the South Carolina State halls of fame. He has earned several professional awards during his nearly four decades of publicizing sports, including the All-American Football Foundation Scoop Hudgins Outstanding SID, the Black College Sports Information Directors Association Cal Jacox-Champ Award and the CoSIDA Bob Kenworthy Community Service Award. Hamilton also received the CoSIDA Trailblazer Award. These awards certainly depict his career. Hamilton has been one of the great pioneers in sports information among HBCUs.
"We've had some great SIDs in black colleges like Collie Nicholson, Bennie Thomas, John Holley," Hamilton said. "We have some other good ones today like Ed Hill, Wallace Dooley and Alvin Hollins. We're all very close. We help each other out. They're all really committed to promoting HBCU sports."
Hamilton has been a huge inspiration to many younger sports publicists. Kutztown University sports information director Rob Knox has been able to gain a lot of knowledge from him.
"Bill is very humble and extremely courteous," Knox said. "I remember meeting him in 2005 in Philadelphia and he made me feel welcomed. Even though I was in awe of Bill at the time, he made me feel comfortable.
"Bill also has a great personality. During my time as BC-SIDA president, he has been extremely supportive and he's always around when you need him. In my opinion, Bill is one of the giants of the sports information profession. I am fortunate that I've had the pleasure of learning and working with him. He is an excellent role model. I am a better professional and person for having crossed his path."
Hamilton has traveled with the Bulldogs to the NCAA tournament, FCS playoffs, Penn Relays and San Juan Shootout in Puerto Rico, as well as other major sporting events. He had no idea that he would maintain this position for so many years.
"I grew up in Baltimore reading Sam Lacy, Hall of Fame sportswriter for the Afro-American," Hamilton said. "I thought I was going to be the next Bryant Gumbel. I thought at that time, it was a stepping-stone to some place else. But it turned out to be a lifelong vocation and a lifelong love."
---
Donald Hunt is a columnist for The Philadelphia Tribune. His HBCU Notebook on ESPN.com can be found here. Got a story idea for Hunt? E-mail him at dhunt37261@aol.com.