Commentary
Nick Lachey's role as baseball owner
Updated:
September 24, 2010, 2:29 PM ET
By
Wendell Maxey
| Special to Page 2
Nick Lachey has always been a huge baseball fan, but he recently got his first postseason experience as a team owner.
Last Saturday, Lachey, former boy band singer and reality TV star, was in Memphis with the Triple-A Tacoma Rainiers, a team for which he is part-owner. He stood in the locker room smiling as his players doused each other with bubbly and brew after the Rainiers claimed their first Pacific Coast League title since 1969 by sweeping the Memphis Redbirds in three games.
[+] Enlarge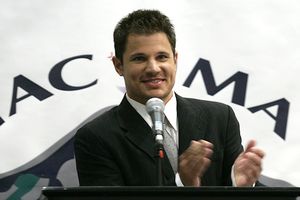 AP Photo/ TED S. WARRENNick Lachey became part-owner of the Tacoma Rainiers in 2007.
By Tuesday night, the love was gone. Tacoma lost 12-6 to the Columbus Clippers for the Triple-A championship.
Hours earlier, Lachey recalled how a kid from Ohio, who grew up a die-hard Cincinnati Reds, Bengals and USC Trojans fan, came to be part of a minor league baseball ownership group in Tacoma, Wash.
Now that is reality TV worthy.
"Time has really flown by," said Lachey, who became part-owner with the Schlegel Sports Group in 2007. "I remember being there to throw out the first pitch and the press conference when we bought the team.
"It's difficult for me not being a local owner, with living out of state and being busy. I don't make it around as much I'd like to. I've just tried to be a supportive voice for this team, and hopefully we've brought some good publicity to the area."
Lachey has been busy with his next album, due out in the spring of 2011. Since parting ways with Jive records, he's become a "free agent" and has started an independent pop music project.
Though Lachey doesn't run the day-to-day operations of his baseball team, he is an emotionally invested owner who tends to, "see things from a fan's perspective."
Those within the Rainiers organization have come to know Lachey beyond his former success with the band 98 Degrees and MTV reality show "Newlyweds".
"He really is a fan and loves sports. He'll come out to take batting practice, when he's around, with the team," said Aaron Artman, president of the Rainiers. "People have seen the singing and acting side, but when we see Nick we see in him a guy who loves sports and has a smart business mind about it.
"I remember having a celebrity charity softball game that he hosted, and afterward everyone on the team staff wanted to meet Nick. So he said, 'why don't we just go bowling?' We took the whole staff and rented out a bowling alley. He's just a great member of the ownership group."
This isn't Lachey's first stab at baseball ownership.
About six years ago, Lachey was involved with a group trying to buy his hometown Cincinnati Reds.
Sadly enough for a kid who grew up watching Pete Rose manage the Reds, followed Barry Larkin and Eric Davis, and stayed true even during those dim Mario Soto teams in the early 80's, the deal never materialized.
"We didn't end up getting the team, but it did pique an interest in me to explore being more involved in sports -- on this side of things," Lachey said. "It was a learning experience for us all, and there is a lot of value in owning at any level. That's a reason we decided to get involved in minor league baseball in the right situation. Being able to do that in a good way, shows you can be successful if you ever do want to be part of a major league ownership group."
Maybe one day he will make it to "The Show". But for now, Lachey remains part of a team experiencing major league success in Tacoma.
"As an ownership group, this is what you dream of where you compete for a championship and give the community a real source of pride," Lachey said. "You don't this opportunity very often."
Wendell Maxey is a freelance writer for Sports Media Exchange, a national freelance writing network.