Commentary
Q&A: Mario Chalmers admires Jordan
Updated:
March 24, 2011, 4:08 PM ET
By
Mario Sarmento
| Special to Page 2
AP Photo/Charles Rex ArbogastMario Chalmers worked his way into the starting lineup this year for the Heat.
He hit the biggest shot of the 2008 NCAA championship game, a three-pointer with 2.1 seconds left in regulation that led to his Kansas team winning the title. But since arriving in Miami, Mario Chalmers has been known for his defense, ranking fourth in the NBA in steals in his rookie season, and moving into the starting lineup at point guard for the Heat this year.
Chalmers recently revealed his likes and dislikes to Page 2.
What songs are playing in your iPod?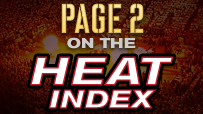 Be sure to check out Page 2's spin on the happenings of the Miami Heat:
• Q&A: Mario Chalmers admires Jordan
• DJ Khaled not worried about his Heat
• Q&A: Carlos Arroyo on being unique
• Q&A: Joel Anthony loves his BlackBerry
• Q&A: Juwan Howard idolized Dr. J
• 'Don't Hate Miami' defends city's honor
• Seikaly: Chemistry hurting Heat
• LeBron's stylist talks NBA style, tips
• Q&A: House wants Obama's number
• 'Grandmothers' standing by LeBron
• LeBron Poetry Contest's famous losers
• LeBron Poetry Contest claims winner
• Is this man a LeBron lookalike?
• Collectors eye first LBJ card with Heat
• Prose flows in LeBron Poetry Contest
• Hill: Miami is now LeBron's town
• Miami mayor: Heat to silence critics
• Seikaly: Why all the fuss?
Right now I've got the "Ashes to Ashes" mix tape playing by Rick Ross ... anything Lil Wayne, (Young) Jeezy, Drake, T.I.
What was the last concert you attended?
Actually, last year, Alicia Keys. It was real good. Me, (former teammates) Mike Beasley and Daequan Cook, we went.
What was the first car you owned?
2008 Escalade. (I still have it), it runs excellent.
What's your most prized possession?
A picture of my grandmother (Ethel Mae Evans) who passed away; she was like my best friend. So, I've got a little framed picture of her.
What person did you most admire?
Michael Jordan, because ... growing up in North Carolina, I saw Jordan play a lot, I was a Bulls fan.
What movie can you not get enough of?
"All About the Benjamins." It's just a funny movie. I like Mike Epps.
If you had a one-week escape, where would you go?
Barbados. Never been, I've just heard a lot about it, want to check it out ... it's just a nice, relaxing place, beautiful beach.
What person's cell phone number would you most like to have?
(Actress) Stacey Dash. Cause, that was my biggest crush growing up, and it's still that way.
Mario Sarmento is a freelance writer for Sports Media Exchange, a national freelance writing network.