Parents of up-and-coming hoopsters needed him. NCAA officials, basketball purists and David Stern could have done without him. The NBA's biggest stars continue to swear by him.
There's no neutral zone when it comes to Sonny Vaccaro. The longtime sports marketing guru who put the "air" into Air Jordan, the man who some call the "Godfather of Basketball" but others call "The Don" or worse, definitely makes for a compelling character, worthy of the Hollywood treatment.
And thanks to one of Vaccaro's greatest admirers, his story will now be told.
Baron Davis has signed on as executive producer of "ABCD Camp," a HBO biographical drama, currently being written by David Aaron Cohen ("Friday Night Lights") that will detail the rise of the marketing executive who signed Michael Jordan to his first million-dollar shoe deal at Nike and launched the careers of dozens of NBA stars through his summer basketball camps. In his first acting deal since the curtains fell on "The Sopranos," three-time Emmy winner James Gandolfini will play Vaccaro and also work as an executive producer for the network that made Tony Soprano a household name.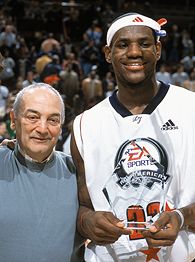 Garrett Ellwood/NBAE via Getty Images
Sonny Vaccaro has worked with NBA royalty, including King James.
"Sonny's a pioneer," Davis said Monday. "He revolutionized the game and empowered players and their families, educating them about sports and business.
"As popular as he is, Sonny has always had people who fought against him," Davis added. "He has been an underdog in trying to do something positive for student-athletes."
Vaccaro rose to prominence by challenging the NCAA on behalf of student-athletes, many of whom were African Americans from impoverished backgrounds. Through positions at Nike, adidas and Reebok and his summer hoops events -- which include his ABCD Camp, the Roundball Classic and AAU tournaments -- Vaccaro helped launch the era of shoe megadeals and the careers of prep-to-pros such as Kobe Bryant, Tracy McGrady and LeBron James. Through it all, Vaccaro has drawn the ire of purists, pundits and NCAA officials with tactics that include brokering deals with college coaches to outfit teams in brand names and lavishing camp attendees with gifts and gear.
Davis, who calls Vaccaro a friend, is well aware of the hullabaloo that surrounds Vaccaro's life work. The Warriors' guard said the film will address the controversy while shedding light on the enigmatic figure.
"He's a controversial figure in the sports world, but I think the film will depict who he really is and what his true intentions are in the basketball world," Davis said. "He has been a mentor to me and to so many other individual players. He cares about people and truly has the player's best interest in heart."
It was during his playing days at UCLA when Davis first met Vaccaro in 1997. The Bruins' star was showing Tracy McGrady around Los Angeles on the eve of the then-prep star's announcement to turn pro. Months earlier, McGrady had wowed scouts at Vaccaro's ABCD Camp, and he was set to have dinner at Vaccaro's home.
"In high school, I was one of those guys who didn't get invited to the ABCD camp," Davis recalled with laughter. "But I'd followed Sonny while I was in college and knew about the great stuff that he was doing for players. And over that dinner, I immediately felt like he was so full of inspiration and one of the greatest guys I'd ever met. I was honored to be in his presence."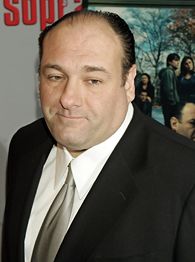 AP Photo/Stuart Ramson
For James Gandolfini, the Sonny Vaccaro movie will be his first acting gig after "The Sopranos."
Davis' and Vaccaro's paths would cross again in the summer of '05 when Dan Halsted, producer of "S.W.A.T." and Disney's upcoming Richard Petty biopic, approached Davis and his Verso Entertainment partner, Cash Warren, with the idea. Davis says he leapt at the opportunity and, together, they set out to sign Cohen, a prolific screenwriter who also wrote "The Devil's Own." For the past two summers, Warren, Davis and Cohen have descended on Vaccaro's signature camp in New Jersey to conduct research and interviews with Vaccaro and attendees, including incoming freshmen Kevin Love (UCLA) and OJ Mayo (USC).
But before they could pitch the project to networks, Davis felt they needed more star power. His initial instinct was to reach out to his peers, players who shared an interest in movie producing and had some familiarity with Vaccaro. So, Davis called his pals Elton Brand ("Rescue Dawn"), a partner in Gibraltar Entertainment, and Lamar Odom, who has several projects in development at his Rich Soil Entertainment.
"My initial motivation was to bring other NBA players into the fold," said Davis, who nixed the idea when Halsted secured Gandolfini's interest. "Once James Gandolfini was attached to it, there was nothing more that needed to be done. The rest is history."
"[Gandolfini] was looking for something that would not really reinvent but add to what he created with 'The Sopranos,'" said Warren, who noted both Gandolfini and Vaccaro are "strong-willed, and share a passion for life."
"Jim had no shortage of offers for other projects, so we're very fortunate to have landed him and have him so involved in the film's development," Warren added.
For Davis and Warren, the deal is the latest development in what has become a strong year for the duo. In May, the star point guard led eighth-seeded Golden State past the top-seeded Dallas Mavericks in what became one of the greatest playoffs upsets in league history. Now, Davis and Warren's Verso Entertainment has added its highest-profile project to an already crowded slate. Verso is currently in postproduction on "Belly 2," which stars rapper The Game in the sequel to director Hype Williams' crime flick (Lionsgate will distribute later this year) -- and a documentary from critically lauded director Stacey Peralta ("Dogtown and Z-Boys") about the Bloods and the Crips, L.A.'s notorious street gangs.
"Coming into the film industry, I wanted to tell stories that made sense for me," Davis explained. "I want to make an impact on this country, to let them know what's going on in our own backyards. I'm still in the middle of my NBA career, but I felt I'd be doing myself a disservice to wait to tell these important stories.
For Vaccaro, the story continues. The 67-year-old native of Pittsburgh recently announced plans to retire from the shoe business and his basketball camps in order to devote his time to advocating the rights of student athletes through a national speaking tour. His initiative also includes the creation of a national basketball academy, one Vaccaro hopes will turn elite players into role models while reversing the increasingly sullied image of youth basketball.
"People don't realize that Sonny's a guy who leads with his heart," Davis says. ""To me, this all is just the start of something that could be very positive."
Sam Alipour is based in Los Angeles. His Media Blitz column appears in ESPN The Magazine and regularly on Page 2. You can reach him at sam.alipour@gmail.com.