Single page view
By Skip Bayless
Page 2
Doubt rules the top of this NBA draft.
You probably love Marvin Williams. I'm not sold.
Will Andrew Bogut or Chris Paul ever make an All-Star team? You probably say no doubt. I'd give it a definite maybe.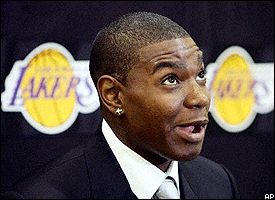 It's all good for Bynum . . . for the time being.
As a Western Conference general manager told me: "If in five years you told me that Bogut, Williams and Paul hadn't made an All-Star team, I wouldn't be shocked. With LeBron and Carmelo, I would have been shocked."
Translation: No LeBron or Carmelo in this crop.
I like Deron Williams – you probably love him. But I say the high school kid, Gerald Green, will turn out to be better than anyone else in this draft.
Then again, Green is no Scola. Luis Scola almost certainly will be a better NBA player than anyone who will be drafted Tuesday night.
You probably say: "Who?"
That's why the champions can't stop grinning. Not only did the San Antonio Spurs just win their third NBA title in seven years, but they're also about to add the best power forward playing pro ball in Europe. Six-foot-8 Scola – as fearlessly tough as he is skilled – was as much a force on Argentina's Olympic gold-medal team last summer as Manu Ginobili.
Think Manu at power forward. Scola attacks the glass the way Manu attacks the rim.
No fair, you say?
No, fair.
Though you probably can't name their GM (R.C. Buford) or their director of player personnel (Sam Presti), the Spurs keep beating the system, in the draft and on the court. The more they win, the worse their draft picks are. The worse their picks, the more sensationally (and internationally) they draft.
Three drafts ago, the Spurs took Scola in the second round. Now, their goal is to buy him out of his European contract so he can rejoin his buddy Manu, who will make his transition into the NBA so much easier.
In 1999, the same Spurs, who had just won the championship, took somebody named Emanuel Ginobili with the second-to-last pick in the second round. If you redrafted today, Manu would go No. 1 over '99 top picks Elton Brand, Steve Francis, Baron Davis and Lamar Odom.
Manu deserved Finals MVP over Tim Duncan, who won it six votes to four.
In 1997, the Spurs took Duncan No. 1 overall despite doubts around the league about whether he had the physique or mentality to make a dent in the NBA. "Too undersized and soft," I heard then about 6-11 Duncan, who is from St. Croix in the U.S. Virgin Islands. "Too much of that don't-worry, be-happy island mentality."
Duncan still plays too soft at times – and he's still very hard to beat.
In 2001, the Spurs took a kid from Paris named Tony Parker with the 28th pick in the first round. Now, he's their third star. How do you say dynasty in French?
Duncan, 29, and Ginobili, 27, are signed through 2010. Parker, 23, is wrapped up through 2011. Scola will only make this team better.
I know what Scola can do. I saw him lead Argentina to a gold medal.
I'm not sure about Bogut. He averaged a not-bad 14.8 points and 8.8 rebounds for Australia's Olympic team. But he could not carry his Utah team to the Final Four, which should be cause for alarm in Milwaukee (the Bucks have the No. 1 pick).