Single page view
By Skip Bayless
Page 2
The other night, I sat in front of my TV, riveted by a Little League World Series game as if it were some future-shock thriller co-directed by Steven Spielberg and Wes Craven.
This was California vs. Florida, two literal hotbeds where baseball talent grows on palm trees. This was fireballing California slugger Kalen Pimentel, a 12-year-old who's growing a beard, vs. Florida's Dante Bichette Jr., the former star's son who nonchalantly admitted on ESPN that girls chase him back to his hotel room in Williamsport, Pa., but that the security on his floor stops them.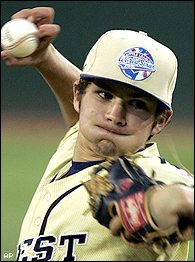 Kalen Pimentel is one big boy -- nice stubble!
At 12, I was still trying to figure out why my coach made me wear a terribly uncomfortable cup when I played catcher.
Bichette turned down an interview request from ESPN's Harold Reynolds earlier that day because he wanted to sleep in. Yes, a 12-year-old blew off ESPN's most respected ex-player analyst.
Was it enough that Pimentel began throwing the equivalent of 98 mph, big-league fastballs? No, he threw almost as many breaking balls as fastballs. With a full count on Bichette, Pimentel threw him a curve …
… a sharp-breaker on the outside corner that Bichette pulled through the hole between third and short for a hit.
Pimentel is listed at 5-foot-8 and 150 pounds, but he looks as if he could be a couple of inches taller and 20 pounds bigger. Either he has rare genetics, or he already has put in some serious time in the weight room. Hank Aaron never had an upper body like this kid's.
Pimentel has hit two LLWS grand slams. When he swings, he and his plutonium bat make the park seem about the size of a batting cage. In fact, many of these kids crush home runs that look as if they would easily make the left-field bleachers at Yankee Stadium.
Bling is the sound of bat detonating ball, as well as what these junior rock stars surely don after nationally televised games.
Outside The Lines
Steroids and Little League ... together, they're not a completely foreign thought anymore. Outside The Lines (Sunday, 9:30 a.m. ET, ESPN) talks to some players at the Little League World Series, and their parents, about steroids and the game.
Are the fences made-for-TV short? Or is this the Tom Emanski Effect? Have the Emanski hitting videos created younger and younger Stepford sluggers who coil perfectly on their back legs and generate optimum leverage and power while benefiting from lighter and hotter bats launching rocket-fueled balls?
Pimentel says rival managers have often asked him to produce his birth certificate, which he gladly has done. He says his mom is 6-foot and his granddad is 6-8. He says he hasn't shaved the stubble on his chin because his teammates think it's cool.
You figure his wife and kids must like it, too.
Sorry. That was a bad joke. Wasn't it? Please tell me it was.
And oh yeah, Saudi Arabia's Aaron Durley is 6 feet, 5 inches tall.
Please tell me I'm not watching Speilberg/Craven's "When the Clock Strikes 12."
Please tell me what I had after watching Wednesday night's game was a bad dream, not a premonition.