By Skip Bayless
Page 2
These three have long shared one game-time trait.
Athletic arrogance.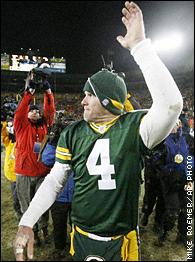 AP
How much should we read into Brett Favre's wave at the end of this Dec. 11 game?
Before and after games, they could be endearingly humble. But with championships on the line, their body language spoke of an intimidating superiority complex. These three are big, strong, supremely gifted men who knew they were the best -- maybe the best ever -- and they wanted the competition to know it, too.
But now, the only competition that really matters is in the mirror. Now, the lines they worry about aren't foul lines or goal lines or blue lines, but the lines around their eyes that betray their age. Now, this transcendent trio shares a strange new sensation. Fear. Now, Brett Favre, Roger Clemens and Mario Lemieux are facing their athletic mortality, and it scares them to death. For once, a new year feels more like an end than a beginning. These three quietly resent the fans who now say: "Please don't destroy our memories." How selfish is that? How would the guy sitting up in Row 42, Seat 4 like it if he was told he had to quit the job he loves just as he is entering the prime of life?
I'm Brett Favre, and I've earned the right to play as long as I damn well please.
I'm Roger Clemens. Nobody can tell me I have to play golf every day.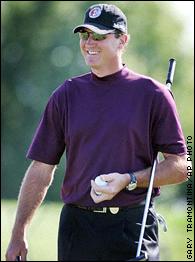 AP
How much golf can a soon-to-be retired star play?
I'm Mario Lemieux. This is America. I own my team. I can still sell tickets and I can still play.
Yes, these three are defiantly scared because they've heard the roars and felt the athletic elation that very few humans have known. As deep-down tired as they are of trying to stay in shape and fight back from injury, they do not want the stadium music to stop. They want the sports world to keep hanging on their every word -- even if it's for retirement hints. They do not want to experience the kind of competitive death they've watched Jordan and Elway and Gretzky suffer. Those immortals suffered through serious withdrawal when they retired. The other day, Favre was asked during an interview what he would do with his time if he retired. After fumbling for an answer, he said: "To be honest, I don't really know. There's only so much golf you can play." Jordan and Elway and Gretzky would tell Favre that no matter how high the stakes might rise in golf games against his buddies, he will never again be able to approximate the rush of beating the best in a Super Bowl while the world watches. They'd tell Favre that owning or coaching a team is so much harder and so much less rewarding because
you
can't make the game-winning play. They'd tell him that doing card shows and TV appearances will only make him long for what he once was.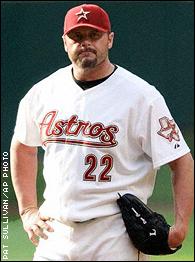 AP
Aches and pain, sure. But the Rocket still gets results, too.
Nolan Ryan has told Clemens that the toughest year of his life was the one after he retired from baseball. Ryan has told Clemens -- who grew up idolizing his fellow Texan fireballer -- that he fought depression that year. No more hanging around the clubhouse with the guys. No more big-news start every fifth day. No more motivation to stay in shape.
Once you walk out that clubhouse door for the last time, the young players will look at you as a once-great has-been. So you look in the mirror and you fight the truth. You listen without listening to loved ones gently urging you to quit. For sure, you ignore columnists who have the audacity to decide your Hall of Fame future for you. Forgive me, gentlemen, but this is exactly what each of you should do.
---
You are Mario Lemieux, No. 66. At 6-foot-4, 230 pounds, you at times have dominated hockey games in a way no man ever has -- with power
and
finesse. You have won two Stanley Cups in Pittsburgh. You at least deserve to be in the greatest-ever debate with Gretzky and Hull and Orr. You might be considered
the
greatest if you hadn't missed part of every season you've played -- all 17 -- with injuries or illness. You beat Hodgkin's disease. Now you say you have an irregular heartbeat under control. You've been blessed -- and unlucky at the same time. Your back has always plagued you. Your team defaulted on the millions in deferred salary it owed you, so you had to buy the Penguins to protect your financial future.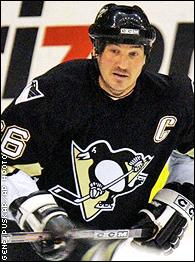 AP
You gotta have heart, Mario. Time to retire.
But at 40, you got a little selfish and scared. As unofficial general manager, you assembled a team that would best showcase your diminishing skills. Yes, you were able to draft the next great player, Sidney Crosby, but you also brought in several aging, overpriced stars who would basically over-respect you.
All the new pieces just created more of a puzzle. You can't practice hard and you're slowing down an offense champing to accelerate under the new freewheeling rules. So how did you solve the problem? You signed off on firing your coach and friend, Eddie Olczyk. Face it: You are at least part of the problem. A veteran NHL observer said: "I went to a Penguins game the other night, and I didn't notice Mario Lemieux on the ice. Mario Lemieux! When that happens, it's time to go." Now you have your opening, your graceful exit -- your irregular heartbeat. But you say you've found the proper dosage of medication and that you could return soon. This is a mistake. Yes, you can still score the occasional power-play goal. But continuing to humiliate yourself will be even harder on your psyche than facing the inevitable year of athletic withdrawal. Yes, it is time to go, Mario.
---
You are Brett Favre, No. 4. You are the only pro football player ever to win three consecutive MVPs. Your Green Bay Packers won Super Bowl XXXI, and you have conducted countless fourth-quarter comebacks. At 6-2, 225 pounds, you have earned a reputation as the toughest gunslinger ever to play quarterback. At 36, you have started 219 straight games over 15 seasons -- the most of any quarterback ever -- and you have a shot at breaking defensive end Jim Marshall's all-time record of 282 straight over 20. But deep down, you know that even your biggest fans are starting to wonder if that longevity record is the only reason you keep playing. Yes, you've had a tough run. You lost your father in December of 2003 -- and responded with one of the greatest "Monday Night Football" performances ever, four touchdown passes in the first half of a 41-7 road destruction of the Raiders. Your wife overcame breast cancer and lost her brother in an all-terrain vehicle accident. But you have endured. Until this season. Yes, your management failed to re-sign two of your best offensive linemen, guards Marco Rivera and Mike Wahle. And yes, you've lost so many weapons to injury -- receiver Javon Walker and running back Ahman Green, along with a spirit-crushing list of their replacements. But still. You've thrown 28 interceptions, the most of your career and the most in the NFL this season. You've tied your career high by losing six fumbles.
You
, who threw 39 touchdown passes against just 13 interceptions in 1996. Now you have 19 TDs against 28 picks. You have the lowest rating (70.5) of any starting quarterback. Your team is 3-12. Lately, you've played as if you're in who-cares mode. You've become a caricature of your gunslinging self. You try to complete passes no other quarterback would have the nerve (or job security) to try.
AP
After this season, Brett's body language uses a lot of four-letter words.
You're killing what little chance your team has by making mistakes even rookies wouldn't make. Yet your grinning, shrugging body language often says, "Don't blame me. I've got no help and no chance."
Sure, if you manage to thread a throw through three defenders, you know some commentators will say, "Only Brett Favre could've made that throw." You know some in the media have made their reputations by protecting yours. You know many media members really like you personally because, well, you're really a heck of a guy. But have you taken advantage of all the hero worship? By now, you're bigger than the Green Bay Packers. Your coach keeps his job mostly because you keep saying, "If he goes, I go." You have no one who will give you any tough love, any criticism, any perspective. You need to ask for a trade, for your sake and your team's. You need to feel the pressure of having to re-prove yourself elsewhere. You need a change of coaches and a change of scenery. Your team needs the first-round draft choice some desperate club would give for you. How about the Jets? Why not end your career in New York, as Broadway Brett? Yes, your body is battered and your arm isn't quite the six-gun it once was. But you haven't suffered a major injury. You haven't had the concussion problems that cut short the careers of Troy Aikman and Steve Young. You could still play at a high level … if you were motivated. Yes, last summer you got your body into its best shape ever. But your psyche is another matter. It needs a fresh start. You don't need to retire. You just need a last hurrah.
---
You are Roger Clemens, No. 22. Before the 2003 season, you listened to everybody encouraging you to retire, and you announced your last hurrah. You received a legend's sendoff in every city, capped off by the standing ovation you received from the Florida Marlins after what appeared to be your final World Series game. But you soon realized that you retired because of what everyone else thought you should do, not you. Your competitive fire was still burning -- or in your case, raging. So you accepted an offer from your hometown team, the Houston Astros, to play for them and with your best friend from the Yankees, Andy Pettitte. You made a deal to show up just on days you pitched, so you could spend more time with your four baseball-playing boys: Koby, Kory, Kacy and Kody. You even called team leaders Craig Biggio and Jeff Bagwell and asked if they'd be OK with this arrangement. They said heck, yes. Mostly because of your performance and your mere presence, the Astros won their first playoff series in 2004 and made it to their first World Series last season. You made $18 million last year -- more than any pitcher, ever -- but you delivered, too. Your 22nd season just might have been your best. If your team could have scored a few more runs for you, your 13-8 record could have been 20-5. Heading into the final month, your ERA was an astounding 1.41. It wound up at 1.87, still the lowest of your career. You don't throw nearly as hard as you once did, but your split-finger can be almost unhittable. "Best pitch in baseball," Cincinnati's Sean Casey calls it. You're still 6-foot-4, 240 pounds, and you still love getting hitters out more than anything in life other than your family. But you tore your hamstring and hurt your back in September. Your mother died on Sept. 14, and that sapped a lot of your enthusiasm for baseball. Recently, the Astros declined to offer you arbitration, meaning they can't re-sign you until after May 1. You're 43. You're considering retirement again. You cannot stand the thought of your hamstrings or back betraying you in May or June and having to face disgrace night after night on the mound.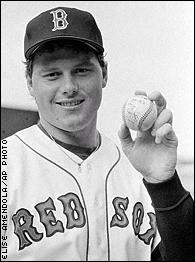 AP
Next April is the 20-year anniversary of Rocket's 20-strikeout game.
But the Yankees have expressed interest, and your original team, the Red Sox, will, too. Will the Texas Rangers make it a three-team bidding war? It isn't that you need the money, but you're addicted to the prestige of again being the highest-paid pitcher ever. Will somebody go to $20 million for one more year?
Then again, do you really want to return to face the tougher American League lineups with their designated hitters? You told Richard Justice of the Houston Chronicle that if you play again, it will be for the Astros. And this time, you should stick by those words. You should give Houston a little hometown discount and enjoy the sweetheart working arrangement you have with the Astros. The Yankees, for one, won't allow you to just show up and pitch. You should enjoy competing for your country in the World Baseball Classic in March. You should take it easy in April so you'll be stronger in September. You should rejoin the Astros in May, just in time to pitch them out of last place. Yes, enjoy watching your kids grow up, on and off the field. But commit more than ever to conditioning your body, too. Your hero, Nolan Ryan, pitched a no-hitter at 44 and didn't retire until he was 46. But he hit the exercise bike and the weights even harder than you do. Rededicate yourself, in Houston, and you could pitch until you're at least 46. Lemieux and Favre will envy you.
Skip Bayless can be seen Monday through Friday on "Cold Pizza," ESPN2's morning show, and at 4 p.m. ET on ESPN's "1st & 10." His column appears twice a week on Page 2. You can e-mail Skip here.