ESPN.com illustration
During the violence and turmoil that was 1968, Supreme Court Justice Earl Warren said, "I always turn to the sports page first. The sports page records people's accomplishments; the front page nothing but man's failures."
1968 HIGHLIGHTS
The Packers win Super Bowl II and Vince Lombardi retires as coach. … In college basketball's "Game of the Century" between Houston and UCLA (and Elvin Hayes versus Lew Alcindor), Houston wins 71-69, ending UCLA's 47-game winning streak. … At the Winter Olympics, Peggy Fleming wins the women's figure skating and Jean-Claude Killy sweeps the men's alpine skiing events. … Roberto DeVicenzo loses Masters by 1 stroke to Bob Goalby after incorrectly marking his scorecard. … Arthur Ashe becomes the first (and only) African-American male to win the U.S. Open. … Don Drysdale tosses 58 2/3 consecutive scoreless innings. … Bob Gibson finishes with 1.12 ERA. … Denny McLain wins 31 games, the first pitcher since Dizzy Dean in 1934 to win 30 (and the last). … Mickey Mantle retires after 18 seasons with the Yankees. … At the Summer Olympics, Bob Beamon sets a long-jump record that remained unbroken for 23 years. … Tommie Smith and John Carlos raise their fists. … Gibson fans 17 in Game 1 of the World Series. … Tigers beat Cardinals four games to three in dramatic World Series, with Mickey Lolich winning three games. … O.J. Simpson wins Heisman Trophy. … Raiders beat Jets by scoring two touchdowns in the final minute in the infamous "Heidi" game.
The problem in 1968 was that too often not even the sports pages could provide safe refuge from man's failures. The year began the day after the famous Ice Bowl was played in subzero temperatures, but it was the ensuing 365 days that left fans numb and blue.
Oh, it was a spectacular year in sports, no doubt about it, one that gave us athletes who remain icons to this day and performances that are still untouched. The year gave us UCLA's Lew Alcindor and USC's O.J. Simpson, the Winter Olympics' Peggy Fleming and Jean-Claude Killy, and the Summer Olympics' John Carlos and Tommie Smith. It gave us numbers that would last for a generation and more: Don Drysdale's 58 2/3 scoreless innings, Bob Gibson's 1.12 ERA, Denny McLain's 31 wins and, of course, Bob Beamon's 29 feet, 2¼ inches. But could even such performances provide the distractions needed in such a terrible, tumultuous year?
Early in the year, the first-ever national TV audience for a regular-season, prime-time college basketball game (along with 52,693 fans at the Astrodome) watched Houston end UCLA's 47-game winning streak, while Americans thrilled to Fleming's skating to gold when the Winter Olympics were broadcast in color for the first time -- but that several-week stretch is better remembered for the start of the Tet Offensive in Vietnam.
Baseball's Opening Day was delayed due to the funeral for Martin Luther King Jr. When the season opened in Washington, D.C., Senators shortstop Ed Brinkman was there in uniform, though not a baseball uniform. He was called up with the National Guard to help protect fans at D.C. Stadium in case further rioting broke out in reaction to King's assassination.
Tragically, that stadium would be renamed RFK Memorial Stadium within the year. The same night Drysdale threw his sixth consecutive shutout and extended his scoreless streak to 54 innings, Robert Kennedy won the California primary. Kennedy took the stage at the Ambassador Hotel that night and began his victory speech by saying, "I'd like to express my high regard to Don Drysdale for his six great shutouts." Minutes later, he walked through the hotel's kitchen, where Sirhan Sirhan shot him. Among those disarming Sirhan were former defensive lineman Rosey Grier and 1960 Olympic decathlon gold medalist Rafer Johnson.
When the Democratic National Convention was held two months later amid mass protests and charges of police brutality, the White Sox played four games a few miles away at Comiskey Park. The games were typical for the season that became known as the Year of the Pitcher -- the Sox, Tigers and Yankees combined to score a total of 10 runs in the four games, including a 1-0 finale, which was one of 82 1-0 games played that season (a record one in five games ended in a shutout in 1968).
Meanwhile, at the convention, Hubert H. Humphrey (for whom Minnesota's Metrodome would one day be named) accepted his party's nomination, though delegates did cast 1½ votes for Bear Bryant, or one more than the state's former governor, George Wallace, received.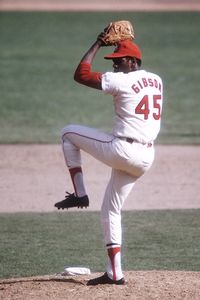 Malcolm Emmons/US Presswire
How tough was Bob Gibson in 1968? He allowed zero runs or one run 24 times in 34 starts.
It was at the Olympics, however, where the real world intruded the most.
The only Olympics held in Latin America, the Mexico City Games were preceded by the Tlatelolco Massacre, in which an estimated 300 student protestors in Mexico City were killed by police and soldiers. The International Olympic Committee considered postponing the Games, but IOC president Avery Brundage felt that politics didn't belong in the Olympics (yeah, right) and so the Games went on. Brundage was thus outraged when Tommie Smith and John Carlos marked their medals in the 200-meter run by standing with their fist raised in a Black Power salute. The gesture was a protest over the treatment of blacks as first-class athletes and second-class citizens, but Brundage banned the two runners from the Olympic Village. History has looked back more favorably on the moral courage of Smith and Carlos than on the pomposity and self-importance of Brundage. History also judged Bob Beamon well -- his leap through the high Mexico City air shattered the previous record by an astonishing 21 inches and was not bettered for 23 years.
Because of the heat of Mexico City, the Olympics began in early October, when the Cardinals and Tigers were playing a memorable World Series. Gibson, who somehow lost nine games despite his 1.12 ERA during the season, beat McLain and struck out a record 17 batters in Game 1, then put St. Louis up 3-1 in Game 4 when he struck out 10 and beat McLain again. The Tigers rallied to win the series behind the arm of Mickey Lolich, who won three games and beat Gibson in Game 7, and city streets that had seen some of the most violent rioting in American history the previous year now hosted a celebration.
And there was one other moment worth revisiting from 1968. In a year of such civil unrest and protest, in a year of so much failure, fans across the country were able to read this story about one man's accomplishment in their sports pages the day after the U.S. Open:
"FOREST HILLS, N.Y. (AP) -- Arthur Ashe, Jr., a scrawny Negro amateur once barred from playing on the courts of his native Richmond, Va., reached the pinnacle of tennis Monday when he won a slambang, scoot and scramble duel ..."
Page 2's Most Memorable Sports Years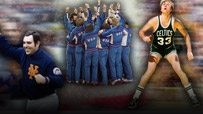 With 2008 already full of amazing moments, Page 2 is looking back at the greatest years in sports history.
THE YEARS
•
Jonah Keri on 1961: The year of the dynasty
•
Jim Caple on 1968: A year of unrest
•
Jim Baker on 1969: New York, New York
•
David Schoenfield on 1972: AL in trouble
•
Eric Neel on 1978: Greatest duel ever
•
Mary Buckheit on 1980: A miracle
•
Mike Philbrick on 1984: Bridging the gap
•
Paul Lukas on 1986: Three great weeks
•
DJ Gallo on 1994: The good old days
•
Scoop Jackson on 1998: Still resonates
•
Kieran Darcy on 2001: Darkness, and light
•
Patrick Hruby on 2004: End of exuberance
VOTE
•
PollCenter: Best year ever -- '80, '86, '98, '01 or '08?
ESPN Top Headlines