Single page view
By Aaron Schatz
Special to Page 2
In December, I wrote an article for Page 2 analyzing the greatest quarterback seasons of all time by translating the numbers of the past into the offensive environment of 2004. For the new book "Pro Football Prospectus 2005," I revisited that analysis, taking into account not only the final four games of 2004 but also several suggestions made by ESPN readers. The new analysis includes sacks, strength of schedule and rushing numbers. (Thanks to that last change, Steve Young now has two of the top 10 seasons of all time.)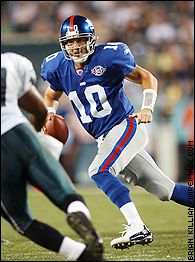 Eli Manning didn't have the worst QB season ever last year -- it just seemed like it to Giants fans.
Of course, 2004 was notable not only for a high number of outstanding quarterback seasons but also for a number of dreadful quarterback seasons. A lot of the story lines in training camp are connected to overcoming last season's offensive black holes. Can Eli Manning mature? Can Rex Grossman stay healthy? Can anybody get the ball deep to Arizona's talented receivers? Miami, meanwhile, is hoping that if it signs enough defensive linemen, maybe it won't even need a quarterback at all.
But the bad seasons of 2004 actually were not as bad as you might imagine. I put together a list of the worst quarterback seasons since 1960, using the same formula used to rank the best seasons, and you won't find anybody from last year in the top 10. You will, however, find three quarterbacks from 1998, forever to be marked as Year of the Leaf.
We've created a level playing field by transferring every quarterback season to the offensive environment of 2004. If interceptions were more common then than they were in 2004, we project fewer interceptions. If teams threw less often than they do now, we project more passing. If teams played only 14 games a year, we give each quarterback an extra two games.
Of course, players this bad don't usually get to start for an entire season, so we've set a minimum of 200 pass attempts (175 attempts before 1978) for a player to be eligible for the list. And as noted earlier, this list also takes into account sacks, strength of schedule and rushing statistics.
10. Mark Malone, 1987 Pittsburgh Steelers (8-7)
Actual stats: 12 G, 156-for-336, 46.4%, 1,896 yards, 6 TD, 19 INT
2004 projection: 16 G, 226-for-446, 50.8%, 2,563 yards, 8 TD, 20 INT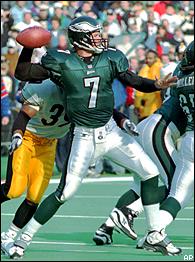 Considering Philly's wide receiver issues, will Donovan McNabb put up Bobby Hoying-like numbers?
Malone probably wishes the 1987 strike had never ended. Then again, Steelers fans might have felt the same way, because Pittsburgh managed more passing touchdowns in three strike games (7) than Malone managed in the other 12. Malone signed with San Diego the next year and was almost as bad, once again throwing just six touchdowns in 12 games. Strike quarterback Steve Bono, meanwhile, used his Pittsburgh performance to restart his career. When he finally retired after 1999, he had more career yards and touchdowns than Malone.
9. Bobby Hoying, 1998 Philadelphia Eagles (3-13)
Actual stats: 8 G, 114-for-224, 50.9%, 961 yards, 0 TD, 9 INT
2004 projection: 8 G, 120-for-222, 54.0%, 989 yards, 0 TD, 9 INT
Hoying began the 1998 season as the Philadelphia starter, was replaced by Rodney Peete halfway through Week 3, came back in Week 5, was replaced again by Peete in Week 6, took over yet again when Peete was injured before Week 8, then got pulled for rookie Koy Detmer in Week 13. In between all those lineup changes, Hoying became the only quarterback in NFL history to throw at least 160 passes without a single passing touchdown. When you look at these numbers, is there any surprise the Eagles passed up Ricky Williams to choose Donovan McNabb with their first-round pick in the following draft?
Aaron
Schatz
WORST QB SEASONS