By Bill Simmons
Page 2 columnist
Editor's Note: This is the second part of The Sports Guy's summary of the first quarter of the NBA season by using quotes from "A Few Good Men." If you missed part 1, click here to check out quotes Nos. 1-25.
On to Part 2 ...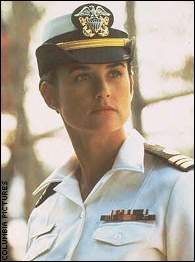 AP
Demi Moore set back the women's movement at least five years with her role as Commander Jo Galloway.
26. "Jo, I think you should prepare yourself for the fact that we're gonna lose ... we're gonna lose, and we're gonna lose huge."
To the Memphis Grizzlies ... the most entertaining NBA sad sack in recent memory. Any team featuring White Chocolate (thriving on a crummy team, his Maravich-ian destiny), Pau Gasol (an amalgam of Kiki Vandeweghe, Toni Kukoc, Alex English and every other "All O, No D" player from the past 20 years), Shane Battier and Lorenzen Wright was destined for DirecTV greatness. They might have even replaced the Clippers for me. No small feat.
27. "Why do you like them so much?"
28. "Because they stand on a wall, and they say nothin's gonna hurt you tonight, not on my watch."
The goofiest exchange in the movie (Demi Moore's character talking to Sam Weinberg about Dawson & Downey) goes to the goofiest running subplot of the season ... Milwaukee fans chanting "MVP! MVP!" every time
Ray Allen
makes a big basket during a home game. Puh-leeeze. I like Ray Allen as much as anyone, but let's not get carried away here. Those annoying Utah fans were able to steal
Karl Malone
an MVP in '97 this way; let's make sure it doesn't happen again.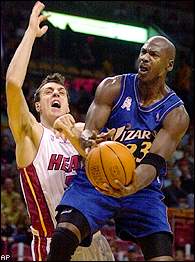 Is anyone else out there waiting for Michael Jordan to go nuts and just start kicking butt again?
(Hey, what about Moore's chintzy role in "A Few Good Men"? Maybe the last great "Women can talk a big game, but deep down, they're window dressing" role in Hollywood history. Everyone walks all over her all movie, she's relegated to "Objection your honor, these are rebuttal witnesses set to specifically refute the Colonel's testimony!" lines in the key courtroom scenes, and by the final scene, she's gazing at Cruise with those, "Just take me home and make me feel like a woman" eyes. Let's face it: Commander Jo Galloway set the women's movement back at least five years. These are the facts; they are indisputable.)
29. "You're a lousy (bleeping) softball player, Jack!"
To everyone on the Knicks. ... God, go away. An utterly unwatchable team. And I have no doubt that they'll make the playoffs. None.
30. "All you did was weaken a country today, Kaffee. That's all you did. You put people's lives in danger. Sweet dreams, son."
31. "Don't call me 'son.' I'm a lawyer and an officer in the United States Navy. And you're under arrest you (SOB). The witness is excused."
The most ridiculous exchange in the movie -- does anyone really believe Kaffee would call Jessep an SOB in court? -- goes to the most ridiculous running subplot of the season ... the way NBA referees protect
Vince Carter
every game. Does anyone attempt more out-of-control drives and get bailed out more than VC? Notice how the referees wait to see if the shot went in before they call a foul. Unbelievable. Drives me to the point of (V)insanity. Nothing like a player getting superstar calls who hasn't even made it past the second round yet. Really.
32. "I'm gonna rip the eyes out of your head, and piss down your dead skull! You f---ed with the wrong Marine!"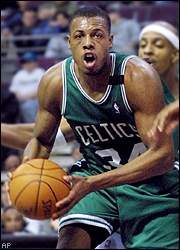 Paul Pierce has been The Truth for the Celtics this season.
To MJ ... when will he snap like Jessep and start wreaking havoc on the league again? For God's sake, MJ, you're getting your shot blocked five or six times a game. Players are going by you like you're standing in cement. You're not even drawing a double-team anymore. People are even -- gasp! -- trash-talking you. You're gonna take this? Can you put away that frozen, awkward smile and start kicking butt again? At this point, even LaBradford Smith is mulling over a comeback to drop 30 on you. Where's the fire?
33. "I think he wants to say (that he ordered the Code Red). I think he's pissed off that he's got to hide from us... no one's gonna tell him how to run his unit, least of all the Harvard mouth in his ... white uniform. I'm gonna shake him, put him on the defensive and lead him right where he wants to go."
The sketchiest plan in the movie goes to the sketchiest move of the season ... Philly trading for
Derrick Coleman
, which was right up there with me taking him in the sixth round of my fantasy draft. Hey, it's worked out for everyone involved so far. I keep telling myself this. 64 games to go. (As for Kaffee's plan ... I mean, watch the movie again and tell me that Kaffee wasn't insane for trying that one. Talk about rolling the dice. If Jessep hadn't snapped, Kaffee would have called in the phony witness from the airport, gone down in flames and never worked in the military again, especially after Jessep hired three thugs to give him a three-hour Code Red in some alley. That's Hollywood for you.)
34. "You want answers?"
35. "I want the truth!"
36. "You can't handle the truth!"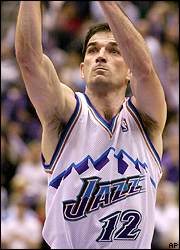 Can you imagine J-Stock playing for the Clippers? Now, that's a great concept.
An exchange so good we're using it twice, this time for Paul "The Truth" Pierce's 48-point performance in New Jersey last weekend -- 33 in the second half, 13 in OT ... my favorite moment of the season so far. Dare I say, it was positively Larry-esque (I'm ducking from the lightning bolt), especially the falling-out-of-bounds three in OT (right out of The Man's playbook).
Hey, New Jersey? YOU CAN'T HANDLE THE TRUTH!
37. "I have no responsibilities here whatsover."
To Doug Collins ... I mean, what were you thinking??? Not to pull a Chandler Bing here, but could that
be
a worse job?
38. "Someone hasn't been working and playing well with others, Harold."
To the RTK's (Roto Team Killers) of the 2001-2002 season ... specifically:
Jason Terry
(predictably overwhelmed as the lead guard in Atlanta);
Scottie Pippen
;
Lamar Odom
;
Grant Hill
(it's your own fault if you took him);
Raef LaFrentz
;
Juwan Howard
;
Theo Ratliff
(that Mutombo trade's looking pretty good, huh?);
Antonio Davis
; everyone in Miami; and RTK MVP
Antawn Jamison
(16.6 ppg, 5.7 rpg -- when will Dave Cowens figure out that Jamison and
Danny Fortson
can't play together?).
39. "PS: In exchange for my transfer off the base, I'm willing to provide you with information about an illegal fenceline shooting that occurred the night of Aug. 2."
To
Marc Jackson
... the free-agent forward who signed with Houston last summer, had his offer sheet matched and now finds himself buried on the Golden State bench (he has played 53 minutes all season). Add Jackson's name to the wildly intriguing list of "Guys Who Might Get Traded Over the Next Two Months," which includes ...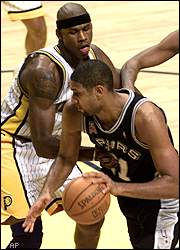 AP
Tim Duncan is one of today's superstars that Magic and Bird would love to have played with.
The Mailman, John Stockton, LaFrentz, Rasheed Wallace, Gary Payton, MJ, Marcus Camby, Odom (if they give him away to the Knicks for Camby, I'm killing somebody), Ron Mercer, Glenn "I Stole Antoine Carr's Nickname" Robinson, Fortson, Stromile Swift, and pretty much everybody on Indiana except for Jamaal Tinsley and Jermaine O'Neal (yes, even you, Reggie).
(Note: Out of everyone on that list, Stockton raises my eyebrows the most. He's only making $8 million this season, so he's eminently tradeable ... plus he still has a few miles left on the odometer, as amazing as that sounds, since he's 57 years old and all. Tell me he wouldn't help a potential playoff team like Boston, Detroit, Toronto or even -- yikes!!!! -- the Clippers.) (Parentheses inside parentheses: John Stockton on the Clippers? The comedy potential is off the charts there, isn't it? What are the odds that he would hang out with
Eric Piatkowski
? Can you imagine
Darius Miles
and
Quentin Richardson
scratching their heads trying to come up with a nickname for him? When's the last time a member of the Clippers wore shorts that didn't pass their kneecaps? Would they corrupt him? Would he start wearing a headband and get a tattoo that said, "J-Stock"? Let's make this happen. Somebody wake up Elgin Baylor, feed him some tapioca and tell him to call Utah.)
40. "You're such a coward. I can't believe they let you wear a uniform."
To ... I dunno. Can't think of anyone. Too bad Terry Glenn doesn't play hoops. Give me a mulligan on No. 40.
40. "If I were Dawson and Downey, and I had a choice between you and your father to represent me in this case, I'd choose you every day of the week and twice on Sunday."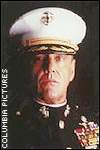 AP
Who would have thought that Col. Jessep would turn against poor Lieut. Weinberg?
To Tim Duncan ... the best all-around player in the league, bar none. Nobody -- repeat, nobody -- has a greater effect on his teammates.
(Put it this way: I'm not sure Bird and Magic would have enjoyed playing with Shaq, Kobe, Vince, T-Mac and everyone else ... but they would have loved playing with Tim Duncan. Just a terrific player. I can't say enough about him. With Shaq seeming listless and overweight this season, the door might be open for Duncan and the Spurs next spring ... just a tad ajar, if you get my drift.)
41. "And the truth is this: Your son is dead for one reason -- I wasn't strong enough to stop it. Always, Lt. Col. Matthew Markinson."
To Bulls coach Tim Floyd ... who has that same beaten-down, "Somebody shoot me" look that Markinson had after Jessep ordered him to doctor Santiago's transfer orders. Let's hope his career with the Bulls ends on a more positive note than Markinson's final hours. (Speaking of Markinson, he was played by Hall of Fame That Guy J.T. Walsh, one of many memorable casting decisions in the film. How 'bout cameos from a young Cuba Gooding Jr., an even younger Noah Wyle, Chris Guest, Michael DeLorenzo and Granny from "The Longest Yard," as well as recognizable faces like Kiefer Sutherland, Kevin Bacon, Kevin Pollak and That Guy from "Gladiator"? Plus, the guy who played Dawson instantly became "That Guy who Played Dawson" for the rest of his life. And you had the Big Three of Cruise, Nicholson and Moore to boot. Maybe the liveliest cast of any movie from the '90s. I'm babbling.)
42. "I'd like you to leave the room, so we can talk about you behind your back."
To Karl Malone ... who's trying to pull a Ray Bourque and get himself traded to a contender before his "window" closes. Translation: Utah sucks and he wants out. Unfortunately, most of his playoff stinkers in Utah keep getting re-broadcast on ESPN Classic, and it's killing his trade value (that $17.5 million salary isn't helping, either).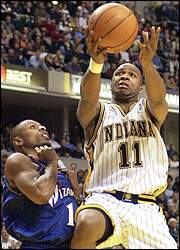 AP
Pacers point guard Jamaal Tinsley is just part of a terrific rookie class.
43. "Son, we live in a world that has walls, and those walls have to be guarded by men with guns. Who's gonna do it? You? YOU, Lieutenant Weinberg?"
For me ... probably my favorite single moment in the movie. Why does Jessep turn on Weinberg for no reason? What did poor Weinberg do? Always kills me.
44. "If you gave an order that Santiago wasn't supposed to be touched, and you're orders are always followed ... than why was Santiago in danger? Why would it be necessary to transfer him off the base? Why the two orders, Colonel?"
To Gary Payton ... you staying in Seattle or not? Make up your damned mind.
45. "I'm sorry I lost your set of steak knives."
To the Lakers -- marching toward 75 wins and another title, and don't let anyone tell you differently ... who decided to lose their only game of the season (in Phoenix) on the same night that I tossed them into a two-team tease while I was gambling in Vegas. How does stuff like this happen? The Lakers lose one game all year ... and somehow I lose money on it. Go figure. With my luck, they'll probably go 81-1 this season.
46. "Did you order the Code Red?"
47. "You're damn right I did!"
To the
Dallas Mavericks
... didn't they order a supporting cast in the offseason?
Danny Manning
and
Tim Hardaway
are both D-U-N done.
Adrian Griffin
's getting way too much time (25 minutes a game) for a guy who couldn't even beat out
Walter McCarty
for minutes in Boston last season.
Shawn Bradley
and Juwan Howard have been disappointments (jeez, I can't believe it). Basically, nothing's changed from last season -- they're a three-man team destined for a second-round exit. Too bad. (By the way, to the makers of Mountain Dew ... how have you not incorporated this exchange into a commercial for "Code Red" yet? Where's the mock courtroom trial with Kaffee and Jessep screaming at one another, followed by the guards leading Jessep away as Kaffee takes a big swig of "Code Red"? How has this not happened yet? I'm vexed.)
48. "I'd appreciate it if you addressed me as Colonel or Sir. I believe I've earned it."
To the Clippers, a k a "America's team" ... not only are they 9-9 through 18 games, not only would they make the playoffs if the season ended today, but they also lead the league in drug suspensions
and
domestic violence accusations. What a season!
49. "I think you're an exceptional lawyer. I watched the courtroom -- they respond to you. They like you."
To the movers and shakers from the first half of the season ...
Baron Davis, Peja Stojakovic, Andre Miller, Brand, Pierce and Dirk Nowitzki, six young stars who have continued to make The Leap this season.
A solid rookie class, led by blue-chip point guards on potential playoff teams (Tinsley and Tony Parker); two Grizzlies (Battier and Gasol); one sleeper (Richard Jefferson, a silky swingman in Jersey); three guys with UPPPPPP-side (Joe Johnson, Jason Richardson and Eddie Griffin); two guys who will make a splash as soon as Fortson and Dale Davis get injured (Troy Murphy and Zach Randolph) ... and that's before we even get to all the high schoolers. Deep draft.
How 'bout a special shout-out to Nick Van Exel, enjoying a career season (26.5 ppg, 7 assists) for a brutal Denver team. He has been unstoppable at times. Seriously. Other than Sam Cassell, has there been a more underrated player over the years than Nick the Quick? If the Nuggets finish .500 this season, he has to be the MVP. I'm not kidding. 50. "I'm sorry, you're time's run out, what do we have for the losers, judge? Well, for our defendants, it's a lifetime in exotic Fort Leavenworth. And for defense counsel Kaffee ... that's right... it's a court martial! Yes, Johnny! After falsely accusing a highly decorated marine officer of conspiracy and perjury, Lieut. Kaffee will have a long and prosperous career teaching typewriter maintenance at the Rocko Club School for Women. Thank you for playing "should or should we not follow the advice of the galactically stupid?"
The funniest scene in the movie -- an over-the-top Cruise pretending he's drunk and berating Moore for suggesting that he should put Jessep on the stand -- goes to the funniest moment of the season ... the Celtics pigpiling on one another at midcourt after winning in Miami last week on a last-second shot by Pierce. Keep in mind, Miami was mired in an eight-game losing streak and started a frontcourt of Sean Marks, Vladimir Stepania and Ricardo Tubbs that night. Somehow this warranted a victorious pigpile. (The NBA ... it's FANNNNN-tastic! I love this game!) Bill Simmons writes three columns a week for Page 2.