By Bill Simmons
Page 2 columnist
My experience at the second annual Galleryfurniture.com Bowl can be summed up by one exchange: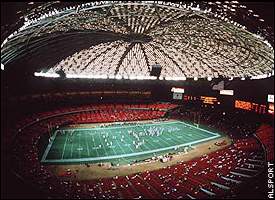 A bowl game at the partially-filled Astrodome can't compare with a regular-season game in Lincoln, Neb.
I had joined ESPN's broadcast team on the Thursday afternoon before the game -- announcers Mark Malone and John Cooper, sideline reporter Rob Stone, and producer Josh Hoffman -- as they held one-on-one interviews with various players from TCU and Texas A&M. While we were sitting with TCU senior linebacker Chad McCarty, Cooper asked him, "Is this the biggest game of your career?"
Seemed like a fair question. Not only was the Galleryfurniture.com Bowl McCarty's final game at TCU, but his Horned Frogs had squandered 23 consecutive games to Texas A&M. And since this was supposed to be a rebuilding year for TCU, finishing 6-5, earning a bowl berth and appearing in the final major Division 1-A football game at the Astrodome surpassed anyone's expectations. Now they had a chance to beat the Aggies for the first time in 30 years. And so the question hung there ...
Chad McCarty, is this the biggest game of your career?
"No, sir, it's not," McCarty replied.
| | |
| --- | --- |
| | Random thoughts |
| | Four observations from my trip to Texas that you might find interesting: 1. TCU urges the media to refer to them as "TCU" and not "Texas Christian" or "Texas Christian University." They're adamant about this. Apparently they're trying to distance themselves from the whole Christian thing for recruiting purposes. 2. Houston is making a serious run at hosting the 2012 Olympics. They think having two domed stadiums right next to one another gives them a major edge. 3. I used an Astrodome men's room that actually featured an old-time trough -- you know, those long urinal sinks? Good to see those are still around. I thought only Foxboro Stadium still had them. 4. The Astrodome features two giant flags -- the American flag and the Texas state flag (with the lone star). Does any other state flaunt their own flag quite like Texas? Between that and the preponderance of country music there, it's almost like they're another country, like Canada or something. They should start printing their own currency. |
Didn't even hesitate. Cooper again: "So what was the biggest game of your career then?" McCarty's face brightened: "Playing in front of 77,000 screaming fans (in Nebraska) last September. Sometimes it got so loud, you could feel the ground shaking under your feet. Nothing could top that." Very cool. I wanted to follow that moment up with the question, "Where do you think
that
experience is going to rank with playing in front of 50,000 lukewarm fans, in the decrepit, 75 percent-filled Astrodome, in a bowl game sponsored by a dot-com furniture company?", but I didn't think that would go over too well. The point had been made. Chad McCarty would be bouncing his grandkids on his lap some day and telling them about the time he played in Nebraska. He wouldn't be telling them about the galleryfurniture.com Bowl. That begs the follow-up question ... why the heck do they even have these things? What's the point? If a college bowl game falls in a forest (in this case, Houston), does anyone hear it? My bosses sent me to Texas to figure this out. I think they were hoping for one of those glib, sarcastic, "This game sucks, I'm tooling on everything and everybody" diaries, but the experience wasn't nearly that absorbing. This game was what it was -- two Texas teams playing in Texas for no real reason other than money ($750,000). When Texas A&M cruised to an unsightly 28-9 victory, it seemed like the perfect result, a forgettable game for a forgettable bowl.
So what did I learn from my journey to the Lone Star State? You could narrow it down to eight things:
1. If you throw yourselves into a crappy bowl game, after a while, you can convince yourself that it isn't a crappy bowl game.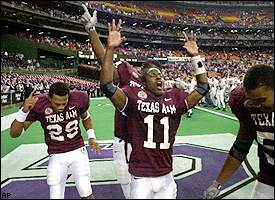 If you try long enough to convince yourself you really care about a lower-tier bowl game, you might just succeed.
Sounds strange ... but it's true. Everybody played the part and tried to sell this baby -- officials, media, players, coaches, fans, you name it. It's almost like you enter this weird realm of proactive self-denial, the same way the producers of "Inside Schwartz" slowly convinced themselves that, "Hey, these sports cameos could work!" or "Breckin Meyer kinda grows on you, doesn't he?"
More than 120 press credentials were handed out for the game (about 95-100 to Texas-area media, but who's counting?). ESPN was in the house (although a Friday afternoon, 1:30 p.m. ET kickoff wasn't exactly prime time). More than 50,000 seats were sold -- about 85 percent capacity -- as both schools were represented in full force by traveling students, fans, boosters, parents, groupies and everyone else you can imagine (A&M had a slight edge in numbers and cowboy hats). They held a Kickoff Luncheon on Thursday (sadly, no parade), followed by press conferences and pep rallies that night. Some fans even started tailgating outside the Astrodome early Friday morning. Who cared if these teams were a combined 13-10, or that Texas A&M was the seventh-best team in the Big 12, or TCU needed to win two straight just to finish third in the Conference USA (which just formed about two minutes ago), or that A&M was favored by almost a touchdown? Clearly, this was a humongous game. Right? (Right?) Here's a good example of how crazy this gets: On Thursday afternoon, Rob Stone (known as Stoner from this point on) and I were heading out of our hotel -- the JW Marriott in Houston, where the Aggies and many of their fans were staying -- when I noticed six officers standing in front of police motorcycles. When I expressed the appropriate "What the hell are these guys doing here?" sentiments, Stoner explained that this entourage was assigned to accompany the team as it traveled to practice that afternoon. Yup, you heard me correctly ... a police escort! Like this was President Bush and his cabinet or something. Totally dumbfounding. But that goes back to my previous point: When everybody immerses themselves into a bowl game like this, you feel yourself becoming convinced that it's a big deal ... even when you
know
that it isn't a big deal. And maybe that's what has to happen for these things to succeed.
2. It's difficult to broadcast a sporting event when there isn't anything even remotely interesting about it.
I joined the ESPN gang for their production meeting Thursday night -- the night before the game -- when they targeted key storylines, laid out the broadcast and determined everyone's roles for the game. The most important angles are the opening storylines, the ones introduced at the beginning of the telecast (along with comments, corresponding video and graphics) that provide some sort of "Here's what you should be looking for" framework for the game.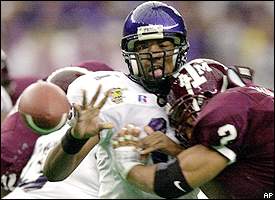 Quarterback Casey Printers was TCU's biggest advantage. Unfortunately for the Horned Frogs, he threw four interceptions.
For instance, during Friday night's Holiday Bowl between Washington and Texas, ESPN's team led with the absorbing Applewhite-Simms QB controversy for the Longhorns, a juicy soap opera if there ever was one.
For Texas A&M-TCU? We sat around for nearly a half-hour bouncing around ideas ... and none of them were really setting the room on fire. At one point, Josh (the producer) leaned back in his chair, looked up at the ceiling, assumed a Jeff Van Gundy-esque, "I can't believe they didn't call that charge on Mourning"-type grimace, and muttered to nobody in particular, "I don't know
what
we're gonna lead with." In a nutshell, you had two second-tier Texas teams facing off: The Proverbial "Happy to be there" Team (TCU) against the Proverbial "We're not happy at all to be here" Team (A&M). If TCU pulled off the upset, it obviously made its season. If A&M prevailed, it only meant that the Aggies didn't lose. Pretty bland stakes. As Cooper said in the meeting, "There are probably 18 positions on both sides of the ball where A&M is better, but TCU is better at quarterback (with Casey Printers)." In other words, Printers gave TCU a puncher's chance. Eventually Team Josh decided to lead with 1) the struggles of A&M's injury-riddled offense (with video of QB Mark Farris and RB Derek Farmer), and 2) the resurgence of Printers and TCU's offense over the past four games. Not exactly Applewhite-Simms. And yet we talked ourselves into the game (the self-denial thing again). Immerse yourself into the nitty-gritty details of anything long enough and you lose your perspective ... which, in this case, was a good thing. By the end of the meeting, Casey Printers had turned into the next Donovan McNabb, TCU had turned into a cross between Hickory High and the '99 Rams, those 23 straight losses to A&M were a fluke, and Aggies coach R.C. Slocum (2-8 in bowl games, one more loss away from finishing two straight seasons with a four-game losing streak) was one loss away from officially "Being On Thin Ice." Speaking of ESPN ...
3. I know nothing about football.
Hey, I thought I did. But when I was listening to Cooper and Malone interview the TCU players, I felt like I was watching a movie in Spanish. The terminology, the lingo ... it's like a different language.
Do you rely on hot routes? Do you have a gap responsibility or do you just flow to the ball? Do you check off a lot? Will they just throw nickel at you? Will their corners bite on the hitch-and-go? Do they jump on the routes?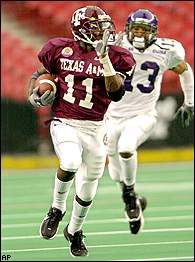 Byron Jones picked off three passes for Texas A&M -- maybe he jumped a "hot route" or two.
On and on it went. Breaking the questions down individually, I could understand them if I had enough time to think, "Hot routes ... OK ... that's an unspoken agreement by the QB and WR if they both read blitz to run a certain pattern," but listening to people have an extended conversation in football-ese is a great way to end up with a headache. It's just like Spanish. I took about seven years of Espanol in high school and college, yet I never passed the point where I could ad-lib a conversation without agonizing over what I was hearing and saying. And whenever a classmate spoke Spanish effortlessly, it was humbling.
Listening to Malone and Cooper talk shop Thursday ... that was just as humbling. Just for reassurance, I asked Stoner after the meetings if he felt the same way, and he nodded quickly: "I never realized how little I knew about football until I started doing these games." "Is that why you spent most of those meetings nodding like Bill Murray in those old 'Cheeseburger cheeseburger cheeseburger' skits on 'SNL'?" I asked him. "Yeah, pretty much," he said.
4. Nothing's funnier than a cheesy motivational speech.
We found this out during the electric Kickoff Luncheon, held in the banquet room at the Radisson Astrodome, when Houston Texans coach Dom Capers stepped to the podium in front of about 100 tables full of people (boosters, players, family members and bowl officials). Apparently, Bum Phillips must have cancelled at the last minute. While Stoner and I dined on some half-cooked chicken parmigiana and tossed it down with watered-down iced tea, Capers proceeded to detail nine keys for operating a successful football organization, and how this could be translated into other walks of life. Nobody seemed to mind that Capers ran the Carolina Panthers into the ground back in the late-'90s. This was a little like Lee Majors appearing on "Inside the Actors Studio." For 15 minutes, Capers turned into a human "Saturday Night Live" skit, to the point Stoner and I couldn't make eye contact with one another (lest chewed chicken parm would have gone spraying everywhere). Capers' "keys" were so staggeringly unoriginal that I ended up writing them all down. Here they are:
Have a second-to-none work ethic.

Have a set day-to-day plan.

Stay positive.

Don't let bad habits creep into your daily routine.

Develop trust.

Deal with pressure.

Be consistent, be persistent.

Handle adversity

Handle success
(Apparently No. 10 was edited out for time: "Strive to win, not to lose.") Stoner summed it up best: "I wouldn't let that guy coach my son's Pop Warner team."
5. No sporting event gives off a stranger electricity than a meaningless bowl game.
| | |
| --- | --- |
| | More random thoughts |
| | Four more observations from my trip to Texas that you might find interesting: 1. During most bowl games, an interview with the bowl president is actually in the TV contract. They want TV time. I wish I were making this up. 2. On the local sports radio show in Houston, Astros outfielder Darryl Ward was a big topic of discussion all week. Fans seemed pretty split on whether he was going to make The Leap or not. I would have more info here, but every time his name came up, I was busy trying to swerve into other cars. 3. Before the Galleryfurniture.com Bowl launched last year, the last Houston bowl game was the immortal Bluebonnet Bowl, which folded shop in 1987. 4. Right before halftime, Stoner and I were sitting near the entrance and minding our own business when the entire TCU band suddenly made its way over, gathered in front of us and readied themselves to march out onto the field at halftime. After about 2.3 seconds, both of us raced to make the "And then this one time, at band camp ..." joke from "American Pie," with Stoner narrowly getting it off first. (Has any movie affected the relations between band members and real-life people quite like "American Pie"? I think not.) |
The premise works: Team A's fans on one side, Team B's fans on the other, both sides spending dead spots outdoing one another with those patented cheers and songs that every good college has (a constant "Who can out-cheer whom?" contest). And since every play makes one of the sides happy, there's a constant din and somebody's always cheering something. It almost reminded me of a pro wrestling match between two "good guys" -- like the Ultimate Warrior vs. Hulk Hogan in WrestleMania VI, when the crowd was evenly split and made noise on every move. At Friday's game, A&M's side showed off more polished cheers and routines, but TCU's sideline offered a neat-looking miniature train that bellowed its horn every time 1.) TCU made a big play, or 2.) A&M's fans became a little too loud. So the back-and-forth dynamic was mildly fun. Mildly. Then what was the problem? Well, it was the Galleryfurniture.com Bowl, for God's sake. This was a glorified exhibition game; nobody knew this better than the die-hard fans. Even though they were making noise, even though the players were giving their best, even though the cheerleaders were killing themselves doing routines ... the electricity just wasn't there. Not for a second. The whole afternoon almost seemed staged to me, like they were waiting for me to leave so they could say, "OK, we fooled him!"
6. Nothing beats watching a game from the sidelines.
I watched the game from every conceivable place on the field; every few plays, I moved somewhere else. Being that close, you almost feel like you have ADD --
I'll go here ... wait, I'll go here!
It's like one of those DVDs where you can't stop choosing different angles. There was enough stuff happening on the sidelines -- a coach yelling at his offensive line, a quarterback and receiver promising to hook up on the next series, a punter kicking into one of those kicking nets, cheerleaders concocting their next routine -- that it could distract you indefinitely from a lousy game.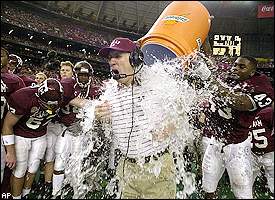 R.C. Slocum survived the potential embarrassment of losing to TCU -- and his Gatorade shower.
(One wrinkle: Standing on the sidelines, you constantly fight off the urge to clothesline a placekicker, steal his football and practice as many kicks as possible into the field-goal net before you're tackled by security. Of course, I could have realized these things at just about any college football game, but that's beside the point.)
As an added bonus, every time I got bored, I just followed Stoner around for a few minutes as he prowled the sidelines looking for information, waiting for injuries, talking to his producers and planning his next remote segment. Following Stoner around for the game actually would have made for a good column. He carried around notecards with 10-12 different routines he had prepared on different players, in case any of them became relevant during the game. And you never knew what was coming next. We would be sitting there watching the game when -- suddenly, without warning -- his producer would bark out an order, and Stoner would spring into action and assume his "I'm about to go on live TV" personality. It's almost like pressing an on/off switch. You become an injury expert when you're a sideline reporter. When an Aggies player was carried off early in the first quarter, Stoner jogged over to the A&M sideline, standing near the huddle of trainers and coaches, waiting for info, looking on like a concerned parent. Later in the game, a TCU player limped off the field as Stoner shrugged indifferently, saying it looked like a twisted ankle. "You develop a trained eye for this stuff," he said, completely serious. (The life of a sideline reporter ... definitely a future Sports Guy column.)
7. The impending death of the Astrodome makes me feel really, really old.
Anyone over the age of 30 remembers when the Astrodome was truly "The Eighth Wonder of the World." I mean, this place was un-BEEEEE-lievable. There's a reason why Kelly Leak and the Bad News Bears hijacked a van and illegally drove it from California just to play there in the '70s -- back in the day, the Astrodome was one of a kind. My father and I attended a baseball game there in 1980, and I still remember exactly where we sat (between third base and home, about 15 rows up). It was that memorable. We take Jumbotrons and exploding scoreboards for granted these days, but back in the '70s and early-'80s, a 16-bit image of a bull blowing smoke or Atari-level graphics of fake fireworks ... I'm telling you, this was cutting-edge stuff. I can still remember praying for a home run so the bull would make another appearance on the scoreboard. But all the advances in technology and ingenuity over the past 20 years have turned the Astrodome into a dinosaur. From the outside, it gives off all the charm of a nuclear power plant. From the inside, it looks like one of those '60s-era houses that haven't been updated or modernized in decades. Ghastly rows of yellow, orange and black. Foggy Jumbotrons. A playing surface with more bumps, tears and gashes than Dyan Cannon. If this was a poodle, it would be covered with warts, suffering from cataracts, stumbling into things and making you wonder why its family hadn't put it to sleep. And basically, that's what will happen in 2002. They're putting the finishing touches on the gorgeous Reliant Stadium -- a 69,500-seat facility featuring a retractable roof, roughly 150,000 luxury boxes and state-of-the-art everything -- about 200 yards away from the Astrodome (in tandem, from the outside, they give off a jarring, "Michael Douglas and Catherine Zeta-Jones" kind of vibe). Surprisingly, they aren't knocking down the Astrodome; they plan on keeping it around for second-tier events (high school football games and the like) and making it a centerpiece for their 2012 Summer Olympics campaign (insert joke here). Me? Spending four-plus hours on the Astrodome carpet made me feel positively
ancient
. After the game ended, when I walked near the exact spot where second base would have been from "Bad News Bears in Breaking Training," I didn't even have the heart to re-enact Tanner's sprint around the Astrodome infield during the "Let them play! Let them play!" scene. (All right, that's a lie. I did a quick lap while Stoner cheered me on like William Devane. All we were missing were Cesar Cedeno and Bob Watson. By the way, is anyone still reading this?)
8. There's comedy, there's high comedy ... and then there's the trophy presentation for the Galleryfurniture.com Bowl.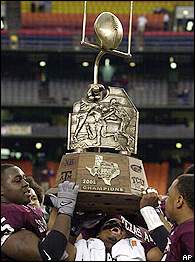 Who could possibly be excited about holding up this trophy?
You really had to be there. The Aggies had just rolled in a game that was never really in doubt. Remember when I wrote how QB Casey Printers gave TCU a puncher's chance? I'm not saying Printers (who threw four interceptions) fell apart in this game, but they carried him off in six different sections. Anyway, the Aggies went on cruise control in the third quarter, held TCU to less than 200 yards and started preparing to give Slocum a Gatorade bath with about five minutes to go, which they successfully completed at the one-minute mark.
(Quick tangent: The fact that anyone still does the Gatorade routine after poor George Allen died from pneumonia after getting one at Long Beach State a few years ago -- yes, he
died
from it, and you can look it up -- has to be the most astounding subplot of all-time. But that's another story for another time.) After the game ended, TCU's section practically left skidmarks leaving the stadium so they wouldn't have to witness the bowl presentation. Meanwhile, the Texas A&M fans remained in their seats, cheering half-heartedly and trying to pretend that their beloved Aggies hadn't only beaten a .500 team in a crummy bowl game. The players were even more restrained; they looked more relieved that they hadn't lost than anything. Probably the only person who looked truly ecstatic was Slocum, who can now enjoy his winter without worrying about disgruntled A&M fans throwing bags of dog poop at his house. The bowl officials erected an impromptu stage at midfield, dragging out a hideous, brown, 4-foot plaque that showcased a bronzed football and looked like something you'd find in the trophy case of your local VFW. And the poor A&M captains and Slocum had to hold this ghastly thing in the air, pose for pictures and pretend they were happy about the entire sequence of events. As an added bonus, the worst-kept secret all week was that Galleryfurniture.com might stop sponsoring the game next year. Feel the tradition! Can you put a price on this kind of comedy? I think not. So what will happen to the bowl game next season if Galleryfurniture.com bails? My guess is that somebody else will step in, maybe another dot-commer, maybe even the Texas-based Reliant Energy company, which could stage it next season in the brand-spanking-new Reliant Stadium. The "Reliant Bowl" has a certain ring, doesn't it? Of course, so does the "Toilet Bowl." As we were leaving the Astrodome, I turned to my buddy Stoner and asked him, "In all honesty, can you think of a single reason why this game was played? Just one?" "Money," he answered. "Pure and simple." Make that nine things I learned about the Galleryfurniture.com Bowl.
Bill Simmons writes three columns a week for Page 2.