By Bill Simmons
Page 2 columnist
Editor's Note: This is the second part of The Sports Guy's summary of the 2001 NFL regular season by handing out quotes from "Dazed and Confused." If you missed Part 1, click here to check out quote Nos. 1-17.
On to Part 2 ...
18. "Slater-san, how's it goin'?"
"Fixin' to be a lot better, man!"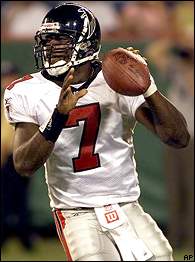 Michael Vick didn't play a lot in 2001, but he still produced a few "WOW" plays.
To electric Falcons rookie Michael Vick ... who suffered through an up-and-down rookie season but still rattled off at least seven or eight legitimate "WOW!" plays in limited time. Quite simply, he's the Evolutionary Steve Young. I just can't decide whether Vick ends up pulling a "Tiger/MJ" and taking over the NFL some day, or whether he becomes the next Pistol Pete Maravich (tons of highlights, tons of losses). There's no in-between. Either way, we'll remember him fondly 20 years from now.
(Speaking of Slater, if you're ever watching "Dazed" from the beginning, count how many times Slater tokes up and/or Don gets into a car with somebody. Don gets in at least 15 cars during this movie. Always kills me.)
19. "Have you been drinking? Are you drunk?"
To Chiefs coach Dick Vermeil ... who tried to run the vaunted Rams offense in Kansas City. Unfortunately, he tried to run it with
Trent Green
and a cast of no-name receivers. More tapioca, Dick? Why not revolve the offense around
Priest Holmes
and
Tony Gonzalez
? Why do coaches insist on fitting the system to the players, instead of vice-versa? (Credit the Chiefs for toning things down during the season -- they've even developed into the proverbial Frisky Late-Season Team for gambling purposes. Is there any doubt they'll knock Seattle out of playoff contention this week?)
20. "Lemme ask you something ... I got a couple of good ones in there, right? It wasn't like I got my ass kicked, right?"
To Saints coach Jim Haslett ... at what point does he get blamed for everything that happened with the Saints this season? Did any team self-destruct on the field more times than the Saints? Was there a sloppier, more inconsistent team in football?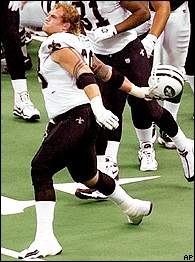 Kyle Turley's helmet toss was just part of the Saints' self-destructive season.
How 'bout the way they placed a giant stamp on these final few weeks? What about that Kyle Turley incident against the Jets (when he turned into the steroid guy from "The Program," flipped out and likely cost them a victory on Sunday Night Football)? What about the Albert Connell debacle? What about the way Ricky Williams was wasted all season (disgruntled fantasy owner alert! disgruntled fantasy owner alert)? How in God's name does a team as talented as the Saints finish 7-9?
That reminds me ...
21. "This (bleeping) sucks, all right! Last (bleeping) day of school, no (bleeping) party, no -- arggggh ... (throws full beer)."
To Tennessee, Indy, New Orleans, Minnesota, Denver and the
New York Giants
, six of the 12 playoff teams from last season ... and all of them will watch the playoffs on TV next week (combined record with one week to play: 39-51). And this happens every year! When I write my NFL preview column next season, I'm randomly selecting six playoff teams and picking them all 6-10. That's the only way to guess anymore. It's a crapshoot. (Random tangent: The above quote was Ben Affleck's finest moment in "Dazed." In fact, it was probably his finest moment of the past eight years, at least until he unleashed that extended, rollicking cameo in the pilot episode of the HBO documentary "Project Greenlight." Did you see that? Affleck was smoking cigs, tossing down drinks and making inappropriate wisecracks for a solid hour, as Matt Damon had a "We really need to have a talk when the cameras go off" grimace going. Highest of high comedy. His buddies probably showed Affleck the unedited footage when they were staging that Dylan McKay-esque intervention with him last summer.)
22. "I just want you guys to know that I feel for you, man. I did it when I was a freshman, and you'll do it when you're seniors. Now fry like bacon, you little freshman piggies. FRY! FRY!"
To Carolina and Detroit ... unequivocally the two worst teams in football this season. Everyone busted on the Lions all season, but at least they could fall back on the "We have no talent whatsoever" excuse. What about Carolina? How many games did they blow in the fourth quarter? Do you realize they lost seven games by a total of 17 points, including two in overtime? This never would have happened if George Seifert was still alive.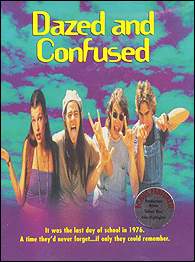 "Dazed and Confused" is filled with several scenes that are truly high comedy.
23. "Don't let your mouth write a check your brain can't cash."
To Jim Fassel ... yep ... he's pushing his chips to the middle of the table again ... anyone wants in, they better get in ... you want out, get out ... it's gut-check time ... (Note: My favorite press conference involving a coach was when Rick Pitino flipped out and unleashed his "All the negativity in this town sucks ... Larry Bird isn't walking through that door, Kevin McHale isn't walking through that door and Robert Parish isn't walking through that door" speech two years ago, which might have been the funniest thing that ever happened. But every Jim Fassel press conference comes pretty damn close. Can't they televise these things on ESPN6?)
24. "All right, all right, all right!"
One of Wooderson's trademark lines goes to the fantasy surprises of the 2001 season ...
David Boston
(helped carry my fantasy team to first place);
Shaun Alexander
(don't you hate those running backs who get plucked off the waiver wire by some crappy fantasy team in Week 4 and end up scoring 15 touchdowns?);
Chris Chambers
(with flair, to boot);
Marty Booker
(definitely a stage name);
Anthony Thomas
(emerged as the second star rookie RB instead of
Michael Bennett
);
Jeff Garcia
(proved that 2000 wasn't a fluke);
Kordell Stewart
(good God!);
Antowain Smith
(REEEEE-juvenated in New England ... or was he ever juvenated in the first place?); the Pittsburgh D (crummy year for fantasy defenses though); and
Jimmy Smith
(1,300-plus yards
and
a failed drug test!). And a special shout-out to Priest Holmes, who pulled a
Marshall Faulk
in Kansas City (more than 2,000 combined yards rushing and receiving for a lousy team). He really could have helped a contender like ... oh, say... the Ravens this season. Funny how life works out.
25. "I'm gonna give you shotgun. But it's only because I'm going inside. Keep that in mind."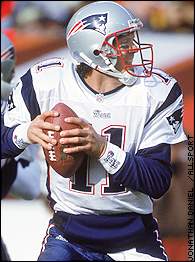 Drew Bledsoe probably expected to finish his career in New England.
To poor Drew Bledsoe ... who gave up shotgun to Tom Brady after taking the hardest hit of the season, went inside for a few weeks, came back out to get back into the car -- and now he's watching the New England playoff run from the trunk. It happens that fast. On the flip side, if Bledsoe had played well enough over the past few seasons, he wouldn't have given up shotgun in the first place. Would Brett Favre have lost his job to Tom Brady? I think not.
26. "Look, man, I got it all planned out. Most fights in places like this never get past a punch or two before they're broken up, know what I'm saying? There's almost a natural instinct not to upset the herd. So all I have to do is get in one good punch, play defense and wait."
The worst plan of the movie -- Nerdy Mike planning his revenge after being taunted by the leader of the White Trash Crowd -- goes to Seattle coach Mike Holmgren ... he could have swung a deal for
Mark Brunell
during the offseason; instead, he rolled the dice and made a deal with Green Bay for
Matt Hasselbeck
. Don't give me that "It takes time to become a good starting QB" baloney -- how does that explain what happened to Tom Brady? And while we're scoring at home here, wasn't Holmgren the same guy who gave away
Ahman Green
? (The lesson, as always: Coaches should coach, personnel people should pick personnel. Applies 95 percent of the time, without fail. Call it the Pat Riley Syndrome.)
27. "What do you guys do for fun?"
"Usually just hang out with the girls, you know, drive around."
To Packers fans ... is there an NFL city that
needs
a successful team more than Green Bay? Is Wisconsin even part of the United States? Isn't it in Canada? Do they use the same money that Americans use? The NFL should make it a rule that the Packers have to go at least 10-6 every season, just to keep the cheeseheads' spirits up. (Sorry, I'm still a little bitter about Super Bowl XXXI ... can you tell?)
28. "Down! Set! Marijuana on one ... reefer on two ... hut, hut!"
To Jacksonville wide receiver
R. Jay Soward
... who was suspended roughly 220 different times this season by the Jags for unspecified violations. That has to be a record. You could count on three headlines this fall, guaranteed:
U.S. steps up the search for Bin Laden

Female hoops star tears ACL

Jaguars suspend R. Jay Soward again
Honorable mention here to Oakland's
Darrell Russell
(tested positive for ecstasy) and
Sebastian Janikowski
(somehow keeps slipping Rohypnol into his own drink, which my buddies and I used to do in college so we would be more attracted to the girls in our class ... whoops, am I using my out-loud voice again?).
29. "What are you looking at? Wipe that face off your head, bitch."
To
Doug Flutie
... who was never the same after a Buffalo columnist printed a hatchet job about him in October, writing that Flutie was everything short of the Anti-Christ during his time with the Bills. And the Chargers were never the same, either. After they prevailed over Buffalo that week, they lost an astounding nine consecutive games, and Flutie tossed 15 interceptions and just seven touchdowns. (You know, that's why I get the big bucks, for stats like that.)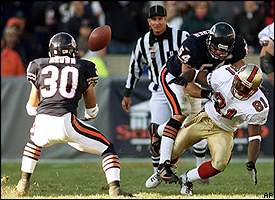 What were the odds of Mike Brown winning consecutive games for the Bears on interception returns?
30. "I mean, that's B.S., right? Idiot flunks his senior year so he can be a (expletive) two years in a row? Is that legal?"
To the Bears again ... who rallied to win consecutive games when safety
Mike Brown
returned interceptions for OT touchdowns. I'm going on the record right now and saying that this will
never
happen again. Can you imagine betting against the Bears during those two weeks? What about the people in Vegas who tore up their Bears tickets in the final minutes of the Cleveland game, only to watch the Bears score a garbage TD, recover the onside kick, connect on a Hail Mary TD pass with no time remaining, then score the winning touchdown on an interception return? If it wasn't for the Titans-Bills playoff game three years ago (Wycheck-to-Dyson), this would have been the featured story in the upcoming "Alcoa's Greatest Gambling Moments" DVD, with deleted scenes and director's commentary from Ken Stabler, Jackie Smith, Jack Price, Kevin Duffy, Danny Sheridan and Wade Phillips. Speaking of gambling ...
30a. "I would like to dedicate this first lick ... to your mother."
To
Jake Plummer
... I don't think I picked an Arizona game correctly all season. There's a reason they call him "The Snake." And while we're here, special kudos to
Chris Chandler
, whose "Should I throw for 400 yards this week or should I get injured in the first quarter?" routine made gambling on the Falcons the NFL's version of Russian Roulette. Not good times. Bad times. (It has been a wacky year in general for NFL gambling; something like 47 percent of the underdogs won games outright this season. In the picks pool that I participate in, my dad -- !?!?!?!?!?!? -- has the best record out of 32 people going into the final week, and I'm not even sure he knows he's picking against the spread. And the guy who's running third in our pool has been calling in all the underdogs and a "best bet" on San Francisco since Week 6. Go figure. Good year to be a bookie.)
31. "Hell, man, my grandmother's quicker and tougher than you pansies! Course she's 6-3, 250, runs a 4.5 40."
To the
Indianapolis Colts
... who are 24 points away from giving up a whopping 500 points this season. Five hundred points! Good God almighty! Twenty-four, 26, 44, 23, 38, 28, 14, 27, 34, 40, 39, 41, 27, 29, 42 ... with a home game against Denver still looming. Definitely the stat of the year.
Like most football fans, The Sports Guy would like to see Randy Moss play hard all the time.
32. "Randy Floyd? Before next fall, you're in need of a serious attitude adjustment, young man. You better get your priorities straight. And watch out for that crowd you're running around with -- don't think I haven't noticed."
To
Randy Moss
... for obvious reasons. I'll save the sanctimonious crap for other columnists. As a football fan, I wish Moss played harder than he does, that's all. I like watching him play. (From the "I couldn't figure out where to stick this paragraph, so we might as well stick it here" Department: Quick kudos to the "Dazed" soundtrack, which takes its rightful place along with "Singles," "Pulp Fiction," "Above the Rim" and "Last Days of Disco" as one of the five memorable movie soundtracks of the '90s. Any movie that starts with "Sweet Emotion" by Aerosmith and ends with Foghat's "Slow Ride" has to be doing something right.)
33. "I'm gonna make ... the next year ... of your life ... a living hell. Lick me, all of you!"
The most frightening moment of the movie goes to most frightening fantasy presence of the past few years: the immortal
Fred Taylor
... who killed roughly 150,000 unsuspecting fantasy teams over the past few years. Can we create a sitcom starring Fred's groin and Grant Hill's ankle? I can't wait until my next fantasy draft, when somebody talks themselves into Fred around the fifth round. I'm already giggling.
34. "Well, all I'm saying is that I want to look back and say that I did it the best I could while I was stuck in this place. Had as much fun as I could while I was stuck in this place. Played as hard as I could while I was stuck in this place. Dogged as many girls as I could while I was stuck in this place."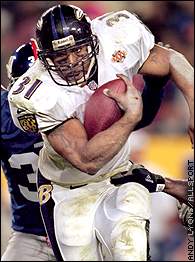 Jamal Lewis' legal problems could become a major distraction.
Damn, I couldn't come up with anyone for this one. Give me a mulligan. Maybe Don's finest moment, though.
34. "Did you order some kegs of beer? There's a fella outside with a beer truck that said you did ... he said it was supposed to be delivered to the Pickford residence."
The "Uh-oh" moment of the movie goes to the "Uh-oh" moments of the season ... ACL injuries to Jamal Lewis, Edgerrin James and Jamal Anderson, as well as continuing knee problems for
Terrell Davis
and Taylor's danged groin. Five of the best running backs in the league ... and all of them were gone by Week 8. (Of course, that didn't seem to bother their teams; apparently there's a little-known rule that every running back in the league has to rush for 100 yards in a game before the end of the season. An absolute fantasy nightmare. Remember the days when the team you picked actually resembled the team you ended up with in Week 17?)
35. "Say, man, you got a joint?"
"No, not on me, man."
"It'd be a lot cooler if you did."
My favorite exchange of the movie goes to one of my favorite stories of the season -- the resurgent
Chicago Bears
... who reclaimed "Monsters of the Midway" status and improbably rolled to the top of the NFC Central (despite a passing game that didn't even average 200 yards a game).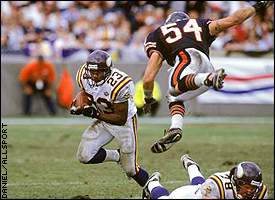 Jonathan Daniel /Allsport
It's nice to see the Bears once again playing like "Monsters of the Midway."
Count me among those who are thoroughly enjoying the Brian Urlacher Era, as well as the Return of the Hostetler 'Stache (courtesy of Jim Miller), the icy, murderous sideline demeanor of Dick Jauron, and all the retro footage of the "Super Bowl Shuffle" video from the mid-'80s (absolutely, positively the most dated music video of all-time). Doesn't the thought of a Bears-Packers playoff game put a hop in your step?
(The sad thing about this column: It's impossible to convey some of the comedy from this movie in print -- like with Wooderson and the aforementioned "It'd be a lot cooler if you did" exchange. For instance, there's a scene near the beginning when Don and Pink are walking through their high school, and a freshman walks by them the other way ... so Don cocks his hand like he's going to punch the kid, the kid flinches, then they keep going in opposite directions. Always kills me. Just see the movie if you haven't seen it yet. Trust me.)
BONUS QUOTE: "The older you get, the more rules they are going to try and get you to follow. You just gotta keep on livin', man! L-I-V-I-N!"
Another of Wooderson's MVP moments goes to the MVPs of the 2001 regular season ...
Kurt Warner: Joe Montana born again.
Kordell Stewart: Enjoying his "Travolta in 'Pulp Fiction' " renaissance.
Marshall Faulk: Fantasy God.
Priest Holmes, Jeff Garcia and David Boston: Fantasy disciples.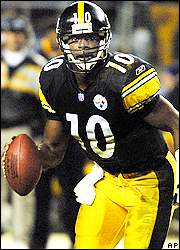 Kordell Stewart has made a comeback that would make John Travolta proud.
Jay Fiedler: Has officially replaced Steve DeBerg as the premier good-bad quarterback of his generation. I've said it before, I'll say it again: Never has anyone straddled that good-awful tightrope quite like Fiedler.
Bill Cowher: Who never seems to stay out of the playoff picture for long.
Donovan McNabb: Probably the most complete version of these 21st century, triple-threat QBs (at least until Vick makes the leap).
Kendrell Bell, Richard Seymour and Chris Chambers: My three favorite rookies of the season (special kudos to Seymour, who has provided the Pats with their first inside rush in 40 years).
Michael Strahan: The league's most dominant defensive player and America's latest hope to finally erase Mark Gastineau from the record books. Come on, Strahan! One more sack!
Vinny Sutherland: Who gave hope to young Caucasian kick returners everywhere.
Brett Favre: The best player in football, the logical successor to Barry Sanders as "the guy you should never wager against under any circumstances" and a legitimate superstar throwback to the Facenda era.
And Bill Belichick: unquestionably the "Coach of the Year" for the way he handled Bledsoe-Brady, the enigma that is Terry Glenn, a revamped defense, last April's draft and free-agency signings, and everything else you can imagine. Just an extraordinary job of running a team. Trust me, I was here for it. When they gave up a first-rounder to hire him two years ago, it was a steal. (And that reminds me ... um ... how should I put this ... go Pats!) Bill Simmons writes three columns a week for Page 2.