By Bill Simmons
Page 2 columnist
First, an apology. Way back in December, I vowed to start writing a weekly NBA column, a noble idea that was sidetracked by a variety of developments over the past few weeks: A couple of road trips, the holidays, my utter inability to write objectively about the NBA with the Celtics in first place, my lawsuit against DirecTV (after they mistakenly gave me the WNBA package last summer), and most importantly, the fact nobody wrote in to ask, "Hey, what happened to the weekly NBA column?"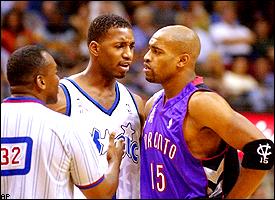 Thanks to young talent such as Tracy McGrady, left, and Vince Carter, the NBA is experiencing a renaissance.
Yup ... every year I come to the sad realization that I'm one of only 20 people on this planet who actually care about the NBA (maybe there are more of you out there, but you've been shamed into silence). These days, it's chic to take shots at The House That Stern Built, even though the league has been enjoying its finest infusion of talent since the early-'80s (Bird, Magic, MJ, Isiah, Barkley, Malone, 'Nique, Hakeem and so on).
That doesn't mean there haven't been some misfires. Tickets are so wildly overpriced that working-class fans have completely abandoned the sport. Some franchises have trouble finding bodies to fill their best seats (much less the nosebleeds). Many of the league's top stars have trouble clicking with the fans. And the league's disastrous TV schedule subjected us to repeated appearances from the Knicks, Heat and Jazz during the first half of the season. (Quick note to Team Stern: Stop putting the Knicks on TV. I mean it. Just stop it. STOP IT! I'VE HAD IT! DON'T MAKE ME FLY DOWN TO ATLANTA AND TAKE ERNIE JOHNSON HOSTAGE ON LIVE TV! I'LL DO IT! STOP SHOWING THE &$#%#@ KNICKS!) Those problems aside, this has been an intriguing, entertaining season filled with juicy plots, subplots and a variety of questions. Here are 10 of them:
1. What has been the saddest outcome of the season?
Probably the fact Kobe gets stuck playing with Shaq for 82 (mostly meaningless) regular-season games. Wouldn't it be much more fun watching Kobe carry a team built around his offense, like Vince in Toronto, or T-Mac in Orlando? As his 56-point explosion Monday night against Memphis proved, this would be "MJ in 1988" all over again. Other than MJ, when was the last time a noncenter was a legitimate threat to drop 70 in a game?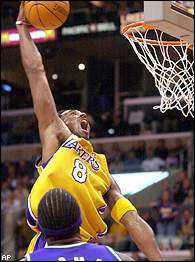 Without his 330-pound security blanket, Kobe Bryant would be even more breathtaking.
Here's the sad thing: Shaq goes on cruise control for 90 percent of the regular-season games, mainly because he can (Shaq doesn't have that crazed desire to dominate every single game, the way Bird, MJ and even Moses did, and that's fine, I guess). And he probably saves Kobe's legs in the long run, as Kobe doesn't have to expend nearly as much energy carrying his team during the season.
But the fact remains that, at this point in his career, the Kobe Experience would be 10 times more interesting if he were forced to carry a .500 team. I watched some of the 56-point game -- coincidentally, the first game of Shaq's three-game suspension -- and Kobe was showing more flair and explosiveness than anyone since the young MJ. He was totally unstoppable, looking like a guy who finally had the chance to let loose. This isn't another case of Magic-Kareem, or even Bird-McHale or MJ-Pippen, where there was a mutually beneficial relationship that allowed both players to reach even greater heights. In this case, Shaq makes Kobe's life easier, and vice versa ... and I'm not sure that's necessarily a good thing. Hey, it might translate to 10 championships before everything's said and done, but I can't shake the feeling that neither player will reach his optimum potential with the other guy hanging around. We'll see.
2. What has been the most shocking moment of the season?
When TNT's Hubie Brown claimed
Dirk Nowitzki
's offensive game was starting to mirror Larry Bird's offensive game ... and I didn't even get offended by the whole thing. Sure, he's not nearly the passer Bird was -- the understatement of the year -- but everything else about Nowitzki's game looks like it has been lifted from Bird: The jumper that doesn't even scrape rim ... the streaky, white-hot shooting ... the nice hands around the rim ... the goofy blond haircut ... the ability to get a shot off from every angle ... the clutch free-throw shooting ... the on-court savvy ... the flair for the dramatic ... even the way he skips clumsily along the court, looking coordinated and awkward at the same time. Not to pull a Rob Neyer or anything, but here's a quick statistical comparison of averages from their third/fourth seasons:
| | | | | | | | |
| --- | --- | --- | --- | --- | --- | --- | --- |
| Player | Year | G | FG% | 3P% | FT% | RPG | PPG |
| Dirk Nowitzki | 2000-01 | 82 | .474 | .387 | .838 | 9.2 | 21.8 |
| Dirk Nowitzki | 2001-02 | 35 | .470 | .370 | .837 | 9.5 | 23.1 |
| Larry Bird | 1981-82 | 77 | .503 | .212 | .863 | 10.9 | 22.9 |
| Larry Bird | 1982-83 | 79 | .504 | .286 | .840 | 11.0 | 23.6 |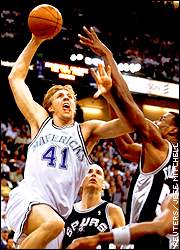 Dirk Nowitzki will put up more points against the Lakers than the Rams will amass first downs against the Pats.
(Wait ... I'm just ducking the lightning bolt ...)
Throw in the fact Bird was already 23 when he entered the league -- the same age as Nowitzki this season -- and I'm not sure what to make out of this whole thing. Obviously, Nowitzki isn't the reincarnation of the Basketball Jesus, but he's the first player to come along since The Man retired who at least makes me say, "Man, he looked like Larry on that play." Speaking of Nowitzki ...
3. Which draft crop was better, the '98 draft or the '99 draft?
A relevant question, considering that two-year boon revived the league in the same way the dreadful stretch from '88 to '91 nearly destroyed it. The '98 draft offered three bona fide superstars (Nowitzki, Vince, Pierce), five name starters (
Mike Bibby
,
Raef LaFrentz
,
Antawn Jamison
,
Rashard Lewis
,
Cuttino Mobley
), one cult hero (White Chocolate), four recognizable starters (
Michael Dickerson
,
Larry Hughes
,
Bonzi Wells
,
Michael Olowokandi
), two guys just realizing their UPPPPPPPside (
Al Harrington
and
Keon Clark
), and some serviceable role players (
Matt Harpring
,
Jahidi White
,
Pat Garrity
,
Ruben Patterson
,
Tyronn Lue
,
Nazr Mohammed
). That's an astonishing 21 players contributing to NBA teams right now. Only one Top 10 pick from that draft was an outright bust (
Robert Traylor
). Remarkable. The '99 draft didn't have any superstars, but it had five bona fide stars (
Elton Brand
,
Steve Francis
,
Baron Davis
,
Andre Miller
,
Shawn Marion
), a star-in-the-making (
Wally Szczerbiak
), two capable starters (
Jason Terry
and Rip Hamilton), one talented head case (
Lamar Odom
), some capable role players (
Ron Artest
,
Dion Glover
,
Todd MacCulloch
,
James Posey
,
Jeff Foster
,
Kenny Thomas
,
Andrei Kirilenko
,
Lee Nailon
), three guys with major UPPPPPPPside (
Corey Maggette
,
Jonathan Bender
,
Jumaine Jones
), and the comedic value of
Leon Smith
and Frederic Weis (off the charts). That's 20 guys contributing to NBA teams right now in all.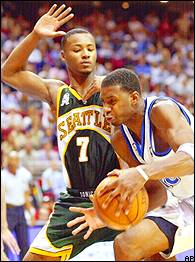 Give Rashard Lewis and the Class of '98 a slight nod over the Class of '99.
Comparing the two drafts on paper, '98 featured the best three players, but '99 featured the next best seven players. At gunpoint, I would give the nod to '98. But to put these back-to-back drafts in their proper perspective, compare them to the vaunted '84 draft, generally considered to be the greatest draft of all-time:
Hakeem Olajuwon
, Sam Bowie, MJ, Sam Perkins and Charles Barkley were the Top 5 ... that might never be topped.
John Stockton
went 16th (amazing but true). Alvin Robertson (No. 7), Otis Thorpe (No. 9),
Kevin Willis
(No. 11), Michael Cage (No. 14) and Vern Fleming (No. 18) all enjoyed solid NBA careers. Terence Stansbury (No. 15) was the greatest "Dunker Who Never Won the Slam Dunk Contest" of the mid-'80s. And the wide-sweeping comedic importance of Ken "The Animal" Bannister in the seventh round (a captain and three-time MVP of the All-Ugly Team) can't be overlooked. But nobody else from that draft distinguished themselves. Maybe the '98 draft doesn't have quite the ceiling, but it was almost twice as deep overall. (The worst draft of all-time? Probably 1990 ...
Derrick Coleman
,
Gary Payton
,
Kendall Gill
, Ty Hill and
Toni Kukoc
are the only first-rounders still playing. That was the same draft that gave us Top 10 picks such as Lionel Simmons,
Felton Spencer
, Bo Kimble, Willie Burton and Rumeal Robinson, as well as Top 20 picks Alec Kessler, Travis Mays, Dave Jamerson, Gerald Glass and Jerrod Mustaf. And Dwayne Schintzius and Alaa Abdelnaby went back-to-back at No. 24 and No. 25. Is there anything more fun than looking through old NBA drafts? Can you tell I have no life?)
4. What has been the dumbest story of the season?
This whole Hack-a-Shaq furor that popped up after Shaq tried to pull a Kermit Washington on
Brad Miller
last weekend. Shaq gets mauled more consistently and egregiously than any other player since Wilt Chamberlain, and it was getting to the point where
something
had to happen. The league wasn't going to provide him with some relief unless he snapped. It has been in the making for 10 years. Besides, if Shaq really wanted to punch the guy, he would have punched the guy (it's not like Miller ducked the punch and it's not like he was much of a moving target). Shaq wanted to send a little message, that's all. Can you blame him? And just for the record, there were fights all the time in the '60s, '70s and '80s, at least until the "Bad-Boy era" Pistons came along, pushed the envelope too far and ruined everything. Now in the NBA, you get whistled for a flagrant foul just by looking at someone cross-eyed, and it has changed the nature of the game to some degree (especially on fast breaks, when players are afraid to go for blocks, because they don't want to inadvertently commit a flagrant). And on those rare occasions when somebody crosses the line with a hard foul, players aren't allowed to protect themselves. As Mike Tyson would say, "It's ludacrisp. Just ludacrisp."
5. KG vs. Duncan vs. C-Webb ... discuss
Duncan is the smartest of the three, the best passer and the best defensive player. C-Webb has the most complete, all-around offensive game. KG is the best athlete and the best all-around player. Duncan has the most polished low-post moves (he's the evolutionary Kevin McHale). C-Webb blends in perfectly with the second-best team in the league. KG has the most charisma (the league hasn't taken advantage of him nearly enough -- he could be the next MJ from a marketing standpoint).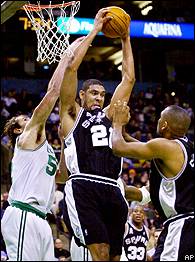 Tim Duncan is definitely a more fierce competitor than KG and C-Webb.
On the flip side, Duncan is the fiercest competitor, the best teammate and someone who basically reinforces everything I love about basketball ... but he has a little too much Pete Sampras in him. C-Webb pouts from time to time, he's a little too fragile, he's a bad winner (nobody rubs it in more than him), and he acts like an absolute jerk at times (a shame for someone who's so articulate and thoughtful off the court). KG has some serious crunch-time issues -- he defers to his teammates waaaaaaaaaaaaaay too much, which will kill them every spring unless Wally Szczerbiak turns into the white Sam Jones.
So it's a pretty close call. At gunpoint, I'm going with Duncan, if only because he does one thing that nobody else in the league has done in 25 years -- using the glass for that little, Walton-esque, 16-foot bankshot. Is that beautiful or what? Why doesn't anyone else use the backboard like that? And why does it put a hop in my step every time? I'm telling you, I have no life. One more thing: Can you remember another time when three players excelled at the same position -- all in their primes, with nobody really standing out -- quite like this? You would have to harken back to the late-'70s, when Kareem, Moses and Walton were running amok (and a healthy Bill Walton had a more dramatic effect on basketball games than anyone else, so it wasn't really even an argument).
6. Kobe, Vince, Pierce, T-Mac ... discuss
This one's a little easier. Kobe is the best all-around player in the league, period. He's the best defensive player, he plays as hard as anyone in the league, he's the most reliable shooter (48 percent from the field), he fills up every column in the box score, he's just as electric as anyone else ... again, it's just a shame that he has a 330-pound security blanket in Shaq.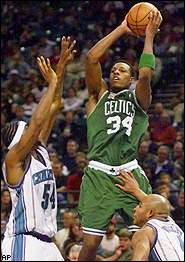 AP
Paul Pierce is dangerous outside and inside.
But the other three guys ... now here's where it gets interesting. I watch every Celtics game, so I can tell you firsthand about Paul Pierce: Nobody plays harder, nobody has a better inside-outside game and nobody carries a bigger load for a more flawed team. Other teams play the C's knowing they only have to keep Pierce and Antoine Walker in check to beat them, yet Pierce still gets his 25 to 30 a night; he would be averaging in the 30s if he could avoid foul trouble (the biggest fault in his game -- he's a magnet for dumb fouls).
The thing that pleases me most: Pierce has evolved into a reliable force on both ends of the floor -- he has a knack for making the big defensive play or grabbing the big defensive board in crunch time. Just a wonderful player to watch. As for Vince, he goes to the rack like nobody since Dominique Wilkins, but he doesn't play with the passion of Pierce and Kobe -- I've seen too many games where he mailed it in for three quarters and tried to turn it on in the fourth. He doesn't like contact at all, so you can bang him around a few times and he'll stop taking it to the basket (there's a reason he's only averaging five free throws a game). He has improved in the defense-rebounding department, but not by much: Now he's average, at best. Vince's ultimate game would be a game where he didn't have to guard anyone, he didn't have to rebound, he got six breakaway dunks, he could launch 15 threes and nobody touched him. (Can you tell I'm a little disappointed in the
Vince Carter
era?) And T-Mac ... I'm not sure about him yet. He plays hard for two games, then he takes the third one off. He seems aloof and arrogant on the court (it doesn't seem like he clicks with his teammates at all). And I don't get that "I have a fundamental need to dominate tonight's game" vibe from him, the way I get it from Pierce and Kobe. On the flip side, T-Mac has a nasty side that I like -- he's the only marquee player in the league who will defend himself after a cheap shot. And he's a gifted defensive player (when motivated), like a young
Scottie Pippen
, but with a superior offensive game. At gunpoint, I'd take Kobe first, followed by Pierce, McGrady, and then Vince. You might feel differently. Along these same lines ...
7. Has there ever been a deeper position in a conference than the crop of guards in the East?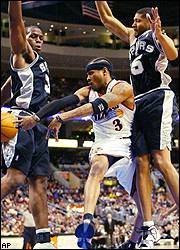 AP
Despite the deep crop of guards in the East, Allen Iverson should be voted as an All-Star starter.
I mean, who gets left out of the All-Star team here? Allen Iverson, Pierce, McGrady, Jason Kidd, Baron Davis, Andre Miller, Jerry Stackhouse, Ray Allen, Michael Jordan and Vince Carter (a forward on the All-Star ballot, thank God).
Iverson and MJ get voted in. Pierce, McGrady and Kidd all make it as reserves, no questions asked. Ray Allen probably nabs the fourth guard/wild-card spot because you need at least one Buck on the All-Star Team, not to mention a guy who once filmed a sex scene with Chasey Lain and Jill Kelly (in "He Got Game"). So that means Davis and Miller (two of the best point guards in the league, period) and Stackhouse (carrying a .500 team in Detroit) get left out. Unbelievable.
8. Who's the most fascinating team in the league?
Easily the Kings, a free-wheeling offensive juggernaut that would have melded in perfectly with the glorious Bird-Magic era. They're the only NBA team that consistently looks for one another and looks to make the extra pass -- heck, they even run a few backdoor plays! -- and seem to genuinely like playing with one another, a rarity these days. They also protect their home court and routinely win those 115-85-type games, like the Celts and Lakers in the old days. Their passing separates them from everyone else, for two reasons: 1. It gets contagious, never a bad thing, and 2. It gets them eight to 10 easy layups and dunks during games that every other team in the league isn't getting. The key here was the Mike Bibby-
Jason Williams
trade, which gave them an intelligent, sure-headed guy to run the show (they've been needing that for three years). From what I've seen, they're evolving into one of those "sum is greater than the parts" teams, and they have two legitimate options at crunch time (Webber and
Peja Stojakovic
). Dangerous team.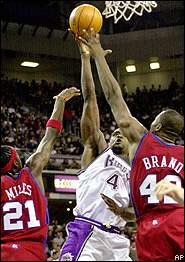 AP
Chris Webber and the Kings put on the league's most enjoyable show ... even if they aren't a likeable bunch.
(One thing kills me about them though: They're turning into an arrogant, unlikable group of bastards. Too much finger-pointing after dunks, too much smiling and giggling on the bench, too much rubbing it in during blowouts, and way too much hugging. In the old days, if you pulled this crap, your best player got clotheslined into the basket support and that was the end of it. Now, it's implicitly condoned. Really bothers me.)
9. With the Clippers hooked up to the Juvenation Machine, who took their place as The Most Depressing Franchise in the NBA?
The runners-up ...
Atlanta:
A cavalcade of empty seats, a coach who looks like a serial killer, a season cursed by injuries, a bland group of starters ... and it's all happening in Atlanta, a graveyard for professional sports teams that couldn't even come close to selling out playoff games for the Hawks and Braves over the past few years. Pretty convincing résumé.
Utah:
Entering that creepy, hopeless, "We're never as good as we once were, we'll never win a title, and it will only get worse" stage. What happens when Stockton and Malone retire and they roll out
DeShawn Stevenson
,
Quincy Lewis
and
Andrei Kirilenko
to a horrified audience paying $70 a ticket? And will they ever land a marquee free agent to replace them? I mean ... would
you
play in Utah?
Denver:
Round 2 of the Issel era was an outright debacle, their only marquee guy (
Antonio McDyess
) has been sidelined all season,
Nick Van Exel
wants out,
Raef LaFrentz
is fleeing for free agency after the season, and the team stinks. All in all, an average season for the team that has been the ugly stepchild of the Denver sports scene for years.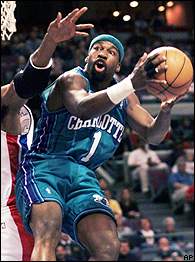 AP
Can somebody please help Baron Davis get out of Charlotte?
Miami: They lead the league in "Most Visible Loge Seats That Are Empty On Camera." Depressing season, depressing pro sports city. The whole Miami thing peaked with "Vice" and "Scarface," didn't it?
And the winner ...
Charlotte:
Hornets' home games are the most depressing visual TV experience this side of Michael Jackson's 30-Year Anniversary Celebration. Have you
seen
the crowds they get? Even Expos fans are embarrassed. And now they're talking about moving to New Orleans ... what was the next choice, Hartford? Poor
Baron Davis
. Either somebody needs to step in and force the Hornets to trade him to a real NBA franchise, or the league needs to move the Hornets to Vegas ... which needs to happen, anyway, but that's a story for another time. (Can you imagine? An NBA team in Las Vegas? I can't even discuss this one rationally ...)
10. Who's coming out of the East?
Let's use the process of elimination here ... Cleveland, Atlanta, New York, Miami and Chicago are out for obvious reasons. Since the Hornets are the only team in the league that suffers from an anti-home-court advantage, they're out. Thanks to
Grant Hill
's injury, Orlando is out. The Pistons were a feel-good story, but relying on castoffs and has-beens will only get you so far. They're out. The Wizards are the Good Bad Team of the 2002 season -- excellent defense, good chemistry, the MJ Factor, they beat every team they should beat ... and they get waxed every time they play an elite team. And MJ hasn't even gotten injured yet. They're out.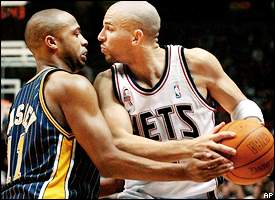 Don't laugh, but Jason Kidd and the Nets could win the East.
Not only have the Raptors been mailing it in all season, but the lack of a second scorer will kill them in the spring (Vince can't do it alone, especially with his phobia for contact). They're out. Same with my beloved Celtics, who should ride the Two-Man Gang (Pierce and Walker) into April, at least until the fact there isn't another above-average player on their roster finally catches up to them. You can't win three straight playoff rounds without a Plan B, if you get my drift.
Last year's Sixers team was built around rebounding, defense, Mutombo and Iverson. Then Larry Brown started tinkering with things. Big mistake. They're out ... but I wouldn't want to play them in the playoffs. As for the Pacers, the most talented team in the conference, they're out unless they make a coaching change (Isiah has probably been worth four or five losses for them this season)
and
a trade (they have too many guys who need minutes, and the Jalen-Reggie battle for the conch at crunch-time isn't healthy). What a waste. There are a number of red flags with Milwaukee. They're the worst rebounding team in the league.
Anthony Mason
didn't cost them much, but he's looked like crap all season and probably will make way for
Tim Thomas
during crunch-time situations next spring. And they just don't play that well together -- it's one of those selfish teams where everybody starts gunning for their own shots as soon as they build up a big enough lead. Watching them, you just get that "These guys don't like one another, and they certainly don't like their coach" feeling. They're out, at least for now. So that leaves the Nets (25-11), who officially won me over on Monday night by holding off the Spurs at home. The difference in New Jersey from the Marbury Era to the J-Kidd era tells you everything you ever needed to know about the game of basketball.
Kenyon Martin
gives them rebounding and swagger.
Kerry Kittles
gives them reliable perimeter offense.
Keith Van Horn
provides additional scoring (although he sits in the crunch against certain teams).
Todd MacCulloch
has officially become the 21st Century G-Mo. And even though I disagreed with the move at the time, talented rookie
Richard Jefferson
fits in with this particular team much better than
Eddie Griffin
(and without the baggage). Will they beat the Lakers? Barring injury, absolutely not. But they're hungry and they play well together... and in this year's train wreck of an Eastern Conference, that just might be enough. (Was that enough NBA talk for you?)
Bill Simmons writes three columns a week for Page 2.