By Bill Simmons
Page 2 columnist
Every artist -- and by artists, I mean musicians, writers, painters and Moochie Norris -- needs one vice that turns off much of his audience, just to keep things fresh. For instance, during the late-'80s, I attended a Boston concert at the Meadowlands for their "Third Stage" tour. You remember the "Third Stage" album -- had that sappy "Amanda" song and a variety of crappy songs? I'm gonna take you by surprise, and make you realize, Amanda? That song? Yeah, exactly. Still, it was Boston, for God's sake.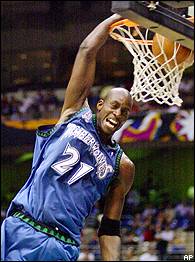 AP
Kevin Garnett would be better off out of Minnesota and as a second banana.
Well, they came out and played five of their classic hits in a row -- "More Than a Feeling," "Smokin'," etc. -- and we were going bonkers. It was the greatest concert of all-time. We were going crazy. It was like "Game 7 of the World Series"-level loud. After five straight classics with no dialogue, the lead singer finally stepped to the mike and gave us this one:
"Thank you very much. As you know, we have a new album out called 'Third Stage.' We're gonna try something different tonight -- right now, we're going to play the entire 'Third Stage' album, in sequence. We hope you enjoy it."
Well, you can imagine what happened. The ensuing stampede to the refreshment/concession stands left 35 dead and 145 injured. The band might as well have called in a bomb threat. But that didn't stop Boston from playing that entire album with the same passion and commitment to which they extended every other song, even if the stadium was only 25 percent full and people were coming up with reasons to stand in various lines ("Sure, I have a full beer, but I could always use another one").
Why is this story relevant? Because of the following announcement: Over the next 10 weeks, I'm writing at least one NBA column per week, a period of time that extends through the Finals and the draft at the end of June.
The KG dilemma
So where is KG headed, if anywhere? What about Chicago? Since the Bulls fall wayyyyyyyyy under the cap this summer, what if they offered Tyson Chandler, Eddy Curry and a future No. 1 for the chance to bring KG back home? Better yet, what if Minnesota said, "We'll give you KG for the two young guys and this year's (top-four) pick"?

Would you make that trade if you were the Bulls? Probably not. But maybe you counter-offer with just Chandler, plus this year's pick, which makes sense for both sides. Minnesota rebuilds around the young guys, Wally Szczerbiak. and cap space galore. Meanwhile, Chicago becomes an instant contender in the East with KG and Jalen Rose (who can take all the crunch-time shots).

Come on ... doesn't this work?! KG to the Bulls. Spread the rumor.
Yeah, some of you might consider it a "Third Stage"-type decision. And if you skip these columns because you don't like the NBA, well... no hard feelings. Seriously, I'll get over it. You'll just have to indulge me until late-June; the NBA is my favorite sport. And if you ever get the urge to send me a "Stop writing about the NBA!" e-mail, just remember that nobody's holding a gun to your head -- if you don't like the NBA, again, just skip those particular columns. It's very simple. Last time I checked, this column was free ... unlike that Boston concert.
One more thing: I need some sort of dopey gimmick to carry me through the NBA Playoffs, so I came up with the "Six-Pack." Basically, the column will be composed of six separate extended observations/thoughts about the NBA Playoffs as they drag on (and on, and on), allowing me to cover as much ground as possible (while relieving me of the pressure to write a single, coherent column). And if that's not enough, the gimmick allows my editors to give each NBA column a snazzy promo like "Sports Guy opens an NBA Six-Pack!" and "Simmons gets drunk on the NBA!" They're so easy.
Wait, one more thing: Thursday night's Nets-Pacers double-OT thriller was so wildly entertaining, after the game finally ended, I skipped down to my local Store 24 just to buy some Sour Patch Kids and tell Joe the Alcoholic Counter Guy about it. Let there be no doubt ... I love this game.
On to the Six-Pack ...
No. 1: Kevin Garnett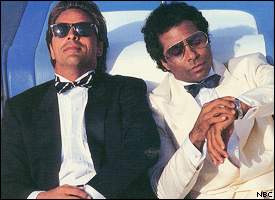 There's a good reason nobody called them Tubbs and Crockett.
For months and months, I've been writing how KG was the greatest Second Banana of all-time, how he wasn't talented enough to carry his own team, how his pricetag ($20 million a year) made it nearly impossible for Minnesota to surround him with the supporting talent to help him in crunch-time (including a much-needed Go-To Guy). I even placed Dirk Nowitzki ahead of KG in my "Who has the highest trade value?" column last month, which generated a staggering amount of "What the hell were you thinking?" e-mails.
Well ... who's laughing now? Huh? Huh? Somewhere along the line, the whole "Is KG really a superstar?" debate became the Story Du Jour of these playoffs, culminating in a spirited discussion between Danny Ainge and the always-incoherent Magic Johnson after one TNT playoff game last week. As Red Auerbach would say, the proof was in the pudding. For the 37th straight season, Minnesota was bounced in Round One of the playoffs. And even if KG submitted his usual gaudy stats (a 20/17 every game), two things hadn't changed: He doesn't make his teammates better, and he can't create his own shot at the end of games.
Back to the Second Banana thing, which I never fully explained last month: Think of Tubbs and Crockett from "Miami Vice." Crockett was the star of the show. He was The Man, the Go-To Guy ... and everyone knew it. But we also knew that you can't carry a show by yourself. So Tubbs' job was to play off Crockett, cover his back, kick him in the butt, provide some laughs, pull off the Jamaican accent from time to time, hook up with any black actress who was appearing on the show, knock the Unintentional Comedy Rating through the roof every so often, and occasionally -- not often, but occasionally -- carry his own episode, just to mix things up.
Could Tubbs have carried his own show? Maybe. It would have been an OK show ... probably would have lasted two or three seasons, before it finally got canceled, depending on his supporting cast. And then Philip Michael Thomas would have been relegated to game shows and infomercials for the rest of his career, which is pretty much what happened, anyway. But at least with "Miami Vice," he was a crucial component of the greatest detective show of the '80s. It wouldn't have been nearly as good without him.
And that's Garnett, in a nutshell. He's like a more talented version of Tubbs. You love him to death, you want him to succeed, he brings a ton to the table ... but he just can't carry his own show. At least not a good one.
That's why, in my opinion, Garnett has a terrific chance to become the greatest complimentary player of the modern era (post-1970). Better than James Worthy (Big Game James, the most underrated player of his generation). Better than Kevin McHale (who would have become the best power forward of all-time if he hadn't broken his foot). Better than Scottie Pippen (whose underappreciated, misunderstood career deserves its own column at some point). Better than Andrew Toney (another guy sidetracked by foot problems). Better than Dave Cowens (who won two titles playing next to John Havlicek). And much better than Penny Hardaway (who would have been the first person mentioned on this list if he didn't come down with prima donna syndrome).
Imagine KG with Kobe, Iverson, T-Mac or Pierce? Hell, imagine him with Baron Davis? Garnett would be making every clutch defensive play, grabbing every rebound, firing the crowd up, keeping everyone's intensity up, tossing up a 20-15 every night, and occasionally -- not often, but occasionally -- carrying his own episode.
Just like Tubbs.
No. 2: John Stockton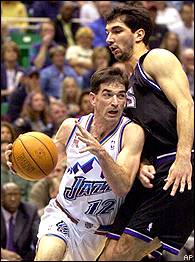 John Stockton's unbelievable play at 40 raises his stature among the best point guards ever.
During Game 4 of the Utah-Sacramento series, there was a moment in the final two minutes -- after the Kings extended their lead to six, and things looked grim -- when Stockton was dribbling up the court on a fast break ... and I'm thinking to myself, "Pull-up 3, he's going for the pull-up 3" ... and he dribbles over midcourt, like he's heading to the basket ... and Mike Bibby was back on his heels ... and then Stockton pulled up and launched his classic "My momentum is taking me forward, but somehow I stopped my body long enough to launch this baby" 3.
Swish. Three-point game.
And that's why I'm gonna miss John Stockton. After 17 years, you know him inside and out, you know all his moves, you know what he's doing before he even does it ... and he's still pulling it off. At age 40. Unbelievable. I still think Isiah was better in their respective primes, but Stockton's surreal longevity makes it a pretty good debate. I'd take Isiah, personally -- when in doubt, just count the rings -- but at least we're having this discussion. I wouldn't have even considered it four years ago.
Switching gears to guys I won't miss ...
No. 3: Patrick Ewing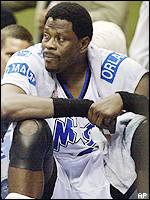 Will you miss this now-familiar shot of Patrick Ewing?
My favorite dopey NBA playoff tradition goes like this: Every spring, one NBA star seems headed for retirement after the season, which means the announcers inevitably make a big fuss about it and say things like, "This might be the last time we see so-and-so in an NBA uniform!"
Of course, it doesn't matter if we actually care about the star in question. Remember when Jeff Hornacek was retiring two years ago? The announcers were breathlessly saying, "This could be the last chance to ever see Jeff Hornacek in a Utah uniform" and "If this is Jeff Hornacek's last game, what a career he's had." Jeez, I can't believe I forgot to cue up the VCR for that one. Wouldn't want to miss the chance to capture Hornacek's last game on tape. Just ridiculous.
We were subjected to the same crap this week with The Artist Formerly Known As Patrick Ewing, who has been stuck in that "15-Year-Old Poodle With Cataracts and Diabetes Who Starts Going To The Bathroom In The House and Needs To Be Put To Sleep" phase of his career for two years running. Besides, this wasn't Kareem on his last legs ... hell, it wasn't even Hakeem. Did Ewing have a Hall of Fame career? I guess. I also know there wasn't one season where we could look back and say, "Man, Ewing had it going that year" or "Nobody could handle him that season." As amazing as this sounds, the Georgetown version of Ewing was more memorable than the New York version.
Think about it. Ewing was utterly devoid of charisma. He never made his teammates better. He might have been the most overrated NBA player of the past two decades -- horrendous hands, unreliable at crunch-time, dubious rebounder, terrible passer out of the double-team, the whole nine yards. His prime coincided with an era when true NBA centers were few and far between, yet he never took full advantage of that window. He was so freaking slow -- because of his bad knees -- that the Knicks never really seriously contended until Pat Riley adopted that slow-it-down, thug-ball, rugby-style of play that catered to Ewing and nearly ruined the NBA as we know it. And during his only appearance in the NBA Finals -- which happened only because MJ had retired -- another center (Hakeem) pretty much destroyed him.
So for announcers to pull the "This could be our last chance to see Patrick Ewing" routine ... well, I find it a little insulting. Don't ask me to appreciate someone who I didn't appreciate that much in the first place, especially when he's been hanging on just to collect paychecks for the past two seasons.
And as Dennis Miller would say, that's just my opinion. I could be wrong.
No. 4: The Lakers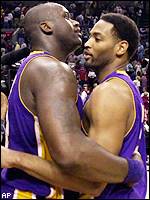 Robert Horry, right, and Shaquille O'Neal still have the swagger of champions.
Game 3, sellout in Portland, must-win for the Blazers, four-point lead in the final 30 seconds, crowd going bonkers, and the Lakers have every reason to fold and regroup for Game 4. Nope. Kobe Bryant nails a 3. After the intentional foul, Portland misses one of two free throws. Now Los Angeles has a chance to tie. Tie? Screw that. They diagram a play in which Kobe drives to the basket, draws Robert Horry's defender, then kicks it to Horry in the corner for a 3 ... bingo. Game over.
We always glorify champions while they're winning the title, but to me, true champions are the ones who return for the following season and continue to play like champions. That's what the Lakers pulled off Sunday. It was reminiscent of a 1978 game that David Halberstam described in "Breaks Of The Game" -- the best basketball book of all-time -- when the defending champion Blazers thrashed a talented Atlanta team by 40 points. As Halberstam writes: "Afterward, in the (Blazers) locker room, which had been unusually joyous that night, Lloyd Neal had held up his hand with the championship ring and shouted, 'I guess we showed them that they didn't give us these rings by any f---ing mistake.' It was the way everyone on the team felt. They were the best."
For some reason, I always remember that quote whenever I watch a game like that Blazers-Lakers game. Just a classic "They didn't give us these rings by any f---ing mistake!" game. And as long as the Lakers keep winning those games from time to time, the road to the NBA title goes through them.
But you knew that already.
No. 5: The Dow Report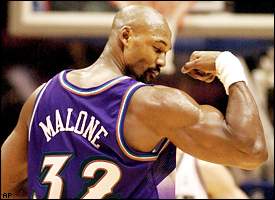 Let it go, Karl Malone. Let it go.
Whose stock rose and dropped the most after round one? A quick look:
Up: Baron Davis ... the best young point guard in the league, someone with a knack for making big plays when it truly matters (witness: the steal off Tracy McGrady in Game 1). He might even have a chance to be special before everything's said and done, and not just because he has more teeth than any NBA player in league history. We need to have an All-Choppers matchup between him and Mateen Cleaves.
Down: Karl Malone ... they officially rammed the salad fork into his back as he was single-handedly derailing the Jazz during Game 4 of the Sacramento series (14 points, three rebounds, a number of wince-provoking moments). Sad to watch. It's not like he always played well in the playoffs, but at least back in the day, he wasn't killing his team ... at least until the Finals. Let the record show that Karl Malone was an excellent player for an especially long length of time. And now that time is over.
Up: Andrei Kirilenko ... he's like a cross between Michael Cooper, Bob Horry, Dennis Rodman, and Fred Roberts after 12 cups of coffee. Just a lot to like here. Needs to play for a contending team at some point.
Down: Rashard Lewis ... apparently the WNBA season started early.
Up: Dirk Nowitzki ... how do you say "He's made The Leap" in German? Der frueilin leapschanazen?
Down: Everyone on Sacramento, other than maybe Vlade Divac. If you're a Kings fan, you have to be dreading Dallas in the rearview mirror right now. And just for the record, if the Kings don't figure out a master plan in crunch time sometime soon, it's going to be four-and-out for them. Seriously. They looked terrible against the Jazz. The only guys in playoff form for Sacramento were the towel-waving yahoos on the bench. Does anyone have a more supportive bench than them? Cleaves is really the Jack Haley of his generation.
Up: Keon Clark ... made himself a lot of money over the past few weeks.
Down: The Lakers bench ... Good God. Do you realize they're playing five guys right now? Shaquille O'Neal, Kobe, Horry, Derek Fisher and Rick Fox. That's it. Everyone else comes in just to give someone a breather. It's a debacle. The standby phrase "Shaq, Kobe and 10 nobodies would beat anyone in the league" will definitely be tested later this month. Other than Horry, there isn't another above-average player on the roster besides The Big Two.
Up: Jon Barry ... inspiring to watch at times. Except for Allen Iverson, there isn't a guy in the league who plays harder. Big year for the Barry family.
Down: Magic Johnson ... just go away. Please. We're begging you.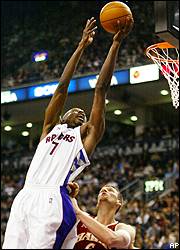 AP
Now that Keon Clark's made himself richer, maybe he'll supersize his meals.
Up: Jeff Van Gundy ... what's not to love? He was candid, insightful and funny; more importantly, he meshed extremely well with Mike Fratello, which was surprising since they never announced games together before this spring. You can't force chemistry; you either have it or you don't, and Fratello and Van Gundy have it. When Marv Albert returns this spring, they have a chance to become the best three-man booth in NBA announcing history. No joke.
Down: Byron Scott and Isiah Thomas ... watching these guys match wits in round one was like watching a chess match between Crackhead Bob and Joey Lawrence. Game 5 alone was filled with more mistakes than your average porn shoot. I haven't seen two teams guided that poorly since Gabe Kaplan and Bob Conrad were captains during the 1980 edition of "Battle of the Network Stars."
(Enough lame similes for you? You get the point? OK, good. But seriously, what about the Nets not fouling in the final five seconds of regulation of Game 5, allowing Reggie Miller to launch his game-tying 3? What about Isiah living and dying in Game 5 with Kevin Ollie? What about the Pacers being totally dumbfounded by the same play for five straight games -- the little high pick for Jason Kidd? Or the Nets not even considering a full-court press when the Pacers had Ron Mercer bringing the ball up during Game 4 and Game 5? Good God. That series could have made for an entire column in itself. Let's just move on.)
Up: Derrick Coleman ... unquestionably the surprise story of the season. Did you ever think you would see DC playing hard, making intangible plays, playing in pain, putting up 16/10's in the playoffs every night ... and doing it in the same series that included a rejuvenated Kenny Anderson? It's like meeting an attractive female in Boston. You just can't believe it's happening.
Down: Team Stern ... for not being intelligent enough to incorporate instant replay to decide buzzer-beating shots. Inexplicable. I can't think of a single reason why this wouldn't work.
Up: Mortgage commercials ... I like the one TNT always shows where the husband comes home with a new dog, and his wife is confused because he said that they couldn't have a dog until they bought a house, and then he gives her the smile and says, "We got the house." Good stuff. Always gets me.
(As an added bonus, the guy playing the husband was Joel Goodson's horny buddy from "Risky Business." You know ... That Guy? Good to see him still working.)
Down: The NBA ... for ruining that Lenny Kravitz "Once you dig in" song by ordering TNT and NBC to play it roughly 17,500 times over the past two weeks (for their playoff commercials). Once you dig in ... I'm going to bang myself in the forehead ... and once you dig in ... I'm slamming a fork into my eyeballs ...
Up: Iverson ... he misses the last 14 games of the season, comes back for the playoffs with his left hand in a cast, then proceeds to pour in 42 points in a do-or-die Game 3 (with more than a little help from the refs) and score eight crucial points in the final 73 seconds of Game 4. Remarkable. The best little guy of all-time.
Down: Team Stern (yes, twice) ... for the third straight season in which they staggered the first-round schedules to create as many NBC games as possible. None of these series had any flow -- teams were overprepared and out of synch, and nobody seemed to have any momentum other than the free-wheeling Mavs.
Up: TNT ... for their "Studio Cameos" by NBA players and former players, which can occasionally knock the Unintentional Comedy Rating out of the ballpark. Pau Gasol's night in the studio needs to be released on DVD at some point.
Still to be decided: Paul Pierce ... actually, this deserves its own section.
No. 6: Pierce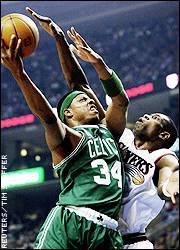 Paul Pierce's time has come.
Here's a quick story ...
Last summer, right before Pierce signed his contract extension with the Celtics, I ate dinner with him and a few other people, just a standard get-to-know-you session (the details aren't really important). We spent most of dinner talking about the Celtics, the NBA, the season ahead ... and after a while, it became pretty obvious that Pierce wasn't just a basketball player. He was actually a basketball fan. At one point, I mentioned watching ESPN's "SportsCentury" show about Isiah Thomas that week and Pierce interrupted me.
"I saw that," Pierce said, his eyes lighting up. "Did you see the 'Behind The Glory' show about Chris Webber?"
I told him that I hadn't seen it.
"You should see it," he said, nodding. "That's a good one, too."
For some reason, I found the whole exchange intriguing. So I started doing some friendly digging. Turns out that Pierce is a basketball junkie. Watches all the playoff games once the Celtics get knocked out. Watches every NBA-related documentary on ESPN and Fox. Watches every old-school NBA game on ESPN Classic. Watches summer league games on ESPN2. Heck, he even coerced the Celtics into sending him game tapes of every Celtics game from the 2001 season, just so he could scout himself.
The guy simply loves basketball. Lives and breathes it. Better yet, unlike most of the guys in the league, he could pick Gus Williams out of a police lineup, he knows Andrew Toney had an unstoppable first step, he knows the Lakers wouldn't have won the '87 title without Mychal Thompson ... he's just a basketball fan who coincidentally happens to play basketball for a living. And he was sitting home last summer, night after night, watching all these games and documentaries, telling himself over and over again, "Some day, it's gonna be me ... some day it's gonna be me."
Anyway, I thought about that dinner during Game 2 of the Sixers series, after Pierce drained a clutch 3 with two minutes left -- the eventual game-winner -- one of those ballsy, breathtaking plays that only the great ones make. And we erupted. We just erupted. Ever since Reggie Lewis died and the Celtics fell apart, we had been waiting for another night like this, another game like this, another player like this. So Philly called a time-out, and everyone remained standing, getting louder and louder, going pretty much insane -- waves of cheers, almost like a Roman coliseum. And Pierce was standing in the middle of it, his arms raised above his head, pumping his fists, nodding and soaking everything in. His time had come.
And that brings us to Friday night. Game 5. Sixers-Celtics. Winner advances, loser goes home. A sold-out crowd ready to raise the roof again. And Paul Pierce standing in the middle of it all, ready to make The Leap, ready to become part of history, ready to shine, ready to realize a dream. Some things are just meant to be.
Bill Simmons writes three columns a week for Page 2.