By Bill Simmons
Page 2 columnist
After MTV's "The Real World" became a pop culture phenomenon in the '90s, it was only a matter of time before the reality TV genre crossed over into sports.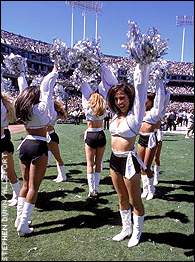 The cutthroat battle to become one of the Raiderettes makes for captivating TV.
Could any sports-related offerings compare to seven twenty-something strangers sharing a house, or 16 people stranded on an island, or even girls pledging for the homeliest sorority on campus? Probably not. But there's still a niche here, and it has been exploited pretty well by ESPN, HBO and Fox Sports Net over the past few years.
Of course, I'll watch just about anything with a reality-TV theme that isn't contrived. I can't stomach shows like "Big Brother" or "Fear Factor," but if it's a show that features unique characters interacting in a realistic way, I'm probably there. And if it's a documentary show giving me a behind-the-scenes glimpse at athletes, coaches or the people who surround them, I'm probably there. So when two eagerly-awaited behind-the-scenes sports shows premiered last week -- ESPN's "The Season" (cheerleaders trying out for the Oakland Raiderettes) and HBO's "Hard Knocks" (six weeks in training camp with the Dallas Cowboys) -- I was planted in front of my TV like the girl from "Poltergeist." We'll tackle "The Season" first. Both "The Season" and "Sidelines" have been tough formats for me because they usually select high school and college teams, often making the shows tough to follow (if you miss the first show, you're clueless). The series of episodes with the most promise was the "Sidelines" shows centered around the L.A. Clippers, which gave birth to the dynamic comedy duo of Quentin Richardson and Darius Miles, cruelly and improbably split up last week when the Cavs traded for Miles. Even the Coach dying on "Cheers" didn't hurt this much. Why didn't David Stern step in and block the deal? Why split up the Abbott & Costello of our generation? Couldn't Hollywood at least write them a movie script for one of those buddy cop films, like a "Bad Boys"-type deal? And you think I'm kidding. Anyway, with Miles and Q leading the way, here's my holy quintet of the five best reality-based sports shows:
Fox Sports Net's surreal series about Jerry Tarkanian's 1997-98 team of head cases at Fresno State (Chris Herren, Tremaine Fowlkes and so on).
HBO's superb "Hard Knocks" series on the 2001 Ravens (more on this later).
HBO's behind-the-scenes documentary about Pat Summitt and the 1997 Tennessee women's hoops team (just a surplus of torn ACLs and tears).
ESPN's half-hour "Outside-the-Lines" documentary about the Manny Ramirez signing (starring psychotic Red Sox GM Dan Duquette, who looked like he was auditioning for "Hannibal").
ESPN's "The Life" on Q and D-Miles (if "The Life" was "Seinfeld," this episode would have been "The Contest" -- it was that good). So could "The Season: Raiderettes" make the cut? With 500 women trying out, each of the prospective cheerleaders seemed to have one of eight looks going in the opening scenes: Look No. 1: "Sassy, sexy, well-spoken and energetic" (coincidentally enough, most of these girls end up making the team). Look No. 2: "Maybe I'm not quite as sexy as some of the other girls, but I make up for it with my inspired dancing." Look No. 3: "I'm very young, I'm not quite sure how to take advantage of it, and if this doesn't work out, a freelance photographer could probably corrupt me into taking my shirt off for a series of topless photos within the next three weeks."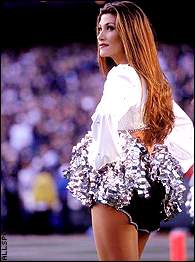 More than 500 women tried out for the chance to wear the Raiderette uniform.

Look No. 4: "I'm in my 20s, this is probably my last chance to use my body for something mildly respectable, and if this doesn't work out, there might be a lap dance or two in my future."

Look No. 5: "My odometer has a few miles on it, I'm getting up there in age, I have a few skeletons, and the last time I performed in front of this many people on stage, there was a metal pole involved. Look No. 6: "I'm just here to meet one of the Raiders and hopefully hook up with him." Look No. 7: "You might recognize me from Playboy's Naughty Amateur Home Videos." Look No. 8: "I'm available for bachelor parties." Yup, you guessed it. This is one of those rare shows that immediately shakes your faith in society. In classic reality-TV fashion, they reeled us in with some handpicked contestants -- Jaclyne (21, trying out for the fourth consecutive year, looking like she maxed out her credit cards on hair spray), Brianna (19, alternately raw and sexy), Naomi (23, dressed in one of the outfits from HBO's "Hookers on the Point" series), Elisha (21, wearing a leather skirt in the first tryout because the shorts she brought weren't "professional" enough), Danya (23, with a gangsta past), Andrea and Marah (30 and 22, right on the bubble), and some Raiderette veterans trying to hold on to their jobs. In the first section of tryouts, the girls introduced themselves to the judges and seemed to be having a "Who could look the trashiest?" contest -- lots of leather, tons of trampy cocktail dresses, even some Daisy Duke-style shorts. The whole sequence felt like a special episode of Us Weekly's "Fashion Police" section; let the record show that the Sports Gal nearly suffered a conniption and had to be given an oxygen mask. Eventually, the prospectives were narrowed down from 500 to 200 (weeding out Looks No. 6, No. 7 and No. 8), giving us time to get to know some of the girls better. We watched Andrea's brothers reviewing her cocktail dresses, Brianna practicing her dance moves while killing time at her job (cocktail waitress on a golf course), Christine getting up at 4:30 a.m. to get her hair done, and Nasha purging her corned-beef hash from breakfast (OK, I made that last one up). Unfortunately, this section of the show was marred because the Sports Gal and I were arguing -- I joked that I couldn't watch the show without holding a handful of one-dollar bills, she asked what that meant, and the gloves quickly came flying off. It was like one of those hockey fights where two guys start jawing, then suddenly start throwing haymakers even though they haven't worked up enough animosity yet. That was us. We were going through the motions and waiting for a ref to jump in ... unfortunately we were the only two people in the room. Maybe this is why people have kids. Meanwhile, on the show, the prospectives were having short "interviews" with the judges. We heard tidbits from the girls like, "I would like to be a Raiderette because I love to dance and I love to entertain" (hey now!), "I love Lucky Charms, I love cats, pretty much everything in life, I love living," "I am also a bassist in an all-female punk rock band," "Five years from now, I see myself owning a home, advancing up the corporate ladder, and travelling," and my own personal favorite, "I have my own business in publication licensing, but my real passion is fire." One candidate even listened to Marah practice her prepared remarks backstage, then used those same exact lines for herself. Good God! She should have just hit Marah over the head with a steel chair. After an engrossing dance/choreography tryout montage, we advanced to the final cuts ... each girl holding her number, then waiting as they called out the numbers of girls who made it from lowest to highest ("15 ... 27 ... 43 ... 60 ..."). As Dan Dierdorf would say, "You think these girls aren't feeling the tension?" It was palpable. Each selection was accompanied by screaming, crying and hugging, capped off by Jaclyne gunning for an Oscar when her number was called (crying, waving her hands, wiping the hair dye from her eyes) and young Brianna reduced to a puddle of tears.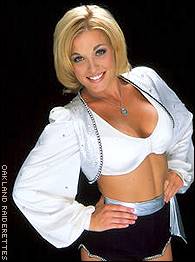 Vanessa offered some poetic words after not making the squad for another season.
Here's where the show took it to the next level. After Marah's number wasn't announced, she stood sobbing in the middle of the room, refusing to leave the premises. Once the cameras caught up with her outside, we heard her bawling to someone who was trying to console her:
Consoler: "Come on, you know how many girls don't make it their first time?" Marah (sobbing): "This is my third!" Consoler (without missing a beat): "You know how many girls it takes longer than that?"
Can you put a price on this kind of comedy? Of course not. Vanessa, a deposed veteran who wasn't invited back, seemed to be the only one who could keep things in perspective: "Cheering in the NFL was fun, and it was great, but ... this wasn't something that would take me into anything further than cheering on the sidelines in Oakland. It was wonderful, and I had a great time, but everything has to come to an end at some point." Amen, Vanessa. Amen. It goes without saying that Chris Herren, Pat Summitt, Brian Billick, D-Miles and the Duke need to make room for Jaclyne and the gang. I missed Part 2 on Tuesday night, but since it apparently involved a photo shoot in Hawaii, that's enough for me to induct "The Season: Raiderettes" into The Reality-TV Sports Show Pantheon. Congratulations to the girls. As for the sophomore effort of "Hard Knocks," HBO was following a dream scenario with last year's Ravens team. There was a compelling storyline -- the defending champs head back to training camp, looking to repeat and stay motivated. You had Brian Billick, who started out the first episode by reading Rick Pitino's "Success Is A Choice" while lounging in a hammock, then kept a "Tony Robbins crossed with a 'Road House' villain" routine going for six full weeks.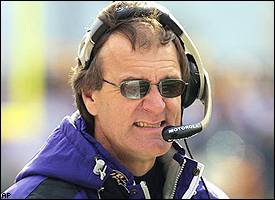 "Hard Knocks" worked so well last summer because Brian Billick played the perfect villain.

You had two entertaining veterans (Shannon Sharpe and Tony Siragusa), a walking punch line in Ray Lewis (who ended up coming off better than anyone), and some intriguing storylines (Jamal Lewis blowing out his knee, Elvis Grbac trying to fit in, rookie Todd Heap learning the ropes, and so on), with the added bonus that we hadn't seen any of this training camp stuff before (like The Turk knocking on people's doors and asking them to see the head coach, or the assistants debating who should make the 60-man cut). Just a riveting six weeks.

And since everyone seemed to enjoy it, HBO opted for Round 2 with the Patriots this summer ... only Bill Belichick wanted no part of it. Wise move by a wise man (why even risk the distractions, especially after how last season unfolded for Baltimore?). This is why the Patriots are the defending champs. (You knew that, right? That the road to Super Bowl XXXVII goes through New England? Just checking.) That left HBO and NFL Films out in the cold, at least until Cowboys owner Jerry Jones eagerly stepped in. Cameras? Attention? Publicity? What about us? Any interest? Any at all? The Dallas people clearly played to the cameras in the opening episode, as everyone apparently learned from the mistakes that the Ravens made. Hence, the Cowboys made for bland, punchless subjects -- the Patriots would have been much more interesting. I found myself wishing that Dallas coach Dave Campo had grown back his ghastly perm-mullet (from the Randy West collection), or that Jones would wear a handkerchief over his face like Michael Jackson. And without a compelling storyline to rival "We're trying to repeat as champs," it's just a bunch of "We need to bring the Cowboys back to the promised land" crap. The only audience they'll attract is people from Texas and every spineless bandwagon jumper who started rooting for the Cowboys from either 1975 to 1980 or 1991 to 1995?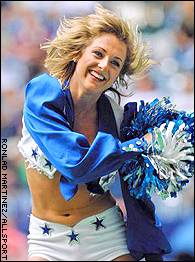 The behind-the-scenes stuff with the Dallas Cowboys Cheerleaders was extremely disturbing.

Without tons to work with, HBO geared the main storylines around Jones (the owner, GM and de facto coach), Campo (pleasant and utterly unabsorbing), special teams coach Joe Avezzano (happily dropping F-bombs), second-year receivers Randal Williams and DeVeren Johnson, Emmitt Smith (extremely likable, but lacking the charisma of a Sharpe or Siragusa), rookie stud Roy Williams, and rookies Richmond Flowers and Chad Hutchinson (godsends, both of them).

The Cowboys were so boring, the Sports Gal fell asleep by 11:20, but there were a few highlights in Episode I nontheless: 1. HBO using Bon Jovi's "Wanted" as the theme song. I quickly slapped on a sleeveless white T-shirt, took my pants off, grabbed a Miller Genuine Draft and happily sang along. I'm a cowboy ... on a steel horse, I ride ... and I'm wanted ... dead or ah-live ... 2. Cheerleading choreographer Judy Trammell lambasting many of her girls about their appearance -- horrible, eye-opening stuff like "You've got to lose some weight in your stomach" and "You have gained weight in your face" -- which probably launched "PukeFest 2002" in the women's bathroom later that afternoon. Just disturbing to watch. She should have just handed out cigarettes, Ex-Lax and barf bags. 3. Randal Williams's Mom on raising her boy in the Bronx: "I was nervous. I had fears of him being around women and maybe being gay, so I decided that I would get him involved in every sport available." Something tells me you won't be seeing that quote in the Cowboys' media guide this fall.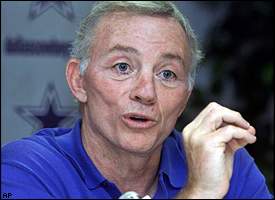 Jerry Jones never met a camera that he didn't like.

4. Jerry Jones taking time out of his busy schedule to personally cut loose fifth-string QB Sam Clemons, reducing the Cowboys preseason roster to about 245. Um, hold on one second, I just want to make sure all the cameras are on ... guys are you rolling? Just shameless.

5. Campo exhibiting potential as one of those generic "You can't believe he's spouting this many clichés at the same time" coaches that always make the NFL so much fun. He makes Dom Capers and Al Groh look like Abraham Lincoln and Frederic Douglas. Before one practice, here's how Campo addressed his team: "This is not a vacation in the Marriott! This is a damn training camp! So we're gonna hit, that's why we got the pads on -- we're gonna play football. Because we're gonna be the toughest damn football team that we can be! You gotta be a big damn tough son of a bitch to play in this league. And that means we're gonna practice our ass off so get ready for it. Take a look up in the stands ... that's what the Dallas Cowboys are all about, right there. We start something special today. This is our day. Let's make sure we get started right. Pay attention to the little things ... every day, when you punch that clock, what happens? You get better, we get better." (I know, I know ... you got goosebumps from that. Just imagine watching it live. I tried to tackle my leather recliner. When Dave Campo is talking, not only do you get better, we get better.) 6. In a show-salvaging sequence at the beginning, Hutchinson (playing an acoustic guitar) and Flowers (screaming out lyrics like a karaoke singer about to get booed off stage) performed a rendition of Pearl Jam's "Black," which quickly replaced David singing "Come On Be My Baby Tonight" on "Real World: New Orleans" as the funniest musical moment in reality-TV history and nearly shattered the UCR (Unintentional Comedy Rating) scale into pieces. I mean, these guys were really into it. You can't even believe it's happening as it's happening -- it's that good, even better than Darius Miles admitting on "The Life" that he drove away from a gas station once with the gas pump nozel still in his jeep.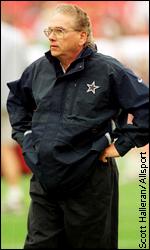 Wake me when Dave Campo is done with his motivational speech.

If I were the producer, I would scrap the whole "Hard Knocks" concept and just spend my money filming a "VH1: Storytellers" show with Hutchinson and Flowers. That can't miss. For the next five weeks, I'll probably just tape the shows and fast-forward to the singing parts and every Dave Campo motivational speech. Feel free to follow suit.

So what would be the ultimate reality-TV show with a sports theme? Although I'm anxiously awaiting the first extended documentary on an NBA posse, wouldn't the answer have to be "The Season: NBA Groupies"? Sure, it could probably never happen because none of the players would ever appear on camera ... but hey, I can dream, can't I? Groupies stalking the airport. Groupies hanging out at the team hotel. Groupies sinking their hooks in an unsuspecting rookie. Groupies circling superstars at a club. Groupies going shopping, groupies plotting their next move like chess players. Now this is a show that would shatter the Pantheon as we know it. And when I'm in charge of ESPN6 some day, it's going to happen, along with "Topless SportsCenter," "Late Night with Q and D-Miles," "WNBA Coaches Walking In High Heels," "Dog Distance Jumping," "SportsCentury and Beyond: Paul Mokeski," and everything else. Keep the faith. Bill Simmons is a columnist for Page 2 and ESPN The Magazine. He's currently on a mini-hiatus of one column per week ... he returns to his old three-columns-per-week column schedule in mid-August.