By Bill Simmons
Page 2 columnist
Thoughts while waiting for "The Best of Gil Bang" to be released on DVD ...
The most underrated part about making the NBA is that you have a decent chance of playing against one of your cousins. It's not officially a wedding reception until the band is playing "I Will Survive."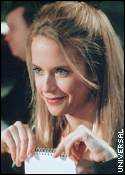 Kelly Preston
I never got the memo ... when did Kelly Preston freefall into the "I'm appearing on 'Fear Factor' with Coolio, Chyna and Donny Osmond, and I actually look happy to be here" stage of her career?
My two TV programming ideas of the week: 1) "White Trash Weddings" (actual wedding video excerpts from across America), and 2) somebody creating a TV talk show and using Verne Troyer as a sidekick. Doesn't everyone love Verne Troyer? Wouldn't you want to see him selling jokes and flirting with actresses? Me, too. Let's get this done. Years from now, they'll look back at my "Reverse Jinx" column about Pedro Martinez as my defining moment on ESPN.com. I'd love to go out for beers with 1) the guy who narrates the EA Sports ads, and 2) the guy who reads the "NFL on CBS" promos, just to hear them say everyday things like "I'll have another Miller Lite" and "You guys want to order some buffalo wings?" My favorite part of this year's "World Series of Poker" telecast was when they introduced Mike Laing as "The Clown Prince of Poker," then Laing made goofy faces, cracked some bad jokes and even pretended to buy into the hand, as the announcers fake-laughed and said things like, "He's entertained so many over the years." Am I the only person on the planet who loves this stuff? I'm telling you, as soon as I hear the phrase "Clown Prince" of anything, I'm immediately shifting to the edge of my seat. Hey, would anyone like to buy some Frank Thomas rookie cards? It took me an entire summer to figure out the precise percentage, but if you turn on "Black Starz" at any point of the day, you have a 11.4 percent chance to see Billy Dee Williams.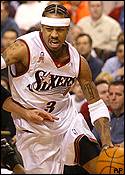 Allen Iverson
My favorite reader e-mail of the summer: Chris from Seattle was hoping for an Allen Iverson trial, just to see if Iverson's mom would show up in court every day, holding a sign that that proclaimed, "I'm Allen Iverson's mom!" and wearing an Iverson jersey with "No. 948473" on it.
If the Sports Gal ever wrote a Ramblings, it would definitely include lines like "There isn't a girl alive who doesn't like pita bread" and "The New York Times including same-sex marriages in the wedding section is the greatest thing that ever happened." A few weeks ago, I caught Robert Wuhl on some talk show making the "Why would people want Ted Williams' DNA when they saw what it did for John Henry?" joke, which has only been made 100,000 times since Ted died, and I realized something: Every time I think to myself, "That's it, I can't despise the Robert Wuhl era any more than I already do," something else happens to make me re-evaluate things again. And when you think about it, that's the power of Robert Wuhl, isn't it?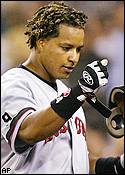 Manny Ramirez
By the way, the readers keep asking me to start calling Manny Ramirez "Man-Ram," and frankly, I'm not biting.
I still can't believe the NBA broke up Darius Miles and Quentin Richardson. If I were forced to chose among A) a Dunkin Donuts "Steak, Egg & Cheese" sandwich, B) a McDonald's "Lobster roll," or C) death ... well, get the casket ready. Has anyone paused to think of the dramatic ramifications a baseball strike would have on Rob Neyer's life? I just picture him looking like Campbell Scott in "Singles" after the supertrain idea didn't pass -- locked in his apartment, wearing a bathrobe, unshaven, surrounded by empty soda cans and pizza boxes, staring at his fax machine as "Alice in Chains" plays in the background. That reminds me, regardless of the impending strike, I'll always have a soft spot for a season that brought us Brandon Puffer, Coco Crisp and the Met Who Couldn't Handle Smoking Pot. Couldn't we get them all together under the same roof? Nothing beats the feeling of putting cheap gas in a rental car. Reason No. 345 why I'm excited for the World Basketball Championships later this month: Seeing the USA's Raef LaFrentz wearing a "Token White Guy" jersey.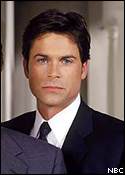 Rob Lowe
No, I'm not watching "American Idol." Thanks for asking, though.
If there was a Career Suicide Magazine, who would have been on the cover the week that Rob Lowe announced he was leaving "West Wing" and David Caruso signed up for "CSI: Miami." Would it have been Lowe with a "Nooooooooooo!" cover? Or Caruso with a "Nine years after leaving 'NYPD Blue,' David Caruso is finally back on TV where he belongs" cover? I think about this stuff. Note to NBA TV: There are never, ever, ever, ever,
ever
any circumstances in which the phrases "Heat-Knicks" and "NBA's Greatest Games" should be associated together. You hear me? Never. Not
ever
. You know you're drunk when it's 3 a.m. and you're attracted to Kelly Osbourne.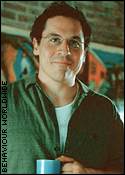 Jon Favreau
All right, I'll ask: Did Jon Favreau create "Dinner For Five" for IFC so he could eventually get back to his "Rudy" weight?
If there's a baseball strike, the thing I'll miss most is seeing Barry Bonds' head actually getting bigger and bigger by the week. At the rate he's going, his head will tip over and fall off his neck before he hits 700 homers. But no, nothing fishy is going on here. Just a good weightlifting program. I'm sorry, but hell will freeze over before I use the phrase "LOL" in an e-mail. When is ESPN creating "The Sports Reporters 3" with Eric Dickerson, Magic Johnson and Larry Merchant? Just when I thought Patrick Ewing's final days in Orlando had locked up the always-depressing, "Good God, What The Hell Happened To That Guy" Award this year, I rented "Shallow Hal" and was treated to two hours of a bloated, toupee-wearing Jason Alexander. I mean ... Good God! What the hell happened to that guy???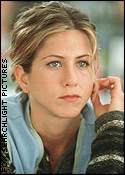 Jennifer Aniston
I wish I could buy stock in things like, "A Slamball player will suffer the most horrific torn ACL injury in the history of Horrific Torn ACL Injuries."
If Jennifer Aniston really wants an Oscar nomination, she should steal Halle Berry's playbook, then flip to Chapter 20 ("Show breasts") and Chapter 21 ("Play a heartbroken, down-on-her-luck woman who turns her life around after an eye-opening, inspiring sex scene.") Thankfully, there's still time. There isn't a whiter guy on the planet than Fred Funk. Have you ever driven by somebody in a Dodge Stratus without wanting to scream at them, "You don't talk about my Dodge Stratus that way! I'm a division manager! I'm in charge of 20 people! People are afraid of me!
I drive a Dodge Stratus!
"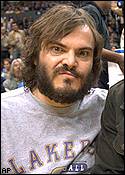 Jack Black
When Randall Cunningham signed a one-day contract with Philly so he could "retire as an Eagle" ... I mean, why does this happen? Does it go in the record books that way? Was Randall sitting around thinking, "I'm ready to retire, but I think I have 24 hours left in me as an NFL player"? Would anyone say, "Yeah, I remember when Randall played his last game in Dallas," then somebody else would chime in, "Wait a second, for the sake of accuracy, you should know that he retired as an Eagle"? Is there an answer here?
When it comes right down to it, Jack Black would have been one of the six or seven greatest "SNL" cast members of all time. You know we're getting close to the NFL season when Wednesday's USA Today runs the annual "Fred Taylor is finally healthy and has something to prove" article on the same day as the annual "Nobody has emerged from the Cincy QB battle yet" article. Big day.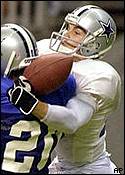 Richmond Flowers
Now that Richmond Flowers has been waived by the Cowboys, is he available to sing at weddings and bar mitzvahs?
Somebody needs to figure out a way to combine my two favorite summer sporting events: "Long Distance Dog Jumping" (from the Great Outdoor Games) and the "Long Distance Football Throw" (from the NFL Quarterback Challenge). Imagine black labs sprinting 50 yards, jumping 30 feet in the air, then trying to catch an Aaron Brooks bomb? Who wouldn't watch this? Hey, why hasn't anyone mentioned that Brock Lesnar stole his entire WWF routine from Chute in "Vision Quest"? I keep waiting for him to tell Rock, "You're a bleeder ... I like bleeders." Does anyone else wonder how Liev Shreiber went from "Scream 2" to becoming "The Next John Facenda" in the span of three years? If more NASCAR drivers have anger management problems like Tony Stewart, I might actually start watching it.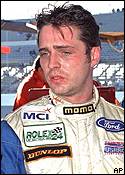 Jason Priestley
Speaking of auto racing, when Jason Priestley's friends band together to convince him to stop racing, can they do the intervention in the living room of the Walsh house? Everyone can sit in the same seats that they did during the Dylan McKay intervention; we could even have Nat scream, "Show me some trust!"
I thought "Keon Clark gets arrested for marijuana possession at the same time his agent is trying to land him a free agent deal" was a mortal lock for my favorite NBA moment of the summer" ... then Shawn Kemp inexplicably leaves $10 million on the table. My head is spinning. Hold me. Finally, if Magic Johnson's Basketball Hall of Fame induction doesn't include a sequence where presenter Larry Bird comes out wearing a Lakers jersey, gives a heartfelt speech about Magic, finishes, shakes Magic's hand, steps backward to let Magic bathe in the applause of the crowd, then inexplicably hits Magic over the head with a steel chair as Ernie Johnson Jr. screams, "My God, noooooooooooo!," followed by Bird ripping the Lakers jersey off (revealing a Celtics jersey), then kicking Magic a few times before exiting the stage to raucous applause ... well, I'm not going.
Bill Simmons is a columnist for Page 2 and ESPN The Magazine.