By Bill Simmons
Page 2 columnist
Before we tackle the USA hoops debacle, let's get one thing straight: John Thompson patented the "I Can't Believe How Much He Screwed This Up" Award with his performance during the 1988 Summer Olympics, which remains the most infuriating turn of events in my career as a sports fan. As the years pass, an urban legend has been spawned about that defeat, something about "The team wasn't talented enough," which eventually led to the dawning of the original Dream Team in 1992.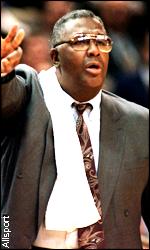 If you don't like the Dream Team concept, blame John Thompson.
As John McLaughlin would say, WRONG! Any team with David Robinson, Mitch Richmond, Hersey Hawkins, Dan Majerle and Stacey Augmon couldn't have been all bad. Thompson should never be forgiven for picking his own guy (Georgetown's Charles Smith), along with Bimbo Coles as his point guards -- over Tim Hardaway, Mookie Blaylock, Dana Barros, Rod Strickland and even high schooler Kenny Anderson. Repeat: Charles Smith and Bimbo Coles. Thompson was basically eschewing an offense, just so he could play a pressure defense that fell right into the hands of the cagey Russians (who thrived on ball movement and open 3-pointers).
It was one of those rare cases where you could see the wheels coming off even before it actually happened ... and it did. We lost to Russia. And not nearly enough was made out of it. They should chisel on Thompson's Hall of Fame plaque: "SCREWED UP 1988 OLYMPICS, COST USA GOLD" right above the spot where it says "HAD ALONZO MOURNING AND DIKEMBE MUTOMBO AT THE SAME TIME, COULDN'T FIGURE OUT HOW TO USE THEM, NEVER ADVANCED PAST SECOND ROUND OF NCAAS WITH THEM." Just remember, we wouldn't have even had a Dream Team in '92 if it wasn't for John Thompson. And if you think I'm still angry about it ... well, you're right. Anyway, it took 14 years, but USA Basketball managed to screw up again, launching an incredible chain of events that ended with the U.S. team placing sixth in the World Basketball Championships last week. Sixth?
Sixth
???? Where's the outrage? Where's the anger? We're slowly losing our foothold on a distinctly American game, and we're losing it to a bunch of unshaven upstarts. Does anyone even care? (Wait a second ... don't answer that.)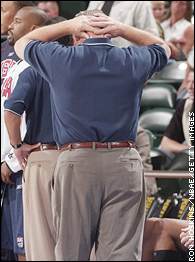 Even coach George Karl had to turn his back on the Team USA debacle.
There seem to be three distinct camps of thought here:
Camp No. 1:
"Who cares? We would have kicked butt if Kobe, Iverson, Shaq, McGrady, Kidd and Duncan were all playing. Just calm down and wait until 2004."
Camp No. 2:
"Maybe that's all true, but we left the door open this year, and those dastardly foreigners kicked it open. Now they think they can win ... and anything's possible."
Camp No. 3:
"I can't believe The Sports Guy is writing about the World Championships when they ended a week ago, and nobody cared in the first place ... what a jackass." Needless to say, I'm firmly entrenched in Camp No. 2. The other countries have advanced to the point where, on the right night, they could catch a Shaq-less Olympic Dream Team in 2004 (and I believe Shaq's retiring before then). With nine months to prepare, would a team with Kobe, Duncan, McGrady, Kidd, KG, Lebron James and whoever else be invincible? Absolutely. But with just a few weeks to prepare, with the confusing international rules, with the inevitable clashing of styles and egos, with multiple countries featuring NBA-caliber guys playing together for years ... let's face it, a U.S. gold medal just isn't a slam dunk anymore. And what happened at the 2002 World Basketball Championships banged that point home. Why did we leave the door ajar? Here were the mistakes that the U.S. Basketball Committee made, in order:
1.
Tim Duncan and Jason Kidd
had
to be on this team. End of story. Forget about everyone else ... bring these two guys in, surround them with role players and shooters, and Gabe Kaplan could have coached them into the finals. All we needed were two phone calls from David Stern, the most powerful man in sports, the guy who broke MJ and Iverson, the guy who broke the player's union, the guy who makes offers that other people can't refuse. You're telling me that Godfather Stern couldn't have convinced Duncan and Kidd to give up three weeks? Please.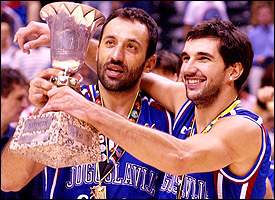 Vlade Divac, left, and Peja Stojakovic led a Yugoslavian team that was full of NBA talent.
2. You can't just throw together an NBA All-Star Team like a Cobb Salad, then expect them to dominate internationally. For one thing, because our biggest guns weren't playing, Germany had the best player in the tournament (Dirk Nowitzki). Yugoslavia's team featured five NBA players, including two proven stars (Vlade and Peja), and they had been playing together for years. A splendid Argentina team (truly a joy to watch for basketball lovers) had been playing together nonstop for the past nine months. And these international teams are accustomed to the international rules -- widened lanes, shorter 3-point distances, fewer timeouts, relaxed goaltending rules, drive-and-kickouts and everything else.
So, to expect a bunch of NBA stars to begrudgingly give up part of their summer, happily share minutes and shots, bust their humps on defense, adjust to the new rules and come together in three weeks ... that's just moronic. (And choosing George Karl to play babysitter -- someone who has struggled famously as an ego-massager and big-game coach -- made a bad situation even worse. You think George Freakin' Karl was going to convince these guys to play hard on defense and share the basketball? Did anyone watch the Milwaukee Bucks last season????)
3.
Speaking of Karl, this USA team was probably doomed, anyway ... but he had the Ralph Macchio Face going in the Argentina game, then he mangled the Yugoslavia game so egregiously that even Rick Adelman was mortified. Two baskets in the final seven minutes??? Why didn't Karl use a smaller lineup when Yugoslavia went small? Where was Raef LaFrentz, the only USA big man who could have drawn Divac away from the basket? Why would you allow your team to run a post-up play for Ben Wallace under any circumstances, especially in the final few minutes? Why wasn't he telling his guys to drive to the basket and draw fouls? Not to be mean, but I thought Karl absolutely choked in that game. He looked overwhelmed.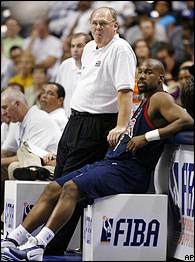 Baron Davis, right, was the wrong point guard and Karl was the wrong coach.
4. Did anyone consider egos? You can't have Andre Miller and Baron Davis on the same team! Those are two of the best young point guards in the league; they were wrestling for the conch from day one like Jack and Ralph in "Lord of the Flies." USA Hoops should have chosen one of them, handed over the car keys, then grabbed a good soldier like Eric Snow or Alvin Williams for the backup spot.
And you can't put someone who considers himself a rising crunch-time performer (Paul Pierce) with a veteran who still considers himself to be the best crunch-time performer (Reggie Miller). Huge mistake. Every team needs an Alpha Dog, even a USA Basketball team. When you make the situation murky, it's inevitable that egos will clash in an "Amanda vs. Allison D&D Advertising" kind of way. One crunch-time player per team.
5.
Did anyone consider "big-game" experience? Jermaine O'Neal, Wallace, Davis, Miller, Jay Williams, LaFrentz, Shawn Marion, Elton Brand ... when have those guys ever been tested in a big situation? Why not consider a couple of proven role players who have come up huge over the years? What about someone like Big-Game Bob Horry? Wouldn't you rather see him out there in the closing minutes against Argentina over Marion or Wallace?
6.
What about guys who wanted to be there? For instance, Boston's Antoine Walker (an All-Star on the second-best team in the East) repeatedly lobbied behind the scenes to play for USA. Didn't happen. Wouldn't you want guys who wanted to play for this team? Shouldn't that have been one of the deciding factors? Yeah, I know, it's a novel concept.
7.
What's the point of picking the team months before the actual tournament? After the Vin Baker fiasco during the 2000 Olympics, didn't they learn their lesson? And why limit yourselves in the flexibility department if/when a younger star emerges during the latter half of the NBA season, like, oh, I don't know, say ... Mike Bibby?????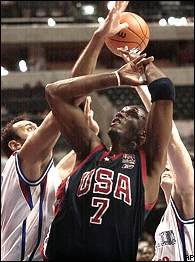 Jermaine O'Neal was exactly the type of big man that Team USA didn't need.
8. For God's sake, take a look around. To succeed in international competition, you need three things: 1.) a quality point guard, 2.) at least one player who creates open shots by slashing to the basket and either drawing fouls or kicking back out, and 3.) perimeter shooters who know how to pass the ball and look for cutters. That's it. Unless you have Shaq or 'Zo in their primes, size isn't nearly as important as flexibility and versatility.
On the flip side, you don't need guys who need picks to get open (like Reggie Miller), point guards who look for their own shot first (like Baron Davis), perimeter players who can't knock down jumpers reliably (like Shawn Marion), and centers who can't pass the ball (like Jermaine O'Neal or Ben Wallace). It's a different brand of basketball -- lots of movement, lots of passing, lots of kickouts -- and it's a helluva lot more interesting than the stuff we watch in NBA games every year.
With all of these things in mind, and with the underrated power of 20-20 hindsight, here's the team that I would have picked ... assuming that Kidd, Duncan, Shaq, Kobe, Iverson and McGrady weren't playing, assuming we didn't pick the team until after the 2002 NBA season and assuming that we should be putting the best possible team together in a "Norman Dale" kind of way, not a "Fantasy League" kind of way:
Starters
Mike Bibby:
It's amazing that nobody mentioned his name all month. Everything Davis and Miller couldn't do (create their own offense when it mattered, drain big shots, take care of the basketball, make smart decisions) was something Bibby specialized in during the 2002 playoffs. They could have beaten Argentina
and
Yugoslavia with him. I love Mike Bibby. Have I mentioned that lately?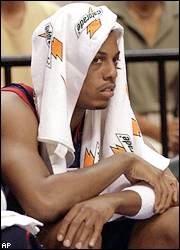 Paul Pierce played selfishly and was AWOL on defense -- and that's coming from The Sports Guy.
Paul Pierce: Surrounded by the right teammates, I think he would have bought into this thing; he never seemed like he was enjoying himself, and maybe playing with Bibby would have changed that. Just for the record, the Peep played selfishly for most of the tournament, mailed it in defensively in the two biggest games and reportedly feuded with Andre Miller. Let's agree never to discuss any of this ever again.
Antonio Davis:
The most polished of the pseudo-centers. Believe me, I'm not jumping for joy about it, either. Remember when the United States used to produce centers? Remember those days?
Robert Horry:
Good defense, clutch shooting, doesn't care if he gets the ball, blends in with everyone, always seems to be on the winning team. Needed to be there. Period. As one of my readers once wrote, he's the Nate Dogg of the NBA. Good things just seem to happen when he's around.
Antoine Walker:
Yeah, yeah ... I know. Two Boston guys in the starting five. But consider this: Walker wanted to be there; he would have emerged as the leader of the team; he would have thrived with the 3-point line; and Twan and Pierce have developed a unique on-court chemistry that would have come in handy every time a play broke down. Call me crazy. (And by the way, if you think Wallace and Brand are better basketball players than Antoine Walker, as Taggert told Rosewood in "Beverly Hills Cop II," "We really need to talk.")
Bench
Jalen Rose:
Perfect sixth man. Plays three positions, creates his own shot, shoots 3s, takes over games, plays any style, commands double teams when he's hot, has already proven himself in big situations, insanely competitive ... and nobody ever mentions him. Ideal for the international game. J-Ro gets a bad rap, yo. He's the shiz-nit. Word. Holla. (Ever notice how nobody can write an NBA column anymore without "writing black"? Probably my least favorite journalistic trend of the last 20 years. There are a great many black players in this sport, therefore, I must make my prose a little more urban. Word up. This is one phat column I'm writing. Recognize.)
Richard Jefferson:
Why not pick a bench player who's hungry and feels like he has something to prove, instead of somebody who's already made an All-Star team, makes $10 million a season and wants to get minutes? By the end of last year's playoffs, Jefferson had emerged as a defensive menace (as well as a breakout star next season). And he always seemed to be on the floor when the Nets were making a run. I just like him.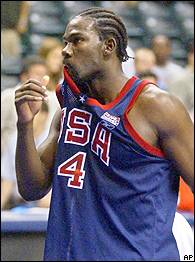 Michael Finley was actually one of the bright spots for the U.S. squad -- because he at least put out some effort.
(Note: You could also make a case for Michael Finley in this spot. By all accounts, he proved himself better than any U.S. player - nobody worked harder, tried harder and cared more about the team. And I was never a huge Finley fan. Of course, the fact that he was one of the bright spots on a sixth-place USA team probably says something. I'd rather have Jefferson's defense and intensity; you might feel differently.)
Andre Miller:
Since Bibby is indisputably better and more accomplished, 'Dre would have accepted being his backup (unlike with what happened with Davis). He also seemed to get better as the tournament dragged along, although it still seemed like he was dribbling too much (I hate that -- pass the damn ball). As for Davis, I still like his game, but he's developing into a poor man's version of Kevin Johnson, one of those "I put up stats, but I don't make my teammates better" guys. At least Miller's heart seems to be in the right place.
Keon Clark:
Possesses a bonafide low-post game, always rises to the occasion, runs the floor better than anyone ... as nuts as this sounds, if my life depended on it, I would rather stick him on this team over Wallace and O'Neal. Wallace was horribly exposed in the tournament (you can't beat quality teams playing four-on-five on the offensive end), and O'Neal's stock dropped more than anyone with the possible exception of Baron Davis -- thanks to Jermaine's poor foul shooting, lack of low-post moves, crummy defense, shoddy passing and horrendous body language. Other than that, he looked pretty good.
| | |
| --- | --- |
| | NFL PICKS |
| | Back by popular demand! My NFL picks are returning as a smaller feature in memory of Bailey the Dog, who passed away after defeating me in our "Man vs. Dog" contest last season. No Ewing Theory jokes please. Anyway, last week I went 3-0 (you'll just have to trust me) with the Pats, Broncos and Chargers. Believe me, it happened. I would never lie about anything gambling-related. This week's picks... Tennessee (-3) over Dallas: Quincy Carter and Dave Campo would be the most mismatched couple of the year if it wasn't for that Jackie Chan-Jennifer Love Hewitt movie. Have you seen the previews for that thing yet? I'm speechless. Buffalo (+5) over Minnesota: The Bills look like they're working on one of those "This is the best 3-13 team ever!" seasons... just one heartbreaking loss after another. Atlanta (-3) over Chicago: Just remember who's driving the "Something special is happening with Michael Vick this season" bandwagon. Hot damn, I'm good. |
(Plus, every team needs one head case, right? Keon isn't a bad head case, either ... he's a fun head case, the kind of guy who gets arrested for marijuana possession right as his agent is trying to land him a $40 million free-agent deal. Doesn't make him a bad basketball player. And the pot jokes could have been flying for three straight weeks. Good times.)
Cuttino Mobley:
Instant offense, bad matchup for certain teams, 3-point range, good team guy, and someone who actually would have wanted to be there. Great 10th man/wild-card guy off the bench. He plays the slash-and-kick-out game as well as anybody. And the episode of "The Life" when he went shopping for Ferraris with Steve Francis, both dressed in jogging suits, remains my favorite TV moment of 2001.
Jon Barry:
Good for team chemistry, 3-point range, loads of intensity, wouldn't have needed big minutes, and a much better option as "The Token White Guy" than Raef Lafrentz. And we need a "Jump off the bench and pump your fist after a big hoop" guy.
Popeye Jones:
You might think this is crazy, but hear me out: The 12th guy on the team isn't playing, anyway ... why not pick a likable veteran, a role player who's simply happy to be there, someone who could bang bodies and set picks in practice, and somebody who also doubles as the scariest-looking guy in the league? Where's the downside here?
Rudy Tomjanovich (coach):
First of all, they need to make him the permanent head coach (this whole "rotating coach" thing never made sense to me). But you need someone who everyone respects and likes, someone with big-game experience, someone flexible enough to change game plans on the fly, someone who knows how to juggle egos. ... I mean, it has to be Rudy T., doesn't it? Especially because he mastered that drive-and-kick-out offense with Francis, Mobley and the Rockets over the past few years. Everyone loves Rudy T. So that's my two cents. And yes, I'm still angry. If USA Basketball plans on botching the 2004 Olympics like they botched this summer, why not go the whole nine yards? Let's bring Rasheed Wallace aboard, just to increase the odds of an international incident. Bring Keon Clark, Lamar Odom and White Chocolate aboard and put them in a suite with team managers Snoop Dogg and Woody Harrelson. Bring in Baron Davis and Stephon Marbury, play them at the same time, and watch them eventually fight to the death.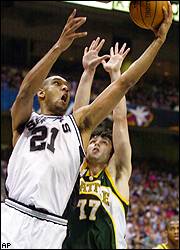 AP
With Tim Duncan in the middle, the Americans would have come home with a medal.
Bring Chris Gatling in so you can eventually trade him to Lithiuana in a seven-player deal. Bring in Anthony Mason and Derrick Coleman for team chemistry. Bring in KG, C-Webb and Scottie Pippen, just to see them running from the basketball at crunch-time and refusing to make eye contact with the point guard. And last but not least, bring in John Thompson and Rick Adelman as co-head coaches. If we're really going to squander our basketball supermacy in 2004, we might as well go down in flames.
But if we plan on regaining our basketball supremacy, USA Hoops should start off by getting Godfather Stern alone in a room for 10 minutes with Duncan, Kidd, Kobe, Luca Brasi and a severed horse head. Heck, it could even be George Karl's head. Let's just do it sooner than later, because I'm starting to get a little worried about these foreigners. Word, yo.
Bill Simmons is a columnist for Page 2 and ESPN The Magazine.