By Bill Simmons
Page 2 columnist
We travel to the same house every year. Eat the same food every year. Make the same jokes and mistakes every year. Heck, I even write the same column every year. That's right, it's my annual "How I made out in my NBA fantasy draft" column, the obligatory homage to one of my favorite sports days of the year.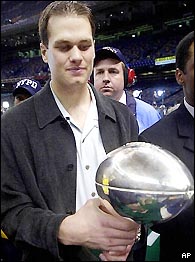 The Pats are on, the jokes are flying -- it must be a fantasy hoops draft.
This month's draft featured an emotional wrinkle, given that I'm moving to the West Coast and probably won't be able to attend in person next November. On the bright side, I can finally become That Annoying Guy On The Phone during a draft. You know, the guy who kills everybody else's draft, picks guys who have already been taken, and asks questions like "Who just got taken?" and "What did they just say?" Next year, that's me. I couldn't be more excited.
One other wrinkle: As you know, it's easier to build a dirty nuclear bomb than to find a draft date that works for everybody. After about 3,500 scheduling conflicts ranging from "I'll be in Vegas that week" to "I'm having my prostate massaged by my urologist that day," we were forced to schedule our draft 12 days into the season -- last Sunday in a Boston suburb -- going against the second half of the Patriots-Bears game (already in progress). Needless to say, between my impending LA move, the Pats game, and our draft, my dad had the Dan Reeves "I have to remain completely calm or I might go into cardiac arrest" Face going for five straight hours.
As always, I kept a running diary of the proceedings. Here's what transpired
5:50 p.m. -- The Commish (Lee) spent the last 45 minutes introducing this year's rookie franchise (Ben, who already looked rattled), going over prize money and entry fees ($1.50 per team, although that decimal mark was strategically placed for any IRS employees reading this column), assigning player positions and everything else. We also designated Shaq a 9th/10th man -- if you draft him, you can't start him as a center. Isn't that enough to put Shaq in the Fantasy Hall of Fame? Any time fantasy leagues change their rules for someone, you know that person is good.
DRAFT ORDER
1. The Petes
2. The Rookies
3. Sports Guy
4. George & Louis
5. Jon
6. Sports Guy's Dad
7. Dutch
8. Dave
9. Anthony & Joe
10. Ben
11. Lee
One highlight: While we were setting positions for everyone, someone asked, "Vin Baker's a center?", and someone else quickly answered, "Vin Baker's a stiff." The draft hasn't even started yet and Vin Baker jokes are flying.
5:55 -- I just drew the third pick (for the nitty-gritty rules of the draft, check last year's column), and as John Madden would say, "When you draw the third pick in your fantasy draft, that means you're getting one of your top three choices." My Top Six includes three Sure Things -- KG, Duncan and Kobe -- and three Sure Things With Slight Health Issues: Shaq, McGrady and Stevie Franchise. In other words, I'm guaranteed a Healthy Sure Thing. Just like my prom night.
6:00 -- The Petes throw a curveball and take T-Mac first. Let the back spasm jokes begin! My contribution: "Hey, it's not like back pain is a chronic problem or anything."
6:02 -- When Duncan goes second to the Rookies, I happily jump on KG at No. 3. After eight years, KG and I were long overdue to join forces for a fantasy season. We were like Shannon Tweed and Andrew Stevens co-starring in "Night Eyes 2" -- it was only a matter of time. That leads to this exchange with Dad (picking sixth):
Me: "I'm pumped ... I woulda taken KG first. I've never had him before. Always wanted him."
Dad (hushed voice, completely serious): "Steve Francis ... he definitely doesn't have a brain tumor or anything, right?"
6:05 -- Shaq goes fourth, then Jon stuns the room by taking Francis over Kobe. I tell Jon, "Lots of upside if he's healthy," which launches Dave into an off-the-cuff Hubie Brown impersonation: "Now, I'm Stevie Francis ... I'm a Top-5 fantasy pick with major upside, but I am absolutely INCAPACITATED by these migraines. I have these doctors telling me that it's an inner-ear infection, so I might be cured. I could MAKE OR BREAK Jon's fantasy team."
6:08 -- My dad eagerly jumps on Kobe at No. 6. "I like my team," he says.
6:11 -- Nowitzki and Pierce go seventh and eighth, putting Anthony on the clock. He's logging picks on his laptop, talking on a cell phone headset (to co-owner Joe House in D.C.) and absorbing some serious abuse (everyone else is convinced that Joe doesn't actually exist). "Anthony, make a pick, you're disturbing Joe during his bath," George says. What does that mean? I have no idea. All I know is that Joe's bath becomes a running joke for the rest of the night.
6:12 -- Next four picks: C-Webb, GP, then Kidd and Antoine (both to Lee in the coveted "sandwich" spot). With the second pick in Round 2, Ben takes Glenn Robinson, who started the season hot and surely won't continue slapping up 28 points and eight boards a night. I love when this happens. "Ahhhh, rookies," Lee says, grinning. We quickly name Ben's team "Fresh Fish."
6:13 -- Sticking to their annual "All we care about is looking good on paper" strategy (which hasn't worked yet), Anthony & Joe take Allen Iverson. George sums up everyone's feelings by saying, "He could actually die this year."
6:16 -- Dave takes Jamison, as Dad groans, "He killed me last year." Not the words you want to hear right after your second round pick. Dutch follows with Elton Brand. Dad takes Jermaine O'Neal, despite my taunts of "Dad, Karl Malone's on the phone, he wants to get together for one last season." Then Jon breaks my heart by taking Pau Gasol.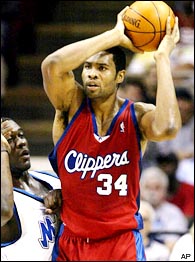 Times are tight when you have no one to turn to but the Kandi Man.
If George & Louis take Baron Davis, I'm officially screwed ... everyone from my Top 15 will be gone, and I'll be taking a long, unhappy look at Michael "I'm in a contract year" Olowokandi. For some reason, Sammy Davis' song "Candy Man" is playing in my head, only with the lyrics, "Who can kill your fantasy team? The Kandi Man can ..."
6:20 -- Oh, boy ...
6:21 -- Yes! George & Louis take Jerry Stackhouse. I hop all over Davis, excited because one of my readers (Jesse Israel) recently pointed out to me how Baron plays like the Wolf in "Teen Wolf." Remember how the Wolf was always hunched over, pounding the ball like a madman, ignoring his teammates, slicing through five defenders for layups, throwing down the occasional two-handed dunk and constantly showing off? Well, isn't that Baron Davis? Can't we just call him "The Wolf"?
6:24 -- Jalen Rose and Andre Miller wrap up Round 2. Good God almighty ... we are officially in Kurt Thomas Range. I'm not sure what's worse, the fact that I'm praying that the Kandi Man falls two more picks, or the fact that Kurt Thomas is Plan B. Could somebody stop me? I openly start discussing Thomas, hoping people will laugh me off the edge. Nobody says anything.
(Sweet Jesus, Kurt Thomas is about to get taken in the third round of our fantasy draft, during the same year that the Patriots won a Super Bowl, Halle Berry won an Oscar, Hulk Hogan regained the WWF title and I moved to LA. Could somebody check the Scriptures? Did Nostradamus warn about this?)
6:26 -- The Petes take Brad Miller, the Rookies follow with the Kandi Man ... and I can't get myself to say the words "Kurt Thomas." It just isn't in me. I can't do it. And I hate watching Shareef, and I can't pick Shawn Marion after watching him stink up the World Championships, and it's a little too early for Jason Richardson ... in other words, I'm "Jason Terry" waiting to happen.
(Safe, solid pick. That's what I keep telling myself.)
6:26 -- George announces that he's taking "the old standby," Karl Malone, setting off a round of laughs and my dad's first, "We have his entry fee, right?" joke of the night. Jon pulls the trigger on Kurt Thomas at No. 27 overall, as everyone collectively exhales. My dad grabs Jason Richardson, saying simply, "I want a young team." Dutch follows with Marion. And Dave takes Jamal Mashburn, leading to this exchange:
Dutch: "We've all had him."
Dave (fighting off the urge to throw up in his mouth): "I know, I know ... (thinking) ... he's gonna get hurt, I'm screwed."
Dad: "Did we get Dave's money?"
Lee: "Dave, we'll let you buy out at $140 right now."
6:28 -- Shareef and Rasheed go quickly in succession. Fresh Fish now has GP, Big Dog and Rasheed. JR Rider, Todd Day, Vernon Maxwell and the Ebola Virus were all unavailable for comment.
6:29 -- Lee grabs Zydrunas Ilguaskas, Grant Hill and a complimentary foot surgeon as his sandwich picks, as Dave and I race to make the "Hey, the first guy with a limp has been taken!" joke. It's like Lee decided to throw his entire team under the bus. The only person who had more feet/ankle issues over the past few years than Hill and Ilguaskas was James Caan's character from "Misery."
6:30 -- With Anthony and Joe debating the 36th pick, George says, "Anthony, hurry up, Joe's bath is getting cold." George is a house of fire. It's like seeing Jeff Ross at a Friar's Club Roast right now.
| | |
| --- | --- |
| | TOP 22 PICKS |
| | 1. McGrady ... 2. Duncan ... 3. KG ... 4. Shaq ... 5. Francis ... 6. Kobe ... 7. Nowitzki ... 8. Pierce ... 9. C-Webb ... 10. Payton ... 11. Kidd ... 12. Walker ... 13. Robinson ... 14. Iverson ... 15. Jamison ... 16. Brand ... 17. O'Neal ... 18. Gasol ... 19. Stackhouse ... 20. B. Davis ... 21. J. Rose ... 22. A. Miller. |
6:31 -- After a run on Solid Guards (Steve Nash, Allen, Gilbert Arenas and Michael Finley), Dad jumps on Jay Williams at No. 3, this year's winner of the Lorenzen Wright Memorial Award for "Wacky box score from the previous night that threw a monkey wrench into this year's draft." Before his triple double against the Nets last night, J-Will would have been an eighth rounder. Whoops, I just turned into Linda Cohn.
(I'm more stunned that Gilbert Arenas went in the Top-40. It's not that Arenas didn't deserve it ... it's just that we can officially add him to the always-deepening list of "Quality Players from the 2001 NBA Draft Whom the Celtics Passed Up To Take Joe Johnson, Kedrick Brown and Joe Forte." I will now light myself on fire.)
6:32 -- Then again, who am I to criticize anyone's drafting? I just took James Posey. My dad was floored by that one -- he hasn't looked at me like that since I told him that I was finishing my freshman year in college with a 2.5. Hey, somebody's gotta score on the Nuggets. Um ... right?
6:35 -- Just realized that we're in Round 5 and 16 players will get picked before I'm up again. In other words, I need a center. I can't take Juwan Howard, because I already have a Nugget. Dikembe Mutombo, Cliff Robinson and David Robinson are decomposing. As I mentioned last year, the only two ways to get a guaranteed group laugh at a fantasy draft is either to A) fart, or B) say the words, "I'll take Shawn Bradley." And it's too early for anyone else. That leads me to the best swarthy foreigner available, Vlade Divac.
"He's got a bad back," Dad quickly tells me. "He didn't play last night."
Great.
6:40 -- Anthony takes Andre Miller ... whom the Petes selected 35 picks ago. That has to be a record. Anth and Joe settle for Vince Carter and his Fred Taylor-esque quad muscle, meaning they're officially going the "Gambles and Injury Risks" route for the fourth straight year (and it hasn't worked yet). We quickly name their team "Groundhog Day."
(Here's my favorite part: They defend this strategy every year with stuff like "On paper, we have the best team" and "We were really coming on last season once our guys got healthy." Don't you need at least one franchise in every fantasy draft who thinks this way? Just for comedy's sake?)
6:45 -- The Bears just kicked a field goal off the upright. They're leading by 11 in the fourth quarter, poised to end the Pats season. Meanwhile, Lee takes Wally Szezcerbiak to end the fifth round, explaining to nobody in particular, "I needed a white guy."
6:50 -- Dave picks Drew Gooden, then accepts praise from everyone in the room. I love when that happens. Well done! Nice pick!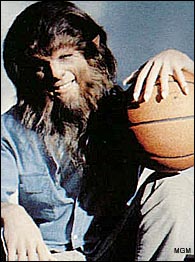 Teen Wolf -- another athlete snubbed by SportsCentury.
6:52 -- During a lull in the draft, I sift through a number of potential team names -- "The Ralphie Treatment," "The Hallway Hot Dogs," "Teen Wolf Three," "Captain Spree's Love Cruise" and "KG, BD, SG and the Bling Blings." Sadly, Joe and Anthony already grabbed my No. 1 choice -- "Krazee Eyez Killahs," an homage to the "Curb Your Enthusiasm" episode with Larry's rapper friend that immediately joined "The Larry Sanders Roast," Corey Haim's "E! True Hollywood Story" and Seinfeld's "The Contest" in the All-Time Comedy Pantheon. Maybe my favorite 30 minutes in TV history. Are you my caucasian? Are you my caucasian?
(I end up going with "Teen Wolf Three." Just feels right.)
6:55 -- George and Louis grab David Robinson. They're officially stockpiling guys from the 1989 All-Star Game and locking up the team name "Thanks For The 150 Bucks" for the second straight year.
6:56 -- Entrenched in the "I'm Just Taking Guys I Like" Portion of the draft, I grab my main man Darius Miles, whom George disses because "Miles is hanging around with a Bimbo and a Boozer in Cleveland this year." Either somebody is writing George's material for him this year, or he's having a "Brady Anderson in 1996/Vince Vaughn in 'Swingers'-type" night. I can't decide.
7:00 -- After the Petes take Vlad Radmanovic to start Round 7, Lee writes down "R. NESTEROVIC" for the second time in 10 picks (and three rounds after he wrote "S. FINLEY" after Dutch took Michael Finley). Yup, the pilot just turned off the "No nursing home jokes" sign. Poor Lee. You know you're losing your fastball when my dad jokes that you're losing your fastball. That's like having Christina Aguilera call you "trampy."
7:04 -- Right now I'm ordering Lee tapioca, asking him when tonight's Bingo Game starts at the nursing home, and shouting out mock Bingo numbers ("A-7 ... B-14 ... A-3"). Unfortunately, my dad keeps getting confused and glancing down to see if he has BINGO. This is getting ugly.
7:09 -- The Rookies (Willy and Ari, now in their second season) just did "Rock, Paper & Scissors" to determine their seventh round pick. Willy won and said the words, "All right, we'll take Latrell Sprewell." I don't even have a joke here.
7:12 -- George & Louis take White Jason Williams, not to be confused with Chicago's Jason Williams or the Alleged Accidental Murderer Jayson Williams. Unfortunately, everyone's confused. I think my dad is flat-lining right now.
7:13 -- Here come the Pats ... shhhhhh ...
7:45 -- We're fresh off a prolonged, unexpected break to watch New England's dramatic comeback win in Chicago. Unbelievable. Just when you thought the Snow Game call couldn't be topped, the Pats pull another one out of their sphincters. This time around, I even asked my dad, "How was the Patriots season for you?" before Brady's game-ending INT was overturned. Now we're high-fiving and making Super Bowl plans again. I stopped trying to figure out the NFL about six weeks ago.
9:45 -- Looking back, the draft almost became irrelevant after that improbable Pats win. Here were the rest of the highlights:
SPORTS GUY'S TEAM
Center -- Divac
Forwards -- Garnett, Posey, Miles, Butler
Guards -- B. Davis, Terry, A. Williams, Snow
10th Man -- Ratliff
Bench -- Swift, Ginobili, Whitney, Coleman, Yao, S. Williams
Actual quote from my dad in the 11th: "I'll take Shawn Bradley -- um ... wait a second." He couldn't stop himself from saying the words in time; just to punish him, we made him keep Bradley. Three rounds later, I was ready to take Derrick Coleman, saying, "All right, I'll t-t-take -- um ..." and couldn't get the words out of my mouth. It was like I turned into Lester Hayes. I changed my mind, but everyone was laughing and trying to figure out who I was afraid to take. Finally I said, "Screw it, I'll take Derrick Coleman." Brought the house down.
(The lesson, as always: Any time Derrick Coleman or Shawn Bradley get picked in a fantasy draft, there's usually a story that goes with it.)
Worst pick of the draft: Jon took Kwame Brown in Round 5, causing Lee to immediately open a window to make sure Jon was getting enough air. On the bright side, that pick enabled us to dust off the old "Hey, it's Round 12, isn't it time for somebody to take Kwame Brown?" joke about two hours later.
Groundhog Day added Allan Houston, Michael Jordan, Lamar Odom and Nick Van Exel to their roster -- with C-Webb, Iverson, Allen, Shareef and Vince -- ensuring "Best Team on Paper" honors for the 25th straight year. Of course, they never got around to picking a center, and when everyone grabbed the remaining big men in the 10th and 11th rounds (Ratliff, Bradley, Cato, Swift, Magliore, Dampier), Anthony and Joe were suddenly rolling the dice with Todd McCulloch. As a starter. Don't you love when that happens? Has the "Donut Team" strategy ever worked in fantasy basketball history?
Speaking of Groundhog Day, they took Doug Christie in the 10th round, about three rounds later than he should have gone. Yep, for the first time in our draft's history, everyone was ashamed to take an NBA player. We've had no trouble taking convicted sex offenders, serial impregnators, druggies, thieves and thugs over the years ... and yet nobody wanted to take the Whipped Guy. Even when he made the pick, Anthony apologized. Unprecendented.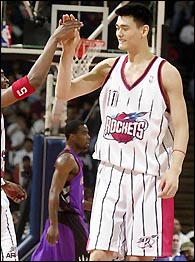 No question -- Yao is the best 7'6" Chinese center in the draft.
Funniest late round pick: George and Louis unconscionably selected Vin Baker in Round 11. Waves of laughter ensued. Also, our rookie franchise (Ben, a k a Fresh Fish) tabbed Danny Fortson in Round 9, prompting us to dust off another favorite: "In other words, 'Pass.'" But the late round highlight happened in the 12th round, when Lamar Odom and DaJuan Wagner went back-to-back. Nobody knew quite what to do ... we were all tired of making fun of Odom, so we started joking about Wagner's bladder infection. That led to Dave saying, "Come on, a bladder infection, who hasn't had one? (Pause) I'm kidding!"
Yao Ming loomed for about four rounds, until I finally grabbed him in the 15th, explaining that he was the best available 7-foot-6 Chinese guy on the board. Of course, poor Anthony was devastated -- Yao was his late-round sleeper. So the room finally became quiet, and we heard a panicked Anthony on the phone with Joe, still searching for a center to potentially start ahead of McCullough and Eddy Curry, and he whispers the magic words, "Well, what about Loren Woods?"
Unfortunately for Anthony, everyone heard him. Absolutely, positively the comedy highlight of the night. You couldn't have summed up Groundhog Day's center situation any better than the urgent whisper, "Well, what about Loren Woods?"
Finally, near the end of the draft, there was a lull while Jon took his customary five minutes to pick, so we ended up telling stories about things that happened during previous drafts. Like the time I lost the title by 10 total points because Mrs. -- er, Mr. Robinson missed the final seven games of the season with a mild concussion (I've despised him ever since). Or the time one guy inexplicably brought his baby (who wouldn't stop crying), then had to leave after 10 rounds ... so we made the rest of his picks for him (and gleefully stuck him with Travis Knight). Or the time my dad drafted Rod Strickland with a high pick, then was driving home and heard that Strickland had suffered a knee injury ("I nearly drove off the road").

It almost felt like there was a story for every draft. And yeah, maybe some of the faces have changed, and yeah, maybe it's just a fantasy league, but I can't imagine few things I'll miss more about Boston than the annual draft at Lee's house -- cracking the same jokes, seeing old friends, laughing for five straight hours, putting another year in the books. Maybe you know what I mean.

Until next year ... by phone ...

Bill Simmons is a columnist for Page 2 and ESPN The Magazine.