By Bill Simmons
Page 2 columnist
Editor's Note: This column appears in the Jan. 6 edition of ESPN The Magazine.
After the Rockets drafted Yao Ming last summer,
I wrote that he'd get dunked on more than a cup of coffee at Krispy Kreme
. I called him a "disaster waiting to happen," even throwing in the portentous phrase "Mark my words."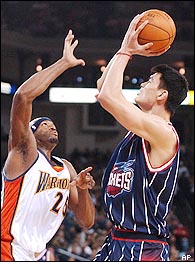 Attention centers: It's called a jump shot.
The lesson, as always? I'm an idiot. Forget about Yao's emergence as the most polished rookie big man since Brad Daugherty, or that he offers the first worthy challenge to Shaq since Hakeem was still The Dream. If you're a basketball fan, you love Yao Ming. He's a godsend, the best Chinese import since General Tso. And I thought he'd stink. I may as well have predicted that Vin Baker would be the missing piece of the puzzle in Boston or the Blazers would be a team you could be proud to bring home to Mom.
Like many hoops junkies, I now stalk SportsCenter every night for a Yao fix. Exceptionally well schooled and mobile, he affects the game at both ends like nobody since Bill Walton. His turnaround jumper -- a borderline work of art -- might be the most unblockable move since Kareem's skyhook. And when was the last time you saw a 7-footer start fastbreaks with 50-foot jai alai passes, or find open teammates with backdoor looks? In the Me-Me-Me NBA, that stuff isn't supposed to happen. Throw in his enormous size, and he's the most compelling NBA player since MJ in his prime, "Ripley's Believe It or Not" crossed with Pete Newell's Big-Man Moves instructional video. When he's running the court, you can't take your eyes off Yao. I don't even feel that way about Shaq. Teammates and coaches took less time than I did to embrace the likable Yao. Since Day 1, they've said he lights up the locker room just by strolling through the door. Stevie Francis and Cuttino Mobley bought him new threads, taught him a three-step handshake and dubbed him "Dynasty." And the Houston fans treat him like royalty, swooning over his baskets like preteens at a Britney concert.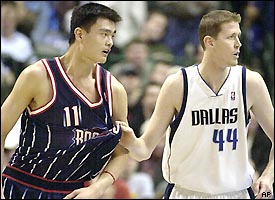 Sorry, Shawn. It doesn't rub off.
So what happens once he masters English, meshes with teammates and fully adjusts to the best competition in the world? He's already the second-best center in the league; with no other young rivals at his position, he has no ceiling. Forget LeBron & the 89-inch Asian guy will dominate the NBA for the foreseeable future.
If Yao's game hasn't yet won you over, surely you'll agree his indoctrination to Western culture has been the most enjoyable coming-to-America routine since, well, "Coming to America." With Yao's thoughts converted from Mandarin to English by a translator, every quote sounds like poorly dubbed dialogue from a Bruce Lee movie. For instance, before Thanksgiving, Yao confessed he'd "heard of the turkey that is at the center of this meal." He describes victories with nuggets like "To get this victory, it's like being able to take a deep breath," and disappointing losses with Yogi-esque observations like "Sometimes the hardest challenges are easier than the more difficult ones." After a loss to Dallas, a disappointed Yao confessed, "You have to understand, I play the game in two parts. One part is the enjoyment of playing. The other part is, of course, winning. Today, I achieved half of that." Want a funny image? Think of Rasheed Wallace or Mike Miller saying the same stuff in bad '70s uniforms and with dubbing that doesn't match their lip movements. The surprising Yao even belts out one-liners like this one in Seattle: "I'm a little disappointed. I thought there would be a Starbucks on the bench." But he never strays far from the Tao of Yao, which centers on two principles: "Basketball is not something that you can talk about, but rather it's an action through which you can show people" and "Respect is something you earn, not something someone gives to you." Well, he has mine. I'm going to thoroughly enjoy the Yao Ming Era. Now, if we can all just forget that I was dead wrong about him. As Yao might say, "If you recant a prediction within six months, it vanishes from memory like a disappointing meal."
Bill Simmons is a columnist for Page 2 and ESPN The Magazine, and he's a writer for Jimmy Kimmel Live, premiering Super Bowl Sunday on ABC.