By Bill Simmons
Page 2 columnist
In case you missed Part One of my annual end-of-the-season NFL Awards -- in which we're handing out quotes from "Swingers" as movie awards -- click here. On to part two ...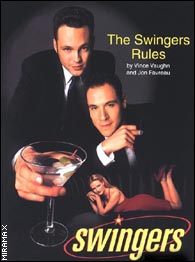 Relax, have a cocktail and enjoy Part 2.
18. "You have NO new messages."
To the St. Louis Rams, who went from "Team of the Decade" to "Team Turmoil" in less than a season. Two people were exposed over everyone else: 1) Mike Martz, who just isn't a very good coach (as he proved in last year's Super Bowl), and 2) Kurt Warner, who hasn't been the same since he injured his throwing hand two years ago. Whether he's healthy or banged up, Warner just isn't that accurate anymore (he killed the Rams during those first five games). Will he ever be the same again? Seems like just yesterday when Madden was calling him the Next Joe Montana. Of course, Madden calls everyone the Next Joe Montana, but that's beside the point.
(By the way, everyone off the Rams Bandwagon! You can still go out but you can't stay here! Everyone off! Last stop! Here are some complimentary Anaheim Thundersticks for your troubles! Please keep in touch! Again, this is the final stop!)
19. "You don't look at the things you have. You only look at the things you don't have. Those guys are right, you're money."
To the Eagles, who kept chugging along without star QB (Donovan McNabb). Normally when you're stuck with one of the Detmers and a guy named "A.J" backing him up, that's a cry for help. Not this time. Now they're clearly the Super Bowl favorite when McNabb comes back for the playoffs -- if they can win without him, what can they do with him? Of course, if they immediately lose in the playoffs with McNabb, let the Ewing Theory grumblings begin!
As for Mikey -- about whom the above quote was said -- you could argue that he's one of the most pathetic characters in movie history, right up there with Daniel LaRusso and the guys from "Midnight Cowboy." Talking him into an impromptu Vegas trip is like pulling teeth. He doesn't know how to gamble. He's a professional comedian, only he isn't even remotely funny. He throws his friends under the bus when they're trying to hook up. He's still stuck on a girlfriend from back home who isn't even cute, and his friends can't even talk to him without the girlfriend getting brought up. He's an accomplished swing dancer. He's a wet blanket as a wingman. Even when a desperate Heather Graham throws the kitchen sink at him at the end, Mikey couldn't close the deal if he had the '89 version of Dennis Eckersley helping him.
But here's the thing: Mikey might seem pathetic, but somehow he remains strangely likable. You root for him. You want him to turn things around. You hope he gets Heather Graham at the end. And it's mostly because everyone's hit rock-bottom like Mikey does at some point. Again, we've all been there, at least most of us, and that's one of the main reasons this movie works so well. And yet I digress ...
20. "Lisa works at the MGM Grand, she's a Dorothy."
"Yep, I'm a Dorothy."
"Well, we're not in Kansas anymore."
(Dead silence)
"So ... what do you guys do?"
"I'm a comedian."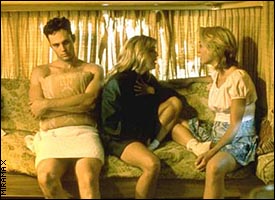 There's nothing sadder then a guy realizing his wingman has let him down ...
The most enjoyable exchange of the movie goes to the most enjoyable running subplot of the 2002 season: Stu Scott's weekly interview of John Madden on "Monday Night PrimeTime." Was anything better than the look on John's face when Stu started Stu-ing it up? Couldn't these guys have their own talk show, like a "Regis and Kelly"-type deal?
21. "Why do you have to make a major production every time we go out and embarrass me?"
To Terrell Owens, who seemed to split NFL fans right down the middle this season (people either hate him or love him). Personally, I think he's hysterical - he won me over with the whole Sharpie thing, then took things to the next level when he was waving the pom poms two weeks ago. Here's someone who plays hard every week and actually puts some thought into his post-game celebrations. So why do I feel so guilty about enjoying him?
(You know what? I don't. I'd rather see Owens' good-natured routines than somebody pulling the "Turn around at the five-yard line and taunt the defender behind them as they dance into the end zone" routine. Whenever that happens, defenders should be allowed to cheapshot them after the TD, like the way the prison guard undercut Nate Scarbourough after his TD in the "Longest Yard." And while we're on the subject of rule changes, why do they put yard-limits on penalties? Remember that play a few years ago when Warren Sapp grabbed Jerry Rice's facemask on a reverse, caused Rice's head to do a 360 like Linda Blair in The Exorcist, then blew out Rice's knee in the process? Shouldn't that have been like a 60-yard penalty? All right, where was I?)
22. "Baby you were so money and you don't even know it."
To Mike Vick ... it's all been said, and you hate to beat this thing into the ground before he even wins anything. A few weeks ago, Page 2 capitalized on Vick-Mania by devoting a day to themes like "The Most Electrifying Athletes Ever" and "What makes an athlete electric?" Here's my two cents: Vick stands out because of the "Oh, My God!" factor, those occasional moments when an athlete comes up with something so astounding that we can only scream, "Oh, my God!" As enjoyable as the NFL has been over the last few years, we haven't had an NFL player delivering those moments consistently since Barry Sanders and Bo Jackson were in their respective primes.
So you can define "electricity" 600 different ways, but it really comes down to three words -- "Oh, my God" -- which Mike Vick had everyone saying over and over again this season. And since there's nothing else to say, can we implore the networks (ESPN, ABC, Fox and CBS) to put the Falcons on national TV as much as possible next season? When in doubt, show the Falcons. Just trust me.
23. "I'm sorry we talk about the same thing all the time."
To the Miami Dolphins ... as one of my readers wrote about them a few weeks ago, their annual December collapse is just like Chanukah: "Nobody ever knows exactly when it starts, just that it happens sometime in December and it's a traditional occasion for celebration and glee." You could excuse them for the Week 16 loss in Minnesota -- a classic trap game if there ever was one -- but that Level One gag job in New England should haunt them for the rest of the winter. Here's the weird thing: If they just held on for five more minutes, I would have picked them to make the Super Bowl ... now they're not even in the playoffs! Weird season. We say that every year, but seriously ... weird season.
And while we're on the subject of the Dolphins ...
23a. "Our little boy's all grown up tonight! You know what, big boy? You're grown up! You're grown up! Yeahhhhhh! Dig that! Is this enough of a (bleeping) production for you? Cuz you're growns up and you're growns up and you're growns up!"
To Ricky Williams, who finally got his Alexei Zhitnik together and submitted the 1,800-yard season that had been lurking somewhere inside him for three years. It's funny how losing 30 pounds and getting in sick shape can have positive repurcussions for a running back. But here's something that bothers me: If shedding that extra weight helped his quickness so much, then why keep those dreadlocks? Wouldn't he be even faster by shedding that 5-6 pounds of hair? And have you ever noticed that the guys on the Packers who have dreads always seem a step slow? Somebody needs to investigate this.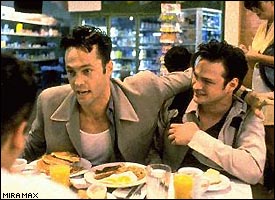 ... Unless you're the sober guy taking drunk friends out to a diner.
(As for the above scene, does Trent climbing onto the table at the diner and doing the "All growns up" routine ever get old? Just so you know, "Swingers" was re-released on DVD this fall and given its proper due, including a director's commentary and a terrific behind-the-scenes documentary that examines the painstaking process of making a low-budget indie film. Definitely worth the $20 if you like the movie. I mention this only because you find out things in the documentary like, "Trent jumping on the table was ad-libbed." I mean, I need to know these things. Don't you?)
24. "Dude, check it out, dude, I swear to God, it's (bleeping) on. Look at him, dude, it's so (bleeping) on!"
To the Jets ... the proverbial "Team That Nobody Wants To Play." They went 7-2 in their last nine games, and both losses were winnable -- a classic "Look ahead to the next week" loss in Chicago, and a hard-fought Monday night loss in Oakland in which they could have prevailed if two or three plays went their way. What's not to like about this team? They can run the ball and rush the passer, two essentials for a potential championship team. Their QB looks like he's filming "Tom Brady, the Sequel." They have three legitimate gamebreakers (Coles, Moss and Abraham). And their coach knows that the object here is to win the game.
Repeat: To win the game! You hear me? To win the game!
Anyway, I've been on the Jets bandwagon for the past few weeks ... I think they're headed to San Diego. More on this later.
25. "Hi, Nikki, this is Mike ... I met you at the Dresden tonight. Just called to say that I had a great time, and you should call me tomorrow, or in a couple of days ..."
The most awkward scene in the movie, and quite possibly in movie history -- Mikey meeting a girl at a bar, then leaving six answering machine messages for her when he gets home that night -- goes to the most awkward moment of 2002: Kurt Warner's wife calling a local St. Louis radio show to defend her husband. Even Doug Christie and Mrs. Christie were mortified about this one. If the Sports Gal ever calls a radio show to defend me, just shoot me in the head right then and there. I'm serious.
Honorable mention: Every SportsCenter segment where John Clayton and Sean Salisbury argue about football and say mean things to each other. Who came up with this idea, Jeff's wife from "Curb Your Enthusiasm"? I keep waiting for one of them to say, "(Bleep) you, you car wash (expletive)." And yet it's strangely mesmerizing, like watching that "You Gotta See This" show and waiting for a skateboarder to crack his head open on the concrete. Maybe the most inexplicable running segment in the history of ESPN.
26. "Back in the day this place was a real contender, but now they'll appreciate the business."
To the Detroit Lions. .. this must be why the NFL keeps scheduling them on Thanksgiving every year.
27. "I'm getting vibed like in a really weird way here."
To the Cleveland Browns, the strangest team in recent memory. They finished 3-5 at home and 6-2 on the road. They won a game on a Hail Mary pass, lost a game after a "Throwing the helmet" penalty kept the Chiefs alive, won an OT game in Tennessee with help from an onside kick, and blew another potential OT win in Pittsburgh because of a blocked field goal. Ten of their games came down to the final play, as have 16 of the 32 games in the Butch Davis Era (I'm making these numbers up, but it's something along those lines). Their fans threw things at officials and cheered when their own players get injured. Their QB had a Tammy Faye Baker-level meltdown because his own fans were mean to him.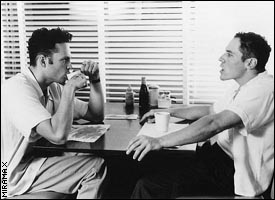 Like the Sports Guy, even Trent's vibe can be off at times.
Wait, there's more. They struggled stopping the run, even though their defensive line includes players picked first and third overall in their respective drafts. They had about 50 different receivers who earned fantasy points this season. And they started the season with linebacker Dwayne Rudd costing them a game by throwing his helmet, and ended the season with Rudd stonewalling Warrick Dunn on two straight goal-line runs, catapulting the Browns into the playoffs. Would you want to play these guys in January? Me neither. Either they're losing by 30 to Pittsburgh this weekend, or they're making the Super Bowl. There's no middle ground.
28. "I don't want you to be the guy in the PG-13 movie everyone's really hoping makes it happen. I want you to be like the guy in the rated 'R' movie, you know? The guy you're not sure whether or not you like yet. You're not sure where he's coming from. Okay? You're a bad man. You're a bad man."
To the "Weak Links" of the 2002 season, all of whom needed the aforementioned pep talk: The Niners kicker Du'Jour (cost them homefield advantage throughout the playoffs) ... the Eagles Punter Du'Jour (will rear his ugly head in January, whoever he is) ... Buffalo's coaching (we covered that already) ... KC's secondary (killed them in Sept. and Oct.) ... Ray Lucas (cost Miami a playoff spot) ... the dreadful collection of Falcons receivers (reminiscent of MJ's supporting cast on the '86 Bulls -- the similarities between Kyle Macy and Brian Finneran are jarring) ... and Niners nickelback Mike Rumph, the 2002 Weak Link MVP, who was picked on so relentlessly, he might have earned the first-ever rating below 30 in "Madden 2004" next season.
29. "What the hell are you kicking me for? Fine, you want me to ask her, I'll ask her. Maam, do you know where the high school girls hang out around here?"
To the Bears, who were stuck playing home games at the University of Illinois -- more than 100 miles from home -- because Soldier's Field was getting remodeled. That's always a recipe for disaster: An NFL team playing 16 games on the road. Not good times. Throw in the whole "Year after the season where everything went right with a much harder schedule" phenomenon and the Bears were behind the eight-ball before the season even started. And that's before we even get to the whole "Hey, let's bring Jim Miller back for another year, and we'll back him up with Chris Chandler!" idea. Their third string QB should have been the Bubble Boy from Seinfeld.
30. "What do you drive?"
"A Cavalier. It's red. A red Cavalier."
To CBS's pregame show ... unfortunately, house rules prevent me from fully commenting on this one. On the flip side, let's pay proper kudos to the best new announcing team of the season -- Joe Buck, Troy Aikman and Cris Collinsworth, who more than adequately replaced the Hall of Fame duo of Madden and Summerall on Fox. In particular, Collinsworth distinguished himself by not being afraid to rip players and coaches during games when they deserved it, which just isn't done anymore -- announcers always seem more determined to tell you things like "We went to lunch with the Coach last week and he thought this was a huge game for his team."
31. "I'm gonna find me two waitresses here and I'm gonna pull me a Fredo."
One of the MVP quotes in the movie goes to the MVP of the 2002 season: Tennessee's Steve McNair, who had the most dramatic effect on his team's fortunes out of anyone in football. As Joe Theismann would say,
here's a guy
who's been banged up all season, he didn't get much help from Eddie George, his receivers are average at best, and yet he
kept making football plays
. As you know, great players make great plays. Well, Steve McNair is a great football player who makes great plays. That's why he's great.
(And speaking of great, frankly, it's too early to tell where Double Down Trent ranks among the great movie characters in recent Hollywood history. Here's my question: How does Vince Vaughn not even get nominated for an Oscar here? Who else could have played Trent? Who else could have carried the movie for scenes at a time? Who else could have created a character that remains funny and original even six years later? That character was so good, Vaughn hasn't been able to approach it since, because we can't separate himself from Trent; in a weird way, "Swingers" was the worst thing that could have happened to him, even though it made him famous. Anyway, nobody else could have played Trent. He should have gotten nominated. I will not argue about this.)
32. "I'm the (expletive), right? I'm the (expletive)!"
To Lamar Smith, the troubled Carolina running back who was arrested for drunken driving last month ... yes, the same Lamar Smith who paralyzed a teammate in a drunk-driving accident a few years ago. Nice guy. I still remember reading the generic "I'm a new man, I've learned from my mistakes" feature about him in ESPN The Magazine last year; maybe that's why I let out an audible "Oh, no!" when I read about his arrest last month. Don't you just hate sports some times?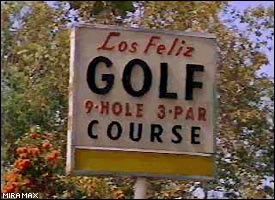 Los Feliz ... aren't they hosting the U.S. Open in '06?
33. "Get there!"
My favorite throwaway line in the movie -- Mikey's friend screaming encouragement to his woefully short putt at the par-three course -- goes to my favorite throwaway moment of the 2002 season: After Week 2, I wrote that the Panthers were the worst 2-0 team in NFL history, and somehow that quote got back to Panthers offensive lineman Todd Steussie, who repiled, "I guess that's why he's writing for Page 2 and not Page 1." Can I put this on a resume? As a postscript, the Panthers ended up cruising to 7-9 ... so in retrospect, I was probably wrong about them. Maybe as a punishment, I can turn all the lights off in my office and Steve Smith can come in and inexplicably beat the hell out of me.
(Speaking of memorable quotes, we'd be remiss if we didn't pay tribute to the NFL quote of the year, which happened during the "MTV Cribs" episode featuring Ravens linebacker Ray Lewis. Lewis was showing off his master bedroom closet -- which was roughly the size of a rent-controlled Manhattan apartment -- when he pointed to a row of mink coats and proudly said, "These is my minks." Then he carried on about his love for minks. You really had to be there. These is my minks.)
34. "Would you dance with me?"
"Okay."
To the Gambling Go-To Guys of the 2002 season: Michael Vick and the Falcons; Oakland, Tennessee and Miami at home; the Jets, Vikes, Giants and Seahawks down the stretch; the Eagles without Donovan McNabb (
Ewing Theory!
); anybody playing the Bears; anybody playing the Bengals and Texans on the road; the Panthers whenever Chris Weinke was involved; anybody playing the Cardinals during that "Maybe they're for real" stretch they had in October; anyone playing Jacksonville and Dallas in December; and when in doubt, any underdog (they covered over 58 percent of the time this year).
On the flip side, the Chiefs and Browns were obviously possessed by Satanic forces. Can you ever remember two teams involved in more rollercoaster games that tore your heart out of your chest, or teams with a knack for winning games but failing to cover the spread? I actually had a solid year picking games against the spread, finishing 35 games over .500 in my Picks Pool ... and yet I couldn't make a profit because the Chiefs and Browns kept putting the Tom Gamboa jersey on me, and I just couldn't get it into my thick skull to stay away from them. Even Jake the Snake in his prime didn't treat me this horribly. I'm just bitter right now.
(As for the above quote, what was the most unrealistic part of the Mikey-Lorraine dance scene? That somebody as hot as Heather Graham was sitting by herself at a bar? That both of them knew how to swing dance that well? That she would ask Mikey to dance? That she would be remotely attracted to Mikey in the first place? And while we're on the subject, did any actress have a hotter two-movie run than Graham did in "Swingers" and "Boogie Nights"? You almost forget that she hasn't been in anything good in over five years, or that she can't act to save her life -- she can live off Lorraine and Rollergirl for the next 30 years, and frankly, she should. God bless Heather Graham.)
35. "You're a big winner. I'm gonna ask you a simple question, I want you to listen to me: Who's the big winner here tonight at the casino? Huh? Mikey, that's who. Mikey's the big winner. Mikey wins."
This could have gone a number of directions, but we're giving this to Eagles coach Andy Reid, who kept the Eagles on track without Donovan McNabb. Some have been calling it one of the great coaching jobs in NFL history ... I wouldn't go that far, only because McNabb wasn't playing all that well this season. Still, he's the "Coach of the Year" only because the Eagles offense doesn't have any above-average guys, yet they kept scoring points when McNabb went out. Pretty impressive. Would any of the Eagles skill position guys even play a down for the Raiders or Jets?
Some other award winners: Rookie of the Year (Clinton Portis, who should have been starting from Week One on in Denver) ... Fantasy MVP (Priest Holmes, with Marvin Harrison and Ricky Williams as runners-up) ... Kicker You'd Most Want Kicking a 45-Yarder With Your Life On The Line (Adam Vinatieri, goes without saying) ... Most Fun Special Teams Guy (KC's Dante Hall) ... Most Fun Addition to the League (the completely insane Jeremy Shockey) ... Most Underrated Injury (Troy Brown wrenching his knee in Week 3 -- Brown and the Pats offense would never be the same) ... Most Tired Media Subject (anything involving Randy Moss) ... Best Contract Run (Peerless Price, destined to get overpaid for a 40-catch season in Arizona or Detroit next season) ... Biggest Mistake (Mike Shanahan sticking with an obviously overmatched Brian Griese until it was too late) ... Most Amazing Story (Jerry Rice still chugging along) ... Strangest Fantasy Monkey Wrench (Matt Hasselbeck's improbable stretch run, which might have turned him into a high pick next year) ... Worst Backup QB To Actually Start a Game (Chicago's Henry Burris, who made Randy Fasani look like Y.A. Tittle) ... and the Tony Dungy Memorial Award for "Assistant Coach who prompted the most announcers to wonder, 'When is this guy getting a chance to be a head coach?'" (Patriots offensive coordinator Charlie Weis).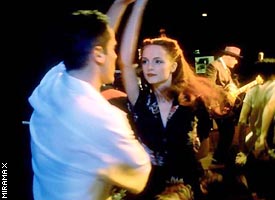 Mikey getting a girl like Lorraine? Only in the movies guys.
BONUS QUOTE: "You know what you are? You're like a big bear with claws and with fangs ... and she's just like this little bunny, who's just kinda cowering in the corner ... you know, you got these claws and you're staring at these claws and your thinking to yourself, and with these claws you're thinking, 'How am I supposed to kill this bunny, how am I supposed to kill this bunny?' And you're poking at it, you're poking at it ... you're not hurting it. You're just kinda gently batting the bunny around, you know what I mean? And the bunny's scared, Mike, the bunny's scared of you, shivering. And you got these (bleeping) claws and these fangs, man! And you're looking at your claws and you're looking at your fangs. And you're thinking to yourself, you don't know what to do, man. 'I don't know how to kill the bunny.'"
To the Bucs and the Raiders ... two teams that just haven't figured out how to kill the bunny yet. It wouldn't be a shock if the Bucs didn't make the Super Bowl this year, if only because their running game is a little sketchy and they've had so many problems winning in Philly. But how can the Raiders not make it? They have the most talented offense
and
homefield advantage. You could argue that they could have advanced each of the past two years, if not for Gannon's injury in the Baltimore game and the combination Tuck Rule/Choke job in New England last January (don't forget, they had a second-and-two with the lead and three minutes to play, and they couldn't get those yards to finish the game). And they're playing as good as anyone right now.
And with all of that said ...
I still don't think they're making it. Mark me down for the Jets and Eagles in Super Bowl XXXVII ... with the Jets winning, 24-20. In fact, I feel so strongly about this, I might even fly down to Vegas this weekend just to slap some cash on the Jets.
(Vegas! Vegas, baby! Vegas!)
Bill Simmons is a columnist for Page 2 and ESPN The Magazine, as well as one of the writers for Jimmy Kimmel Live, premiering Super Bowl Sunday on ABC.