By Bill Simmons
Page 2 columnist
I'm writing this column after surviving a cross-country voyage from Boston to LA, a trip which started with me coincidentally following Ron Jeremy through security checkpoints at Logan Airport -- I wish I were making this up -- and capped off by United Airlines flight #181 getting thrown into chaos by the in-flight movie showing of "Simone." Some of us used barf bags afterwards, others sobbed silently in our seats. I chose to drown my sorrows in red wine. None of us could believe it. One of the 10 worst movies ever ... and Al Pacino was involved. Al Pacino! How does this happen?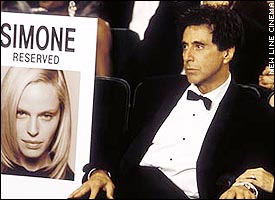 "Scent of a Woman 2"? Sure, Al's available.
Poor Al. I thought he sunk as low as he could go in "Devil's Advocate" -- when he played Satan and wasn't nearly as terrifying as his newly-capped teeth, which looked like they were lifted straight from Secretariat -- but his appearance in "Simone" was much more jarring. Was this a comedy? Was it a social commentary? Was I supposed to be laughing? Was Al squinting because he couldn't see the cue cards, or was he immersed in physical pain during the entire shoot? Yep, Pacino may have finally caught up with DeNiro in the "Who's Selling Out More Vigorously?" Olympics, although I'm holding back an official verdict until I'm stuck watching "Analyze That" on the next crappy airline flight. That's what I get for going with a bankrupt airline.
Anyway, the NFL Playoffs kick off this weekend, and you know what that means? That's right, your buddy Sports Guy swings into action. Everyone remembers last winter's spine-tingling playoff gambling run -- recently featured on ESPN2's "NFL Films Presents" at 4:30 on Tuesday morning, sandwiched between repeats of "Around the Horn" with Max Kellerman and "Back Around the Horn, And It's Even More Confusing This Time" with Whit Watson -- when I rode the Patriots all the way through to their improbable Super Bowl victory. What a journey.
I'm feeling even more confident this January. But before we get to the picks, I have to mention something: Recently, I've been watching "Boy Meets World" re-runs on the Disney Channel, a show I had never seen in my life until about four weeks ago. It's like "Saved By the Bell" with slightly better acting, only if every other episode decided to be a "Very Special Episode." I can't believe I never saw it before. When was it on? How did I miss this? And why can't I stop watching it? The latest repeats are the awkward end-of-the-run episodes, after the gang graduated high school, when they decided to attend the same college and even brought their favorite professor along. That's always a bad omen for a TV show, right up there with a sitcom family having a baby.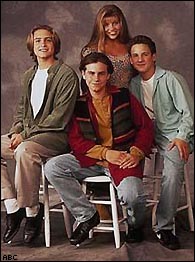 We haven't seen a family dynasty like this since Joey Lawrence and Co.
Anyway, Wednesday night show's featured a guest appearence by Fred Savage -- he played the gang's new favorite college professor, only he's a little sleazy, and hot damn, wouldn't you know ... halfway through the show, he makes a move on Topenga in her dorm room! Even "The Accused" wasn't this terrifying. Already chalking it up as one of the 10 most unbelievable shows in TV history, now I'm sitting there in disbelief for the next scene, as Topenga's fiance confronts Fred. In case you didn't know, Topenga's fiance is played by the star of the show, Fred's younger brother, Ben.
That's right, folks ... it's Savage versus Savage!
And wouldn't you know it, things escalate, and suddenly Ben's throwing Fred through a door, with glass shattering everywhere! Unbelievable! Maybe the most stunning turn of events on a TV show since a drunken Dylan tried to attack Brandon at Donna Martin's debutante party. I'm still reeling. There was even a little symbolism here, since Fred used to be the Big Man on Campus in the Savage family, and then "Wonder Years" got cancelled, and then his younger bro got a show, and it became pretty successful, and then a few years pass and poor Fred's getting thrown through a glass door.
So what does this have to do with the NFL? I have no idea. By the way, I'm drunk again. Here are my playoff picks for Round One (home teams in caps, lines in parentheses):
NEW YORK JETS (-6) over Indianapolis
Giddy up! For weeks and weeks, I've been patiently waiting for the chance to bet against Peyton Manning and Tony Dungy in a playoff game. Sure, it wasn't the same as if Rodney Peete and Carolina had snuck into the playoffs, but still ... it's pretty good. Dungy has proven to be a coach competent enough that he can get the car going to about 80 mph before it careens into a tree. And Manning has proven that he can drive that same car into the same tree with the best of them -- it's never like the accident is his fault, but every time you look at the wreckage, you always wonder if the driver could have done something to prevent what happened.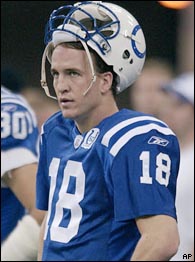 Peyton in a big game? Go ask Vol fans about it.
Then you have the Jets, smoking since the halfway point -- 7-2 in their last nine games, 8-1 against the spread -- showing just enough to make you think, "Hey, am I watching the 2001 Pats all over again?" Think about it. Young QB steps into the limelight, becomes a star before everyone's eyes. New coach in his second season, finally gets everyone to believe his proverbial "system." Great special teams. Defense that seems to be getting better every week. Fantastic luck with injuries. And a crummy start that gave way to one of those "Hey, everything's coming together!" phenomena that makes the NFL so great. When they hung tough in Oakland on Monday night in Week 13, a game in which they couldn't catch a break and still made the Raiders work for a "w," that's when I became convinced: The Jets are going to the Super Bowl.
I still feel that way. Indy was the perfect Round One opponent for them because Manning -- much like Brian Griese and Drew Bledsoe -- always looks good unless he's getting pressured, in which case he'll throw the ball up for grabs at least once per quarter. He hands out more freebies than Brittany Murphy. And nobody is rushing QBs better then the Jets right now, not even Tampa. This one's a layup. The lock of the weekend.
One last thing: Herman Edwards vs. Tony Dungy is really the "When is this guy finally getting his chance?" match for the ages, isn't it? Couldn't Dick Enberg, Dan Dierdorf and Joe Theismann be the announcers for this one?
--Joe: "Dan, for years and years, nobody would give Herman Edwards a chance."
--Dan: "Well, Joe, now he's getting his chance ... and he's making the most of it!"
(Both men chortle hysterically.)
--Dick: "He sure is. Back to the game ... Archie Manning facing a huge third-and-10 here for the Colts..."
Prediction: Jets 38, Colts 20
GREEN BAY (-6½) over Atlanta
Nobody enjoyed the Falcons this season more than me, and they certainly fattened my wallet (especially after my "Shawn Michaels super-kicking Marty Jannetty through the plate glass window" turn on them when I wagered against them in Tampa in Week 12). But all good things come to an end. For the Falcons, it happened in Tampa, when the Bucs defense took a page from the Pistons playbook with MJ in the late-'80s: Let everyone else beat us. In other words, until Vick's receivers step it up from "below-average" to "above-average," you won't be seeing any more 177-yard rushing days for Mr. Vick.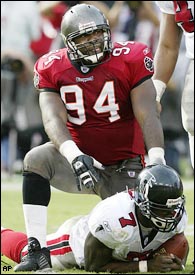 If the Pack studies the Bucs game film -- it's over for Vick.
I actually feel sorry for him. If you've watched the Falcons play, you know that Vick's receivers really, really, really stink. They're bad. I mean, "Kyle Macy-Dave Corzine-Brad Sellers" bad. Now that defenses are loading the line of scrimmage to prevent Vick from scrambling around or hitting Warrick Dunn coming out of the backfield, if the receivers can't get open and make plays, the Falcons are basically neutered. For instance, they could play a good defense with cornerbacks -- like Tampa or Philly -- 100 times and probably crack 20 points once. It's just not happening, not with the Finnerans and McCords of the world.
Throw in the fact that they've played 10 of their 16 games in a dome, as well as Lambeau Field, the Favre Factor and the "We're just happy to be here" Factor, and I can't imagine how the Falcs hang close in this one.
Unless ...
(Well ...)
Unless young Michael has the NFL equivalent of a 63-point game in him.
Remember, MJ's famous breakout game happened in a hallowed place (the Boston Garden), against a Hall of Fame opponent (Bird and the Celts), when nobody was expecting much from him. That was the best thing about MJ -- not Sad Shadow Of MJ that we see now, but Real MJ -- how he always rose to the occasion at the most opportune times. Vick might possess that quality as well, but the circumstances are just different enough -- it's harder for one player to dominate a football game, and Vick's been pretty banged up this season -- that I can't see him pulling an MJ on Saturday.
I think he keeps it close, if only because the Packers aren't quite good enough to completely throttle him. Close enough that, if you wagered on the Packers, you start chewing your nails five minutes into the first quarter, and you move to your toenails midway through the fourth ... but not close enough to lose money. And let the record show that this is the last game I will ever advocate betting against Michael Vick, beacuse he's officially taking the Barry Sanders Memorial "Never bet against me under any circumstances ever" Torch from Brett Favre next season. Maybe Brett can even hand it off to him after the game.
One last note: Regardless of what happens here, if Brad Johnson is healthy, neither of these teams are winning in Tampa in Round Two. Not a chance.
Prediction: Packers 20, Falcons 13
Cleveland (+8) over PITTSBURGH
There's a difference between Browns starter Tim Couch (injured last week) and backup Kelly Holcomb, all right ... Holcomb is more consistent. Every time he played this season, the Browns offense had some life. That was never consistently the case with Couch, who's like Jake The Snake without the whole Snake gimmick. Translation: He's just good enough to kill you in the end, and he's just inconsistent enough to shock you when he gets hot. Don't you hate quarterbacks like that? They're never happy either way. For God's sake, this was a guy who once found himself in a love triangle with Cade McNown! If I'm a Browns fan, I'd rather see Holcomb in there.
Forget about Couch, if you want to advance you want Holcomb.
One thing's for sure: You can't come up with an easier upset pick. The Steelers haven't beaten a quality team all season, other than Cleveland (twice, both nailbiters) and Tampa (the fluke victory in Week 16 when Shawn King decided to audition for the World Football League). The Browns lost six of their seven games this year by a total of 24 points, with only Tampa beating them by more than a touchdown. They simply can't play an easy game; they need drama, whether it's a miraculous Hail Mary, helmets mistakenly flying, goal line stands, field goals clanging off the uprights or whatever. And every time these two teams play, it comes down to the wire. So why would the line be eight? I have no idea. This game looks like a toss-up to me, especially with William Green coming on like he's been.
I'm also not sure that the Steelers have a significant homefield advantage anymore. Much like every other 21st century stadium that's been built -- and we definitely felt it in New England this year (with the breathtaking and utterly lifeless Gillette Stadium), as well as in Denver and Colonesco Field (or whatever they call it) -- crowds can't rattle opposing players anymore, partly because they aren't as close to the action, partly because many of the hardcore fans have been shifted to the 300s and 400s to make way for luxury boxes and club seats.
Quick tangent: My buddy J-Bug has been attending Pats games since the early-'90s, sitting in the 300s with the rest of the diehards who start tailgating at 9 a.m. and finally wobble back home 12 hours later. During that entire time, he was sitting on a freezing cold metal bench, waiting in long lines to use 17th century bathroom trenches and order lukewarm hot dogs and watered-down beer ... and he loved every minute of it. He felt like he and his buddies were close enough to the field that they were affecting the game. Now he's sitting in comfortable seats, with dozens of food and beer items, in a spotless stadium ... and he's hating life. It's not the same. They're a million miles away from the field, all the pseudos are sitting close and not making noise, and the place is so cavernous, it can't hold sound the way Foxboro Stadium did.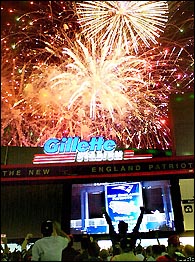 Fans are closer to the fireworks than the game at Gillette Stadium.
"I hate going to games this year," Bug always says. "There's no way I'm renewing my tickets next year."
So if you're looking for a reason why so many teams have been winning on the road, and why so many underdogs covered this season, maybe you should start here. These state-of-the-art stadiums are killing homefield advantage as we know it. Just a theory.
As for the Steelers, I bet the Browns are much happier playing there than they would be in Three Rivers Stadium. Throw in the way that Steelers fans instinctively panic and clam up whenever their team starts struggling -- much like Red Sox fans, one of those weird fan dynamics that can't be explained -- and I see the Browns coming out and shocking everybody this Sunday. With special teams being the big difference. And yes, I'm excited to make "Butch Davis is thinking about taking the Browns to the Super Bowl" jokes after this weekend.
Prediction: Browns 31, Steelers 23
SAN FRAN (-3½) over NY Giants
Unlike the Eagles, San Fran didn't take a step forward this year; if anything, they went sideways. They fattened up on lousy schedule -- the G-men were the only team with a winning record that they defeated all season. They didn't beat anybody by more than seven after Week 7. Something strange is happening with this whole Mariucci thing -- even though they keep winning, nobody there seems to trust him too much (if this were the Sopranos, Tony would be looking at him funny and we'd be waiting for him to get whacked every episodes). They have a serious, crater-sized hole in their secondary (the whole Mike Rumph fiasco). Their kicking game is atrocious. And if you can handle their running game, TO has to toss up a 12-for-150 for them to compete against a quality team.
As for the Giants, everybody loves them this week ... always a red flag. They put the ball on the ground way too much -- between Tiki Barber and Kerry Collins, it's like they're playing bocce. They did their absolute best to choke against Philly last week, until Akers saved them with a Huey Lewis-level hook to give them a second life. They're banged up at receiver, so they can't really take advantage of the Rumph Factor. Their QB can't decide if he's Good Kerry or Evil Kerry from week to week -- he's like Jay Fiedler on acid. And they're flying cross-country for this week's game, another red flag (remember the Jets last year?).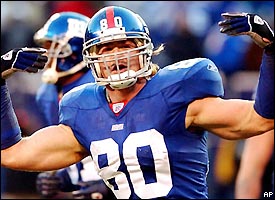 You can take the boy out of Miami, but you can't take the Miami out of the boy.
On the flip side, they've been finding ways to win ugly all season -- an underrated talent in the NFL -- and they have more good players than San Fran on both sides of the ball, including emerging playmaker-character Jeremy Shockey (New York fans haven't been this excited about something since the Mets held John Franco Mustache Kit Day).
You know what? This looks like one of those "Go against the grain" games. Everyone likes the Giants. The line will probably settle at three by game time. The Jets will have already won on Saturday, so everyone in New York will be dreaming about an All-New York Super Bowl. And then, just like that, the game starts ...
And Owens hauls in a 54-yarder for a 7-0 Niners lead ... and Collins turns the ball over ... and suddenly it's 10-0 ... and now the Giants are getting desperate, and Jim Fassel keeps pushing his chips onto the table, but nobody's joining him, and it's just getting ugly in Candlestick ...
Sorry, New York. At least you'll still have the Jets.
Prediction: Niners 24, Giants 10
Bill Simmons is a columnist for Page 2 and ESPN The Magazine, as well as one of the writers for Jimmy Kimmel Live, premiering Super Bowl Sunday on ABC.