By Bill Simmons
Page 2 columnist
Forget about last week's crazy playoff games. My most amazing moment of the weekend happened during a 9:45pm Hollywood screening of "Gangs of New York," when a man strolled into the theater with his 10-year-old son and young baby. Here's a violent R-rated movie that ends at 12:45 in the morning, and this moron thinks it's a good idea to bring his children. People in the theater were practically recoiling in horror. I can only guess that the baby's name was "Nochance."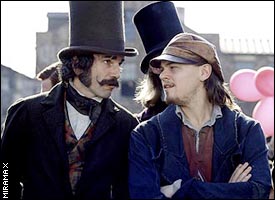 Taking a baby to this movie? What, all the adult video stores were closed?
Some lingering questions: Can't all movie theaters be equipped with child welfare workers that can immediately take these children away from their parents? And if not, at the very least, shouldn't it be illegal to bring a baby into an R-rated movie? Shouldn't babies be barred from movie theaters in general? Would this be too hard? The whole thing shakes my faith in society. It really does.
Along those same lines, this was a special week in TV, when networks shrugged their shoulders and collectively said, "Screw it, let's cross every line." Of course, I tried to watch everything. On MTV, they brought back memorable cast members for the "Real World/Road Rules" Challenge, highlighted in Episode One by the infamous Puck spitting in somebody else's face. He's come a long way from the days when he was sticking his hands in Pedro's peanut butter. On Fox, they ripped off "The Bachelor" with a clever idea called Joe Millionaire, yet another forum proving that women are legally insane. WB offered up "The Surreal Life," a Real World ripoff which featured a cast of washed-up celebs living together (including the always enjoyable Corey Feldman -- I give this show a 17 out of 10). And ABC launched "The Bachelorette," starring the runner-up from the original Bachelor, Trista, the one who couldn't have an orgasm. Talk about a challenge for the guys. It's like trying to win two contests at once.
It scares me how much I enjoy these shows. I'm an intelligent guy -- savvy enough to con Disney into hiring me not once but twice -- and yet these shows turn me into a stammering fool. For instance, there was a scene in "Joe Millionaire" in which the 20 money-grubbing women tried on 20 evening gowns at the same time, strategically placed in the same room so things would get catty. Wrrrrrowwww! It was a free-for-all! One enterprising girl decided to grab two, so the other girls were a little perturbed, and I found myself mumbling under my breath, "Hey, you can't grab two!" I was on the edge of my seat. Wild horses couldn't drag me away from the TV on the night when Joe Millionaire tells his bride-to-be, "Um, about that $50 million thing ... I only make $19,000 a year." Clearly, I need professional help.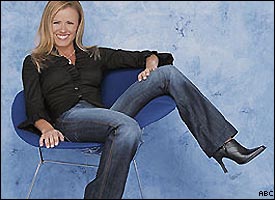 Beautiful people, catty drama -- it's all television gold.
But has TV always been this bad? I remember revering "Three's Company" when I was a kid -- and I still maintain that John Ritter would have had Jim Carrey's career if he came along 15 years later -- but watching the re-runs nowadays feels like stepping on another planet. We thought this show was funny? Sure, the whole "Mr. Roper ripping on his wife, then turning to another camera and laughing at his own joke" routine remains the highest of high comedy, but the rest of the show is completely unwatchable. Even WB wouldn't show it, and that's saying something. And what about some of the other stuff from the 70's? Have you ever seen an episode of the "Mike Douglas Show" from back then? Or one of Dean Martin's old specials? Just celebrities puffing their chests, trying to act big-time, cracking up at bad jokes and taking themselves way too seriously ... and this passed as entertainment back in the day.
So maybe we've always been screwed up. That's why you shouldn't bat an eyelash when you're glancing at the TV schedule of USA Today -- and this happened to me last Monday -- to notice that night's episode of Fear Factor features the four-word synopsis, "Contestants eat horse rectum." I didn't even blink. I was thinking, "Cool, horse rectum! What channel?" Jeez, how far are we from the days when that synopsis reads, "Contestants eat chunks of a murdered drifter"?
Fortunately for us, one constant always delivers on TV, no matter what decade ... that's right, the NFL playoffs. I went a disappointing 2-2 against the spread last week, nailing the Jets and Browns but just missing on the Niners (they won but didn't cover) and horribly botching the Packers game. Normally I wouldn't care that much, but the Packers no-show killed me since I wavered on that game all week -- mainly because the Pack was banged up, Mike Sherman is Al Groh in disguise (I'm convinced), and I've been driving the Falcons bandwagon all season -- and yet I was terrified to go against Green Bay in Lambeau. Terrible job by me. I've been kicking myself for six days.
Sunday's comeback games were borderline magical. I watched the festivities over at my new boss Jimmy Kimmel's house, in a living room featuring a 100-foot big screen with accompanying 42-inch, widescreen plasma screens on either side (all that's missing are cocktail waitresses, hopefully coming next year). Thanks to split-screen on the widescreens, Jimmy can show as many as five games at once, with people coming and going all day, with enough food and drink to handle the entire neighborhood. The lesson, as always: It's good to be the king.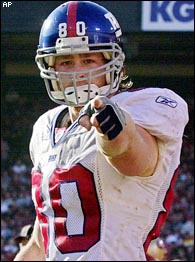 Friends don't let friends forget the Giants blew a 24-point lead.
As an added bonus, Jimmy's house also features his infamous Cousin Sal, who spends his Sundays wobbling back and forth, standing up, sitting down, wandering around and hyperventilating in some sort of gambling frenzy -- he's more agitated than Dustin Hoffman during the scene when Charlie Babbitt goes through Rain Man's baseball cards. And he wasn't even the craziest guy at the house on Sunday. Our friend Brad, a huge Giants fan, was so stressed out during the fourth quarter, he spent 20 straight minutes screaming and spitting tobacco juice everywhere after every play, finally getting up and leaving with two minutes to go. Have you ever seen somebody just walk away from a game like that? I'm telling you, it happened. He couldn't take it. None of us could. Frankly, it's still too early to tell where that game ranked on the Levels of Losing for Giants fans ... it was like an hour-long stomach punch, followed by a decapitation and a bloodletting.
The day's other running highlight centered around Giants rookie Jeremy Shockey. As we've mentioned many times in this space, New York fans have an irrational love for this guy -- he's good, absolutely, but New Yorkers react to him like he's a cross between Reggie, LT and God. When Shockey caught his first pass during the Niners game, the Giants fans in our room went predictably nuts, so Cousin Sal pulled the New York meathead routine and derisively screamed out, "Shock-eeeeeeeeeeeeee!" He started doing it after every Shockey play, then expanded it to every Giants offensive play. For some reason, it never got old. Shock-eeeeeeeeeee! For everyone reading this who hates ShockeyMania, make sure you beat this joke into the ground whenever any Giants fans are in the room. We must band together and destroy them all.
All right, enough foreplay. Onto the picks (home team in caps) ...
Titans (-4) STEELERS
Does anyone have a stranger defense than the Steelers? Nobody can run on them, and yet Def Leppard's drummer could throw for 400 yards on them. Do you realize that Cleveland's William Green rushed 25 times for 30 yards last week? Those sound like "Madden 2003" numbers from a "No Bleeping Way" Game, when the computer gets angry and won't let you do anything offensively. And yet the same defense gave up something like 823 yards to Kelly Holcomb. Just bizarre.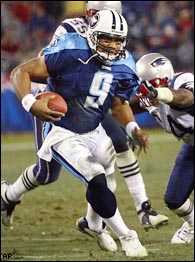 Broken down or not, McNair still has enough gas to rust the Steelers.
So what will the Titans do against them? Eddie George has trouble running, anyway, thanks to the giant pitchfork sticking out of his back. You're telling me that he's cracking 40 yards against Pittsburgh? That means Steve McNair has to carry the offense again, which he's been doing all year, even though his wideouts always seem to botch one of two long plays per game. On paper, none of this sounds good, until you factor in the other stuff -- homefield advantage, the two-week rest, special teams and defense, the fact that Maddox will play scared once Tennessee's D starts laying into him (the whole "I almost got paralyzed a few weeks ago" thing). This just feels like a rout to me ... I don't like the way Pittsburgh has been winning at all. And if I'm a Steelers fan, something scares me about Maddox, in a big game, on the road. Maddox's comeback was a nice story and all, but please. We're in the big-time now.
Prediction: Tennessee 26, Pittsburgh 17
EAGLES (-7.5) over Falcons
Once the Jets blew out Indy last week, you knew the Falcons were somehow beating Green Bay, only because everyone and their brother teased the Jets and Packers last Saturday. Wish I had thought of that dynamic before I picked the Pack. That has to be the goofiest phenomenon in sports, when so many people load up on one bet, it almost singlehandedly alters the outcome of the game. I'm convinced that's why Atlanta beat the Pack last week. And you think I'm kidding. Me, I stayed away. Saw it coming. Veteran gambling savvy at its finest.
One other memorable moment from that game: Michael Vick officially seized the Barry Sanders Memorial "Never bet against him under any circumstances ever ever EVER" torch from Brett Favre. Boy, it was sad watching Favre down the stretch, wasn't it? The parallels between Declining Brett Favre and Declining Dan Marino are jarring -- both guys faded in the second halves of their careers, both guys remained competitive enough and talented enough that you were always afraid of them, and yet in big games, they always seemed to make mistakes, force passes and kill their teams. Watching Favre on Saturday made me sad. Sounds weird, but it did. End of an era.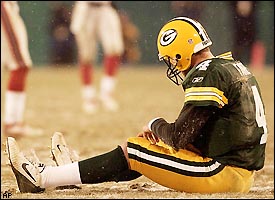 Hey, Brett! Those guys just took off with your career!
As for Vick, he threw for 121 yards in Lambeau and it felt like 350. It didn't hurt matters that the Packers rolled over and died -- it felt like they were playing the Bengals in mid-August. Things will be a little different in Veteran's Stadium ... now that Lambeau Field is dead (whoops, sorry, it just seemed like it last week), Philly has the last true homefield advantage in the NFL. Throw in Atlanta's third straight road game, the brutal artificial turf, and the fact that the Eagles are smart enough to know, "We must beat the living crap out of #7," and I can't imagine how they blow this one. The Falcons won their big game last week. of course, if you think I'm actually wagering against young Michael, you're crazy.
(And for anyone who thinks that Donovan McNabb's return might screw the Eagles up ... please. Nobody loves dopey theories more than me -- hell, I'm the man who helped bring you the Ewing Theory -- but to say that the Eagles aren't upgrading with Feeley-to-McNabb is just plain dumb. It's not "Let's trade for Vin Baker!"-caliber dumb, but it's really dumb. Then again, nothing was dumber than the Vin Baker trade. I really believe that. All things considered, the Celtics trading for Vin Baker was the dumbest, most indefensible move in the history of sports. Sure, maybe that has nothing to do with the NFL, but it's been at least three weeks since I vented about it. I can't get over it. Really, I can't. It's driving me insane. There, I am insane now.)
Prediction: Eagles 40, Falcons 17
Niners (+5) over BUCS
You have to love a minus-5 line. That's Vegas's way of saying, "Hey, we don't know what the hell will happen, either." Should Tampa be favored by a touchdown or a field goal? Nobody knows. We learned three things from San Fran last week -- 1) with Garcia and Owens, you can always come back, 2) their defense stinks, and 3) any time there's a fishy officiating moment in the NFL, it's a good bet that the winning owner's name ends in a vowel.
So I'm leaning towards San Fran. To be honest, I don't really care -- I wouldn't bet this game if my life depended on it -- but you don't need to know that. For the purposes of this column, every game counts the same. And I'm taking San Fran, if only because the Bucs are always one Brad Johnson injury away from an appearence by Shaun King or Rob Johnson. Yikes. Imagine being Jon Gruden right now? If I were him, I'd have Brad Johnson wearing a suit of armor during practice every day, just to be safe. take it from someone who wagered on the Bucs in Week 16, not knowing that King was starting on a Monday night -- there isn't a more helpless feeling on the planet than gambling on a team, then watching their backup QB bounce balls all over the place. It's like watching your dog cross a four-lane street during rush hour -- a feeling of terror that can't be adequately explained.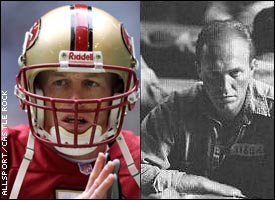 Listen! I was in the CFL! I needed the work!
I'm not even sure what else to say, other than Jeff Garcia has been ruined for me for life, ever since last year, when one of my readers pointed out how much he looks like Boggs from "Shawshank Redemption." Every time he's getting interviewed, I keep waiting for him to start raping Tim Robbins. It has to end. Can't he grow his hair out or something?
Prediction: Bucs 17, Niners 14 (Niners cover)
Jets (+5.5) over RAIDERS
Before we get to this final pick, I'd like to extend a cyber-middle finger to my Page 2 editors, for sticking my head on the Jets fireman guy. Couldn't I sue them over this? Didn't that defame me in some way? Now all the Pats fans are calling me a sellout, the Jets fans are telling me to get off the bandwagon before I jinx them ... I feel like Joe Pantoliano in "Midnight Run" during the "Everyone's teling me to go (bleep) myself!" scene. For the record: 1) I'm supporting the Jets for financial purposes only, and 2) there will be revenge on the Page 2 editors, I'm just not sure when and how. I mean, how can you extract revenge on a group of people that willingly ran a Bill Walton column? That's terrible! That's just terrrrrrrrrrrrrrrible!
As for the Jets, you know how I feel: I think they're the best team in the league. Best of all, not everyone realizes it yet. Jeez, it's not that difficult to figure out. Every year, somebody heats up at the midway point, everyone waits for them to cool down, and they never do. it's not rocket science. In '98, it was the Falcons. In '99, the Titans. In '00, the Ravens. In '01, the Pats. And this year, it's the Jets. Don't shoot me, I'm just the messenger.
Four more things I need to mention:
1. Peter King pointed this out, but it's worth mentioning again: Over the last three weeks, Chad Pennington completely outplayed Tom Brady, Brett Favre and Peyton Manning. This week he's facing Rich Gannon; next week, probably McNair. And probably McNabb in the Super Bowl. So for the Jets to win the Super Bowl, young Chad basically needs to topple six of the best guys in the league (not counting Mike Vick, of course). I just thought that was interesting.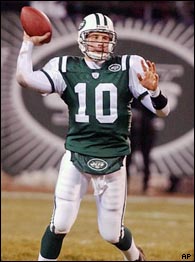 Chad Pennington has done everything but walk across the Hudson River.
2. Can the Colts send me Peyton Manning's home address? I have some Ewing Theory application papers for him to fill out.
3. If the Raiders were smart, every time Jerry Rice catches a pass and breaks his own playoff record, the Raiders should stop the game, present him with the football and bring his family out for a ten-minute celebration. It worked in that Monday night game against the Jets -- even changing the momentum of the game. So why not go back to the well? Every little edge counts, even if the game would end up taking seven hours.
4. It makes me angry, even a little hostile, that the Browns screwed up that game on Sunday, depriving us of seeing the Raiders and Jets -- the two best teams in the league (with the Titans a close third) -- playing in the AFC Championship game. That's how it should have happened, and there's enough Raiders-Jets history here that, well, it just would have felt right. So we have it a week early. C'est la vie.
Prediction: Jets 23, Raiders 20 (Game of the Year)
Bill Simmons is a columnist for Page 2 and ESPN The Magazine, as well as one of the writers for Jimmy Kimmel Live, premiering Super Bowl Sunday on ABC.