By Bill Simmons
Page 2 columnist
Because Michael Jordan wasn't starting his final NBA All-Star Game, I nearly pulled the plug on my scheduled diary of the game. Too traumatizing. The thought of MJ coming off the bench during a meaningless exhibition, when he could walk onto the court at the start of that same meaningless exhibition ... it was just too much to bear. Don't we have enough to worry about with all the war-terror stuff?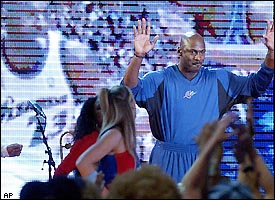 From North Carolina, the next AARP president ...
Like a professional, I carried on. That's how MJ would have wanted it, I think. Anyway, the pregame show started at 5 p.m. West Coast time ... I thought it warranted my first-ever running diary from L.A. Here's what transpired:
5 p.m. -- Waiting for the pregame show on ABC ... where is it?
5:01 -- It's not on ESPN, either.
5:02 -- Wow, it's on TNT! Stunning! Apparently the Oxygen Network was busy. I can't believe I missed the 5 o'clock disclaimer, "Our weekly showing of 'Road House' has been postponed tonight to bring you the following TNT Sports presentation."
5:03 -- TNT's big idea for the intro was to show clips of various stars, along with Magic Johnson babbling and doing Magic things. Yikes. Just for the record, TNT's decision to crowd its halftime show with Magic was like Stephanie McMahon getting implants two years ago -- there was just no need for it whatsoever.
Today on Page 2
While the entertainment world goes crazy with Oscar buzz, Page 2's Jim Caple hands out his Sports Academy Award nominations.
Nothing gets Jason Whitlock more fired up than the chance to talk about his beloved Pacers.
The Daily Quickie is all duded-out in honor of everyone's favorite computer pitchman.
5:03 -- Now we're live from Atlanta, as Cheryl Miller is interviewing MJ about not starting. This has to be the dumbest controversy in the history of sports. I'm not kidding. Then again, if Larry Legend got screwed over like this by an ungrateful sleazeball like Vince Carter, I would have gone on a three-state killing spree.
(By the way, ever noticed how MJ never gets older? He's looked exactly the same for like 15 years. Same with David Robinson. Mystifying.)
5:05 -- Hey, it's another prime ad spot for the WNBA on an NBA telecast, even after years of research have irrevocably proven that NBA fans couldn't care less about the WNBA ... in fact, NBA fans become upset when they keep trying to shove the WNBA down our throats, so it's almost counterproductive. Anyway, here's their slogan for the 2003 season: "This is who I am."
I am a player in a league that nobody watches. I am a player in a league that had five teams either fold or relocate this winter. I am a player in a league kept afloat singlehandedly from the generosity of the NBA. I am a player threatening to go on strike, which has to be the funniest threat in the history of sports. This is who I am.
5:11 -- After a performance from Gladys Knight, Kool and the Gang comes out to sing "Celebration." Kool and the Gang? Where are Sister Sledge and Gloria Gaynor? Where are Peaches & Herb? What decade is this?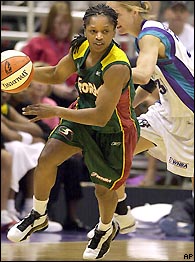 I'm the WNBA Players Association president, I'm driving the league out of existence. This is who I am.
5:12 -- Tonight's head coach for the West: The one and only Rick Adelman. I was ready to buy stock in things like "The West will blow a 12-point lead in the final five minutes tonight," then I remembered that Adelman was locking horns with Isiah Thomas tonight. Two of the greats. It's like watching Puck and Ellen feuding on "The Real World Road Rules Challenge" -- you don't know who's going to win, you just know that you'll be laughing.
5:13 -- Playing the role of "Steve Nash" tonight and every night ... Mr. Jackie Earle Haley!
5:16 -- Who else thinks the NBA should have hired James Brown to sing "Living in America" during the West intros, then dropped Yao Ming from the sky like Ivan Drago for his intro? And he could have looked all confused and stuff, and they could have interspersed shots of Confused Yao and James Brown, and then Warner Wolf could have been imported to exclaim, "I can't get over the size of that Asian!"
5:18 -- Antoine Walker's introduction reminds me of my buddy Gus' joke last night: "Now that Twan's done shooting his 3-pointers, the nation's Terror Alert has been dropped back to yellow."
5:21 -- Hey, Ben Wallace borrowed Buckwheat's hair for tonight's game! That's exciting. Meanwhile, everyone's reeling from the announcement that Vince Carter agreed to be replaced in the starting lineup by MJ. Did Vince do the right thing, or did The Powers-That-Be force him to do it? More importantly, does anyone really care?
5:28 -- Marv Albert, Jeff Van Gundy and Mike Fratello discuss Vince stepping aside ... wouldn't you love to have seen these three hitting Buckhead on Saturday night? Look out, ladies, it's Marv, Jeff and Mike! Pass the courvosier!
5:33 -- The game just started and we already had our first alley-oop ... Francis to his Houston homey Yao. I have to say, it's pretty cool seeing a 7-foot-5 center playing alongside a 7-foot power forward and a 6-11 small forward. I think we could battle other planets with this frontline.
5:35 -- Two horrible fast break passes in a row, one from Iverson, one from Kobe. That's probably my least favorite part of any All-Star Game, when everyone tries to throw Bird-Magic passes and can't pull it off. It's like an All-Star tradition, right up there with the players being tired and hungover.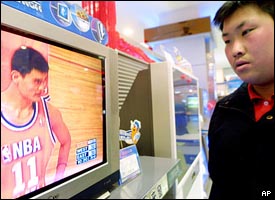 "I can't believe I didn't try out for Yao's posse."
5:39 -- MJ is already 0-for-6. This is like watching my Dad at the plate during the annual Simmons Family softball game -- you just hope he doesn't hurt himself.
5:43 -- First shot of Yao's old Shanghai Sharks teammates watching the game. Here's their buddy Yao, playing in the NBA, making good cash, endorsing products, hanging out with hot American groupies ... meanwhile, they're stuck in China making three yen an hour and looking forward to that two-day weekend they get every July. You know they're just bitter right now.
5:47 -- J-Kidd to MJ for the deuce. He's on the board.
(Phew.)
5:51 -- MJ misses a dunk. Ugh. What makes you feel older, watching MJ struggle in an All-Star Game, or watching Arnold Schwarzenegger doing anything? It's a toss-up, isn't it?
5:54 -- Interesting discussion from Van Gundy and Fratello about the poor success rate of lob passes. I really enjoy these guys. It's never good for the running diary when the announcers are actually good.
5:57 -- Good God, even Dr. Dre sells out these days. When he was singing lyrics like, "I'm gonna snatch yo ass from the backside, and show you how Death Row pulls off that hoo ride," and talking about how Easy E sucked inappropriate body parts, did you ever imagine that he would be cutting commercials for Coors Light nine years later? Me neither.
5:58 -- I love when TNT shows the montage commercial of their big programs, with the "TNT: We Know Drama" tag ... then we see promos for things like Chris Noth as Pompey the Great. Yup, you know drama. Mr. Big as Caesar.
6:03 -- I think somebody called in sick for the East ... Zydrunas Ilgauskas is playing right now. Hey, did you ever sing the words "Zydrunas Ilguaskas" to the song "Hakuna Makata" from "The lion King"? It's pretty fun. Zah-dru-nas Il-gau-skas! Zah-dru-nas Il-gaaaaaaaaau-skas! Zah-dru-nas Il-gaus-kas!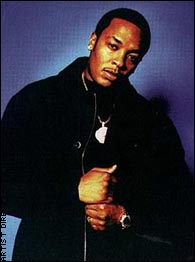 "After a hard day of gettin' hassled by the man, I like to kick back with a Coors Light."
(Is that song running through your head right now? Good. Now you know how I feel.)
6:08 -- On ESPN Classic right now, one of my 10 favorite movies of all time... that's right, it's "Fast Break"! Normally, that would be an insurmountable monkey wrench for tonight's diary, but I can't stomach the TV version of Fast Break -- it doesn't have the "Everyone eating bags of pot in the car" scene, or any of the wildly inappropriate racial stuff. I'm not watching out of protest.
6:14 -- Hey, it's Evander Holyfield. Somebody tell him that he's at the NBA All-Star game.
6:15 -- Quick recap of the last five minutes: Bad pass ... bad shot ... dunk ... bad pass ... bad shot ... dunk ... bad pass ... bad shot ... jumphook ... bad pass ...
6:16 -- I think I speak for everyone here: Any time they break out something like "The Skycam" for an NBA game, it makes me want to throw up in about three seconds. Can't we just stop with these NBA inventions? I'm still reeling from looking up Vlade Divac's shorts with ESPN's Floor Cam this winter. Who invented that Floor Cam, anyway? Were the ESPN execs sitting around going, "Hey, you know what our viewers might like? Looking up at the crotches of various NBA players while they're playing! They'll eat it up!"
6:17 -- On the bench, Shawn Marion tells sideline reporter Cheryl Miller, "I'm enjoying myself, man," and "I'm having a blast, man." Does he know something that we don't know?
6:20 -- MJ pulls into a 2-2 commerical tie with Yao (after ads for Nike and Verizon). This battle could rage on all night. Hey, who else thinks they should film a version of the "Younger MJ against Old MJ" ad where Younger MJ kicks his butt and doesn't let Old MJ score a basket, and then everyone feels sad and awkward? You know, kinda like right now?
6:23 -- Coming at halftime on TNT: John Salley reviews the winners and losers from the "Groupies Desperately Trying To Get Knocked Up By An NBA Player" Contest, held all over Atlanta this weekend.
6:25 -- Our halftime score ... I don't even know. Who cares? I'm too busy hearing Vince tell Craig Sager how he "stood by my decision," then explaining how he changed his mind and decided to give up his starting spot. That made sense. If you look closely enough, you can still see the imprint of David Stern's revolver on Vince's right temple.
Switch over to Cheryl Miller with Dirk Nowitzki, who looks like he's ready to put on a black satin shirt, buy some X and go rave-hopping right after the game. My head's about to explode. Time for a break.
***** ***** ***** *****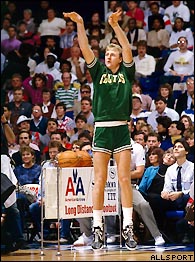 It didn't get better than Basketball Jesus & Co. back in '87.
Quick halftime topic for discussion: Which All-Star Game had the most talent? I'm not just talking about names, I'm talking about superstars, potential superstars and Hall of Famers at the right moment of their careers.
This game is off the charts -- Kobe, T-Mac, Duncan, KG, Shaq, MJ, Francis, Yao, Iverson, J-Kidd and GP -- with many of them still in their primes. But it doesn't hold a candle to the '87 game, with Bird, Magic and Isiah in their primes, MJ damn close, Barkley, Ewing and Hakeem on the horizon, Kareem and Doc fading into the sunset, Moses Malone just passing his prime, and even Worthy, 'Nique, Parish and McHale in their primes. Fourteen Hall of Famers in all, and we didn't even mention Alex English, Walter Davis or Mo Cheeks. And you know who won the MVP? Tom Freaking Chambers. Amazing. They should show that game every week on ESPN Classic.
Back to the diary ...
****** ***** ***** ******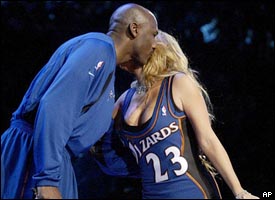 "That was great. I'm stayin' at the Hilton under the name J. Crumbs."
6:32 -- Ladies and gentleman, let's warm up the UCR Scale ... it's time for Mariah Carey's emotional halftime tribute to MJ. She's wearing a Bulls No. 23 jersey and singing while a big screen plays MJ highlights in the background. Can you imagine MJ's face when they told him about this? Mariah Carey? Seriously? Ummmmm ... do you want me to call Beyonce one more time to make sure she can't do it?
(By the way, and I think I speak for every American male here: Heavier, curvier, bustier and crazier Mariah Carey is infinitely more attractive than Skinny Mariah Carey. I will not argue about this. I just picture Mariah spending her afternoons walking topless around her Manhattan condo as she screams at assistants, "Where are my pills? Where the (expletive) are my pills?")
6:37 -- Is it possible to take an emotional love song seriously when the singer's breasts are about to pop out of a Wizards jersey? I think not.
6:40 -- Hysterical shot of Shawn Marion and Steph Marbury trying not to crack up on the West bench, followed by a shot of MJ with glazed eyes. That killed me.
6:47 -- Uh-oh ... our first real challenge to tonight's diary, a cameo from the Sports Puppy! That's right, I'm a Dad. Right now she's chewing on my right foo- OWWWWWWWWWWWWWW!
7:00 -- Craig Sager interviews Jeff Gordon, who has a "I used to be worth tons of cash, but then my wife filed for divorce, she took just about everything, and now I'm sleeping on a buddy's sofa" glow about him. Gee, I can't wait to get married.
7:03 -- I love when Shaq turns off that button in his brain that tells him, "You should be lively and interesting during this interview, and you definitely shouldn't mumble your words."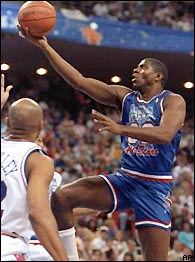 Who can forget the closed-minded fear of Magic's final All-Star appearence?
7:18 -- David Stern's favorite All-Star memory: "I don't have a favorite one ... there's just so many good ones." Way to go out on a limb, Dave. I wish he had just inexplicably blurted out, "My favorite All-Star Moment was the year when Magic got HIV and everyone was afraid to guard him."
7:26 -- T-Mac finishes the third quarter with 17 points. Meanwhile, tonight on Danny Ainge's "Things That Have Caught My Eye" ... Robert Horry's towel!
7:29 -- Well, it's official ... the SkyCam has made me cross-eyed. I feel like Shaq right now.
7:31 -- Sager interviews T-Mac, who seems genuinely bummed out that it's MJ's last All-Star Game. Is there a more likable, exciting player in the league than T-Mac right now? He won me over with the whole "Befriending the sniper victim" thing, then he was tremendous during the "MJ should be an All-Star starter" crisis. I think we're in good hands with T-Mac and Kobe for the rest of the decade. Seriously. All right, I'll stop ... I can't help it. I love this game.
7:34 -- All right, I have a new favorite moment tonight: The camera was showing Adam Sandler and Kevin Nealon sitting next to each other, so Marv says, "Adam Sandler ... new movie coming out ... blah blah blah ..." No mention of Nealon whatsoever! That had to hurt.
7:42 -- I love TNT's promos for "Shaq-Yao II" with the "Rocky" training music in the background. Then again, you could show two 85-year-old guys playing shuffleboard on a cruise ship, and if there was "Rocky" training music playing in the background, I'd probably get goosebumps.
7:44 -- Tonight's crunch-time lineups: McGrady, Iverson, O'Neal, MJ and Kidd against KG, Kobe, Nash, Nowitzki and Peja. Respectable. Sager reports that the two Celtics (Walker and Pierce) are upset because they hadn't gotten enough playing time (23 minutes combined). I love how VC got more minutes than Pierce in this game ... way to reward selfish, insensitive crybabies, Isiah. Well done.
7:48 -- The East goes up by eight on an MJ finger roll. Just like old times. Two minutes to play.
7:50 -- On ESPN Classic right now: D.C. Dacey is putting the moves on Swish after finding out that she's actually a woman. You know, I always wanted them to make "Fast Break 2," where D.C. knocks up Swish, fails out of Cadwallader, then flees the premises and disappears back to New York ... fast-forward 18 years later, when D.C. Dacey Jr. is the No. 1 high school player in the country ... now D.C.'s out of jail and trying to get back into Junior's life, only Swish and her lifetime partner Tonya won't let D.C. see his son. It would have been like "He Got Game," only with an editor, a better ending and a sense of humor, as well as cameos from Gabe Kaplan and Bernard King. Oh, like you wouldn't have enjoyed that? Hollywood's so dumb. Why do you think I rushed out here?
7:56 -- I was so immersed in "Fast Break 2," I didn't realize that the East blew an eight-point lead. Ten seconds left, tie game ... who's getting the ball? Has to be MJ, right?
7:58 -- MJ misses the fallaway in Marion's mug. Dammit. In the movies, that would have gone in. Overtime. Just what we needed, for this column to be longer.
8:13 -- Sorry, just had a mini-disaster here. Let's just say that the Sports Puppy was involved ... and there was some pooping. It always seems like a great idea to get a dog ... right around the 700th time you're picking up poop, the lightbulb goes off and you want to strangle yourself with a "Oops I Pooped!" bag.
By the way, the East is winning by one with 23 seconds left ... Shaq just missed a free throw ... and Isiah called a timeout to ice him before the second shot. Has anyone ever been iced in an All-Star Game before? I wish Apollo Creed's trainer was here to scream, "This was supposed to be an exhibition! An exhibition!"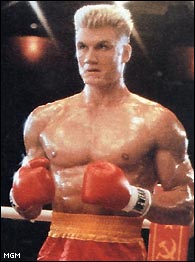 AP
MJ is not human, he is like "a piece of iron."
(And yes, that's two "Rocky IV" references in the same diary column ... as my ESPN.com contract requires. Glad we got those in.)
8:16 -- MJ hits an impossible fallaway with 4.6 seconds left. Great moment there. It's amazing how hard MJ has to work to get off a shot against a good defender ... he isn't just running on fumes at this point in his career, he's running on fumes from the fumes. Poor MJ. Please let this be the final season. I still feel like he could have another "Ali-vs.-Berbick" comeback in him. I worry too much about this stuff.
8:18 -- Jermaine O'Neal fouls Kobe behind the 3-point arc with one second left. Chintzy foul. I'm not sure how that gets called under the circumstances, but whatever. It's not like anyone really cares. Sadly, Kobe only makes two of three ... we're heading to double overtime. When you have Adelman and Isiah knocking heads, it's impossible for both teams to screw up the game -- it's like they're cancelling each other out.
8:25 -- Uh-oh. Mike Fratello is openly questioning Isiah's lineup and predicting bad things. I had 7:34 in the "Jimmy Kimmel Live" office pool.
8:26 -- I'm craving Sour Patch Kids right now ... unfortunately, the closest store is four blocks away. Kinda sad, huh? My first running diary from home without the Store 24 right outside. It's an emotional day. I can't tell you how much I miss Joe The Alcoholic Counter Guy. "Large coffee ... pack of Marlboro Lights ... pack of condoms ... that's $9.37 ... out of $20 ... $10.63 is your changggggggggggge ... AND WE THANK YOU! Nobody did it better than him. He was the only overnight convenience store worker with his own catch phrase.
8:28 -- Vince Carter is guarding KG right now ... there's no rational explanation. Why play Vince when you have Antoine Walker on the bench? Apparently, Isiah and KG struck a deal where KG keeps the trophy and Isiah gets the car.
8:33 -- The West wins the game, 155-145 ... KG wins the MVP with 37 points, plus 10 in the 2nd OT with Vince Carter on him. Also, I just stepped in a stray piece of dog poop.
8:37 -- MJ on how he'll remember tonight's game: "Double overtime, we lost, it was fun."
I agree. We'll return to our regularly scheduled programming -- "Road House" on TNT -- after these messages.
Bill Simmons is a columnist for page 2 and ESPN The Magazine, as well as a writer for Jimmy Kimmel Live. He'll examine the playoff contenders in the East and West over the next few weeks on Page 2 ... and he might even have time for a mailbag. So send him a question!