By Bill Simmons
Page 2 columnist
Editor's Note: This column appears in the March 3 edition of ESPN The Magazine.
Rick Pitino was the worst NBA coach I've ever seen.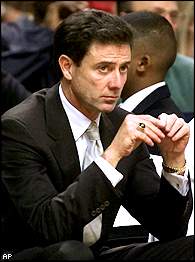 In Boston, success wasn't even a choice for Pitino.
Believe me, I'm not trying to diminish the John Lucas Era: If Lucas coached a couple of schoolkids in a game of hide-and-seek, someone would be filling out a missing person's report within 10 minutes. But the only expectations with Lucas were a trip to the lottery and the chance to see teammates fight during games. Pitino failed on a much grander scale -- he was the anointed savior of the holy Celtics. His struggles were apocalyptic in comparison, like watching an overhyped blockbuster such as Speed 2 crash and burn -- only for four years.
Now here's the strange thing: Pitino's also the best college coach I've ever seen. His vaunted "system," the one that failed so badly in Boston -- relying on athleticism and pressure and threes to create a frantic pace that wears opponents down -- happens to be just right for college. It worked at Providence, it worked at Kentucky and it's working at Louisville. In less than two seasons, Pitino has the Cardinals contending. It's the bizarro version of his Boston experience.
Quick recap: The Celtics pried Pitino from Lexington for $50M in '97, handed him the keys to the franchise, even stripped Red Auerbach of the presidency to make The Ricktator happy. And for one moment, it was a brilliant move: I can still see the players skipping off the court and high-fiving delirious fans after an opening night upset of MJ's Bulls. We blanketed our new coach with applause, as his face broke into an enormous grin. He was Michael Corleone meets Norman Dale. When he finally disappeared down the runway, he was every bit the conquering hero.
Little did we know then, things had peaked. Over the next three-plus seasons, he continuously shuffled players out of town, undermining the trust of the remaining ones, who figured they were next. Eventually, they quit on him for good. You could argue that Pitino the GM killed Pitino the coach. It's a pretty sound conclusion, considering he traded for Kenny Anderson's mammoth contract, passed on Tracy McGrady, swapped a lottery pick for Vitaly Potapenko and signed Travis Knight and Chris Mills for a combined $47M. But I was there. I saw Pitino adhere stubbornly to his system: shuttling guys like chess pieces, micromanaging every second of every game, sticking with presses the team couldn't possibly sustain over a full season -- in short, slowly sucking the life from his players. And as the losses mounted, his infomercial rhetoric about "staying positive" and "coming together" made him sound like a cheesy used-car salesman.
Poor Pitino never got that you have to treat professionals like men, adapt your system to their talents, remain loyal. You can't bark orders like a drill sergeant and you definitely can't hog the limelight. When Pitino ranted that Boston fans had to face the fact "Larry Bird isn't walking through that door," he was missing the point. We just wanted a real coach.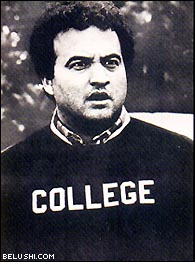 More coaches need to listen to Bluto's mantra -- stay in school.
After he finally bailed in January 2001, Pitino deemed his tenure the biggest failure of his career. We might have felt sorry for him, too, except he dissed Antoine Walker on the way out and whined he wouldn't have taken the gig in the first place if he knew Tim Duncan wasn't planning on coming, too. Meanwhile, the Celts rallied, coming within two wins of the Finals the next year (with basically the same roster from his final season, by the way). The verdict stands: Rick Pitino is the worst NBA coach I've ever seen.
So why am I dredging this up now? Because I was rooting against Pitino and Louisville -- vehemently -- until I caught him on Pardon the Interruption recently. Kornheiser asked if he planned on coaching in the NBA again, and Pitino quickly shook his head no, explaining, "You know, guys, I really don't believe I'm good at professional coaching."
Say what you want about the guy: At least he's seen the light. Like Pete Carroll, John Blutarski and -- trust me -- Dennis Erickson, Rick Pitino was meant to stay in college. Fans of NBA teams everywhere better hope he keeps it that way.
Bill Simmons is a columnist for Page 2 and ESPN The Magazine, and he's a writer for Jimmy Kimmel Live.