By Bill Simmons
Page 2 columnist
Editor's Note: This column appears in the March 17 edition of ESPN The Magazine.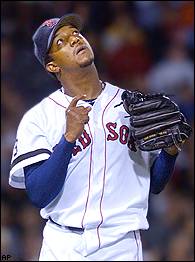 AP Photo/Michael Dwyer
It seems only Whatif can deliver a ring for Pedro.
The night before Super Bowl XXXVII, San Diego's W Hotel was an Us Weekly dream come true. Celebs crowded the bar, flanked by entourages and flackies, everyone dressed to the nines. Girls didn't look like Tara Reid, they were Tara Reid. Naturally, my pal Hench could think only about his simulated baseball teams. When I tracked him down, he was hunched behind the concierge's desk, having hijacked the man's desktop to make bullpen moves. As Hench rested Tom Burgmeier, oblivious to the hottest party in America, it dawned on me: The world needs to know about www.whatifsports.com.
Warning: If you "enjoy" fantasy baseball or Strat-O-Matic a bit too much, if you've allowed a website to take over your life, if you're obsessive-compulsive, or if you're just a nerd, stop here. I'm about to offer the equivalent of a crack pipe with the promise, "Try it, you'll like it." Seriously, run for your life. Everyone else should consider this a cautionary tale.
For the past two years, I've been hooked like a Nolan Ryan curveball on Whatif, a sim engine that assigns "salaries" for every player's statistical season since 1885. You have $80 million to spend on a 25-man roster, so if you want you can overload on pitching, teaming Cy Young winners like the '86 Clemens (Whatif price: $10,976,523) and '99 Martinez ($12,621,776) with, well, Cy Young ($21,862,135). Some owners just collect all their favorite guys on the same team (like me). There's no can't-miss formula, although you can waste many hours searching for one. And with 24-team leagues and a 162-game, three-month schedule (three games a day), there's ample opportunity to make roster moves, lineup tweaks and Triple-A call-ups. If you can't actually manage the simulated game as it happens, you can savor play-by-play transcripts after, as if you were reliving a real game.
Hey, there are worse things to do on the Internet, right?
This is the ultimate gift from the procrastination gods. Most people check their e-mails; I check Whatif. My buddy Gus and I waste 30-minute phone calls on Whatif stories. We launch in-house leagues at ESPN every few months, most of them won by trash-talking Brian Kenny, the Steinbrenner of Bristol. When I started on Jimmy Kimmel's show, I quickly converted two co-workers (Hench and Sal); now the day doesn't start until we've babbled on about the previous night's games.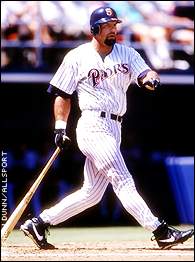 Ken Caminiti's estimates of 50 percent steroid use in baseball was clearly pumped up.
How many teams have I fielded? Um ... 24. In two years. At $9.95 a pop. After initially floundering with a few all-Red Sox squads, I fell short with wackier teams like Crack Attack (starring Gooden, Straw, Caminiti and the immortal Steve Howe) and the Guys-Who-Died-During-Their-Playing-Career team. Yes, I'm headed straight to hell. But no matter what tactic I tried, I couldn't win the big one. The most successful Whatiffers favor contact hitters with high on-base percentages and pitchers with few walks. And they search endlessly for glitches in the game. For instance, change your reliever settings to "Use closer only in save situations," and the '24 Babe Adams (1.13 ERA in 39 innings, $2.2 million) resembles the '90 Eckersley (0.61 ERA, $10,108,936). That is, he's unhittable. Cheating? Maybe. As Hench recently hissed, "Eighty years ago, I'll bet Adams was bragging, 'Someday, I'll be the greatest simulated closer in history.'"
Recently, after blowing a second Whatif World Series Game 7, I felt as jinxed as my beloved Bosox. Desperate for a title, I swallowed my pride and emulated the Whatif nerds, building around trendy on-base guys (like the '93 Tony Phillips, $4,305,384) and good-hitting pitchers (like the '84 Rick Rhoden, $6,707,255). After a 113-win season, I faced another dreaded Game 7. This time, Rhoden came through for me, twirling a two-hitter before '16 Slim Sallee (Giants, $5,432,899) slammed the door. Victory! After we read the play-by-play together, a euphoric Hench poured sparkling water on my head.
When I told that story to a horrified Sports Gal, she contemplated packing her bags before figuring, "Well, now you won't have to waste your time on that stupid website anymore."
Yeah, right. Doesn't she understand that I need to win it all with an all-Red Sox team before Hench does? I better start working on my roster right now.
Bill Simmons is a columnist for Page 2 and ESPN The Magazine, and he's a writer for Jimmy Kimmel Live.