By Bill Simmons
Page 2 columnist
Did you attend the Celebrity Baseball Game at the All-Star Game again? I saw Jimmy Kimmel belly-flop while going for a pop-up in front of home plate. He must have been distracted by the Bachelorette in center field. Were you there? --Jackson P., Tampa
Actually, I was. The circumstances were slightly different -- because Jimmy and Adam Carolla were playing in the game, we sent a crew down to Chicago to film something for Jimmy's show -- but I still managed to jot down some notes. Here were my Top 10 most memorable behind-the-scene moments: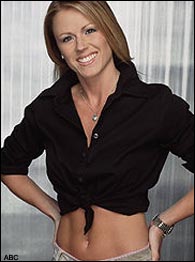 Apparently, the cameras do too much justice for Trista.
1. Sharing a bus ride to the stadium with the Bachelorette (Trista) and her fiancee Ryan (sadly, he didn't bring any of his poems). As if that wasn't enough, our bus stopped at the Ritz and picked up Andrew Firestone and his fiancee. That's right ... we had the Bachelor and the Bachelorette on the same bus. Let the record show that Mrs. Bachelor was considerably cuter than the Bachelorette. It was no contest. This was like Roddy Piper versus Frank Williams. That had to be the upset of the day.
(Also on the bus: Shannon Elizabeth. She was adorable. It's always weird to see a celebrity in real-life after you've seen them naked in a movie. You almost feel like you've hooked up with them or something.)
2. Seeing they misspelled Adam's name on his Brewers throwback uniform ("Corolla" instead of "Carolla"), which became the running joke of the day. It's never a good sign when they spell your name wrong in a celebrity softball game. Adam didn't mind; he even freely admitted, "You know, I'm right on the cusp on not being enough of a celebrity to be in this game."
(Note: Carolla swatted a triple, got robbed of a double by Harold Reynolds, then made a leaping catch in the final inning to insure the win. Plus he won bragging rights over Jimmy, who flubbed a pop-fly and got snookered by Bo Jackson on a hidden ball trick. Later that night, Adam said that it was one of the 10 great nights of his life, right up there with meeting Adrienne Barbeau. I'm not sure if he was kidding or not.)
3. Seeing Ernie Banks sitting in front of his locker ... shirtless. I will now light myself on fire.
4. Fighting off the urge to tell Bo Jackson that he was the greatest video game athlete of all-time. That his one Tecmo Bowl season in Oakland would never be topped. That we'll be telling our grandkids about his 99-yard runs from the line of scrimmage even after defenses called his running play. That "SportsCentury" should definitely do a show just with people telling Video Bo stories. That he touched an entire generation of videoaholics. Does he know these things? I really wanted to tell him.
4a. Watching Bo (about 45 pounds heavier than his playing days) taking softball BP, then having the following exchange with my friend Sal:
--Me: "Was Bo the greatest athlete ever? Has to be, right?"
(Bo swings and misses at a pitch.)
--Sal: "Maybe not."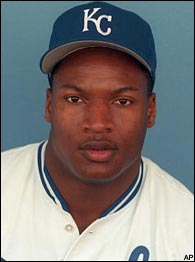 In his retirement days, Bo knows Krispy Kreme.
5. Seeing everyone donning throwback jerseys from back when they played ... and suddenly realizing that Wade Boggs was wearing a freaking Yankees jersey. Just an outrage. I spent about an hour debating how to confront him about it ... we finally had this exchange:
--Me: "Yo, Wade, why the Yankees uniform?"
--Wade (briskly walking by me, never stops): "The Hall of Fame picked it, it was in my locker."
(Sorry, I was hoping for an answer like "Come on, remember how I played 12 years in Boston and latched onto the Yankees just to get a ring? Don't forget, I have no soul." Didn't happen.)
6. Seeing Rollie Fingers up close. When they open the "Great Mustache Hall of Fame," Rollie Fingers has to be a first ballot inductee, right?
6a. Having a long enough conversation with Bret Saberhagen that I felt comfortable calling him "Sabes." It's always fun to call a grown man "Sabes."
6b. Fighting off the urge to clothesline Gary Carter for the damage he inflicted on Sox fans in '86. Somehow I did it. Still hate him, though. By the way, where does "Seeing an older, heavier Gary Carter without his trademark perm" rank among the most disorienting sports encounters? It's right up there, isn't it?
7. Meeting the immortal Ian Ziering. Yes, you read that correctly. Not only did he play in the game, he was still milking that "90210" credit from five years ago. Of course, during his decade-long reign as Steve Sanders, Eye-Zee straddled the line between "entertaining" and "unintentional comedy galore" like nobody in Hollywood.
There was the cheesy blonde mullet that ranked right up there with Larry Bird and Randy West. There was the unparalled acting, which ranged from "So wooden that he might catch on fire" to "Am I crazy or did he just nail that scene?" There were some of the best volleyball scenes caught on camera this side of Peter Horton and Tommy Howell in "Side Out." There was the fact that he was about eight years too old to be playing a high school kid, which only became worse when Steve went to college and his hairline started receding. And there was my personal favorite moment: Steve celebrating his 21st birthday party on a cruise ship when he was like 35 in real life.
Let's face it: The world is a richer place because of Ian Ziering. And not only did I get to meet him, we even hugged. In the words of Jim Nantz, "What a moment!"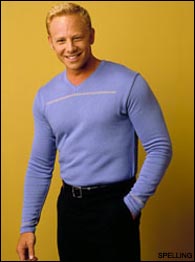 Not since Ralph Malph has someone gotten so much out of so little fame.
(By the way, the starting catchers for the game? Eye-Zee and Jimmy Kimmel. It was like Munson versus Fisk all over again. Before the game, Jimmy went over to Goose Gossage to jokingly say, "Let's go over the signs." So Goose told him, "Just do what Munson did." Then he waved his hand towards his chest, as if to say, "Bring it." Everyone cracked up. Nothing beats old baseball players rattling off baseball jokes.)
8. Hanging out in the locker room before the game, when everyone was waiting for the Futures Game to end. Totally surreal: Just about every relevant legend from the '80s was there, along with a handful of goofy celebrities. Bo was talking to Ozzie. Wade was talking to Goose. Freddie Lynn was talking to Eye-Zee. And in the middle of this, Adam was telling Dean Cain about his plan to start a Hollywood rumor about himself. Instead of spreading the word about his locker room prowess, Adam wanted to plant a rumor that he had a giant scrotum. That led to this exchange:
--Adam: "Here's the deal. Everyone lies about penis size. Well, you never hear someone say something like, 'Hey, there's Adam Carolla, I heard he has a giant scrotum.' It's so random, people will actually believe it."
--Dean: "Um ... I think I'm gonna head out onto the field ..."
9. Meeting Freddie Lynn. Honestly, I'm not ready to talk about it yet ... but I will tell you this: Before the game, I called both of my parents to tell them about the meeting. I mean, it's not every day you get to meet your boyhood idol. My Mom was predictably blown away. Meanwhile, here was Dad's response:
"Did you tell him that he would have been a Hall of Famer if he stayed in Boston?"
(Classic Dad. Twenty-one years later, he's still bitter that Lynn signed with California when his swing was tailor-made for Fenway. I think Dad could be on his death bed and somehow bring this up in his final 10 breaths.)
10. Stepping onto the field. Lemme tell you something ... it doesn't get much better than walking onto a major league baseball field with 30,000-plus people in the stands. You can't even really describe the feeling. Even when you're at a generic park like US Cellular Field.
Some other e-mails ...
Write more COLOMNS! --Josh Ogden, Boston
I'm tryang.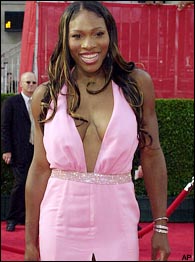 Serena took a cure from the Sports Guy when she got ready for the ESPYs.
There was one typo in your last mailbag column (the question about Serena Williams) that gave me pause: "Wouldn't a shocking nude scene in some suspenseful cop thriller with Taye Diggs send America into an absolute tizzy? And can you imagine Bud Collins' rection? They'd have to carry him out of the theater."
Presumably you meant "Bud Collins' re(a)ction." But the missing letter could just as easily be an "e" at the beginning of the word. I'm not sure that I'm ready to imagine Bud Collins' erection. --Matt V., Chicago
You'll be happy to know that I meant "reaction." But that's why you have to love the mailbag. Where else would you think about a Bud Collins erection?
My buddies and I were discussing the best "GET WASTED EVENTS." You know, events that people tend to go way overboard with the drinking. Here is our list:
1. Weddings
2. Bachelor Parties
3. Sporting Events
4. Concerts
5. Booze Cruises
6. Vegas
Anything you would add? -- Tom Scrum, Boston
I would switch booze cruises and sporting events in the order -- booze cruises should be rewarded for having the term "booze" in the title. I would move Vegas up, only because casinos keep pumping in that oxygen and turn everyone into superhuman drinkers. And I would stretch this out to a Top 10 list and add Mardi Gras; Spring Break; any Christmas party; any Hollywood wrap party; any dinner with my Mom; football tailgates; and my personal sleeper for this entire list:
Any Sunday in Boston or New York where the hometown NHL team and NBA team are playing on the same day, so there's that three-hour layover when you leave MSG or the Fleet Center so they can change from basketball to hockey ... and everyone just spills out to the local bars and gets plastered. A wildly underrated sports day. One of my favorites.
FYI: Jim Caple took a shot at you in his review of Skydome. Just figured you should know. --Mark Truman, Naples, ME
Who's Jim Caple?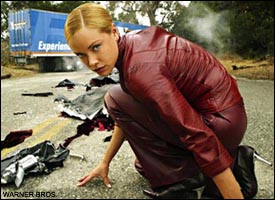 The Terminator was actually recruited by Geno Auriemma.
Hey, why didn't Arnold just trick the female terminator into morphing into an WNBA player? John Connor could easily have outrun a TX-1000 with a torn ACL ... the producer even could have paid UConn to have her wear a Shea Ralph jersey when it happened. -- --Michael Kelley, Holliston, MA
(Giggling.)
Where does Adam from "Real World Paris" rank on the Unintentional Comedy Scale when he starts rapping? Is it possible that he beat out David from New Orleans for Most Hilarious Musical Performance on a Reality Show? It seems like a record we would never see broken, but here we are witnessing history. --Ken Sandak, Connecticut
Wait a second ... let's not get carried away. David unleashing that "Skeedopple beedopple bee" song on an unsuspecting nation was like Wilt Chamberlain scoring 100 points in a game -- nobody will ever approach it. But Adam's rapping still ranks a solid 96 on the UCR Scale; it isn't just the singing, it's lyrics like "I will not hide my family pride" that really pushes it over the top.
I have no problem sticking him into the Pantheon of Real World Moments, which includes:
David's girlfriend dumping him in a car ("RW: Seattle"). I don't think I've ever enjoyed a breakup more, from David screaming "You're killing me, Kira! You're killing me!!!!!!!!" to him in the confessional, looking into the camera and crying, "You want the real world, this is it, right here!" That's always a fun line to break out at parties.
Stephen slapping Irene ("RW: Seattle"). This becomes more and more astounding as the years pass -- they actually let him stay in the house after this. And he whacked her!
David punctuating a put-down of Beth with "That's why you have those big hairy pimples on your face!" ("RW: Los Angeles"). Probably the most horrible thing ever said on any television program, ever.
Pedro screaming at Puck about eating his peanut butter ("RW: San Fran"). There was a time when I could rattle off Pedro's entire, incoherent speech. Needless to say, I was unemployed and living at home at the time.
Tammy getting an abortion because the father didn't make enough money ("RW: Los Angeles"). And she ended up marrying (and divorcing) Kenny Anderson two years later. High comedy.
The first time Amaya referred to her breasts as "The Twins" ("RW: Hawaii").
The threesome in the shower ("RW: Miami"). A watershed moment for the show -- the night the lightbulb finally went off for the producers, when they realized, "Hey, it doesn't hurt to have a couple of bimbos on the show."
Steven nearly kicking Brynn out of the house ("RW: Vegas"). An emotional rollercoaster from start to finish. Bonus points for Steven's classic quote after the house meeting, "I thought I made some really amazing points."
(And if I forgot anything ... forgive me.)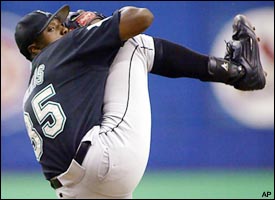 Mr. Willis? The doctor will see you now.
How much money can the Marlins save by pre-paying for Dontrelle Willis' Tommy John surgery? --John Czahor, Chicago
That was this week's "Really evil e-mail that made me laugh out loud."
Why does everyone say there is an asterik next to the Spurs '99 championship? -- Pete Wantuch, Waukesha, WI
That was the lockout season -- just 50 games, no exhibition season, and everyone showed up out of shape because the lockout ended so abruptly. The whole thing was a disgrace. If that wasn't bad enough, that was the season right after MJ retired, but before Phil Jackson arrived in Los Angeles and whipped everyone into shape. Hakeem, Ewing and Barkley were getting old. None of the younger stars (Iverson, McGrady, Carter, Pierce, Garnett) were quite ready yet. Indiana probably had the best team, but that was the year when Dick Bavetta won series MVP in the Knicks-Pacers series. And the Spurs just snuck through the back door.
Put it this way: An eighth seed shouldn't make the NBA Finals ever. And no team should ever win a championship with Avery Johnson running the show. Just a dreadful season. It never happened.
Speaking of San Antonio ...
Have the Spurs guaranteed themselves a repeat with the signing of Robert Horry? It seems someone besides you, namely Spurs management, noticed that Horry or Steve Kerr has been on each of the last 10 NBA champions. What kind of odds are they getting from Vegas? Aren't they a lock? --Doug Breckner, Huntington, NY
Here's my vote: The karma from Horry and the karma from Kerr cancel each other out. It's like putting two batteries against one another the wrong way.
One more thing about Horry: I've been TiVo-ing old NBA games this summer on NBA TV, just because I need to find new and improved ways to annoy the Sports Gal when our TiVo only has 30 hours on it. Anyway, I watched Game 1 of the Orlando-Houston Finals in '95 last week -- the Nick Anderson Game, when he gagged on four straight free throws to seal the game in regulation, then Kenny Smith nailed a three to send it into OT (and Anderson's career was never the same; underrated game). So who hits the two biggest threes in OT? Big Shot Rob. Unbelievable.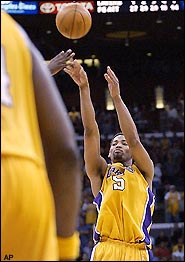 When the game is on the line give the ball to Horry.
Somebody needs to go through Horry's playoff games, pluck out all the big plays and shots, then run them in sequence for like 10 straight minutes, with one of those cool sports video songs playing (like Aerosmith's "Dream On," or Led Zeppelin's "The Rain Song"). Who wouldn't enjoy that? I bet Horry made at least 20-25 humongous shots over the years. Seriously.
(One more note on those old NBA games: Two weeks ago, ESPN Classic ran an old game from 1992 between the Warriors and Sonics. Absolutely no reason. Neither team was really that good, nothing out of the ordinary happened ... it was almost like someone got drunk in the control room and stuck in the wrong game. Either that or they're trying to drive me crazy. I'm still looking for an explanation. These are the things that keep me awake at 2:30 in the morning.)
Can you write something about Reggie Lewis on the 10th anniversary of his passing? He was an incredible person and player, and I would think it would benefit a lot of people and athletes today if they were aware of his accomplishments and how he carried himself through his short-lived career. --Brian Janowsky, Pittsburgh
Done. I'll keep this short and sweet.
Reggie was one of the true good guys. Handed out Thanksgiving turkeys in Roxbury before anyone else in Boston even thought of the idea. Always played with a smile on his face. Even when he argued with referees, his heart was never really in it -- he was just too nice of a guy. In the early-'90s, as the league devolved towards trash-talking and chest-thumping, Reggie stood out like a sore thumb: no tattoos, no agenda, no chirping, nothing. Just a guy who could score at will.
My favorite thing was watching him on fast breaks: the way he cruised down the court, his elbows stuck to his sides, then he would kick it into another gear. Suddenly, he was gathering a pass and exploding towards the basket, and you waited for this ferocious dunk that would bring the house down ... only to watch him place the ball through the basket with two hands, like a guy shutting a window. And he would jog back upcourt with a sheepish grin. Too cool.
He always raised his game when it mattered, like the '92 playoffs, when he averaged nearly 28 a game, or any of his spirited matchups against Reggie Miller and MJ. Like most great scorers, Reg had one unstoppable move -- his pull-up jumper, released from the top of his head, his elbows right in the defender's face. Nobody could handle it. After Jordan's first retirement in '93, Reggie could have become the best remaining 2-guard in the league. Think about it: Drexler was getting old, Miller didn't have the same all-around game, and Richmond didn't have the playoff resume.
We never found out.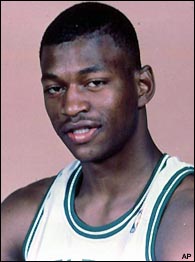 Once again the Celtics were robbed of a precious link to their future.
When Reggie died of heart failure that same summer, it was like one of those "Where were you when Kennedy got shot?" moments for me. I was stopping in front of the Boston Chicken in Allston to pick up some chicken soup. Suddenly WEEI came in with a news flash -- Reggie had collapsed (second time in three months) and things looked really bad. And I just sat there in my car for the next hour, listening to all the reports, finally coming to grips with the fact that Reggie was gone. I was numb. I didn't even know him ... but I felt like I did.
Every Boston fan felt that way. And I'm not mentioning everything that happened after his death, because none of it matters now. Let the man rest in peace. On Sunday night, I'm flipping on ESPN Classic and watching Game 3 of the Cleveland series from '92, when Reggie was torching Craig Ehlo, when the Garden was chanting his name, when nobody on the Cavs could stop him. He played college ball at Northeastern, he replaced Larry as Celtics captain ... he belonged to Boston.
And I still miss him. Even now.
Bill Simmons is a columnist for Page 2 and ESPN The Magazine, and he's a writer for Jimmy Kimmel Live.