By Bill Simmons
Page 2 columnist
Editor's Note: This column appears in the August 18 edition of ESPN The Magazine.
Just days after my beloved Red Sox lost the '75 World Series, I dressed up as Fred Lynn for Halloween. My parents bought me a No.19 Sox jersey with matching pants, dusted off my Sox cap and baseball glove, smeared charcoal under my eyes ... in minutes, I was Freddie Lynn. I felt like Superman busting out of the phone booth. Cut me some slack: I was 6.
It was different then. Baseball was still the national pastime. Fans hadn't been jaded by strikes, drug scandals and skyrocketing prices. And little kids didn't have cable TV, DVDs, the Internet and whatever else to distract them. Trust me, there really wasn't much else to do. We didn't sell baseball cards, we played with them. We didn't play video games, we went outside and played.
So when a rookie centerfielder carried the Sox to the pennant, winning every award imaginable in the process, it still meant something. With Freddie's Hollywood looks and his looping, magnificent swing, it was as if an actor were playing him. He made headfirst catches look easy: gliding across the field, then lunging at the last possible moment, his body skidding along the grass like a surfboard. He was the next Joe D, the coolest guy on the field.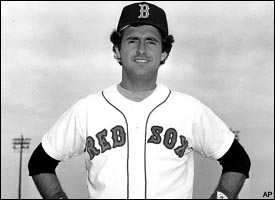 The Sports Guy always admired the sweet swing of Freddie Lynn.
Like every other kid in New England, I wanted to be just like him. I tossed pop-ups to myself in the backyard, then dove headfirst for them. I copied his swing (to no avail). I practically stopped breathing when he crashed into the Green Monster (Game 6 against the Reds). I stockpiled his baseball cards like the Blazers collect head cases. I vented about how he should have been MVP in '79. And, yes, I fought back the tears when he forced a trade to California in '81, the biggest mistake of his career (that swing was made for Fenway).
I followed him after he left, but it wasn't the same. Although he wasn't a Hall of Famer, he had a nice résumé: multiple All-Star appearances, best centerfielder in the majors for a decade, an unequivocal icon to every kid growing up in New England in the '70s. I've carried his 1975 Topps card around with me ever since I bought my first wallet. It's a good luck charm. I'm afraid to take it out.
I'm telling you this because when I started writing about sports for a living, I knew there was a Fred Lynn column in me. I knew our paths would cross, I knew I'd write about it ... I just didn't know the ending. Was my boyhood idol a good guy? Part of me didn't want to find out. When you meet celebrities, it's almost always unsatisfying. They mean something to you; you mean nothing to them. They know nothing about you; you think you know everything about them. You want something from them -- approval, acknowledgment, an autograph -- something; they just want you to go away. It's a crummy process. And sometimes it hurts.
So when our paths crossed in Chicago last month -- at the Legends and Celebrity Softball Game, of all places -- I was terrified to approach him. During batting practice, I tailed him around the field from 15 feet away; I may as well have been wearing a raincoat and infrared goggles. Meanwhile, my friend Jimmy was saying, "You're a wimp. I'll grab him when he's done."
And so it happened: I met Freddie Lynn. Shook his hand. Told him about Halloween. Reminisced about the magical season in '75. Even showed him the card in my wallet. As it turned out, he was happy to see it, so delighted by the memories that he called his wife over to show her. Then he signed the back with a red Sharpie. We shook hands again, and that was that. As celebrity encounters go, this was as good as it gets.
Looking back, the timing couldn't have been better: I was pretty disgruntled about sports, thanks to Kobe's mess. In any given year, maybe a dozen events disappoint the hell out of you, shake your faith, make you care a little less. And then your childhood idol turns out to be a good guy ... I mean, you can't put a price on that.
I finally have an ending for my Freddie Lynn column. And it's a happy one.
Bill Simmons is a columnist for Page 2 and ESPN The Magazine, and he's a writer for Jimmy Kimmel Live.