By Bill Simmons
Page 2 columnist
It's time to clean out the mailbag again, so let's get right to the most intriguing questions:
Q: Over the July 4 weekend, I made a woman watch "Field of Dreams" because she had never seen it before. After the movie, she totally trashed it and said, "So what is the deal with his father anyway?" Of course, I will not be seeing this woman anymore. Is the "Field of Dreams" Test much like the "Door Test" Sonny promoted in "A Bronx Tale"? Do all men find along the way their test for present and future girlfriends? And do you have a test that the Sports Gal passed? -- Ryan Goldberg., West Long Branch, N.J.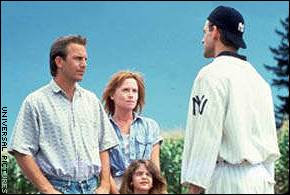 If you don't shed a tear watching "Field of Dreams," you might have serious issues.
Sports Guy: Hey, you already know where I stand. I think the world is separated into two kinds of people -- people who loved "Field of Dreams," and people who don't have a heart. If I were dating a woman and she said she didn't like "Field of Dreams," I'd immediately dump her. I'm not kidding, either. It says a lot about a person where they stand on "Field of Dreams."
To answer your other question, when I was single, I never really had one big test for prospective girlfriends. It was more like a series of smaller tests: If they liked "Field of Dreams," "Halloween" and "Hoosiers;" if they got along with dogs; if they laughed at the "Jackie Rogers Jr.'s $100,000 Jackpot Wad" sketch on "SNL"; if they felt comfortable wearing the Bird jersey to bed; if they didn't mind the fact that I watched 12 straight hours of football every Sunday; if they put up a token fight to pay on one of the first few dates; if they liked going to Celtics games; and so on. I was pretty picky. Now I'm married, and I might as well be dead.
Q: I've heard a rumor that Dale Jarrett will be moving to the No. 1 (DEI) car next year. Has this become a common rumor, and if so, is there any truth to it? -- Niall, Tuscaloosa, Ala.
SG:
Um, yeah. That's what I'm hearing.
| | |
| --- | --- |
| | RECOMMENDED READING |
| | The Sports Guy's readers always take care of him with a few links that he just can't miss: |
Q: Is Johnny Damon going for the "Unfrozen Caveman Lawyer" look? -- Doug Gascon, Falmouth, Mass.
SG:
Here's the weird thing: Two years ago, the Sox had Craig Grebeck and he was going for the same look. It was creepy. Now he's gone, and Johnny D has slowly taken over that same look.
I'm sorry, I didn't mean to miss that sign for the suicide squeeze. I'm just a caveman. Your world confuses and frightens me. I hear you refer to the Green Monster and I think to myself, "My God, that huge wall is going to attack me ..."
Q: I would have to say that the "Stop Staring at My Daughter" Face needs to be added to the the Pantheon of Faces. My summer job is giving tours to prospective college students (read: 18-year-old-girls), and I get the face about 10-12 times a day. It is also prevalent in any public place and that awkward moment when you meet your girlfriend's father and it turns into the "I know what you're doing with my daugher, and I don't like it" face. -- Liam Kerr, Needham, Mass.
SG:
Absolutely. And while we're here, let's add one more face to the Pantheon: The Keon Clark "Wait a second, I just got traded to Utah?" Face. I didn't see it ... but I bet it was magical. Imagine poor Keon in Utah? This kills me for some reason.
Q: Just read your underrated movies column. Where in the hell was "Hot Dog: The Movie"? -- Rob Rosson, Dallas
SG:
Totally forgot about that one, along with a few others. In retrospect, I also should have expanded the list to 15 and included "Outside Providence" and "Dirty Work," movies which were apparently much more popular than I originally believed. Thankfully, the readers came through with tons of suggestions, which I narrowed down to an "Honorable Mention B-List":
1. "Hot Dog: The Movie":
Campy skiing flick with some surprisingly funny scenes and some great skiing action ... maybe the best ski sequences ever caught on film.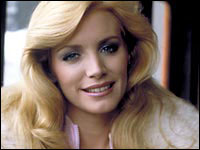 If you're a male between the ages of 31 and 36, you remember Shannon Tweed in "Hot Dog."
(All right, that's complete crap. I made it up. But you know how people remember where they were when JFK got shot? Well, that's how all the guys born from 1967-1972 feel about the first time they caught Shannon Tweed's hot tub scene in "Hot Dog" on HBO. It was life-altering.)
2. "Freeway":
The movie that put Reese Witherspoon on the map.
3. "Blood In, Blood Out":
Traces three Latino gang-member brothers over a couple of decades: One becomes a heroin-addicted artist; another ends up in jail; the third one ends up as an undercover cop. Unfortunately, Benjamin Bratt was the only one of the brothers who could act. Still, this movie came damn close -- $10 million more in the budget, and it would have been fantastic. Great prison scenes, too. Top of the line.
4. "Body Double":
Could have been a classic ... except Brian DePalma casted Craig Wasson as the lead. An egregious mistake. Like handing over a Super Bowl-caliber offense to one of the Detmer brothers. Still worth seeing though.
5. "Bad Influence" and "Masquerade" (tie):
Two Rob Lowe "thrillers" from the late-'80s that actually weren't half-bad. Bonus points to "Masquerade" because the gay guy from "Melrose Place" was prominently involved. Always good to see him getting work.
7. "Funny Farm":
I guess this all depends how you feel about Chevy Chase. I remember seeing this with my buddy Gus in one of those dead theaters where nobody was laughing at any of the jokes. ... Gus just kept laughing and laughing, and people were turning around and looking at him and stuff. I felt like standing up and screaming, "What the hell are you people doing here? Chevy Chase is a genius! You people should leave! Leave! Just go home! Let Gus laugh at this man in peace!" But I didn't.
8. "Crazy People":
You have to be in the right mood. Preferably altered in some form. And yes, I just recommended a Dudley Moore movie.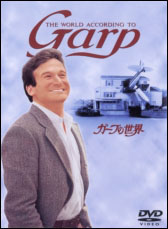 After further review, "The World According to Garp" is definitely one of the most underrated movies of all time.
9. "Running Scared": Cops Billy Crystal and (the late) Gregory Hines bring down Chicago druglord Jimmy Smits. The quintessential '80s buddy cop film (you barely even notice that Crystal is 5-foot-5 and kicking everyone's butt). Bonus points for any movie that successfully incorporates a Michael McDonald song into the plot.
10. "World According to Garp":
This was the biggest omission. I've been kicking myself for a solid week. "Garp" was a
great
movie, probably the best one Robin Williams ever made. And it still holds up 20-plus years later. In retrospect, I would move this into my Top 12 Underrated and make "Silent Rage" honorable mention. Alas. One more thing: In an astounding coincidence, "Last American Virgin" was re-released on VHS and DVD on Aug. 5, three days before I posted my column and named it No. 1 (mainly because it wasn't on VHS or DVD). Talk about your weird coincidences. Needless to say, I bought the DVD and found that the movie -- which I hadn't seen in years -- was surprisingly dated, making me wish that I had named "Just One of the Guys" No. 1. This could haunt me for the rest of the summer.
Q: All right, if you took Larry Bird's hair, Shaq's eyes, Joe Torre's eyebrows, Baron Davis' teeth, Rollie Fingers' mustache, Dikembe Mutombo's voice, Ricky Henderson's language, Jay Fiedler's ears, and Merton Hanks' neck, and somehow morphed them onto one body, then had Jim Gray interview it, wouldn't that be the first over-100 score on the unintentional comedy scale? I'm sure you can find a mad scientist in L.A. somewhere. -- Dan, Pittsburgh
SG:
Great idea, even if you went with Rollie's mustache over Dave Wannstadt's mustache. Here's what you missed: Paul Mokeski's chin ... Randy Breuer's back hair ... Ken Linseman's neck hair ... Danny Schayes's goggles ... the clump of white on Rasheed Wallace's head ... Phil Jackson's arms ... Larry Johnson's initials carved into the back of his head ... John Bagley's body ... and Bruce Bochy's humongous head. And yes, that combination would crack the 100-barrier.
Q: Besides Rusty Kuntz, has anyone in Major League Baseball had a more enjoyable name than Oddibe McDowell? -- Tom Gass, Beverly, Mass.
SG:
Are you trying to rip Coco Crisp's heart out? Doesn't he deserve at least a token mention? And what about Dick Pole? By the way, I love the fact that somebody named "Tom Gass" asked this question.
Q: Do you think "The OC" has "Beverly Hills: 90210" potential? -- Joe Dyton, Trenton, N.J.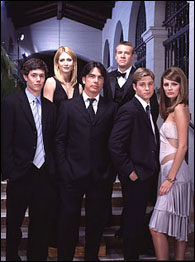 Fox's "The OC" has great potential ... but it's no "Melrose" or "90210."
SG: Potentially. The pilot was tremendous -- I haven't enjoyed bad TV that much since the heyday of "Melrose Place." They incorporated elements of "90210," "The Karate Kid" and just about every '80s movie ever made (evil boyfriends, hot chicks falling for soft-spoken outcasts, the whole shebang). It's extremely well-done (the first two episodes were directed by Doug Liman, who also did "Swingers" and "Go"). The acting was just good enough that it didn't detract from the show. Everyone looked good, which is always important. There were just enough holes in the plot that it made you think, "Hey, wait a second ..." And the music was perfect.
Of course. I see a few problems here. First of all, the pilot was considerably better than the second show. That scares me. Second, the lead actor (Benjamin McKenzie) is a little too old to be playing a 16-year-old outcast. He's fine now, but in two years, he could go Ziering on us. Third, in the second episode, one of the characters fondly remembers watching the Pistons-Lakers Finals in "'86." Just an egregious mistake. Makes me wonder if the writers are paying attention. But here's the big thing: None of the "OC" actors -- with the possible exception of the Aryan boyfriend -- are bad enough to rate on the Unintentional Comedy Scale, an integral part of 90210's success. Remember David Silver singing and dancing, Tori Spelling's cleavage (which looked like a a thumbprint in a pound of ground beef), Noah Hunter rattling out his lines like his mouth was on fire, or every scene with Ian Ziering? Remember Dr. Michael Mancini on "Melrose," or the immortal Andrew Shue? I'm not sure "The OC" has these things, which brings it closer to "Dawson's Creek" than anything. And that was the problem with "Dawson" -- it always took itself too seriously. That's why I didn't like that show. Josh Jackson stumbling through his lines can only go so far. Anyway, my jury's still out on "The OC." After two weeks, I can only give it a 15 out of 10. We'll see if that changes. And if you don't like it ... well, "Welcome to the SG, bitch."
Q: What would be the best sports equivalent to that moment when you're talking to an attractive woman who you think you're hitting it off with, and she casually mentions her boyfriend mid-sentence, and you have to keep the conversation moving without showing disappointment? -- Jarrett Fischer, Virginia Beach, Va.
MY FANTASY
The Sports Guy's top 12 for fantasy football (just in case you were wondering) 12. Daunte Culpepper
11. Fred Taylor
10. Shaun Alexander
9. Marvin Harrison
8. Michael Vick
7. Travis Henry
6. Priest Holmes
5. Marshall Faulk
4. Deuce McAllister
3. Clinton Portis
2. Ricky Williams
1. LaDainian Tomlinson
SG:
Losing a no-hitter. No question. You're cruising along, all your pitches are working, you're trying not to get ahead of yourself, you're taking it one batter at a time, the crowd's getting behind you ... and then she casually throws out the boyfriend, like a piping-hot stake in the heart. And you have to regroup mentally, finish the conversation, and pretend that you're not even remotely rattled. Even though you're reeling inside. (Doesn't that sound just like losing a no-hitter? And why do women relish doing that to us so much? It's like they teach a class for this stuff somewhere.)
Q: Has "The world is so screwed up now ... the best golfer is black, the best rapper is white, and the tallest basketball player is Chinese" passed "Why don't they make the whole airplane out of the black box stuff?" as the most overused joke going? -- Pat Donovan, Sunrise, Fla.
SG:
What about the "See, crazy stuff happens when the country's being run by a Dick, a Bush and a Colin" joke? That's the clear leader in the clubhouse right now.
Q: It's that time of year again. "Madden '04" is going to arrive very shortly. Being the fabulous Sports Gal that I am to my boyfriend, he gets it as a birthday gift. What can we expect from "Madden '04" that will give me more "Sarah Time" then I'll know what to do with? -- Sarah W., Tewksbury, Mass.
SG:
Two words: Owner mode. Maybe the greatest football game invention since that glorious year in "Madden" when you could break people's legs after the whistle, and it made that sick crunching sound. I'm not even ready to start talking about "Owner Mode" yet. Might warrant its own column. Four other things I love about the new "Madden '04": A) Everything moves faster than last year's game (loading, saving, getting to the line of scrimmage and so on); B) they rectified last year's egregious ratings for the Pats; C) they threw Neon Deion in the free-agent pool, just for kicks; and D) Michael Vick is so fast, he's suddenly breathing down Bo Jackson's neck in the "Greatest Video Game Athlete of All-Time" Pantheon. That reminds me, Pennsylvania reader Greg Otto sent me an e-mail about Video Bo: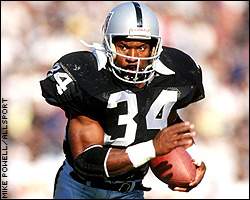 Bo Jackson's greatest achievements were accomplished in Tecmo Bowl.
Q: A buddy of mine goes to Dickinson University in Central PA, and Bo Jackson was there as a guest speaker. First comment he receives from someone in the audience: "Are you aware that you are the greatest Tecmo Bowl character ever? You cannot be stopped. It's astounding." To which Jackson replied: "Ha ha. You have no idea how much I hear that. No matter where I go, there is always one person who mentions that. It seems to be what I'm known for." After the presentation, Jackson signed the guy's copy of the Tecmo Bowl.
SG:
And I ask you ... how could they not mention Video Bo in Jackson's "SportsCentury and Beyond" show? Shouldn't they have brought it up? Even in passing?
Q: I was recently asked to list my top five accomplishments since graduating college. No. 4 on my list was "Watching Patriots win Super Bowl." Does this, in itself, necessarily make me a loser? -- Tom LeBlanc, South Boston
SG:
Well, you're asking a guy who recently told someone, "Out of the 50 greatest moments of my life, I think Larry Bird was involved in at least 15 of them." So I'm probably the wrong guy to ask.
Q: What types of non-sporting events do you bet on? We recently attended a wedding in Atlantic City, and had the following lines in play:
Number of bridesmaids: +/- 6

Number of ice sculptures: +/- 3

Length of church service: +/- 45 minutes

Time when first drunk guest makes a fool out of themselves: +/- 9.30 p.m.
Any ideas for other events? -- Mike K., Philadelphia
SG:
You came to the right place. I've attended so many weddings over the past 10 years, they've all merged together into some sort of drunken haze. And let's face it: Every wedding is pretty much the same. By the time you hit your late-'20s, you could care less about who's getting married; you only want a fast ceremony, an open bar, and a cool balcony or deck outside where everyone can smoke butts. So sprucing the festivities up with gambling. ... I mean, that's inspired genius. Let's assume that we're working with a 5 p.m. wedding ceremony, just for the sake of accuracy. Here are some other things you could gamble on:
1. Quality of the best man's toast vs. quality of the cake (even odds):
This one could be especially fun if you wagered heavily on the best man, then he choked in his speech, and you wanted to kill him afterward. And yes, few things in life are more enjoyable than someone screwing up a best man's speech. I can't believe somebody hasn't turned "Worst Best Man Speeches" into its own TV show yet.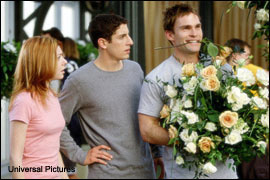 If your best man looks anything like Stifler, he's a sure bet to screw up the toast.
2. Girl who catches the bouquet hooks up with the guy who catches the garter (10-1 odds): I've only been to one wedding where this ever happened, so the 10-1 odds seem generous here.
3. Groom's horny friend starts grinding on the dance floor with somebody's attractive cousin who isn't 21 yet (even odds):
And somebody's mother is always horrified. You can usually see this one coming. As an aside, I was delighted when this exact scenario happened at
my
wedding. It was a dream come true.
4. Band plays "I Will Survive" (+/- 8:45pm):
I hate this song. There's always that one girl on the dance floor who just broke up with someone and gets a little
too
into the lyrics. Calm down, honey.
5. Token slutty bridesmaid goes after a waiter, band member, or any friend of the groom attending the wedding without his girlfriend (wager $400 to win $100):
Easy money. When you mix the emotions of "I'm sad because my friend's getting married and I'm still single" with "I'm horny and drunk" and "Everyone looks good because we're all dressed up," just about anything's possible. They probably can't make these odds high enough.
6. Groom cries or faints during the wedding ceremony (3-1 odds):
And here's the worst thing: You can't really make fun of them afterward. It was too big of a moment. So you might as well wager on it.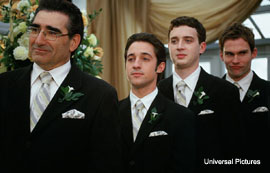 Just wait until these guys take off their jackets and start dancing.
7. Puking or fisticuffs during the reception (10-1 odds): Although these odds drop to 3-1 in the general Boston area.
8. The Mother-Groom dance is "You Look Wonderful Tonight" (20-1 odds):
We needed a long-shot wager on here. Imagine the excitement if you had 20-1 on Clapton and those first few seconds of the song started playing.
9. Fat guys dancing without their jackets and sweatstains under their arms (+/- 2.5):
Another great part about weddings. Huge, sweeping sweatstains are always funny.
10. The token "couple who's been dating for three years and either need to get engaged or break up" have a huge blowout during the wedding reception (even odds):
Not good times. Uh-oh ... I'm having flashbacks ... And the ultimate long-shot bet...
11. Wedding called off at last minute (50-1 odds):
It's dark, it's evil ... but a $10 bet wins you $500. More than enough to pay for your tux.
Bill Simmons is a columnist for Page 2 and ESPN The Magazine, and he's a writer for Jimmy Kimmel Live.