By Bill Simmons
Page 2 columnist
After yet another pratfall with my NFL picks last weekend, something needed to change. Glancing at Friday's USA Today and making a few off-the-cuff selections just wasn't cutting it anymore. As Apollo tried to tell Rocky weeks before their Awkward Beach Hug, sometimes you need to return to your roots. You need to find the Eye of the Tiger.
That's why I'm bringing one of my meal tickets back from the dead: The Friday NFL Picks column, one of my favorite columns to write for my old website -- back in the days when I talked myself through every game, made some jokes, took some potshots, put some thought into things and always enjoyed myself. During the '99 season, I even finished 40 games above .500. I wasn't quite Jack Price during the heyday of the "Sports Advisors," but I was pretty damn close.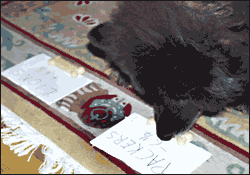 Jim Wilkie
Rest in peace, Bailey: May the gambling be bountiful in doggie heaven.
Things changed when I arrived at the Worldwide Leader. In the tragedy of tragedies, the higher-ups made me pick for fun against a dog. Wait, it gets worse: Not only did the dog beat me, he died the following summer. Two years later, they're giving me the green light -- granted, it's Week 4, but it's better than nothing. So thanks to the boys in Bristol. I went the distance, now I'm back on my feet ... just a man and his will to survive. It's good to be back.
One other note: I always enjoy Week 4 because it's the last week before the Really Good Teams separate themselves from the Good Teams and the Up-And-Down Teams, so you can still sneak out some gambling bargains. Like the Chiefs this week ... they're right at that point where the Rams were four years ago, when the lines hadn't shifted enough, Kurt Warner's deal with the devil was still a secret, and nobody knew they were "14-2 waiting to happen." So there was still money to be made.
Same goes for the Raiders. Since they made last January's Super Bowl, their reputation precedes them ... but they seem destined for one those "Kathleen Turner Seasons." Remember when Turner released "V.I. Warshawski" and every guy between 18 and 54 was like, "Hey, what happened? Why isn't Kathleen Turner hot anymore? Why didn't anyone send me the memo?"
That's the Raiders this year. Their skill position guys aged in dog years, they can't stretch the field after Jerry Porter's injury, and they have one of those Pete Carroll-type coaches who gazes out onto the field in stunned horror as his team commits 12 to 15 penalties a game. It looks like somebody injected 20 liters of Botox into his face. Will I be going against them every week? You better believe it.
Anyway, I like Week 4. It's like the last day of a summer blowout sale. You'll see. Without further ado, this week's picks (home team in CAPS):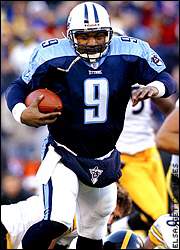 Tennessee (+3) over PITTSBURGH
Ever notice how the Titans don't officially become contenders until Steve McNair gets banged up? The night before every season starts, he should just slam his throwing hand in a door. Might as well get it over with. He's one of those Degree of Difficulty Guys -- give him a partially torn rotator cuff and four mediocre receivers named Drew and he'll happily lead you to 11 wins. I love that guy.
Indianapolis (-2) over NEW ORLEANS
One of my NFL gambling traditions: Inexplicably liking a team too much before the season, then begrudgingly sticking by them until they've emptied my bank account. Well, I'm not allowing the Saints to bleed me to death. I'm abandoning ship. This team is a nightmare -- crummy coaching, shoddy decisions, tons of mistakes ... they bring everything to the table. Just a dumb team. I want a divorce.
(What does Jim Haslett have to do to get fired, by the way? Show up late for a game? Take off his pants in the fourth quarter? Call five consecutive fake punt plays? Have three of his his players get arrested in one week? Seriously, I want to know.)
THE SPORTS GUY'S POWER POLL
Contenders
1. Kansas City
2. Tampa Bay
3. Denver

Lurking
4. Indianapolis
5. Tennessee
6. Seattle
7. Miami
8. Carolina

Playoff teams
9. Buffalo
10. Minnesota
11. Pittsburgh
12. Baltimore

Hanging around
13. New England
14. N.Y. Giants
15. Washington

Staggering
16. San Francisco
17. Philadelphia
18. St. Louis
19. Green Bay
20. Oakland
21. New Orleans

Napping
22. Dallas
23. Cleveland
24. Cincinnati
25. Atlanta

Rebuilding
26. Detroit
27. Jacksonville
28. Houston

Pining for Clarett
29. N.Y. Jets
30. San Diego
31. Chicago
32. Arizona
Patriots (+2½) over WASHINGTON
Tough game. The Redskins are one of Those Teams -- they can't play an easy game. Either they're rallying from 17-point deficits or allowing inferior teams to hang around. It's always something. This is what happens when you have receivers named "Darnerien" and "Laveranues" on the same team -- it's just constant chaos. Couldn't the league force the Chargers to trade them LaDainian Tomlinson, just for comedy's sake? Meanwhile, the Patriots have been holding Bobby Brady's tiki ever since Bill Belichick jettisoned Lawyer Milloy out of town. What a disaster. Nothing stung quite like Rosie Colvin's season-ending hip injury; he went from being the next Andre Tippett to the next Bo Jackson in one snap. And the Teds (Johnson and Washington) are out, and Ty Law's banged up, and Brady's throwing arm is bothering him ... everything feels wrong about this Pats season. It all harkens back to the idiotic Milloy move. Now ... I'm the same guy who argued that your team should get a five-year grace period when they win a championship. Believe me, I remember. But the Milloy move was indefensible; in retrospect, they should have just traded him straight-up for Vin Baker. Sometimes your team makes a move, you hear the news, and it makes you say, "Whaaaaaaaaaaat?????" That was the Milloy release. I'm not sure he was an All-Pro anymore, but he was better than what they had, and they didn't save
that
much in cap space. It didn't make sense. Not only did they underestimate his considerable pride by lowballing him, they underestimated his market value (he ended up getting something like 12 offers that week) and didn't have anyone waiting in the wings. They also could have waived Willie McGinest or Antowain Smith, two veterans who didn't come close to approaching Milloy's market value. Yet Belichick pressed ahead with his "Take it or leave it" paycut threats, forgetting the fact that Milloy's new agent (Carl Poston) wasn't getting a cut from his old contract. Gee, I bet he gave his client some sound advice. It was a lousy story all around, especially for Milloy, who was well on his way to becoming the most visible athlete in Boston -- the kind of guy who attended every local charity event, as well as every big game for the Celts and Sox. People loved the guy. And yeah, maybe he's making a little more money in Buffalo. But it's not that much. And given that he's earned about $30 to 40 million as a professional athlete, I can't imagine the 20-percent pay hike could have replaced what he squandered by leaving New England. The right agent would have talked him into swallowing his pride, accepting a reasonable paycut and sticking around. He's just another athlete now, yet another gun for hire. As for Belichick, he screwed up. Big time. Maybe it doesn't change the fact that he won a Super Bowl, but it makes you wonder about him. Just a little. I'll still take him over Steve Spurrier, though.
Kansas City (-3) over BALTIMORE
Count me among those who are totally, completely and irrevocably sold on the Chiefs. What a team. They're so loaded, Dick Vermeil's only cried once all season. They're just in a different league then the Ravens -- your classic "Good Bad Team," the team that beats every team it should beat, but can't handle the jump into that K.C.-Tampa Bay level. A good team can always shut down a one-dimensional team. (Note: You can't win without a QB. You just
can't
. Everyone points to the Dilfer Factor as a prototype, but Dilfer wasn't atrocious that season -- he gave the Ravens a big, durable QB who threw a decent longball and made very few mistakes. The 2003 Ravens don't have anyone like that -- maybe it doesn't matter against the San Diegos of the world, but you can't match points against a team like K.C. without throwing the ball. Please.)
Dallas (+3) over NY JETS
I've said it before, I'll say it again: When Vinny Testaverde is your QB, that means that Vinny Testaverde is your QB. If I'm a Jets fan, Maurice Clarett is suddenly on my radar screen. We're about three weeks away from the "Let's keep Chad's cast on through Christmas" phone call being made to Chad Pennington's doctors.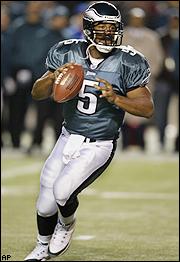 Hey, when did Kordell Stewart get traded to the Eagles?
BUFFALO (-3) over Philly
So much for the "Here comes Buffalo!" talk. Throw them in a close game on the road and question marks start popping up like zits on a WWE wrestler's back. Like in the Miami game ... there was Bledsoe throwing his "Classic Drew" interception in the end zone (I was getting Vietnam-like flashbacks). There was Gregg Williams calling his typically dumb play (the halfback option inside the 20 -- even my cousin Chris wouldn't call that play in "Madden"). And 14 points go by the wayside.
With that said, I still like them over Philly, a fading contender helmed by a superstar QB who seems to have bought Kordell Stewart's accuracy on eBay. I can't imagine any QB in the league playing worse than McNabb did two weeks ago. Is he even that good? It's like the Ben Affleck thing -- everyone keeps telling me that Ben Affleck is a major movie star, enough times that you even start believing it ... but check out
his filmography on IMDB.com
some time. Not exactly a bevy of hits. Same goes for McNabb. For a few years, he was a winning QB on a very good football team. Doesn't make him a superstar.
Cincy (+5½) over CLEVELAND
Ladies and gentleman, hold onto your seats ... it's time for Corey Dillon's roto breakout week! I'm great at predicting these, by the way -- it's one of my random prognostication talents, right up there with predicting which of the 25 girls will be sobbing by the end of season premiere of "The Bachelor." It's always the one with bad roots. I have no idea why I know this. I didn't ask for these powers.
San Fran (-2½) over MINNESOTA
Interesting game. Look at the poor Niners -- they went from Mariucci to Erickson, they've already blown two wins, T.O. is already P.O.'ed and it's not even October yet. How predictable was that? And was there a tougher loss than Cedrick Wilson forgetting to get out of bounds in the Rams game? As Cris Carter said on "Inside the NFL" this week, that was "unexcusable." And just wait until Jeff Garcia's back goes out. ... Niners fans are going to be tossing chardonnay bottles onto the field. On the flip side, Randy Moss is already banged up and Daunte Culpepper might miss the game because of "cracked bones around his spine." How can you be listed as "questionable" with cracked bones around your spine? And since I'm more than familiar with Gus Frerotte's body of work, I'll stick with the Niners this week. They need the win more, anyway. (By the way, don't you just love Mike Tice? He looks like he should be managing a hardware store or something, doesn't he? The league should force him to dress in bad cardigans and corduroys. Let's look into this.)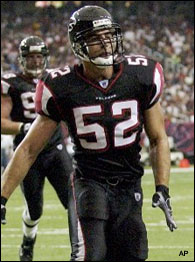 Doug Johnson is not a good quarterback -- and those uniforms are ugly, too!
CAROLINA (-6) over Atlanta
Two teams headed in different directions. It's amazing how liberating it feels to pick a team with Jake Delhomme running the show, isn't it? I didn't even think twice. In fact, I even kinda liked it. It's like leaving the house without underwear on -- you know it's wrong, but you just can't help yourself sometimes.
(And speaking of deadly QBs, hasn't Doug Johnson done a considerable amount of damage to the whole "This guy's good enough to start for 20 NFL teams" theory? He has hurt the cause for backup QBs everywhere. You think Damon Huard and A.J. Feeley are sending him angry e-mails right now?)
ST. LOUIS (-10½) over Arizona
Remember
in my NFL Preview
, when I predicted we would make it through the entire season without a single Cards receiver getting picked up by a single roto team in America? One week later, Mr. Anquan Boldin made his way onto the roster of my East Coast team. The lesson, as always: I'm an idiot. As for the Rams, what was more shocking this season -- watching Kurt Warner's career unraveling in Giants Stadium in Week 1, or watching Marshall Faulk running the ball in any of the first three games, then realizing it wasn't him but Lamar Gordon? I vote for Faulk: You could barely recognize him in those first three games before he got hurt. We had a feeling the Warner Era was over ... but who would have guessed that Faulk's odomoter was suddenly at 200,000 miles? Unbelievable. Let's just hope the Rams Bandwagon driver remembers to drop everyone off in an orderly fashion this season -- we wouldn't want anyone to get injured. (And with that said, you will see Jimmy Fallon get through an "SNL" skit without cracking up before you see me taking the Cards on the road this season.)
HOUSTON (+3) over Jacksonville
"Let's go to Beasley Reece, who's on the sideline with an update on Fred Taylor's groin ..."
DENVER (-12½) over Detroit
This looks like a Trap Game for the Broncos (Oakland last week, the Chiefs next week). Of course, every game is a Trap Game for the Lions. I'm just excited for lots of jaw-clenching and eye-bulging from both coaches -- when Mariucci and Shanahan are involved in the same game, it's like watching Andrew McCarthy play chess with Ryan from the "O.C."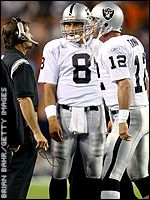 The Raiders fighting, can't score, look confused ... it's a perfect week to bet on them.
OAKLAND (-7) over San Diego
Pop quiz, hotshot: You're Marty Schottenheimer. You just signed David Boston to a $47 million contract, including a $12 million signing bonus, despite the fact that A.) he had that "Wait a second, how did those drugs get in my system?" incident in Arizona; and B.) Cardinals management drove to the airport to make sure he got on the plane to San Diego. Now it's Week 4, your team is 0-3, he has caught six balls this season, and you've already had to suspend him. What do you do? What do you do?
Other than that ... well ... put it this way: This game doesn't exactly have the entire state of California buzzing. Which reminds me ... you know this stupid Governor's election we're having here, the one where Arnold Schwarzenegger is running against Gary Coleman, Cruz Bustamante, Chest Rockwell, Brock Landers and countless others? Well, there's a special bonus for everyone living out here: At any time of the day, you could be watching TV and one of Arnold's commercials will come out of nowhere. You keep waiting for him to scream "Look out, behind you!" or "Stay with me if you want to live!", but he's stone-faced and serious the entire time. Highest of high comedy, especially when he turns California into the five-syllable word "Cal-eeee-for-knee-ah." Maybe it doesn't make up for missing a pennant race back in Boston, but at least it's something.
Green Bay (-4) over CHICAGO
Toughest game on the board. On the one hand, there's Brett Favre in Arizona, looking for the game-tying touchdown against the worst team in football, being handed four chances inside the 10-yard line ... and he can't get it done. Repeat: He can't get it done. I wrote this before, but it's worth mentioning again: He's just like Marino in the mid-'90s now, just good enough to keep you in the game, good enough that he can win some games by himself, but not nearly as good as he thinks he is. And that's a dangerous mix for a QB. So there's that. On the flip side, there's Kordell Stewart. And then there's this: Never, ever, EVER bet against Brett Favre on Monday night. One of the oldest gambling rules in the book. And until he proves me wrong, I'm sticking with it.
Bill Simmons is a columnist for Page 2 and ESPN The Magazine, as well as one of the writers for Jimmy Kimmel Live on ABC