By Bill Simmons
Page 2 columnist
Editor's Note: This column appears in the Oct. 27 edition of ESPN The Magazine.
With another NBA season looming, fans like me are busy obsessing over questions like "What's the right round in fantasy to pick Kobe?" and "Should Damon Stoudamire change his first name to Cheech?" Still, I'm going to miss the off-season. Thanks to NBA TV and ESPN Classic, I spent my summer watching old games on the treadmill. As my TiVo skills progressed, I could bang out a two-hour game and 600 calories in 40 minutes. There wasn't a point all summer, not one, when I thought, "My god, I've gone insane."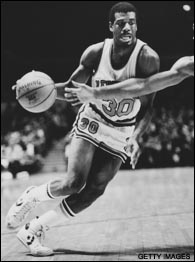 If he weren't for the injuries, everyone would still be talking about Bernard King.
I learned a lot about the last three decades. Young David Thompson was as unstoppable as young MJ. When the Spurs cleared out for The Iceman, nobody could stop him off the dribble. Magic was better off without Kareem clogging the middle. Moses was the forgotten superstar. Pippen should have won the MVP in '94. If Sampson's knees had held up, Hakeem would have six rings, not two.
Wait, there's more. Nobody dunked in traffic like Dominique. Nobody choked in more big games than The Mailman. Nobody was more fun to play with than Bill Walton. From strictly a looks standpoint, the '84 Knicks and '86 Celts are straight out of the Star Wars bar. There's no scientific way to explain why ABA Dr. J was taller, stronger and more frightening than NBA Dr. J. (Was it really just the Afro?)
I was reminded of things that had slipped my mind. They don't make point guards like Tiny Archibald and John Lucas anymore. Bulky centers like Billy Paultz and Tom Boerwinkle were implausibly effective. Andrew Toney, Gus Williams, Vinnie Johnson, Downtown Freddie Brown ... these were great players. And no one got a worse deal than Bernard King -- I watched him drop 44 on the '84 Celts, who were only triple-teaming him on every possession. How did he get left off the NBA's Top 50? How?
Some games are still more remarkable than others. Sleepy Floyd's 29-point quarter against the Lakers in '87 (all layups and runners, no less). Portland clanking 13 straight and throwing away a chance at the 2000 title. Nick Anderson missing four straight freebies against the Rockets, changing the course of the '95 Finals. Others need no description: MJ's Flu Game; Reggie's back-to-back threes. Larry fending off Nique as Musburger rasps, "You are watching what greatness is all about." Can you get goosebumps walking 3.8 mph uphill? I guess you can.
SPORTS GUY'S WEEK 8 PICKS
(Home team in caps)
Giants +7 over VIKINGS
EAGLES (-3) over Jets
Browns (+5.5) over PATRIOTS
RAVENS (-1.5) over Broncos
STEELERS (-1.5) over Rams
BENGALS (+2) over Seahawks
BEARS (-3) over Lions
Titans (-3.5) over JAGS
Cowboys (+6.5) over BUCS
Panthers (+2) over SAINTS
CARDINALS (+7) over Niners
COLTS (-13) over Texans
CHIEFS (-7) over Bills
CHARGERS (+3.5) over Dolphins
Last week: 8-6
Season: 34-31
There's one problem with the way they show these games: no one explains why you should bother to watch. Classic tossed on a '91 playoff game between the Lakers and Warriors, which I almost skipped. Then, Hardaway busted a near triple-double, Mullin and Magic torched each other for a combined 85 and my man Paul Mokeski was slapping palms on the bench. I need to know this stuff going in! During the telecast, why isn't someone cracking jokes and helping us out? (Hint: I'm available.)
One last story. For Jimmy Kimmel's show, we used Rick Barry for one of our pieces this summer. After I weaseled my way onto the shoot, Barry and I talked hoops at every break (okay, I was stalking him). When I brought up the '76 Western Conference finals -- the one in which his favored Warriors lost to the upstart Suns-he quickly replied, "We should have won Game 7. We were rallying, and I had a pick-and-roll with Clifford Ray, but he couldn't catch the damned pass."
Twenty-seven years later, Rick Barry -- Hall of Famer, NBA champ, one of the five best forwards of all time -- couldn't let it go. It was weird. Sure enough, NBA TV showed the game a little later: the Warriors were surging, Ray set a pick and rolled to the basket and Barry delivered the ball ... off Ray's hands and out of bounds. The cameras caught Barry, frozen in disbelief.
Maybe this season will deliver the goods. And maybe I need professional help. I just hope a winter of chopped beef will satisfy me after a summer of steak.
Bill Simmons is a columnist for Page 2 and ESPN The Magazine, as well as one of the writers for "Jimmy Kimmel Live" on ABC