By Bill Simmons
Page 2 columnist
You know the NBA season has officially started when Lamar Odom is being helped off the court. What a heartwarming sight. Anyway, for Part Two of my NBA Preview/Trilogy, we're concentrating on the six Western powerhouses who could win this year's title.
Without further ado ...
6. Phoenix Suns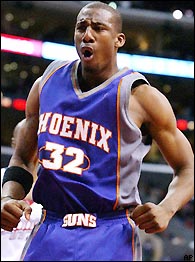 Amare Stoudemire could be the catalyst for a Phoenix Suns run to the Finals.
Has there been a more underrated franchise over the past three decades than the Phoenix Suns? They made the Finals twice ('76 and '93); they made the Conference Finals four other times; and they made the Conference Semis seven times. Just in the past 24 years alone, they won at least 50 games 14 different times. They've had just two losing seasons since 1988 (36 wins in 2002, 40 wins in 1997).
But here's the weird thing: They reinvented the team six different times over that span. In the late '70s, Paul Westphal (one of my favorites), Alvin Adams, Walter Davis and Ricky Sobers led the way. From '80 to '84, Davis, Dennis Johnson, Truck Robinson, Larry Nance and James Edwards were involved. The run from '89 to '92 featured Tom Chambers, Eddie Johnson, Jeff Hornacek, Kevin Johnson and Dan Majerle. They traded for Barkley in '93 and won 177 games over the next three years (in my opinion, the best nucleus that never won a title). Then there was another run in the late '90's with Jason Kidd, Rex Chapman, Clifford Robinson and Antonio McDyess.
Now they're back -- again -- with Marbury, Marion and Stoudemire, maybe their most promising nucleus yet. It's amazing. Only the Lakers have been more competitive over that same time span. Just thought that was interesting.
Anyway, this summer, I watched separate games involving young Moses (1977), young Kemp (1992) and young Tarpley (1987). Let's get this straight: Young Amare (2003) is right there with any of them. That means he could go down one of three roads -- either he'll become a force of nature (like Moses), a head case (like Tarpley), or a memorable blend of both (like Kemp). I see him ending up like Kemp, with just enough baggage that he probably changes teams somewhere in his prime.
But here's the thing: From 1993 to 1997, Shawn Kemp was fantastic. The Sonics nearly made the Finals in '93, won 120 games in '94 and '95 and made the Finals in '96, as Kemp battled Barkley, Hakeem and Malone in their primes to a standstill. If Stoudemire follows suit this season, Marbury would be his GP, Marion would be his EJ/Detlef, and the Suns might be better than any of us think. They're missing one of Those Guys -- the Bob Horrys and Mario Elies, the unsung guys who always seem to be prominently involved on championship teams -- but Penny Hardaway could easily evolve into that role.
And, yeah, I'm not totally sold on Frank Johnson. Or Joe Johnson. Or even Jake Voskuhl. But there's something happening here. I just have a feeling that a Suns-Rockets Conference Finals could happen sooner than we think.
Speaking of the Rockets ...
5. Houston Rockets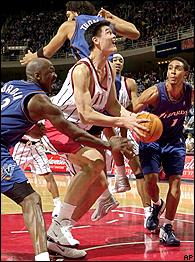 If Jeff Van Gundy utilizes Yao Ming correctly in the offense, the Rockets are a dangerous team.
Some things happen that make you question everything that happened before it. Like the Eddie Murphy Era ... if he gets hit by a bus right after "Beverly Hills Cop II," he goes down as one of the great comedic minds of all-time. What a seven-year run: four Hall of Fame years on SNL, two Pantheon movies in "48 Hours" and "Trading Places," two wildly entertaining "Cop" movies, and even a watchable misfire with "Golden Child." If he disappears right there, he passes Pryor and Cosby and goes down as the greatest black comic of all-time.
Well, he didn't get hit by a bus. There was the "Harlem Nights" debacle, and the singing, and those late nights with Arsenio and Magic. Suddenly, Eddie wasn't so funny anymore. There were brief signs of life in "Boomerang," and then he started making kids' movies and it was all over. He's still a Hall of Famer, but it's not the same. I don't know about you, but I try to pretend the last 12 years never happened with him.
What does this have to do with the Rockets? Well, Rudy T was one of my favorite coaches this side of Kenny Reeves. And not just because he won two titles -- I liked the way he changed things on the fly, depending on his personnel. When he was rebuilding in the post-Hakeem Era, he revolved a freewheeling, playground style around Mobley and Francis -- pure genius. They were always a fun watch.
And then Yao came to town. So what does Rudy do? Instead of revolving the offense around Yao, he keeps playing that same freewheeling style. Yao never gets the ball. The best passing center since Walton ... and he's an afterthought in the half-court offense. Go figure. Meanwhile, Mobley and Francis are still doing their run-and-gun thing, and poor Yao's pining for the old days on the Chinese National Team. The whole situation was so mindbogglingly stupid and improbable, Houston's front office pushed Rudy T out the door last summer. And rightfully so.
Did the whole thing change Rudy T's place in history? Yeah, I think so. Can somebody be a Hall of Famer when they can't figure out how to use the next Bill Walton? If Jeff Van Gundy was smart enough to flee New York two years ago, he'll know how to use Yao -- run every halfcourt play through him, spread the floor, keep sending cutters through the lane. If they double-team him, Yao will pick the defense apart. And once the guards learn to take off on rebounds, it will be the '77 Blazers all over again. Rudy T should have known better.
One more thing, and I can't emphasize this strongly enough: This is THE sleeper in the West. Maybe Jimmy Jackson won't fit in; maybe Stevie Francis won't like playing second fiddle; maybe Eric Piatkowski will battle bouts of loneliness on the road; maybe Yao played too many games this summer; maybe Eddie Griffin will be a David Lee Roth-level distraction; and maybe Moochie chopping his afro was a bad omen. But no other Western upstart has a higher ceiling. If the Rockets are running on all cylinders, would you want to play them in the first round? Me neither.
4. Sac-drah-mento Kings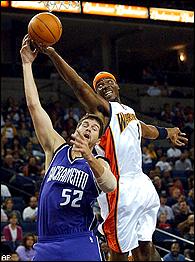 The Kings have added Brad Miller, but is he the missing piece to the puzzle?
Lemme tell you zomething about Sac-drah-mento, since I am now vorking dere ... even doh they swapped Poll-ahd and Took-ah-gloo for Brad Meeler, I don't dink dat this makes dem a st-dronger teeeeem. This was a teeeem with fan-TAS-tic ball moooovement and prah-ceeee-shun passing. Now they are slowah and more dah-liberate -- if dey don't vatch out, they will be terminated. I also dink that C-Vebb has seen better days -- he breaks down more times dan Camp Jeeem. And dey need to decide on Bobbyjack-sun or Mike Bee-bee -- rotating dem vill not vork. And I vorry about dere bench -- if dey say Anthony Peeeee-lar and Gerald Vallace vill help dem, dey are telling you true lies.
Dere vindow has passed -- it's time for a change. Vee need to recall Reek Ah-dell-man and convince the Mah-loooofs to make me coach of the Sac-drah-mento Keeengs ...
(I'm sorry, the man has driven me insane. Have you noticed what's happening here? Arnold takes over in California, so we immediately start having grocery store strikes, transportation strikes, out-of-control fires ... we're one more Rodney King arrest away from famine and pestilence. Hey, have I mentioned that Arnold Schwarzenegger is my new governor? I can't move back to Boston fast enough. Does anyone know if my old apartment behind the Store Two-Four is still available? In the words of my new Governor, if this keeps up ... I'll be back.)
3. San Antonio Spurs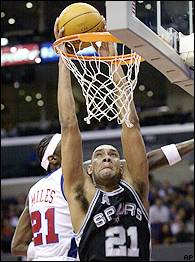 Tim Duncan is the best player in the NBA -- but the Spurs' supporting cast is much different this year.
As we witnessed with the 2003 Yankees, you can only tinker with a champion so much. Great teams are like great TV shows -- sometimes change can be refreshing, but you never want to rattle your nucleus too much. That's why "Cheers" remained lively to the bitter end, because they successfully integrated new characters (Rebecca, Woody, Frasier, Lilith) while maintaining their core group of stars (Sam, Carla, Norm, Cliff). Shows like "Oz," "ER" and "7 Lives XPosed" couldn't say the same.
That brings us to the Spurs. David Robinson was their second-best guy in the playoffs ... he's gone. Stephen Jackson made more big shots for them than everyone else combined ... he's gone. Speedy Claxton and Steve Kerr stepped up big in May and June ... they're gone. They spent the summer courting J-Kidd, wounding Tony Parker's ego in the process. Now they have to integrate Nesterovic, Turkoglu, Carter and Mercer, four guys who haven't proven themselves in May and June.
Of course, they did end up signing Robert Horry, the Nate Dogg of professional basketball. Either Horry or Kerr played for the champion in each of the past ten seasons. What an omen. They also have a nice backcourt of young guys -- Tony Parker and Emanuel Ginobili (or as Sonny Crockett calls him, the Argentinian). And since we're almost through three paragraphs without mentioning Tim Duncan yet, let's get that out of the way, too. It's always good to have the best player in the league. I'm just not sold on the rest of his team.
(Maybe part of me just wants a Finals without the Spurs this year -- I'm still having Nam-like flashbacks to last June. Does anyone else wake up in a cold sweat and see Bruce Bowen clanging a three off the side of the backboard, as Bill Walton hyperventilates in the background? Ummm ... me neither.)
2. Los Angeles Lakers

Shaq-Kobe Shaq-Kobe Shaq-Kobe Shaq-Kobe Shaq-Kobe Shaq-Kobe Shaq-Kobe Shaq-Kobe Shaq-Kobe Shaq-Kobe Shaq-Kobe Shaq-Kobe Shaq-Kobe Shaq-Kobe Shaq-Kobe Shaq-Kobe Shaq-Kobe Shaq-Kobe Shaq-Kobe Shaq-Kobe Shaq-Kobe Shaq-Kobe Shaq-Kobe Shaq-Kobe Shaq-Kobe Shaq-Kobe Shaq-Kobe Shaq-Kobe Shaq-Kobe Shaq-Kobe Shaq-Kobe Shaq-Kobe Shaq-Kobe Shaq-Kobe Shaq-Kobe Shaq-Kobe Shaq-Kobe Shaq-Kobe Shaq-Kobe Shaq-Kobe.
(You know what? Let's get back to them.)
1. Dallas Mavericks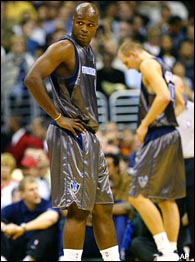 Antoine Walker's got skills, but he may not be the right fit in Dallas.
Before you read everything that's about to follow, let's get one thing straight: I love having these guys in the league. I even enjoy Mark Cuban's work. And they should win 60 games, no questions asked.
I just don't agree with what they did this summer. Here was the logic: Since we can't stop Shaq and Duncan, maybe we can outscore them ... so let's put as many scorers as possible on the floor and see what happens.
That's fine. I just think they brought in the wrong guys. Antawn Jamison hated playing small forward for Golden State ... you think he'll enjoy getting 25 minutes as the fifth option on the Mavs? Yeah, maybe for a couple of months ... but what happens in February, when they're playing their fifth game in eight days, and Nellie "plays a hunch" and gives Josh Howard 35 minutes while Jamison stews on the bench? I can't imagine this working out. You need someone like Eddie Najera in that role, an unselfish guy who thrives on taking charges, getting garbage baskets and tracking down loose balls. Jamison isn't that type of player. He's more of a black hole.
And Antoine Walker ... believe me, I watched him for seven years straight. He can't get to the line. He can't score down low against any above-average defender (Kenyon Martin simply demolished him last May). He launches an utterly ludicrous amount of threes. Statistically, he's a 38-percent shooter who took an astounding 1,554 shots to score 1,570 points last season. Think about that for a second. For instance, Duncan took 1,374 shots to score 1,884 points, and Nowitzki took 1,489 shots to score 2,011 points. Walker barely averaged one point per shot. Was there a less efficient All-Star in the league?
Now throw this in: He's a below-average defender. He stopped rebounding about three years ago. Maybe he'll make "SportsCenter" with an occasional highlight pass, but you won't see the three other passes he bounced off the basket support that same night. And he was such a dominant personality in Boston, his teammates tuned him out after awhile -- did you notice how none of the Celtics spoke up against the trade (not even Paul Pierce or Jim O'Brien)?
Antoine's best quality doubled as his worst quality: His unwavering belief that he's the best player on the floor in every game. That's fine when you're playing in Boston, but watch what happens in Dallas -- in close games, much like Van Exel did last spring, he'll keep launching shots that should have gone to better scorers. Eventually, Nelson won't play him in crunch time anymore, which will destroy Twan because A.) he needs numbers (it's a contract year for him); and B.) he won't handle being an afterthought on a 60-win team. I already feel bad for him and the season hasn't even started yet.
On a bigger stage, I just feel that Twan's considerable flaws will be magnified for everyone to see. It's too bad. He really does care. He just isn't nearly as good as he thinks. In theory, he's perfect for them -- someone who can handle the ball, score down low against the right matchups, drain an occasional big three, and provide some of that swagger that Van Exel gave them. I just don't think Twan will accept being a complementary player. After watching him for his entire career, including about 200 games in person, I feel pretty safe making that statement.
As for the Mavericks, it's all relative: Any team with Nowitzki, Nash, Finley and six decent teammates is going to win 60, and any team that can play Walker, Jamison and Travis Best against everyone else's second string has an enormous advantage in this league. But they will never, ever, EVER beat a Lakers team with a motivated, ticked-off Shaq. Not in this lifetime.
Which brings us back to ...
2. Los Angeles Lakers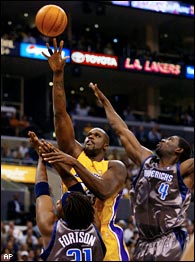 AP Photo
With Shaq leading the way, the Lakers are a good bet to win it all again.
Just some assorted thoughts because, in all seriousness, there is WAY too much going on here. For God's sake, if you add together last season's scoring averages of Shaq, Kobe, Payton and Malone, it comes out to 98.7 points per game. Unbelievable. This is unchartered territory. Anyway ...
* Shaq put a stamp on last season. Hey, it happens. Now he's back. And he's angry (as this week's events proved). As if he didn't already have enough motivation, don't underestimate this Kobe thing -- poor Shaq has been wearing the black hat for the past seven years, while Kobe could do no wrong with the general public. Little did anyone know that Shaq was the gregarious, good-natured guy behind the scenes, and Kobe was the monosyllabic loner who didn't have time for anyone. Funny how things work out.
Anyway, as terrible as this sounds, part of Shaq must enjoy seeing Kobe twist in the wind like this. Why else would he have started all that crap this week? And deep down, don't you think Shaq is DYING for Kobe to opt out of his contract after the season? Why else would he mention it? I just feel like their relationship is much more dysfunctional than anyone believes. Did anyone else find it unfathomable that Shaq never called Kobe all summer? By the way, I feel like Liz Smith right now.
* Here in California, there's a theory going around that their latest blowup was "concocted" -- a nefarious way to shift attention from Kobe's trial as the season started. The smoking gun was Jim Gray's bizarre interview transcript, as he apparently talked to Kobe without any cameras and recording devices, yet somehow managed to transcribe these complicated quotes from Kobe verbatim. But here's the thing: Kobe's comments were WAY too personal. As Barkley said on "PTI" this week, Kobe said everything short of "Yo mama." I just can't imagine Shaq would agree to get slammed so personally just to help Kobe out, a guy he doesn't even like.
One more note on this: It's not unfathomable for teammates to dislike one another and succeed on the court. For instance, Kevin McHale and the Basketball Jesus couldn't stand each other; it never managed to become a problem until the tail end of their careers, when McHale criticized the Legend during the 1990 season and missed 23 games after he was hit by a lightning bolt. Anyway, too much gets made of this stuff. No catfight could change the fact that this Lakers team -- as presently constituted, if healthy -- cannot be beaten in a seven-game series, no matter how much everyone despises each other.
With that said, as I wrote last spring in a magazine column, everything seems to be leading to Kobe getting his own team. It's inevitable. It has to happen. Both of these guys need to find out who's The Man, once and for all. It can never be solved any other way. After they win this final title, it's going to happen. Let's just hope Kobe has the cojones to sign with the Clippers.
* I think GP will have a bigger impact on this team than Malone. Remember, Payton never played with a true center before -- he's going to have the Ashton Kutcher "I Can't Believe I'm Sleeping With Demi Moore" Face going for 82 games. And none of the Lakers have ever played with a real point guard before -- do you realize how many fast breaks they missed out on over the last five years? Also, they always had trouble defending opposing point guards -- GP solves that immediately. Even though he isn't a stopper like he was in the mid-'90's, you won't see Bibby and Parker running amok anymore.
* Here's how Malone fits in: Filling the lane on fast breaks, banging home open 18-footers, giving them a post-up game when Shaq is resting, and tossing an occasional elbow into somebody's mug. Not a bad way to wind up a career. Maybe they'll miss Horry's three-point range, but Mailman gives them a different look. Whether he will have a "Clyde Drexler on the '95 Rockets" effect remains to be seen -- anything less will always feel like a pseudo-ring for him. Just ask Steve Smith.
* I think Kobe's trial wraps before the All-Star Break. I think he gets acquitted. I think the Lakers cruise from there.
And I wish I had a better ending for Part Two ... but this whole thing is a little sobering, isn't it?
Bill Simmons is a columnist for Page 2 and ESPN The Magazine, as well as one of the writers for Jimmy Kimmel Live on ABC. The Eastern Conference Preview runs on Friday.