By Bill Simmons
Page 2 columnist
Wait a second ... it's already Week Ten? How did that happen? Suddenly we're just weeks away from Miami's annual holiday swoon! Actually, you know what? Starting this week, I'm guaranteeing eleven straight Fridays of football columns, or your money back. Even if you aren't paying anything.
Before we get to this week's effort, we need to take care of a few things: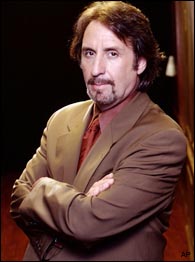 AP Photo
District Attorney? Well, according to FOX you're all unemployed now.
As you probably heard, Fox cancelled "Skin" after just three episodes, breaking "Falcone's" record for "Most promos shown during a prolonged sporting event versus number of actual episodes that made the air." Just a jaw-dropping turn of events. I actually didn't mind the show -- if anything, Ron Silver's over-the-top performance killed it more than the absurdly enjoyable premise. They should have hired a campier actor for the porn czar -- someone likable and devious, yet someone who rated high on the Unintentional Comedy Scale.

Who would have been better? Well, Jack Wagner would have been ideal, but it's tough to drag him off the golf course. Burt Reynolds could have been fun. Same with Jason Alexander. Ian Ziering was probably too old. You could have talked me into the Put The Lotion In The Basket Guy. But at gunpoint, I'd probably choose Dr. Michael Mancini from Melrose Place -- he would have been perfect for that role. And you know why? BECAUSE HIS FATHER IS THE DISTRICT ATTORNEY!!!!!!!!!)
If you wondered why I picked every favorite last week, here's what happened: After going through my weekly "Who am I picking?" process (which includes Starbucks, Wednesday's USA Today, a pen and paper, and one of those 17-dollar frappucino thingies), I only had three underdogs -- Indy, New Orleans and Houston. That's never a good sign. So I made the picks again, and I came up with the same three underdogs again. Whenever that happens, I err on the side of caution and take every favorite, since it's obvious that I have no feel for the week.
Of course, my three underdogs ended up covering, and I would have gone 9-5 instead of 6-8. The lesson, as always: I'm an idiot.
I'm afraid to mention anything about the Pats. Terrified, even. But a few things surprised me about Belichick's safety call in Denver. For one thing, with three minutes to play, it was the only move -- you give up the deuce, gain 30 yards of kicking position, and you still need your field goal. So why did I realize this immediately, and yet Madden never mentioned it once, and Michaels brought up the possibility just as they were about to snap the ball? Really? They're paid to do this, and I'm sitting on my sofa next to the Dooze -- who was chewing her paw at the time -- and the word "safety" entered my mind 30 seconds before them? How does this make sense?
(Wait... don't answer that.)
Second, why is everyone treating this "safety" decision like Belichick unveiled a new formula for nuclear fusion? It was his only move! You had to do it! Have we really reached the point where any intelligent, thoughful coaching decision has to be celebrated? Are things THAT bad?
(Wait... don't answer that.)
And third, in that same spot, given the same options, Grady Little would have punted out of his own end zone. Let there be no doubt. No, I'm not still bitter or anything.
Onto this week's picks (home team in caps):
LINK OF THE WEEK
Thanks to the Oregonian, here's a transcript of Bonzi Wells's impromptu press conference with local reporters this week, one day after he flipped off a fan at a home game.

I won't ruin it for you ... but just so you know, my next fantasy team is going to be called "The Black Flashes." Enjoy.
NY GIANTS (-10.5) over Atlanta
Here's where the "Smoking Hot Second-Half Teams" emerge -- the teams that start slow, turn things around, then roar to the finish like Peter North. It always happens around Week 9 or 10, there's always one team in each conference, and I can almost always identify them without fail. Well, the Giants are one of them. Talent? (Check.) Early-season stumble? (Check.) Easy schedule (Not exactly.) Showing signs of coming on? (Check). Coach with a midseason history of pushing his chips into the middle of the table, then getting everyone to ante up? (Check.) And now they get to fatten up against the hideous Falcons.
(That reminds me, does anyone else think that Atlanta's players are dying to win a game, just so they can pour Gatorade on an unsuspecting Dan Reeves? No, no, I told you, I have a bad heart... ahhhhhhhhhhh! They've probably been planning this for weeks. "Whoops, sorry, Coach, we totally forgot." Yeah, right. Keep an eye on this one. This has all the makings of a "CSI" episode.)
WASHINGTON (+3.5) over Seattle
Speaking of terrible coaches, it's Steve Spurrier! So lemme get this straight ... NFL coaches who only work seven-hour days won't be as successful as coaches who work 15 and 16-hour days? That's insane! I never would have imagined that! And it's a bad idea to leave your QB completely unprotected, so he takes 20 to 25 vicious shots per game? Get out of here! That's crazy talk!
So why am I picking them this week? Because I don't trust the Seahawks. Because I hate giving away that half-point. Because the Skins can't possible be worse than they were last week -- when Dallas gave them four turnovers and they still weren't in the game. And because the Skins players will be working overtime to save Spurrier's job.
(Hey, wait a second... what the hell am I thinking?)
Seattle (-3.5) over WASHINGTON
There. That's better.
(And just for the record, either this will be Koren Robinson's breakout weekend, or the weekend I break out of jail -- because I killed someone after seeing Koren Robinson catch 2 passes or less for the 10th straight week. There's no in-between.)
Arizona (+7.5) over PITTSBURGH
Here's what happened with the Cards over the past two weeks, and it's very simple: When you expect to win, you earn the right to be there to win. More importantly, you've earned the right to EXPECT to win. And you've earned much more than that.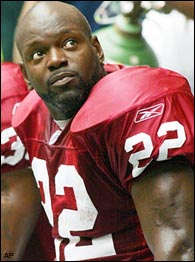 AP Photo
Smith could use his extra free time to consult "Playmakers" on the Leon Taylor character.
One more thing: Will anything be worse than that moment 2 weeks from now, after Marcel Shipp's 4th-straight 100-yard game, when Emmitt Smith and Coach Mac have the following exchange:
--Emmitt: "Coach, the trainer says I'm good to go."
--Coach: "Uh, jeez, Emmitt, um, maybe you better take another week, you don't want to rush these things..."
--Emmitt: "No, no, I got a clean bill of health. I can start on Sunday."
--Coach (walking away): "Wow, that's great. Really, that's good news. Keep me posted."
--Emmitt: "Wait, where are you going?"
--Coach (running): "I think I left my lights on... I'll be right back!"
CINCINNATI (-5.5) over Houston
How 'bout this for a stayaway: "David Carr with a sprained ankle" takes on "Jon Kitna as a 5.5-point favorite." That's like choosing between Brooke Burns and Brooke Burke, only the complete opposite. Whatever. I feel bad for jinxing the Bengals last week. My apologies.
(By the way, is it wrong that I was in the shower last week thinking about how Corey Dillon ruined not one but TWO of my roto seasons, and I was trying to think of ways to get him back, so I decided I would find out his home address, then sign him up for something like 100 different magazine subscriptions with the "Bill Me Later" option? And I spent about 10 minutes concocting this plan before I realized that he was driving me insane? And yes, I'm married and I have a job. Let's just move on.)
Tampa Bay (-3) over CAROLINA
Tampa won the Super Bowl last season. Now they play hard every other week. Hey, it happens. It just turns out that this is the Other Week. And it's Payback Time for that absymal loss to the Panthers in Week 2, the one where Kris Jenkins blocked the game-winning extra-point and I lost my two-team tease (unforgivable). So here's what I'm doing: I'm taking the money I would have won on that tease, plus the money I lost, and I'm betting it on the Bucs. The Karma Gods will pay me back. In fact, I feel so strongly about this, I just capitalized at least six words that didn't need caps.
One more thing on Carolina: it's highly, highly, HIGHLY possible that these guys aren't very good. They were beyond lucky in Week 2. They were just as lucky in Week Nine against the Saints. And they beat the Jags in Week One on a Delhomme fourth down heave (in traffic, no less). This team was three plays away -- repeat: three -- from being 3-5 right now.
And yeah, there's always some luck that goes into football from year to year, as the 2001 Bears proved to a tee. But this feels different to me. Couldn't you see them finishing the season 8-8? Let's just go ahead and anoint them the "Team That Collapses Down the Stretch" team and get it over with.
Chicago (+2) over DETROIT
Let's just say that Fox isn't spending the extra money for a sideline reporter on this one.
TENNESSEE (-5) over Miami
You know how Howie, Jerry, Terry and JB all look right after Frank Caliendo finishes one of his Sunday pieces, when everyone's in a state of shock for about 2.3 seconds, then they try to gamely press ahead with the rest of the show? That's how I feel every time I bet against Steve McNair in a big game. You do it, he's up 14-0 on you in 20 minutes, you're thrust into that state of "My God, what just happened?" disbelief ... and then you try to bounce back for the rest of the gambling day.
As for the Dolphins, two things bother me: They can't protect Brian Griese, and Brian Griese's involved in the first place. He's Brian Griese! Didn't anyone see what happened in Denver over the past two years? Come on. Right now Shanahan's down to Danny Kanell, Dennis Quaid and Kent Kittner's brother, Dirk Kittner... and he's still happy that Griese left town.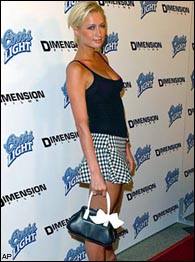 AP Photo
Seen here at the premeire of "Scary Movie 3," it seems Paris has her own movie to worry about.
JACKSONVILLE (+6) over Indianapolis
Rough week for Peyton Manning. Out of any sport, football is the one sport where you need to be 100% focused every week, or else it shows up on the field. Just look at that D.H. guy on "Playmakers" -- in the past seven weeks, his crack problem raged out of control, he injected fake urine into his own bladder, he slept with about 150 different call girls, and he found out that his brother was Snoop Dogg. Plus, he smoked hillybilly heroin on a UFO, ran for the governor of California, started a feud with Ja Rule and killed his blonde ex-wife and a waiter who was returning her glasses. You think his stats weren't affected? Of course they were.
Anyway, I'm not sure if we reached the stage where good teams start blowing easy games on the road, but this feels like a logical candidate. I can't imagine Manning playing a good game this week. And since I can't think of anything else to say about that ... I mean ... enough time has passed where we can joke about the Jacksonville punter who swung the ax onto his own foot, right? Where were the "NFL Films" cameras for this? I think I'd pay more money for the ax tape than the Paris Hilton tape.
(And I'd pay even more money to be able to write the punchline for that last joke.)
Cleveland (+10.5) over KANSAS CITY
I'm calling it right now: At about 1:10, you're going to see "Cleveland 7, Kansas City 0" flash across the ticker, and you're going to emit one of those "Whooooooa!" sounds that only the ten-minute ticker can provide. Not only are the Browns always frisky on the road, I'm not a big fan of the Chiefs coming off a Bye and two straight weeks of "Do you think you guys can go undefeated?" talk.
And there are other reasons to root for the Browns. For instance, I have some extra money to spend after cashing in my "William Green will get busted for an alleged DUI and marijuana possession" stock. And when it comes right down to it, the Holcombe-Couch QB Controversy has to be the funniest ongoing battle since Cuba Gooding Jr. and Horatio Sanz were arguing over top billing in "Boat Trip." I'm anxiously awaiting the six-hour documentary about it on the NFL Channel this spring.
(Speaking of the NFL channel, I caught a little of the programming on Wednesday morning, one day after the historic launch. I don't know what was more disturbing, the fact that they were counting down the ten greatest interceptions of all-time, or the fact that I was pissed because Ty Law's pick in the Super Bowl wasn't included. Maybe it was a little of both. Just what I needed, another channel to watch. Great.)
SAN DIEGO (+5.5) over Minnesota
Did you read how the Vikes have allowed 73 points and something like 1,100 yards of offense over the past 10 quarters? That sounds ominous. If Carolina doesn't go into the tank down the stretch, you're looking at Candidate B for the Second-Half Swoon.
More importantly, aren't the Chargers due for a nice win against somebody? They stumbled out of the gate against three tough teams (KC, Denver and Baltimore), slowly regrouped over the next few weeks ... and then the sobering fires submarined everything for them. This feels like an emotional win waiting to happen, especially with Flutie involved.
NY Jets (-3) over OAKLAND
A few thoughts on this one:
1. Did you know that the Raiders are 0-8 (and counting) against the spread? Can you ever remember somebody starting the season that badly? Am I the only one rooting for them to finish 0-16?
2. Just so you know, Rick Mirer is starting on Sunday for the Raiders. But don't worry, if something happens to him, Rob Johnson is backing him up.
3. Read that last sentence again.
4. After losing to Detroit last week, embattled Raiders coach and future offensive line assistant Bill Callahan called the 2-6 Lions "a very good team." When he gets fired, he might have a second career as one of those no-name movie reviewers -- you know, the guys who write stuff like "Matrix 3 -- This is the best one yet!" I really think this could be his calling. He could be the next Earl Dittman.
5. At this point, Santana Moss has gone beyond causing me pain -- he's actually injuring my soul. More on this next week. And yes, an ill-fated roto trade was involved.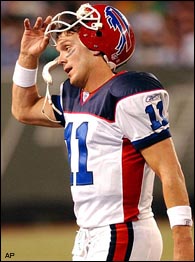 AP Photo
At this rate the Bills should just change their logo to the "Bledsoe Face".
DALLAS (-4) over Buffalo
There are a number of lingering questions here, like "Does anyone else get the feeling that Dallas is doing this with mirrors?"; "Why would anyone get excited about Willis McGahee when we know that it takes running backs two years to recover from knee surgery?"; and even, "When Gregg Williams and Bill Parcells shake hands after Sunday's game, should Williams hand the Tuna his resume, or should he wait until he gets fired at the end of the season?"
But no question is more pressing than this one, coming from John in Richmond, Indiana:
"Exactly where in the Pantheon of Faces does Drew Bledsoe's 'I'm disgusted with myself because I just threw another INT inside the red zone' face rank? Doesn't the fact that any fan watching on TV can see the face at least two plays ahead of time count for something? Is this face something he developed in Buffalo, or is he merely refining it after breaking it out in New England?"
Well, John, to answer these one at a time: The Bledsoe Face ranks in the top-ten (replacing the Derek Lowe Face, which was triumphantly retired in Oakland last month); yes, it counts for something; and yes, he's merely refining it and taking it to the next level. And now that he's getting older, the sky is the limit. Great guy, good QB ... and we never would have won a Super Bowl with him. I will always believe that.
(And if you're wondering about this week's game, just remember, Parcells owned Bledsoe after leaving for the Jets. To the point that it was Angelina Jolie-kissing-her-brother-level creepy.)
ST. LOUIS (-7) over Baltimore
At press time, Kyle Boller's QB rating was narrowly edging President Bush's public approval rating. I'm not sure who comes off worse in that last sentence. But here's my point: With Boller calling the signals, could you possibly justify backing the Ravens on a Sunday night, in a Dome, against a fairly explosive Rams team coming off an inexplicable no-show in San Fran? Of course not.
Regardless, thank God for gambling ... unless you're from St. Louis or Baltimore, how else could you pick sides when Brian Billick and Mike Martz are going head-to-head?
Two other things:
1. I was very, VERY close to believing that the Rams were headed to the Super Bowl ... and then Tom Rattay dominated them last week. Or is it Tim Rattay? Does it matter? Those types of losses don't happen to good teams in November. They just don't. I read in John Clayton's column that Martz considered last week's loss a "mulligan." No! There are no mulligans in November! End of story.
2. I implore you to TiVo "Inside the NFL" every week, if only for those two games when they stick microphones on players and run the miked-up footage. Nine out of ten times, it's fantastic. And then there's that one time when they stick a microphone on Ray Lewis ... and it goes to the next stratosphere. Who's more enjoyable than Ray Lewis? Seriously, anybody? Is there a more riveting in-game personality in sports?
When I'm handed over ESPN6 some day, Ray Lewis will immediately get his own 30-minute show during the football season. The show will be called "We Miked Ray Lewis For His Game This Week, And In All Honesty, We Didn't Need to Do Anything Else." I'm still working on the title. You get the idea. It can't miss.
GREEN BAY (-4.5) over Philly
Hey, we all know what "(-4.5)" means... it means that Vegas is just as confused as we are, even if the Eagles have no business being 5-3, and even if McNabb is currently sitting between Boller and Joey Harrington on the QB Rating list right now.
(And jeez, what happened to McNabb? He's like a higher-profile Andre Miller, mixed in with Nomar Garciaparra's performance in September and October, multiplied by the slump Andy Roddick's about to endure now that reality-TV cameras are following him around all the time. It's unbelievable. Maybe McNabb's quest to have the greatest balding afro of all-time has distracted his entire season. I knew this would happen. Nobody can take on the great Gus Williams's legacy without repercussions.)
Anyway, do you bet against Favre in Lambeau on a Monday night? Of course not. Do the Packers lose three games in Lambeau in the same season? Of course not.
(So why don't I feel good about this pick?)
Last week's record: 6-8 ... Season record: 49-44
Bill Simmons is a columnist for Page 2 and ESPN The Magazine, as well as one of the writers for Jimmy Kimmel Live on ABC.