By Bill Simmons
Page 2 columnist
One of these winters, I'm running the slate. It's going to happen. Eleven playoff games, 11 spreads, 11 wins, no losses.
11-0.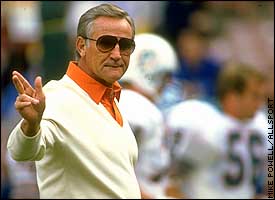 Like Don Shula directing the 1972 Dolphins, The Sports Guy dreams of a perfect postseason.
As Paul Maguire would say, "You want to talk about magical streaks? You want to talk about taking everyone for a ride?" Actually, yes ... I'd like to talk about it. Quite simply, "11-0" is the holy grail for gamblers -- right up there with the Lakers' 33-game winning streak in 1972, Adam Duritz's hot streak with Hollywood babes from 1993-1997, or even the time Rick Pitino made 10 consecutive franchise-killing decisions when he was running the Celtics.
I dream about 11-0 every January. Hitting the zone at the perfect time. Sitting at 8-0 after two weeks, as the entire country galvanizes behind me -- like one of those Texas kids that gets trapped in a well, only the complete opposite. Calling my bookie and hearing him say, "Oh, no ... it's you." Going into the Super Bowl at 10-0, one victory from immortality. Putting all my profits on that 11th and final game, the ultimate all-or-nothing, then nailing it to smithereens. I dream about that People Magazine cover with my picture and the headline "UNDEFEATED AND UNDAUNTED!" Making appearances on "Regis and Kelly," "Oprah," "Letterman" and that gawd-awful "Jack and Ali" show where the guy is so wooden you keep waiting for him to catch on fire. Landing in Us Magazine's "Stars: They're Just Like Us!" section, just a picture of me coming out of Starbucks with a large coffee, along with the caption "Taking a break from making history, ESPN gambling guru Bill Simmons finds time between wins to grab a latte in Hollywood Hills!" I dream of all these things. Then again, I also dream about watching the Sox win the World Series, as well as "Topless SportsCenter" and the chance to run ESPN6 some day. And those things probably aren't happening either.
Before we get to this year's Round One picks, here's a Christmas story for you: Home for the holidays, I watched last Saturday's Pats-Bills game with my Pops. We hadn't watched the Pats together all year, which is a little like the Hilton Sisters not getting to go shopping together. Also, the Pats were one victory away from homefield advantage throughout the playoffs, which has
never happened before in my lifetime
(?!?!?!?!?!?!?!?!?!). And this was the ultimate Payback Game -- after
the mortifying Buffalo shutout on Black Sunday
(Week 1), it was finally time for the Pats to return the favor.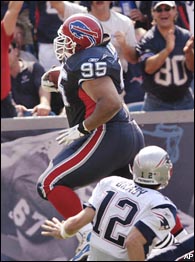 Remember Sam Adams rumbling on "Black Sunday"? The Sports Guy and the Pats haven't forgotten.
(Note: I was especially fired up. Poor Dad never knew this, but I teased the Pats with just about every other game that weekend, including some Division 3 women's hoops games and an ice-fishing contest in Saskatchewan. All that action left me so overwhelmed, I spent much of the game wearing Andrew Shue's "I can't believe I'm being out-acted by David Charvet" Face. God, I love gambling. Back to the column.)
Anyway, I'm telling you this story for two reasons.
1.
Along with my stepmom, the Sports Gal spent the morning working out, then doing some late Christmas shopping. In other words, there would be no distractions for us during the game. At least that was the plan. Repeat: At least that was the plan. Well, we forgot about the chip that was implanted in my stepmother's skull 15 years ago, the homing device that immediately directs her home during any important Boston game, regardless of the circumstances. Team her up with the Sports Gal, the Robin to her Batman, and what happened next was inevitable: It's 1:29. The game is starting in seconds. I'm not kidding. Dad and I are sitting on the couch. From our seats, we can see both the TV and the driveway. Just as the clock hits 1:30, one of those super-cool Buffalo-New England montages with the Goosebump Music starts. And then Dad says, "Oh, no." We look out the window ... It's a jeep. My stepmom and the Sports Gal are stepping out of it. They're carrying Christmas gifts and food. Please note: The game is f------
starting
. It's exactly 1:30. The timing wasn't just impeccable, it was downright "Biggie's last album being called 'Life After Death' "-level eerie. Of course, they're completely oblivious and could care less about the Pats, homefield advantage, my 75 different two-team teasers or anything else. Either we make small talk with them, or we're shoved in the doghouse like the Chazzes (Woodson and Garner) for the rest of the day. (I mean ... does this stuff happen to anyone else? Anyone?)
2.
After 20 minutes of one-word answers and grunts, we fend off them off and settle into the game. Much to our delight, it's a predictable romp by the former champs, so we're cracking jokes and slapping fives and everything else. We're thinking about another championship, and I'm telling Dad how I'm headed to Houston for another week of Super Bowl columns -- just like two years ago -- and wouldn't it be funny if the Pats ended up there again? And during all of this, Brady goes back to pass on third-and-long ... And he gets rid of it ...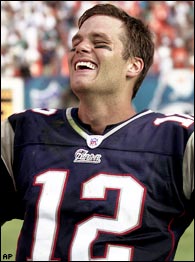 AP Photo
Fortunately, Tom Brady can laugh at reports of his premature demise.
And the ball's in the air ...
And then suddenly, Dan Dierdorf interrupts us.
Oh, no, Brady is down! This is bad! This is really bad! Oh, no, this is terrible!
Dierdorf is yelping like Nicole Brown Simpson's Akita. I can't remember his exact words, because I was busy throwing up in my mouth. Cut to Brady lying on the turf. He's holding his knee and rocking back and forth, looking like he's trying out for the UConn women's hoops team. To make matters worse, Dierdorf is still yelping away and gunning for an Emmy. At this point, he's determined to kill my Dad. He will stop at nothing less. Again, I'm paraphrasing.
This is awful! What terrible luck for the Patriots! Lawyer Milloy hit him below the knee and, oh, my God, this is terrible! Dick, I think his right leg was actually severed from his body!
OK, I made that last part up. But you get the idea. I finally glance over at Dad -- he's totally frozen. He doesn't know whether to throw up or have a heart attack. Meanwhile, I look like the little kid from "The Shining" during the scene when the old lady comes out of the bathtub in Room 238. We make quite a combo. As far as we know, the season is over. But here's the thing: Brady gets up. (Upon TiVO review, he was down for about 1.5 seconds. We didn't know that at the time. It seemed like 200 seconds.) We watch Brady limp over to the sidelines -- on his own -- and take a seat on the bench. Two trainers come over and start massaging his leg. It's a strained knee at worst. You can tell. They're just checking to make sure it's OK. Within about 45 seconds, he's standing on the sidelines and seeming fine. Dad and I start breathing again. We barely even notice Dierdorf, who reverses his diagnosis on Brady for the next five minutes.
Wow ... I'm gonna tell you, the Patriots just dodged a major bullet. That coulda been a lot worse. Watch this hit by Lawyer Milloy. (They show the first of roughly 630 replays to help Dierdorf's cause.) Watch this. Bam! If this wasn't a muddy field, that could have been a lot worse for the Patriots. A lot worse.
So if you're scoring at home, we were subjected to Dierdorf's overreaction to his
own
overreaction, which -- to my knowledge -- has never happened before. It's like when announcers start those "I'm gonna tell you, that was pass interference -- wait a second, that was
not
pass interference!" arguments with themselves. Did it ruin the Pats game? Of course not. I just needed to mention it. Dan Dierdorf put the fear of God into me, my Dad, and every other Pats fan watching the game. And he didn't have to do it. I just hope I didn't overreact to Dierdorf's overreaction to his overreaction. Because then ESPN might overreact, and this entire section might not see the light of day. Which might cause me to overreact. Let's just move on.
Before we get to the picks, just a few more things: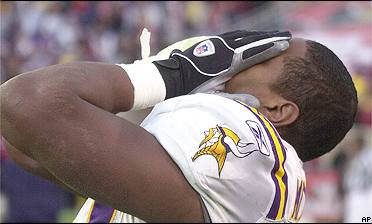 A documentary on the Vikings' failures would be painful to watch.
When the NFL Channel counts down "The Top 500 Toughest Regular-Season Losses" this summer, the Vikes probably clinched the No. 1 spot with that Arizona loss. Seriously, what was worse? Minutes away from a playoff berth, they gave up a touchdown, onside kick, wacky pass interference penalty, then a pseudo-Hail Mary on the final play ... and they lost to a team with a rookie QB and a lame-duck coach, a team that was one more incompletion away from drafting first in April. And it was a bogus call to boot -- really, does anyone think Poole would have gotten that second foot in? Throw in their tragic history -- Nate Wright, Gary Anderson, Darrin Nelson, four Super Bowl losses and everything else, and, yes, I'm well aware of this stuff since the best friend is a die-hard Vikes fan -- and this was a Second-Degree Stomach Punch Game for the poor Minnesota fans (check my Levels of Losing column for more details). Earnest Byner fumbling one yard short of the end zone against the Broncos... that was a Third-Degree Stomach Puncher. This was almost as bad. More importantly, that was the fourth Stomach Punch game for the Vikes in less than 30 years. Even the Sox didn't have that many over that same span. And yet you would never see a documentary about Vikings fans, a passionate group who have to rank among the most tortured fans in sports. Apparently media-related curses and sweeping self-importance is much more interesting on a national level.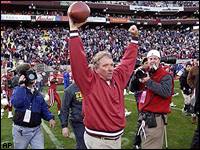 He's out of a job, but give Dave McGinnis an Emmy.
Speaking of the Cards, my man Dave McGinnis went out with a bang: "Inside the NFL" showed his farewell speech after the Vikes game, which just about shattered the Unintentional Comedy Scale as we know it. All this baby was missing was Joe Namath whispering "I want to kiss you" in the background. In case you haven't seen it, I don't want to spoil it for you ... when you're watching, just remember that A) the Cards were 4-12 this season, and B) they lost eight games on the road by an average of 20 points per game. Just keep that in mind.
I can't think of anywhere else to put this, so let's stick it here: Sarah's performance in the "Road Rules/Real World Challenge" is worthy of its own "SportsCentury" episode at this point. The weakest player on either team, she has this Elway-like ability to pull things together in the Gauntlet every week -- she's knocked off five people so far, even though the ungrateful bastards on her own team keep voting her back in. I'm not kidding ... if this were a real sport, we'd be comparing her to MJ and Muhammad Ali. This is amazing stuff. (And no, I'm not kidding. Last week's show actually gave me goosebumps. OK, maybe I shouldn't have said that out loud ... umm ... hey, how 'bout that Vikings game?)
Everyone wanted Jamal Lewis to get Dickerson's record last week. He wanted it. Billick wanted it. The players wanted it. Believe me, I understand. I just thought that winning a Super Bowl was more important than anything else. To have Lewis carry 27 times against a defense that stacked the line all game ... how does this help them against the Titans six days later? Why put the miles on him when you need about 120-130 carries from him over the next month? Didn't they see what happened with Portis in the Browns game? This stuff drives me crazy.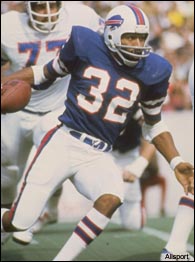 No need to search for the guy who set the "real" rushing record: O.J. did it.
And while we're on the subject, O.J. Simpson rushed for 2003 yards in 14 games, everyone else needs 16 games to beat him ... so why does this never gets mentioned? Basically, they made the schedule 14 percent longer, almost like baseball going from 154 games to 176. The Juice averaged 143 yards a game -- more than anyone -- yet he's fifth on the all-time list. He might need to get back into the Bronco with AC and start driving around in protest.
This is AC! I got OJ in the car again! He wants his rushing record back! (Pause) This is AC! You know who this is, dammit!
I've written this before, but it's worth mentioning again: In college football, Steve Spurrier is considered a genius, Dennis Erickson and Butch Davis can rejuvenate entire programs, and Pete Carroll gets to coach a national champion. When Pete Carroll coached the Patriots in the late-'90s, I nicknamed him "Coach Fredo" on my old website. That's how dreadful he was. Nice guy, great human being, crappy NFL coach. Now he's a champion. Here's the point: Clearly, there's an enormous difference between coaching in college vs. the pros -- it's roughly the same as appearing in soft-core porn vs. hard-core porn. Someone like Shannon Tweed keeps pumping out those Skinemax flicks into her 50s, yet most hardcore actresses disappear within two or three years. Even if they hang around, they start to look like hell. And only the strongest of the strong survive. Just like coaches in the NFL. (And no, I'm not drunk again. Just impossibly hungover. I better get to the picks.) You might remember my "Playoff Gambling Rules" column from two years ago, the one where I described "The System" (13 guidelines that were carefully created by myself and my buddy Geoff). Most of them remain intact. Some of them even apply this weekend. Let's look at this week's games (home teams in caps): Tennessee (-1) over BALTIMORE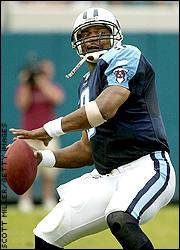 A healthy Steve McNair should put the hurt on the Ravens.

Rule No. 13 applies: "Before you make your decisions, take one last look at the QBs again."

The Titans have McNair, the best in the league. Nobody does more with less. Drew Bennett, Justin McCareins, Tyrone Calico ... does it even matter anymore? He can win anywhere, at any time, with anyone. Give him a decrepit running game -- just what the Titans decided to do this season, actually -- and it doesn't matter. Injure him, maim him, chop body parts off him ... it doesn't matter. As he showed in Houston two weeks ago, his sense of The Moment is almost unparalled. Other than Favre and maybe Ray Lewis, nobody affects his teammates on a week-to-week basis quite like McNair. You get the feeling they drive home on Sunday nights thinking, "Geez, he's something else." And then you have Anthony Wright, described in some circles as a "faster, shiftier Moses Moreno." This isn't like when the Ravens won the Super Bowl with Trent Dilfer, a big, durable guy who didn't make many mistakes (at least that season) and threw a decent longball. Wright just isn't accurate -- even in the miracle comeback against the Seahawks, he was basically throwing lob passes to Marcus Robinson and hoping for a jumpball or interference penalty. If the Ravens fall behind to anyone good, they're done. Also, the Steelers exposed something while they were denying Lewis the rushing record. Instead of just stacking the line, they REALLY stacked the line. Have you ever seen anything like that before? Just about every play looked like the Steelers thought it was fourth-and-inches. Eventually the Ravens had to start throwing ... and guess what? Wright couldn't do anything. Well, I'm guessing Jeff Fisher has ESPN. That's why the Titans will pull the Steelers Stack and put the game in Wright's hands. (Giddy up!) The Pick: Titans 24, Ravens 10. INDY (-3) over Denver
Rule No. 2 applies: "When in doubt, seek out the popular opinion and go the other way."

Well, I'm not actually in doubt. I like the Colts this year, mostly because of ... gulp ... Peyton Manning. Put it this way: When they were down 17-3 against Houston, I actually expected Manning to bring them back. Whether this translates to the playoffs for him ... I guess we'll find out. I just feel like he's a different guy. Hell, he even would have gotten my ... gulp ... MVP vote. And he and Harrison are deadly in big moments -- they always have that "E.T. and Elliott" wavelength thing going.

As for Denver, Shanahan screwed this one up: He pulled the Grady Little with Portis in the Cleveland game, left him in for those extra four carries ... and now his meal ticket is banged up for the playoffs. Well done. And if you think the Broncos are charging into Indy and throwing another perfect game, you're insane. Throw in all the "experts" on the Broncos bandwagon, plus the domefield advantage, and I feel pretty good about this one. Shanahan and Plummer on the road? No thanks. Here's my prediction: The Colts stave off Denver in a shootout, charge into Kansas City and dismantle the Chiefs ... then they get throttled in Foxboro. Somebody get the liquor cabinet ready for Vanderjagt. (And if I'm wrong, and the Dungy-Manning connection fails in January once again, and I backed them like an idiot ... well, hell hath no fury like a gambler scorned.) The pick: Colts 31, Broncos 27 CAROLINA (-3) over Dallas
Rule No. 1 applies: "Never bet on a shaky QB on the road."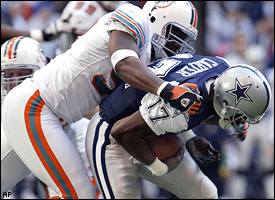 Before you bet on Dallas, check out Quincy Carter's QB rating.

Let's see: Quincy Carter (and his 71 QB rating) on a Saturday night, going against a quality defense on the road, with one of the loudest crowds in the league screaming on every play ... and Parcells muttering expletives to himself after every incompletion. I think that qualifies.

Hey, I'm not a huge Panthers fan either -- mainly because Jake Delhomme can take them right out of any game. (Timeout for Chris Berman's song: "Daylight come and he want to Delhomme! Daylight come and he want to Delhomme! Daylight come and he want to Delhomme! Daylight come and he want to Delhomme!" Is it running through your head yet? Good. Now you know how I feel. Whoops, I'm being electroshocked by my Page 2 editors ... back to the column.) The Panthers also spent much of the last two months trying to give their division away. And in the pouring rain, with Parcells on the sidelines orchestrating one of those boring 13-10 games -- tons of punts, one deep pass every quarter, hoping for one big turnover and one big play on special teams -- then maybe, just maybe, the Panthers could blow this one. Whatever. Yankee Stadium will freeze over before I back Quincy Carter on the road. The pick: Panthers 20, Cowboys 13. Seattle (+7) over GREEN BAY
Rule No. 4 applies: "Don't bet heavily against Brett Favre under any circumstances." The rule was dormant for most of the season ... and then ... well, you know. And yes, something strange is happening here. You can feel it. Remember four years ago, right after Sweetness died, when the Bears blocked that field goal and won that crazy game? Aren't you getting that same karmic feeling with the Packers right now? I don't know ... I believe in this stuff sometimes. It's enough to make you forget that Mike Sherman is coaching the team, which is the football equivalent of the movie ad slogan "From the demented mind of Danny DeVito."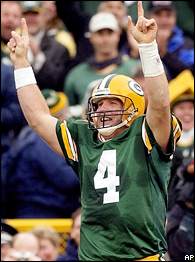 Does Brett Favre have enough good karma to cover a touchdown spread?

But I think Rule No. 10 also applies here: "At least one, and possibly two, underdogs will cover every weekend."

Right now, I have all the favorites. Not good. Given that Green Bay's winning streak was against Chicago, San Diego, Oakland and a DOA Broncos team, and given that the Seahawks won an impressive game in San Fran and played tight games in Baltimore, Cincy and St. Louis during the last two months, the line just seems high to me. Both teams can move the ball. Both teams make mistakes. That's usually a recipe for a good game. At the very least, the 'Hawks could cover on a cheap TD. Either way, I wouldn't wager heavily on this one. But since 11-0 is at stake ... The Pick: Packers 31, Seahawks 28. After that, I see the Packers stunning the Eagles in Round 2 (as the Philly fans turn on McNabb at the 3:40 mark of the first quarter). And just when everyone jumps on the "Favre is going to win another ring for his Dad" bandwagon, the Rams play the role of the party poopers ... throttling the Pack at home (with Favre finally having that inevitable 4-INT game) and setting up "Patriots-Rams: The Rematch." And yes, I'll be there writing about it. In case you're looking for me in Houston, I'll be the guy wearing the Rams "2002 Super Bowl Champions" T-shirt all week ... you know, the one I bought for half-price in the Superdome right after Super Bowl XXXVI. (In the words of Ernie Banks, "Let's play two!") Bill Simmons is a columnist for Page 2 and ESPN The Magazine, as well as one of the writers for "Jimmy Kimmel Live" on ABC