By Kieran Darcy
Page 2
EDITOR'S NOTE: Page 2, along with ESPN2's "Cold Pizza," is counting down the 15 Most Tortured Sports Cities in America. This week, ESPN's Sal Paolantonio wonders what -- or who -- caused the Philly curse and we present the Top 10 most painful moments in Philadelphia's sports history.
10. 76ers vs. Celtics, May 3, 1981
In 1981, the 76ers and Celtics hooked up in one of the best series in NBA postseason history. The teams were very evenly matched -- both went 62-20 during the regular season, and they had split their six games. Five of the seven games in this Eastern Conference finals were decided by two points or less -- including the last four. The Sixers led the series, 3-1. They blew a 10-point lead in Game 5 and lost 111-109 in Boston. Then they blew a 17-point lead in Game 6 and lost 100-98 at home. And in Game 7 in Boston, the Sixers blew an 11-point lead. They scored just one point over the final 5:23, and Larry Bird's 16-foot bank shot with 1:03 left won the game, 91-90, for Boston.
9. Flyers vs. Islanders, May 24, 1980
The Flyers fell behind the Islanders, 3-1, in the 1980 Stanley Cup Finals. They won Game 5 in Philadelphia, then trailed 4-2 heading into the third period of Game 6 on the road. But they still had some rally left in them. Bob Dailey and John Paddock scored in the third period to send the game into overtime. That's when they ran out of steam, and luck. Bob Nystrom -- replays showed he was offside -- then scored an overtime goal to win the series for the Islanders. If Philadelphia had been able to pull out Game 6, they would have played Game 7 at home.
THE 15 MOST TORTURED SPORTS CITIES
15. Tampa Bay
14. Kansas City
13. Cincinnati
12. Phoenix
11. Washington, D.C.
10. Houston
9. San Diego
8. Atlanta
7. Seattle
6. Minneapolis
5. Boston
4. Chicago
3. Buffalo
2. Philadelphia

Want to find out what the No. 1 city is? Tune into ESPN2's "Cold Pizza" next Tuesday morning. Then head back to Page 2 to read all about it.
8. Eagles vs. Raiders, Jan. 25, 1981
In 1980, the Eagles, under coach Dick Vermeil, finished 12-4 and won the NFC East. Then they beat Dallas Cowboys to advance to their first Super Bowl. They were led by quarterback Ron Jaworski, who racked up 3,527 yards and 27 touchdown passes that season. But Jaws threw two critical interceptions early in Super Bowl XV, and the Raiders went on to win, 27-10. The Raiders became the first wild-card team to ever win a Super Bowl.
7. Phillies vs. Dodgers, Oct. 7, 1977
The 1977 Phillies -- arguably the greatest team in Phillies history (franchise-record 101 wins) -- were poised to take a 2-1 lead in the NLCS (when it was a best-of-5) over the Dodgers when a dramatic turn of events occurred. The Phillies led 5-3 in the top of the 9th with two outs and nobody on base. Vic Davalillo reached on a bunt single and then Greg Luzinski, who was often replaced defensively in left field by Jerry Martin, misplayed Manny Mota's flyball into a double (and Mota advanced to third when second baseman Ted Sizemore misplayed Luzinski's return throw). Davey Lopes hit a routine grounder to Mike Schmidt at third base, but the ball hit a seam in the turf and bounced off Schmidt's knee to shortstop Larry Bowa, who appeared to throw out Lopes. It was a miraculous barehand play by Bowa, but Lopes was ruled safe and the game was tied. Pitcher Gene Garber then threw away a pickoff throw, sending Lopes to second, and Bill Russell singled in Lopes with the go-ahead run. It was a crushing 6-5 defeat -- known in Philly as Black Friday -- and the Dodgers won the series in Game 4.
6. 76ers vs. Trail Blazers, June 5, 1977
Led by Dr. J and George McGinnis, the 76ers were favored to win the NBA Finals in 1977 against the Portland Trail Blazers. And the Sixers won the first two games of the series. But Portland bounced back to blow out Philadelphia in Games 3 and 4 in Portland. The Sixers lost a critical Game 5 in Philadelphia, 110-104. And then, despite a fourth-quarter rally, they came up two points short in Game 6, losing 109-107. Dr. Jack Ramsay's Trail Blazers, featuring Bill Walton, took the title -- and in the process became the first team ever to lose the first two games of an NBA Finals and come back to win the next four games in a row.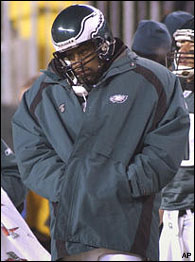 Third time wasn't the charm for McNabb and the Eagles in the 2004 NFC championship.
5. Flyers vs. Oilers, May 31, 1987
After losing Game 4 of the 1987 Stanley Cup Finals at home, the Flyers trailed the Edmonton Oilers 3-1, and things looked bleak. But the Flyers fought back. They won 4-3 in Edmonton and then 3-2 at home. So it all came down to Game 7, in Edmonton. The game was tied 1-1 in the second period when Jari Kurri slipped one past Philadelphia goaltender Ron Hextall. Glenn Anderson sealed the victory for Edmonton by scoring with 2:24 left in the third. The Flyers had won Game 3 after trailing by three goals, and Games 5 and 6 after trailing by two goals. But they couldn't mount a comeback in Game 7, and the Oilers took the game, 3-1, and the Cup.
4. Eagles vs. Panthers, Jan. 18, 2004
This was finally going to be the year the Eagles would get over the hump and back to the Super Bowl. That's what Philadelphia fans believed when the Eagles advanced to their third straight NFC championship game, and hosted the heavy underdog Carolina Panthers, who were 1-15 just two years before. But Carolina's stingy defense stifled the Eagles completely. They roughed up quarterback Donovan McNabb, injuring his ribs and eventually knocking him out of the game. Rookie cornerback Ricky Manning Jr. had three interceptions. The Panthers punished the Eagles, 14-3, and the Eagles became the first team to lose three straight conference championship games since the 1980-82 Cowboys.
3. Chico Ruiz steals home, Sept. 21, 1964
The Phillies entered their Sept. 21 game against the Reds with a 6 1/2-game lead with 12 to play. But they lost 1-0 when Cincinnati's Chico Ruiz stole home in the 6th inning for the game's only run. And then they lost again. And again. And again. They would lose 10 straight games in perhaps the most infamous pennant collapse in baseball history. Gene Mauch tried to pitching starters Chris Short and Jim Bunning on two days' rest, but it backfired. By the time the Phils recovered to win their final two games, it was too late: they finished tied for second, one game behind the Cardinals, who had won nine of their final 11.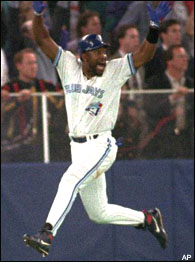 Mitch Williams never threw another pitch for the Phillies after Carter's home run.
2. Phillies vs. Blue Jays, Oct. 23, 1993
The Phillies trailed the Blue Jays in the 1993 World Series, 3-2, heading into Game 6 in Toronto. But they had a 6-5 lead going into the bottom of the 9th after rallying for five runs in the 7th inning. Philadelphia brought in closer Mitch "Wild Thing" Williams to get three outs and send the Series to a Game 7. But we never got to Game 7. Williams gave up a walk to Rickey Henderson and a single to Paul Molitor. And then, facing Joe Carter with one out, Williams threw a 2-2 slider that Carter smacked over the left-field fence for a World Series-ending home run -- only the second one in history.
1. Eagles vs. Buccaneers, Jan. 19, 2003
Everything pointed towards an Eagles victory in this NFC championship game. They were playing at home. Tampa Bay had a terrible history when playing in cold weather. And the Eagles had dominated the Buccaneers in their previous three meetings, including playoff wins the previous two seasons. The game couldn't have started out any better for Philadelphia fans as Brian Mitchell returned the opening kickoff 70 yards, and the Eagles led 7-0 less than a minute into the game. But it was all downhill from there. Trailing 20-10 in the fourth quarter, McNabb drove the Eagles deep into Tampa Bay territory, but Ronde Barber picked off a McNabb pass and returned it 92 yards for a touchdown to seal the victory. It was the Eagles' second straight conference championship game loss -- and their last game ever at Veterans Stadium.