Single page view
By Jason Whitlock
Special to Page 2
Dan Le Batard's column in the Miami Herald won't go away. And former NBA player and current TNT analyst Rex Chapman fanned its flames even further the other night.
Late in the fourth quarter of San Antonio's victory over Seattle, Chapman and co-commentator John Thompson debated the merits of Le Batard's contention that race might have played a role in Steve Nash winning the NBA MVP award over Shaq.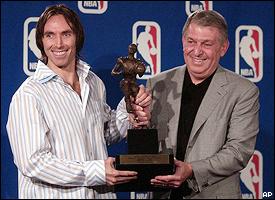 No one's saying Nash wasn't a worthy MVP candidate -- but the color of his skin still could have helped.
Chapman, a white former NBA player who considers Nash one of his closest friends, backed Le Batard's assertion, saying that race is "the elephant in the room" and we're naive if we believe that at least a few voters didn't take Nash's white skin into account when they cast their ballots.
"There's plenty of things in this world that I don't feel strongly about, that I'd be politically correct about, but race and racism is really not one," Chapman told me. "From an early age, I saw it. I experienced it. You can stick your head in the sand and not acknowledge the elephant in the room, but it's there … I probably didn't do it justice [Tuesday night on the air]. I brought it up when it can't really be talked about in much detail."
Well, it's being talked about in significant detail in a lot of places this week. Thompson, who is black, criticized Le Batard during the TNT broadcast, claiming it does a disservice to Nash's fine season to bring race into the debate.
Monday night, Charles Barkley ripped Le Batard on TNT's postgame show, calling the column "asinine." Tuesday morning, respected columnists across the country were ridiculing Le Batard in print. Wednesday morning, when I logged on, I was greeted by a rip of Le Batard and a defense of Nash on AOL's homepage.
One man shouts racism in a crowded building and an unruly mob flogs him publicly. Le Batard didn't shout. He suggested that race might have combined with several other factors – Nash's size, America's love for the underdog, Phoenix's 33-game turnaround, Phoenix's poor record without Nash, the voters' desire to avoid the obvious choice – to hand Nash an award Shaq deserved.
Chapman, who is director of basketball operations for the Suns, agrees with me. Nash earned the MVP. His selection is not an injustice to Shaq. But it's foolish to dismiss Le Batard's assertions.
"I know [Le Batard]. I played in Miami for a year," said Chapman, a 12-year NBA vet and an All-American at Kentucky. "He's in Miami covering the Heat. They'll throw the 'homer' tag on him. Other journalists might say he just wants the shock value. I don't know Dan well enough to know what his motives are. But when I heard it, the first thing that went through my mind was, 'Damn right.'
"What mainly lends it credence, gives it some merit, is the MVP voting was close. You know, I grew up in a place (Owensboro, Ky.) where racism is an epidemic. I'm not talking about 20 years ago. I'm talking to this day. Drive through the South. But it's not just the South. [It's] other parts of this country, rural areas – hell, in the cities. It doesn't take but just a handful [to swing the vote].