Single page view
By Jason Whitlock
Special to Page 2
To appreciate this column, you're going to have to first acknowledge you've been misled about what's really been transpiring between the Detroit Pistons and Larry Brown.
You think this sorry soap opera is another tale about Brown's wanderlust and double-dealing. Maybe you think it's a riff about his ailing body.
You're wrong.
Larry's history has played a role in this mess. But to understand how a team with back-to-back Finals appearances is likely to be playing next season for its third coach in four years, the truly enlightening factor is the Pistons' history.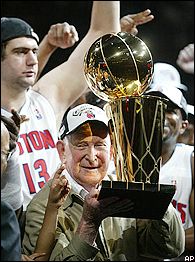 Pistons owner Bill Davidson should share the blame for the turmoil in Detroit.
Pistons owner Bill Davidson, former Pistons president and current Palace of Auburn Hills president Tom Wilson, Pistons spokesman Matt Dobek and Pistons president Joe Dumars have so many media members (not all of them, but enough) in their hip pockets that I can't really blame you for being confused.
You've read the stories they've wanted you to read.
Larry Brown isn't loyal.
Larry Brown is a gigantic distraction.
Larry Brown's players don't believe in him.
Larry Brown wants to coach in New York.
Larry Brown wants to lead the Cleveland Cavaliers.

Well, today I'm going to share the other side of those stories, the side that Davidson, Wilson, Dobek and Dumars don't want you to read.

Larry Brown didn't ask me to share it. In fact, when I reached Brown Wednesday afternoon, he wouldn't discuss anything with me, on or off the record. Heck, the story I'm about to share is one Larry probably knows little about. He might even disagree with it.

Davidson and his right-hand man, Wilson, might be the most hypocritical, back-stabbing executives in all of sports. They could tutor Al Davis.

Brown isn't the first (or last) Pistons employee Davidson and Wilson have tossed under the bus once they've squeezed what they've wanted from him. Ask Isiah Thomas. Or Chuck Daly. Or Don Chaney. Or Rick Carlisle. Or Doug Collins. Or Jack McCloskey.

You think it's unethical or disloyal for Brown's agent to explore a management position in Cleveland while the Pistons are in the playoffs? You think Bill Davidson was justifiably offended?

Well, then, do you think it was unethical or disloyal for the Pistons to sew up a deal with Brown to replace Carlisle while the Pistons were wrapping up the 2003 regular season and playoffs?

Do some homework. Find out how Chuck Daly felt when Mr. D(avidson) hired Ron Rothstein as a radio color commentator during Daly's last season. Daly, who delivered two championships to Detroit, spent his final year on the Pistons' bench with his successor (Rothstein) looking over his shoulder and second-guessing him over the airwaves.

Oh, yeah, Mr. D and Wilson are all class. They demand loyalty and give none.

For weeks, we've heard constant reports about how Mr. D was "put off" that Brown flirted with Cleveland and spoke glowingly of his hometown Knicks. People reported these stories like they were some sort of crime against humanity.

If it was a crime, what kind of felony is it for an organization to make a habit of picking a coaching successor long before the end of the season when the coach in place hasn't yet been dismissed? The latest: Flip Saunders' name began to circulate among Pistons media puppets in February.