Editor's Note: In the spirit of Valentine's Day, Page 3 thought it'd be fitting to re-visit sports' most eligible bachelor's dating history.
At this point, we shouldn't be surprised by anything Derek Jeter does on the field, or more precisely, anyone he is spotted with off of it.
Comes up with a game-winning home run in the World Series? Yawn.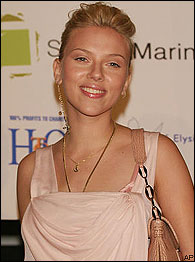 Jeter reportedly dated blonde bombshell Scarlett Johannson.
Dates former Miss Universe, Lara Dutta?
Well, that one staggered just about everybody -- let's be honest, we're not talking the cute ticket girl at the local cinema. This is Miss Universe -- tiara and all. How can you top that? Miss Solar System? The contest may not yet exist, but you just know Ryan Seacrest would host it.
And when word quickly spread out of Los Angeles that the All-Star shortstop was spotted with actress Scarlett Johansson -- albiet briefly -- you had to pause, gently finger your goatee and think, ''Damn, he did it again.''
It's impossible to nail down a timeline of Jeter and his many lovelies, but let's give it a try:
April 1996 -- In his first major league game, Jeter homers and makes spectacular over-the-shoulder catch in victory over Cleveland. That's about the extent of his career accolades we'll get into. A star is born.
December 1997 -- In one of his first boldface-name mentions, Jeter mysteriously pops up on the set of a Mariah Carey music video. Those with half a brain recall Jeter saying she was his ''favorite artist'' back in 1996 and the wheels begin in motion. Hmmm.
March 1998 -- The authorities are alerted. Mariah Carey, fresh off a quickie divorce from music mogul husband Tommy Mottola, turns up at Yankees spring training in Florida. The media incessantly hounds Jeter while teammate Tim Raines jokes in the dugout, ''Is this baseball or 'Entertainment Tonight?'''
March (later) 1998 -- Yeah, she stayed for all of spring training. You couldn't walk into a Waffle House or Steakhouse in Tampa without seeing the lovebirds cuddling. And Mariah, quite the sexpot back in the day, was notorious for wearing daisy dukes everywhere she went. One newspaper calls in Dr. Joyce Brothers to weigh in on the relationship (yes, seriously).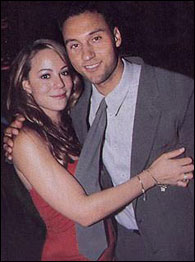 Jeet's never been able to lay off those high pitches.
June 1998 --
The romance crumbles under the harsh spotlight of unrelenting media scrutiny. Publicists on both sides give the standard-issue ''the media pressure got to them'' line. Jeter's stats are slightly down across the board -- fewer RBI, more strikeouts, lower batting average. Manager Joe Torre notices.
November 1998 -- At a party hosted by Puff Daddy in New York City, newspapers report that Jeter brushes off Carey, turning his back to her at one point, when she tries to talk to him. He is overheard telling her, ''You're crazy.'' This, my friends, is the end of celebrity relationship No. 1.
May 2000 -- While watching Regis and Kathy Lee (who knew?), Jeter supposedly falls in love with the women who just captured Miss Universe, Lara Dutta. Jeter would have asked Kathy Lee for advice on how to maintain a celebrity-athlete romance, but we all know about Frank's propensity for flight attendants.
May (later) 2000 -- Days after her appearance on Regis, Miss Universe mysteriously appears at a Yankees game (along with Miss USA). Supposedly, Jeter sent her a pair of tickets, but 2:1 odds says his agent made this one happen.
November 2000 -- Jeter and Miss Universe don't watch the bizarre election on TV. Instead, they party at a club in NYC and newspapers claim they spend all night ''canoodling'' (which, in case you're new to all this, is something between mushy love talk, hand-holding, and making out like high schoolers).
May 2001 -- As Jeter and Miss Universe approach their one-year anniversary, none other than Tiger Woods is said to have made a move on the shortstop's squeeze. As the story goes, Tiger (or people from his foundation) invited Miss Universe to the Tiger Jam IV Benefit in Las Vegas. Tiger's people deny. Jeter scratches his head. My brother graduates from college.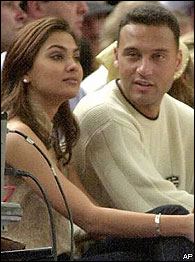 Derek takes all his dates -- even Miss Universe -- to Knicks games.
August 2001 --
Miss Universe who? From left field, we are hit over the head with this shocker: Jeter's pal, Alex Rodriguez, had recently begun hanging out with singer Joy Enriquez (or perhaps you know her like I do ... from ''7th Heaven''); but when he introduced her to Jeter, it was curtains.
Jeter steals his best friend's girl! Oh my high school, Batman! (This is the second time in recorded history this has happened -- nobody has forgotten the Tim Couch-Heather Kozar-Cade McNown disaster that got McNown banned from the Playboy Mansion). Clearly, Jeter has a hankering for singers.
July 2002 -- Despite a one-year hiatus from the world knowing who he was dating (although there may have been a non-celeb or two in there), word begins to spread of Jeter's new love interest, a personal favorite of mine, actress Jordana Brewster. Who can forget her epic turn in ''Fast and Furious?'' She was robbed by the Academy, I tell you.
December 2002 -- The lovebirds are spotted Christmas shopping in NYC. It's been slightly more than six months, and people begin to wonder ... could Jeter get serious with her? Is she - gasp!- the one? Gorgeous, Yale-pedigree, gorgeous, actress, always smiling ... did I mention gorgeous?
April 2003 -- Jeter is no-show for Brewster's 26th birthday party. Guys around America (OK, maybe just me) rejoice because she's back on the market; women do, too. The autopsy doesn't reveal a cause -- they never do in these athlete-celebrity relationships.
May 2003 -- The superstar is spotted hanging out at 4 a.m. with a hostess from the famed strip club Scores. She tells a newspaper that her Jeter paired off, while his wingman Jeff Weaver (Jeff Weaver? Are you kidding me?), hit it off. Yada, yada, yada, and the girls left at 8 a.m.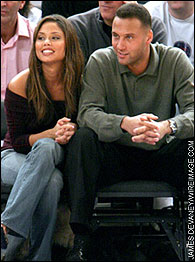 DJ's got a thing for this veejay and young brunettes in general.
November 2003 --
Court side at a Knicks game, Jeter is photographed with former Miss Teen USA, Vanessa Minnillo. She doubles as a host on the MTV teeny-bopper show, Total Request Live. It's a puzzling connection to many, until they google her and come upon some rather racy bathing suit photos. This begins an off-and-on relationship between Jeter and Minnillo, which lasts up until this very day.
July 2004 -- Word begins to spread of Jeter cozying up to Jessica Alba, the actress who starred in ''Honey.'' If for some inexplicable reason you missed ''Honey,'' kindly TiVO it, and enjoy it on Saturdays, and twice on Sundays. Reports say that Jeter has long had an interest in Alba, and they finally connected on one of his West Coast road trips in early summer.
November 2004 -- Although there wasn't a press release about a breakup with Alba, a sighting of Jeter and Minnillo in New York lets everyone know that he's back to old standby. Not that she's a standby to scoff at. If such a thing exists.
December 2004 - The biggest playboy in all of sports -- with apologies to Patriots quarterback Tom Brady -- is spotted at an LA restaurant (supposedly for the Microsoft Christmas Party - go figure) with 20-year-old actress Scarlett Johansson. As if Jeter needed to add to his legend, the ''Lost in Translation'' star had been in a months-long relationship with Jared Leto, the guy who made a name for himself as a brooding loner in ''My So Called Life'' (I only know this stuff because women cannot stop talking about him). One can only wonder what starlets Jeter will romance in 2005.
Jason McIntyre covers sports and entertainment in New York City. He can be reached at jasonrajmcintyre@yahoo.com.