Everybody's on board.

As "Friday Night Lights" his theaters this Friday and the ESPN Book Club debuts on Page 2, ESPN.com takes an in-depth look at the story of Odessa (Texas) Permian High School football: FROM THE ESPN BOOK CLUB:

H.G. "Buzz" Bissinger, the author of "Friday Night Lights," is helping publicize the movie, and endorses its essential truth wholeheartedly. Former Odessa (Texas) Permian High School Panthers written about in the book and portrayed in the movie seem to be pleased with the film. Director Peter Berg admits a few facts have been changed for narrative purposes, but contends that the celluloid version is true, in the most essential ways, to the book version. But what's left in and what's left out? How accurate is the movie, which looks like a documentary, and, as the stock Hollywood phrase now goes, "Is based on a true story"? You decide.
ODESSA, FOOTBALL AND THE LIFE
In Reel Life:
The Panthers play in a beautiful new stadium.
In Real Life:
Some of the football scenes were shot in the stadium that the Panthers played in 1988 and still play in today. It was built in 1982 at a cost of $5.6 million and seats 19,032. Other "home" football games were filmed at Austin's Westlake High School, inside Chaparral Stadium.
---
In Reel Life:
The team travels by bus to every game.
In Real Life:
The team flew by charter jet to at least two away games in 1988: to Marshall, about 500 miles east, and to El Paso, about 280 miles west.
---
In Reel Life:
Permian (and some of its opponents) have huge marching bands -- they look like they could match most college marchers.
In Real Life:
The Midland High School Band was used as a stand-in for the Marshall band, and Permian's current band, with about 100 members, appears in the film. At least three other high school bands also played in the movie.
---
In Reel Life:
To paraphrase Vince Lombardi, in Permian football's not everything, it's the only thing.
In Real Life:
That's one of the major themes running through Bissinger's 1990 book, and he wasn't the only "outsider" to notice how huge football was in Permian in the 1980s. In the Nov. 18, 1985, issue of Time, Gregory Jaynes quoted one Odessa High alumnus as saying, "Nobody wants to hear about our merit scholars or that our chorus went to Wales last year. All they talk about is Permian football." Jaynes also noted that the local NBC affiliate was so keen on broadcasting the Permian-Midland Lee game that it pre-empted an MLB playoff game and paid each school $4,500 for the broadcast rights. "It was believed to be the first live telecast of a regular-season high school football game in Texas," Jaynes wrote. And, "During the broadcast, you could have fired a cannon down the main streets of either town and not hit a living soul."
---
THE COACH AND THE TEAM
In Reel Life:
There's talk that Coach Gary Gaines (Billy Bob Thornton) makes $60,000 a year -- more than Permian's principal.
In Real Life:
Gaines made $48,000 in 1988, and one of the perks of the job was free use of a new car. By comparison, a Permian teacher with a master's degree and 20 years experience earned $32,000.
---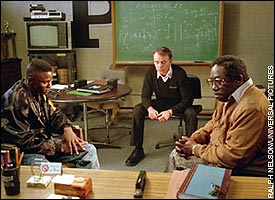 It the movie, Permian coach Gary Gaines (Billy Bob Thornton) meets with Boobie Miles and his uncle, L.V., as Boobie decides to return to the football field.
In Reel Life:
Permian's way ahead when Boobie Miles (Derek Luke) gets hurt. Gaines is criticized for leaving Boobie in when the game is locked up -- the implication is that Gaines is to blame for the injury to Boobie.
In Real Life:
Gaines was blamed for a lot of things he had no control over, and Boobie's injury, for which he wasn't blamed, seems to be a stand-in.
---
In Reel Life:
After Permian suffers a huge defeat in the second game of the season, Gaines returns home to find "For Sale" signs planted all around his front lawn.
In Real Life:
True. This actually happened. Subtle, huh?
---
In Reel Life:
The football action looks very authentic.
In Real Life:
More than 800 former high school and college football players auditioned to be on a 41-man squad directed by Allan Graf. Prior to filming, they worked out for three weeks and ran about 100 plays based on Permian's 1988 playbook. Graf was the stunt coordinator for "Any Given Sunday," "The Waterboy," "Jerry Maguire," and many other films. One of his first acting gigs was as "Carl" in the 1981 "Mr. Galaxy" episode of "Charlie's Angels." Back in the day, Graf was the starting guard on USC's 1972 national championship team.
---
BOOBIE MILES
In Reel Life:
Boobie is the captain of the Permain Panthers.
In Real Life: Ivory Christian was the Panthers' captain, voted on by the players on the team.
In Reel Life: Boobie gets injured in the first game of the season, against Marshall.
In Real Life:
Boobie was injured in a preseason scrimmage against the Palo Duro Dons.
---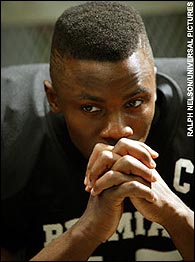 Derek Luke plays Boobie Miles, whose senior season was cut short by a knee injury.
In Reel Life:
The trainer says it's an ACL tear. An Odessa doctor says he thinks there's a "slight tear" and that Boobie needs an MRI. Finally, with Permian at 6-1 and Chris Comer (Lee Thompson Young) doing great in his place, Boobie goes to a hospital in Midland and tells the doctor his knee isn't getting better. He gets an MRI. The doctor says, "You can't play with that kind of injury."
In Real Life:
The first doctor Boobie saw said he had only sprained a ligament. But another doctor said arthroscopic surgery was necessary. Boobie got his knee operated the day before the first game of the season.
---
In Reel Life:
Bobbie goes nuts when the doctor tells him he can't play. He's out of control with anger at the doctor.
In Real Life:
Bobbie did lose it -- but he did so with L.V. (Grover Coulson), his uncle and mentor who he lived with. One night the two had a heated argument that resulted in Boobie moving out.
---
In Reel Life:
Boobie comes back anyway, telling Coach Gaines that he's fine to play against Midland. The second time Boobie runs the ball in his comeback, he reinjures his knee.
In Real Life:
In his first game back, Boobie carried the ball 10 times for 46 yards against Abilene in a 49-0 victory. But Bissinger reported that he was tentative and left the game limping.
---
In Reel Life:
Boobie cleans out his locker before the playoffs start.
In Real Life:
That's exactly what he did. He quit the team.
---
In Reel Life:
Boobie reconciles with the team and his own disappointment, joining them on the bus to the Astrodome for the state final.
In Real Life:
Boobie did not go with the team to any of their postseason games, and listened to the Panthers' last game of the season all by himself in Odessa. "I didn't want to end the story with him alone," director Peter Berg said. "I felt that was too dark."
---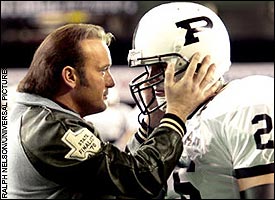 The movie took some creative license with Charlie Billingsley (played by Tim McGraw) and his son Don.
DON AND CHARLIE BILLINGSLEY
In Reel Life:
Charlie Billingsley (Tim McGraw) is a former Panthers great who played on a state championship team. He's a drunk and abusive to his son, Don (Garrett Hedlund).
In Real Life:
Charlie Billingsley was a Mojo legend in the late 1960s, a great running back described by Bissinger as a mean kid who relished a brawl. Don had moved in with his father before his sophomore year specifically to play for Permian (he had been living in Oklahoma with his mother). Charlie did have a drinking problem and went to alcohol rehab in Don's junior year. But in the book Bissinger does not portray Charlie Billingsley as abusive. Instead, writes Bissinger, "Living with Charlie was sometimes more like living with an older brother or a roommate than with a father. There were times when Don stayed up almost all night, regaled by his father's stories of how to live the world and how not to live it. Don treasured those sessions and learned from them." In "The Story of the 1988 Permian Panthers" recently broadcast on ESPN Classic, Don says, "With our relationship, there was a little turmoil. It wasn't anything unhealthy, it wasn't anything abusive, but he demanded mental toughness and physical toughness.
---
In Reel Life:
Charlie Billingsley's abusive moments begin when he comes out onto the field during the first practice and berates and decks Don.
In Real Life:
Kansas City Star writer Derek Samson previewed the movie with five local coaches. "That father would be on his back if that happened at my practice," one said. "I've never seen anything like that." Another longtime Permian fan also said she'd never witnessed an outburst like that. And Bissinger does not write of this in the book.
---
In Reel Life:
Don is a bit of a partier, and, in what seems like a throwaway line, someone says to him, in passing, "Stay out of jail, Billingsley."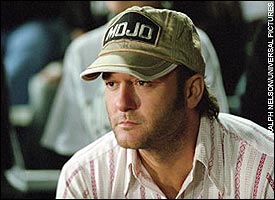 Although he was a legend at Permian, Charlie Billingsley never won his state championship in real life.
In Real Life:
Bissinger describes Don as very much like his father, a kid who fought and "had built up quite a reputation for drinking." After a 48-7 win over Nimitz, Bissinger quotes Don as saying, "I'm gonna party, see how intoxicated I can get and how many rules I can flaunt. That's my motto." In "The Story of the 1988 Permian Panthers," Ken Brodnax, a writer for the Odessa American, says, "I don't think many people during that season would have given him much of a chance of doing anything because he was one of the wild members of the team."
---
In Reel Life:
At the end, Charlie runs out onto the field and gives Don his state championship ring, saying, "You deserve this way more than I ever have."
In Real Life:
Maybe, but in fact Charlie didn't deserve the ring at all. Charlie's team did make it to the state finals in 1968, but lost.
---
MIKE WINCHELL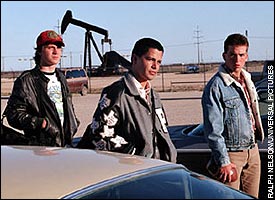 The kids in Permian have football ... and not much else in "Friday Night Lights."
In Reel Life:
At a party, Panthers QB Mike Winchell is seduced by a girl named Melissa (Ryanne Duzich), who seems to become his girlfriend. At one point, Melissa asks, "Why isn't anyone allowed at your house? Is your mother really crazy?"
In Real Life:
Just as in the movie, Winchell did live at home with his mother -- his father had died, and his mother worked two jobs. Gaines didn't know her, although he knew most parents. "His mother was enormously quiet and reserved, almost like a phantom," writes Bissinger. It's true that Winchell didn't like friends, including his girlfriend, DeAnn, to visit his house, "apparently because of its condition," writes Bissinger.
---
THE PLAYOFFS AND THE DALLAS CARTER GAME
In Reel Life:
The Panthers beat Amarillo in the semifinals to make it to the state finals.
In Real Life:
The Panthers beat Amarillo Tascosa in the first round of the playoffs 31-7.
---
In Reel Life:
The Panthers played for the Texas 5A state championship against Dallas Carter.
In Real Life:
The Panthers played Dallas Carter in the semifinals.
---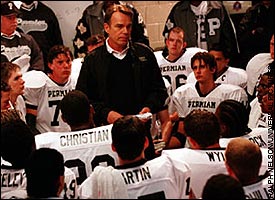 Permian lost in the state semifinals in 1988, but the movie made it the championship game.
In Reel Life:
Before the game against Dallas Carter, the two teams negotiate a site and also the composition of the refereeing team. Race is an explicit factor in the negotiations.
In Real Life:
That's how it went down.
---
In Reel Life:
The teams face each other in the Astrodome.
In Real Life:
The teams faced each other in Memorial Stadium on the campus of the University of Texas at Austin.
---
In Reel Life:
The Astrodome is packed for the state final.
In Real Life:
The Astrodome is a common pick for state final matchups; between 1973 and 1995, it hosted 11 title games. In 1995, the Houston Chronicle reported the Astrodome drew its biggest high school football crowd for a 1977 playoff contest: 38,570. Plano and Port Neches-Groves probably drew the biggest crowd ever to a Texas state championship game, when they played in front of 49,953 in Texas Stadium in 1977.
---
In Reel Life:
The team takes a bus to the Astrodome. Gaines says it will be a six-hour ride.
In Real Life:
Buckle up, boys! That bus will be going between 90 and 100 mph. It's between 540 and 600 miles between Odessa and Houston, depending on the route.
---
In Reel Life:
Early in the final, Dallas Carter sacks Winchell for a safety.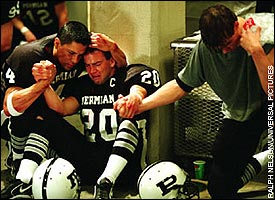 The end was heartbreaking for Mike Winchell in Reel Life and Real Life.
In Real Life:
Didn't happen. In fact, Permian scored first, near the end of the second quarter, on a run by Comer. Carter led 7-6 at the half. The Panthers regained the lead in the third quarter on a field goal.
---
In Reel Life:
Dallas Carter plays very dirty, taking cheap shots after the ball is dead on many plays, but is never called for it.
In Real Life:
There was no reporting of this in the book. However, Carter faced lots of pressure for playing dirty
off
the field, because of charges that a teacher had passed one of their players who had clearly failed. The judge ruled that Carter could continue on in the playoffs. Carter went on to win the state title. But later the title was stripped and they forfeited all playoff wins, because the school had broken eligibility rules. Officially, the score of the 1988 state championship game is Converse Judson 1, Dallas Carter 0.
---
In Reel Life:
The refs tend to ignore Carter's dirty play, and one call -- a catch ruled a reception on a ball that had clearly hit the turf -- is downright wrong.
In Real Life:
Bissinger writes of one play, early in the fourth quarter, when a Carter pass that had clearly been dropped had been ruled complete by a black official who wasn't in a position to see the play clearly. This helped keep a Carter drive going, the drive that would end in the game-winning TD. "Permian supporters," Bissinger wrote, "later grumbled that he made it the way he did because he was black and favored Carter."
---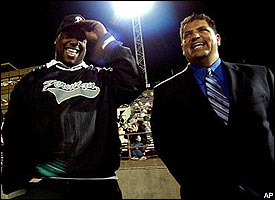 The real Boobie Miles, left, shares a laugh with former Permian teammate Brian Chavez on the set of "Friday Night Lights."
In Reel Life:
Carter leads 26-14 at the end of the third quarter, and they score again to make it 34-14. But Comer returns a kick for a TD to put Permian back in the game, Winchell
catches
a TD pass to make it 34-28.
In Real Life:
Winchell didn't catch a TD pass, although he did catch an 11-yard pass on the final drive.
---
In Reel Life:
Permian gets the ball for one final drive, starting on its own 25 with 1:40 left. The Panthers drive
almost
successfully, with Billingsley running up the middle to the 1 (play called back on a holding penalty). Then Winchell runs it all the way to the one-foot line as time runs out.
In Real Life:
The Panthers did have a dramatic last-minute drive. They got all the way to the Carter 10, got pushed back by a holding penalty, and near the end had a fourth-and-6 at the Carter 24 with 10 seconds left. A would-be touchdown pass from Winchell to star wide receiver Lloyd Hill was broken up at the last second by
Jessie Armstead
during the drive -- yes, the same Jessie Armstead who went on to play in the NFL and currently plays for the Carolina Panthers.
---
In Reel Life:
Permian loses to Dallas Carter in the final, falling short of the game-tying touchdown by about a foot as time runs out.
In Real Life:
The Panthers did lose to Carter in the semifinal 14-9. The game ended on an incomplete pass.