Commentary
Howell hankers for hometown event
Originally Published:
March 5, 2010
By
Bob Harig
| ESPN.com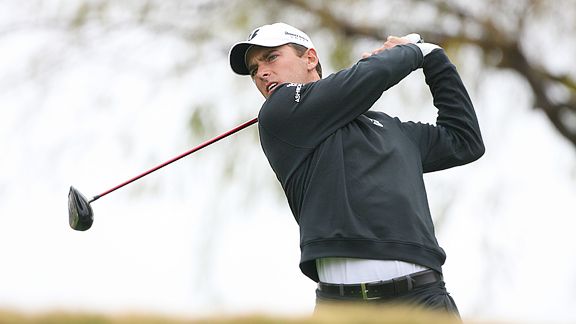 Hunter Martin/Getty ImagesCharles Howell III has five top-10 finishes already this season on the PGA Tour.
PALM BEACH GARDENS, Fla. -- Like many who were glued to their televisions during the final round of the 2009 Masters, Charles Howell figured Kenny Perry was mere moments from slipping on a green jacket.
Perry had a 2-shot lead with two holes to play and appeared to be in complete control of the tournament after stiffing his approach to the par-3 16th hole.
Of course, it did not work out for Perry, who bogeyed the final two holes to drop into a sudden-death playoff that was won by Argentina's Angel Cabrera, with Chad Campbell also losing out.
"It's what those ghosts out there can do to you," Howell said. "And they're out there."
Howell, 29, would dearly love to have the opportunity to be haunted by them, but he is in danger of missing his favorite tournament for the second straight year.
A native of Augusta, Ga., Howell is going all out to try to qualify for his hometown tournament, one that he played in seven straight years before being relegated to the couch last season.
And he pretty much has to win to get in.
"I'm going to play every tournament that I can play that gets me in by winning," Howell said Friday at the Honda Classic. "Here, Tampa [Transitions Championship], Bay Hill [Arnold Palmer Invitational], Houston [Shell Houston Open]. If you can figure out the world ranking system, you're a smarter man than I. Obviously I need to win a tournament to get in there. This Florida swing serves as motivation for a lot of guys."
Howell, who made headlines earlier this week when he disclosed that he had spoken to Tiger Woods on the driving range at Isleworth in Orlando, Fla., where both live, is ranked 99th in the world.
Players ranked among the top 50 after the Arnold Palmer Invitational in three weeks will get last-minute invitations, but it is unlikely Howell can ascend that high without winning.
Twice last year, Howell had runner-up finishes when a victory would have gotten him into the Masters.
And although he earned more than $1.8 million and finished 46th on the PGA Tour money list, it wasn't enough to earn a spot in the Masters field. The top 30 on the final money list get in, as do the top 30 in FedEx Cup points or the top 50 in the world. Starting this year, Howell had slipped to 142nd in the world.
Making it tougher is the fact that Howell has failed to qualify for three of the past four World Golf Championship events, in which the elite fields and big prize money offer more world ranking points and the chance to climb the money list. Howell is 19th in FedEx Cup points and would need to crack the top 10 after the Honda Classic to qualify for next week's CA Championship at Doral.
"It's almost a self-perpetuating cycle if you can play your way into those events," he said. "You still have to be playing well, obviously. But it is a lot nicer to be in those events. But the world ranking system is what it is. I just have to play better, that's all."
It has been a puzzling drop for Howell, who had reached a high of 15th in the world in early 2007 and went on to finish 18th on the money list.
But he slumped to 69th in 2008, and the two-time tour winner who starred at Oklahoma State has been unable to climb his way back up.
"My game is good. I've had a nice start to the year," said Howell, who has three top-10 finishes -- including a tie for fourth last week in Phoenix -- in six tournaments. "I can't complain about the start to the year, apart from the fact that I haven't gotten into the Masters. It's been a fine start to the year. There's just one more nugget out there I'm chasing."
Howell let slip Friday a chance to be in better position heading into the weekend when he double-bogeyed his 17th hole and shot even-par 70 for the day. He is at 139, 1 under par and 7 shots behind leader Camilo Villegas.
Although Howell could drive himself to aggravation thinking about the Masters, he said his thoughts on the subject are nothing but positive.
"It's motivation. It's incentive," he said. "More motivation to get back into it. I would say more incentive than depressing."
Nonetheless, another year of watching from afar is not something Howell relishes.
"It was really on my mind in the offseason," he said. "Last year watching it on TV, it was just not fun. It's probably the only golf tournament I'll watch start to finish on television. It's hard to miss it, obviously, having grown up there. That makes it even more special.
"I think it's hard for everybody to miss it, but growing up there even more so."
Bob Harig covers golf for ESPN.com. He can be reached at BobHarig@gmail.com.
2010 MASTERS

When the world's top players stroll down Magnolia Lane in April, each one will be in search of the famed green jacket awarded to the Masters champion. Championship Central
Date:
Apr. 8-11, 2010
2009 champion:
Angel Cabrera
Course:
Augusta National Golf Club
Where:
Augusta, Ga.
Yardage, par:
7,435 yards, par-72
TV coverage:
ESPN, CBS
ROAD TO AUGUSTA
MASTERS.com
MASTERS MOMENTS VIDEOS