MMA
Velasquez expecting a 'war' against Ngannou
Cain Velasquez details how he'll collect his thoughts leading up to his first UFC fight in two and a half years.
Ngannou relaxed and confident ahead of Velasquez fight
Francis Ngannou thinks back to how he felt before facing Stipe Miocic and compares those emotions to what he's feeling ahead of his bout with Cain Velasquez.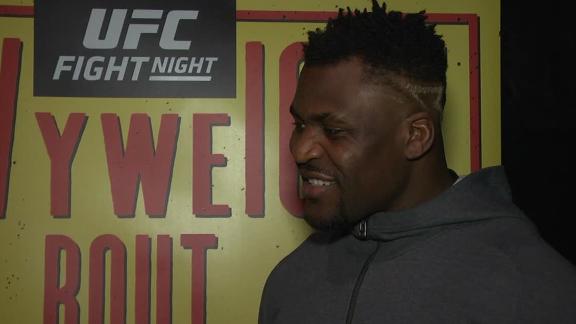 MMA
Felder ready to put on a show
Paul Felder says his fighting style is a reason the UFC trusted him to fight the co-main event on the first televised ESPN card.

UFC
Velasquez and Ngannou square off at weigh-ins
Cain Velasquez and Francis Ngannou face off before their match at UFC Fight Night: Phoenix.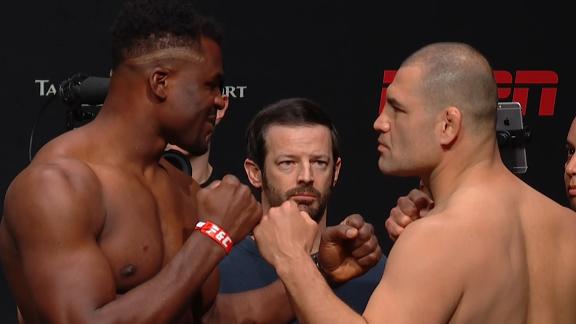 Vick: It's been 'torture' waiting to return to Octagon
James Vick knows that his upcoming bout against Paul Felder is a "long time coming" and says he doesn't feel any pressure since that's for the "mentally weak."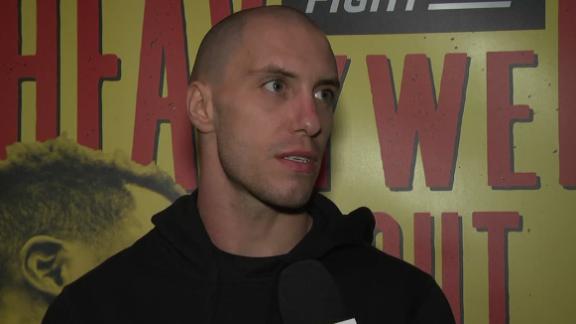 MMA
Ngannou, Velasquez both make weight ahead of fight
Francis Ngannou and Cain Velasquez each make weight ahead of their main event bout at UFC Fight Night: Phoenix.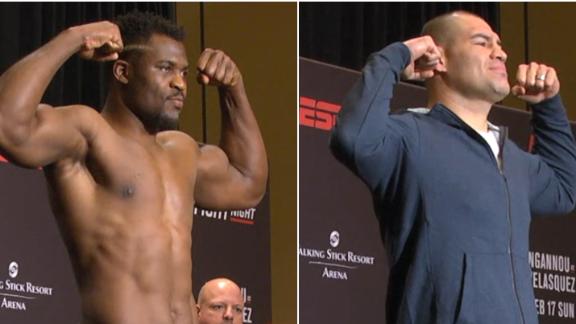 MMA
Vanderford wins by submission in Bellator debut
Austin Vanderford, husband of UFC fighter Paige VanZant, wins his Bellator debut by submitting Cody Jones in the first round at Bellator 215.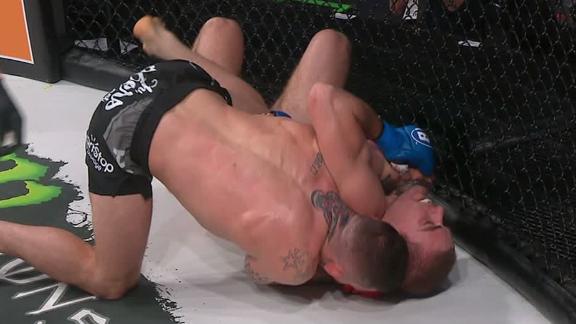 Bellator
Mitrione-Kharitonov ends in no contest
The heavyweight bout between Matt Mitrione and Sergei Kharitonov ends in no contest after Mitrione kicks Kharitonov in the groin just 15 seconds into the fight.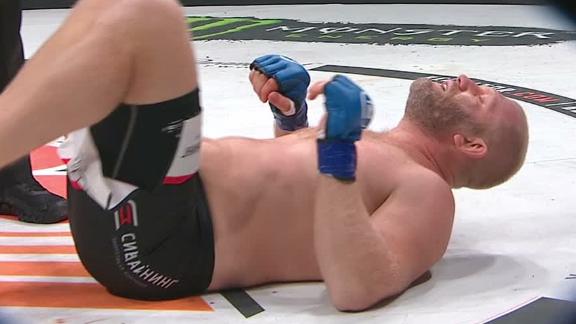 MMA
Douma holds on for submission after getting slammed
John Douma locks in a triangle after getting slammed on the back of his head by Mike Kimbel in the first round at Bellator 215.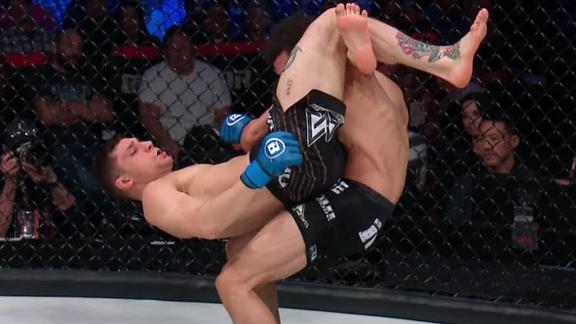 MMA
Ngannou: I discovered Cain Velasquez on YouTube
Francis Ngannou explains to Brett Okamoto how he found out who Cain Velasquez was before their UFC Fight Night: Phoenix bout.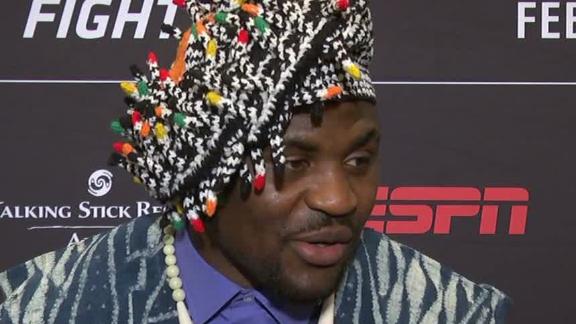 MMA
Velasquez on UFC Fight Night: Phoenix: 'This card makes sense'
Cain Velasquez explains to Brett Okamoto why fighting Francis Ngannou at UFC Fight Night: Phoenix makes sense for his career.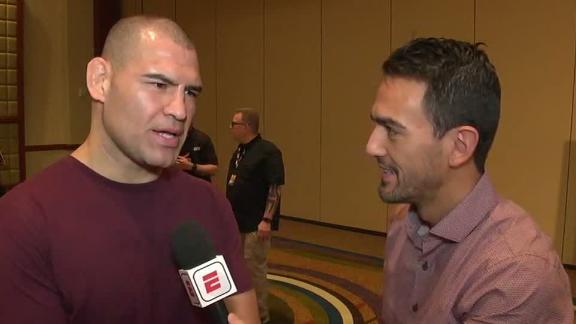 Bellator
Daley, Page prepare for 'Battle of Britain'
There is no love lost between the two British fighters, who face-off in Connecticut on Saturday.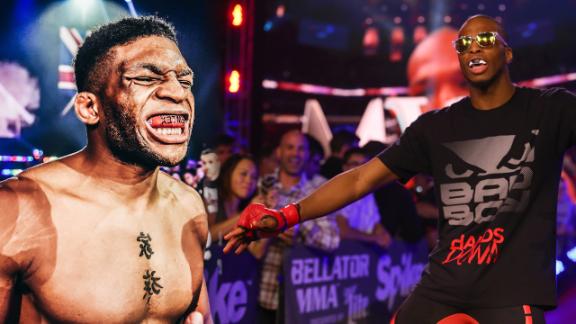 UFC
Spend a day with Alajamain Sterling
Before his next fight, UFC bantamweight fighter Aljamain Sterling does a double training session and volunteers as a wrestling coach at a local high school.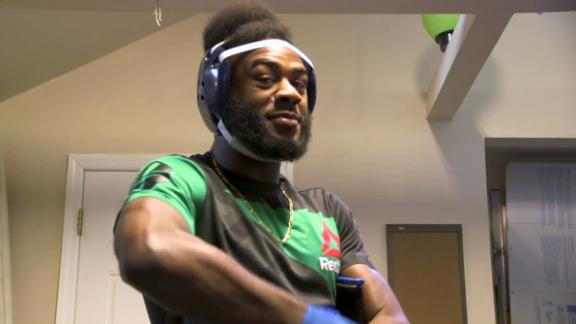 UFC
Gracie looking to continue family's UFC legacy
Ariel Helwani explains his excitement for Kron Gracie's fight vs. Alex Caceres and provides an update on Robert Whittaker's health.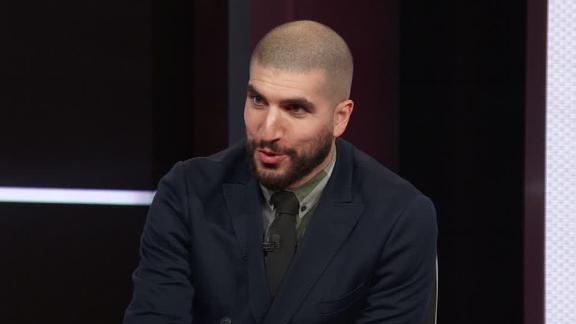 UFC
Cain Velasquez's journey back to the Octagon
Relive Cain Velasquez's journey back to the ring as he prepares to face off against Francis Ngannou.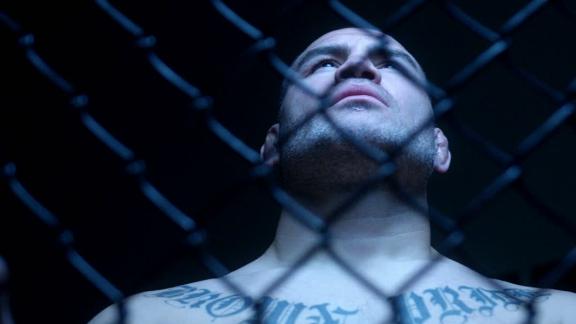 UFC
Velasquez makes his long-awaited return against Ngannou
Ariel Helwani previews the intriguing fight between Cain Velasquez and Francis Ngannou.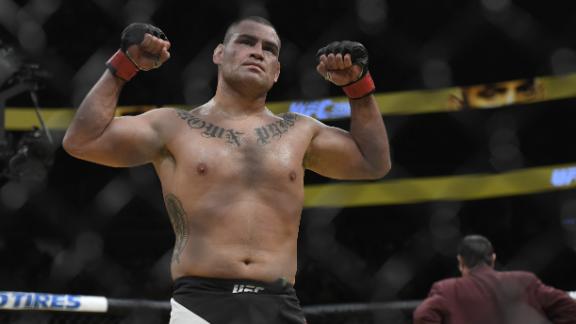 UFC
Vick, Felder both looking to bounce back
James Vick and Paul Felder are each looking to return to winning form after both ended 2018 in poor form.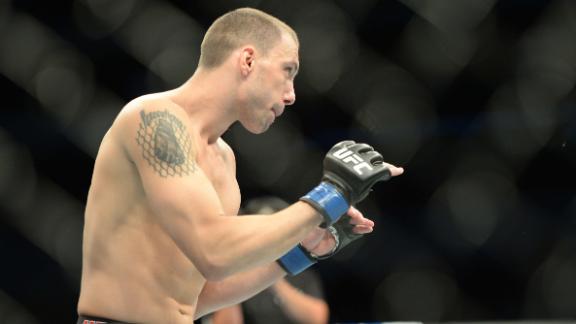 UFC
Helwani: McGregor itching to fight again
Ariel Helwani provides his thoughts on Conor McGregor calling out multiple fighters on social media and says that he needs to win his next fight.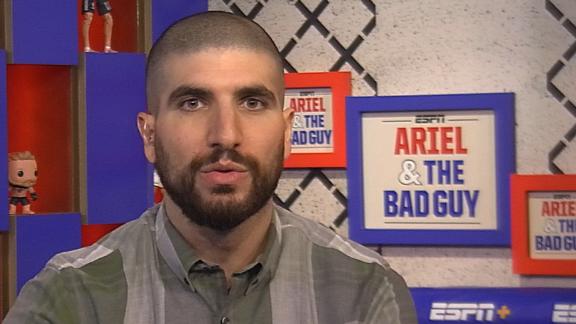 Customize ESPN
ESPN

Check out MMA writer Brett Okamoto's rankings within each division.
Josh Hedges/Zuffa LLC/Getty Images

All the UFC champions in each weight division, male and female.