Commentary
Pirates fans starving for a winner
Updated:
July 12, 2006, 8:51 AM ET
By
Jim Caple
| ESPN.com
PITTSBURGH -- This is the way it goes for Pittsburgh. Even when the city has the league's best players on the roster, a two-out lead in the bottom of the ninth and one of the most dependable closers in history on the mound, the city's team still loses.
Oh, they had a little bit to cheer for a change. Pirates infielder Freddy Sanchez made an outstanding leaping catch at short and turned another nice play at second while outfielder Jason Bay singled in three at-bats. "I felt like I was making my major-league debut," Bay said before adding in true in Pirates fashion: "I was just trying not to trip going up the stairs, to be honest."
And then closer Trevor Hoffman gave up two runs in the ninth, the National League lost 3-2 and Pittsburgh fans left the park once again talking about a home loss and looking forward to the Steelers' season.
Outside of Montreal, what team's fans have had it worse than the Pirates' the past 14 years? Hell, the Royals had a winning season as recently as three years ago. The Brewers at least had a .500 season last year. The Tigers have gone 13 years without a winning season and lost 119 games three years ago, but they're in first place with the best record in baseball this summer (with former Pittsburgh manager Jim Leyland -- ouch).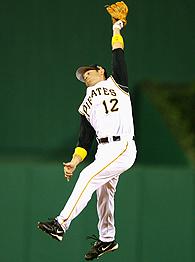 Al Bello/Getty ImagesFreddy Sanchez took a hit away from Boston's Mark Loretta in the fifth inning.
Meanwhile, the Pirates are 30-60 and well on their way to their 14th consecutive losing season. About the only time you see them on national TV is when their manager is stealing first base. Ever since Sid Bream slid home to end the 1992 NLCS and
Barry Bonds
left after that season, the only important games they play here anymore are All-Star Games. Pittsburgh also hosted the 1994 All-Star Game, which gives them the dubious distinction of being the only franchise to have nothing but losing seasons in between hosting midsummer classics.
"I don't think they're that far away actually," said ex-Pirates pitcher Jason Schmidt, who, naturally, is now an All-Star for another team. "The talent is here and it's not the manager's fault or the players' fault. They just need to build up the winning tradition again.
"It takes a long time to turn around a ballclub. But they're making strides. They're the scrappiest team I've faced yet this year."
Schmidt is far more optimistic -- or polite -- than the fans I interviewed. Talk about depressed. The past 14 years have beaten these people down. I interviewed a half-dozen or so Pirates fans at the Home Run Derby and asked whether they expected to see a winning season again in their lifetimes. I was just joking around but a couple said no, they never expect to see a winning season again. A comparatively optimistic fan figures the Pirates will go 25 years between winning seasons, which means they're only a little beyond halfway there. "I know," he said. "Don't remind me."
And we're just talking about a humble winning season, not a World Series. Yet these fans can't see even that.
It's a shame. Pittsburgh is one the most underrated cities in the country. Despite the Steel Town reputation, there aren't steel mills left. There are, however, a lot of green hills, great museums, colleges and superb architecture.
"I had all sorts of people coming up to me who said they were expecting a gloomy city filled with ugly smokestacks and all the images you hear about Pittsburgh," Bay said. "But they were all surprised by how nice it is here."
And the Pirates' ballpark is the absolute best in baseball, with a beautiful stone exterior, movie set views of the skyline and so much good, fatty food that a three-game series requires an angioplasty. If the Pirates were winning, the atmosphere would be so electric it could power Dave Matthews' entire summer concert schedule.
"I've said it all along," Bay said. "This is a strong sports town, and they just want a good team to get excited about. They're starving for a winning team. If we can just get to that point, it will be special."
Well, we'll see about that. In the meantime, Steelers training camp starts in two weeks.
Jim Caple is a senior writer at ESPN.com. His first book, "The Devil Wears Pinstripes," was published by Plume. It can be ordered through his Web site, Jimcaple.com.
EDITORS' PICKS
The BBTN 100 counts down the top 25 players in baseball for 2015.
Rankings »

MLB players weigh in on baseball's best player, PEDs and what they really think about A-Rod's return.
MLB Confidential »

Where does the recently-signed Yoan Moncada land on Keith Law's prospect rankings?
Top 50 update