Commentary
Future is bright for a pair of Rays
OF Desmond Jennings and RHP Jeremy Hellickson's next stop will be Tampa
ANAHEIM, Calif. -- Three very good teams and two postseason berths guarantee that one October-worthy American League East club will be idle this fall. In an effort to ensure that the Tampa Bay Rays aren't the franchise on the outs, principal owner Stuart Sternberg has promised that "money won't be an object" at the trade deadline.
Money isn't an object in Tampa? What's next in baseball -- a perfect game bid every two weeks?
In the event nothing concrete materializes on the trade market, the Rays can always look internally for help. As Plan B's go, they could do worse.
Right-handed pitcher Jeremy Hellickson and center fielder Desmond Jennings, two of baseball's elite prospects, are quietly putting the finishing touches on their apprenticeships with Tampa Bay's Triple-A affiliate in Durham, N.C. Hellickson is 11-2 with a 2.21 ERA for the Bulls, while Jennings is hitting .297 with a .375 on-base percentage in 64 games.
"

I'm just trying to stay consistent and give them a reason to call me up, even if it's in the bullpen. Whenever they're ready, I'm ready.

"

-- Pitcher Jeremy Hellickson
Both aspiring Rays say all the right things -- about staying focused on the business at hand and never worrying about things they can't control -- but reality keeps getting in the way. Every time B.J. Upton goes 0-for-4 or jogs after a ball in center field, the Jennings watch goes up a notch. More likely, Jennings will be summoned in September and join the Rays for good next season, when Carl Crawford is expected to leave Tampa Bay through free agency.
When Rays starter Wade Davis recently went 0-5 with a 6.33 ERA in a span of six starts, the buzz inevitably circulated that Hellickson might be due for a callup. The Rays refrained, in part, because they've seen David Price, Matt Garza and all their young starters struggle at times in the big leagues. They know that growing pains are an inevitable part of the process, especially in the AL East, so there's a chance Hellickson will get a chance to acclimate as a reliever in the big leagues before he competes for a spot in Tampa Bay's rotation.
As Hellickson addressed questions about his short-term future in the Team USA clubhouse before Sunday's All-Star Futures Game, he could see the Tampa Bay-Cleveland game playing on one of the overhead televisions. Talk about apropos.
"Obviously I'd love to be up there," Hellickson said, "but everybody knows that we have five really good starters. It's definitely in the back of my head. I'm just trying to stay consistent and give them a reason to call me up, even if it's in the bullpen. Whenever they're ready, I'm ready."
Of the two Rays prospects, Hellickson seems best prepared for his closeup. He throws his fastball in the 91-93 mph range, with enough deception in his delivery to make it difficult to see the ball coming out of his hand. He also has a plus changeup, and has added a cut fastball to his repertoire.
Hellickson closed out a 1-2-3 first inning in Team USA's 9-1 victory Sunday by striking out Reds prospect Yonder Alonso with a dive-bombing, 79 mph change. He allowed a run in the second inning, but still finished with 18 strikes in 25 pitches.
[+] Enlarge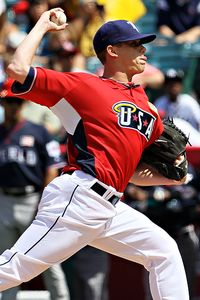 Stephen Dunn/Getty ImagesU.S. starter Jeremy Hellickson pitched two innings, allowing a run on two hits.
Rays pitching coach Jim Hickey said recently that Hellickson is "right on target" in his development. In some ways Hellickson reminds Hickey of James Shields, who relied primarily on a fastball and changeup early in his career before expanding his repertoire.
"He actually has a better fastball than people think, because he has such a quiet, smooth delivery," Hickey said of Hellickson. "It doesn't appear that he throws all that hard, but he hides the ball well and it gets right on you."
Jennings' recent progress has been hindered by injuries. He's been bothered by shoulder problems and a sore wrist. But he picked up the pace in June, and he has the type of speed that makes him an all-around threat regardless of how well he's hitting. Managers in the Double-A Southern League ranked Jennings as the league's best defensive outfielder in 2009, and he's stolen 21 bases in 23 attempts with Durham this season.
Andrew Friedman, Tampa Bay's executive vice president of baseball operations, calls Jennings a potential "top-of-the-order difference maker." Opponents regard him as an almost constant distraction.
"Teams will throw over to first base twice, then throw two pitchouts," Hellickson said. "Then he'll steal second. Then he'll steal third -- and maybe home. He's fun to watch."
Both Jennings and Hellickson have a little home-state history to inspire them. Hellickson was born and raised in Iowa, the home of Hall of Famer Bob Feller. He played for a USA Baseball traveling squad as a sophomore, missed his junior year with an injury, and had thrown about 15 innings as a senior when they Rays selected him in the fourth round of the 2005 draft.
Jennings is a native of Alabama, birthplace of Hall of Fame outfielders Willie Mays, Hank Aaron and Billy Williams. He was offered a football scholarship from the Alabama Crimson Tide before choosing baseball as a career path. Needless to say, he's never regretted the decision.
"It's great when people recognize your achievements, how hard you work and how hard you play the game," Jennings said. "For me it's all about speed -- running down balls in the gaps, stealing bases and getting in scoring position for guys to knock me in."
Both young Rays have learned to keep their timetables reasonable and their cell phones handy. Their day will come; it's simply a question of when.
Jerry Crasnick is a senior writer for ESPN.com. Click here to purchase a copy of his book, "License to Deal," published by Rodale. Crasnick can be reached via e-mail.
ESPN Senior Writer
ESPN.com senior writer
Author of "License to Deal"
Former Denver Post national baseball writer
JULY 12, 2010: FUTURES GAME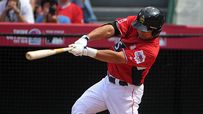 The U.S. team, led by a three-run home run from MVP Hank Conger, thumped the World team 9-1 to end a three-game skid in the Futures Game. Recap
STORIES
VIDEO