Commentary
Dodgers make statement, sweep away Diamondbacks
LOS ANGELES -- Joe Torre is quick to sign autographs and happy to tape your public service announcement, if it's for a worthy cause. But the guy with the demeanor of your favorite uncle also has a well-honed sense of competitive urgency. After 27 years of managing, and more than a decade in New York, Torre can seize an opportunity to go for the throat like few others.
One such occasion occurred Sunday, in the finale of a three-game series against the Arizona Diamondbacks. With the Dodgers clinging to a two-run lead in the eighth inning, the bullpen door opened, the ground shook and Jonathan Broxton, all 290 pounds of him, started jogging toward the infield.
Broxton hadn't recorded a five-out save since taking over for Takashi Saito as the team's closer shortly after the All-Star break. But with time growing short in the season and every win seemingly more meaningful, Torre knows there's no better time to give his closer the Mariano Rivera treatment.
"They're all important right now,'' Torre said. "If you have a chance to win a game, you have to take advantage of that and go out there and try to do it -- because you never know what tomorrow is going to bring.''
At this point, Torre can't be certain what the next 10 minutes are going to bring. A little more than a week ago, the Dodgers looked down, demoralized and borderline pathetic in the midst of an eight-game losing streak. They trailed Arizona by 4½ games in the National League West and appeared to be fading into oblivion.
Now for the present tense: After completing a three-game sweep with a 5-3 victory Sunday, the Dodgers are 1½ games up in the division. They've won eight straight games and they're brimming with optimism. Sort of.
"Over the last 16 games, we're .500,'' Torre joked. "It's one of those Dramamine trips. Strap yourself in because that's what's going to happen this time of year.''
Sunday's series finale was initially billed as a future Hall of Fame faceoff between Greg Maddux and Randy Johnson, two geezers with a combined 648 major league victories. Instead, the crowd of 54,137 wound up watching two kids with a combined three career wins and 194 miles per hour worth of fastball. Los Angeles' Clayton Kershaw labored through four innings, the Diamondbacks' Max Scherzer struck out 11 batters in five, and it came down to a test of bullpens, defensive execution and karma.

Over the last 16 games, we're .500. It's one of those Dramamine trips. Strap yourself in because that's what's going to happen this time of year.
--Joe Torre
If the Dodgers do go on to make the playoffs, they might look back on the final play of this game as the season's pivotal moment. Nomar Garciaparra, who entered the game at third base on a double-switch in the seventh inning, moved to first upon Broxton's arrival.
Despite having made a grand total of one start at first base all season, Garciaparra made an acrobatic diving catch of a
Conor Jackson
line drive to steal a potential game-tying extra base hit to end it.
"I'm just glad my glove was still broken in,'' Garciaparra said.
So where do the two teams go from here now that the Dodgers have asserted themselves? Los Angeles heads to San Diego for a three-game series, while the Diamondbacks continue their road trip against the Giants in San Francisco.
The schedule appears to favor the Dodgers by a hair down the stretch. They'll play 19 games against four teams (San Diego, Colorado, Pittsburgh and San Francisco) with a combined winning percentage of .427. Arizona's schedule isn't exactly a torture chamber, but the Diamondbacks do have six games left with Colorado and a four-game series in St. Louis.
On the odd chance the Dodgers need a dose of humble, Torre will remind them that they recently traveled to Washington and, as the L.A. skipper says bluntly, got their "ass kicked'' by the pesky Nationals.
"I talk about it all year, that we never take an opponent for granted,'' Torre said. "We remind the players all the time, and they look at you like, 'Yeah, we know this crap.' If you get caught in that trap, then you should be ashamed of yourself.''
[+] Enlarge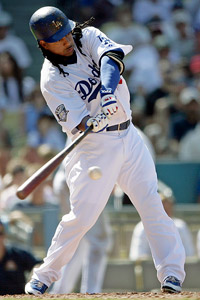 AP Photo/Ric FrancisManny Ramirez is batting .400 with 14 home runs and 44 RBIs in 44 games since joining the Dodgers.
If the Diamondbacks plan to turn it around quickly, they'll need a makeover by Brandon Webb and Dan Haren, the two horses at the front end of the rotation. Webb has a 12.52 ERA in his past three starts -- all losses -- and Arizona has been outscored by an aggregate 24-5 in the process. Haren, who's developing a reputation for second-half fades, posted a 5.63 ERA in August, and lasted only four innings in a 7-0 loss to the Dodgers on Friday.
Webb's funk is tougher to gauge. Is his arm bothering him? Is he still suffering aftereffects from a
Kevin Kouzmanoff
line drive off the chest in late August? Webb insists he's fine physically, but says his mechanics are out of whack and the problem has to be addressed in bullpen sessions between starts. "It can sting you a little bit as a group,'' Arizona manager Bob Melvin said of his starters' recent funk, "but you can't just rely on a couple of guys and feel like you can throw your hat out there and win on those days. If these guys go through spells where they're not pitching great, then we have to pick it up offensively and pick them up. That's what teams are all about.''
Meanwhile, the Dodgers are getting healthier, which could either provide some welcome depth or complicate matters in the next week or two. Rafael Furcal (back), Andruw Jones (knee), Jeff Kent (knee) and Brad Penny (shoulder) are either back from the disabled list or already there. And Saito, out since July with a strained right elbow, will either reclaim his closer's job or give Torre some welcome depth in front of Broxton.
As the two teams take divergent paths, the looks on the faces in the clubhouse after Sunday's game said it all. "I still have a good feeling about it,'' said Arizona shortstop
Stephen Drew
, when asked about the state of the NL West race. But he sounded more hopeful than confident. As for the Dodgers, they'll leave the analysis to others. They'll try to ride this sudden,
Manny Ramirez
and
Andre Ethier
-led turnaround as long as they can. "That's baseball,'' Garciaparra said. "You can't explain it. You can't figure it out. If you find somebody who says they can, I'll call them a liar.''
Jerry Crasnick covers baseball for ESPN.com. His book "License To Deal" was published by Rodale. Click here to order a copy. Jerry can be reached via e-mail.
ESPN Senior Writer
ESPN.com senior writer
Author of "License to Deal"
Former Denver Post national baseball writer
EDITORS' PICKS
The BBTN 100 counts down the top 25 players in baseball for 2015.
Rankings »

MLB players weigh in on baseball's best player, PEDs and what they really think about A-Rod's return.
MLB Confidential »

Where does the recently-signed Yoan Moncada land on Keith Law's prospect rankings?
Top 50 update